This last month has been SO special here at Primal Palate. We launched our biggest ever recipe contest, dubbed Fall Fest, which wrapped up last week and was a huge success! We saw some of the most inspired recipes to have ever been shared on Primal Palate. As we sifted through the nearly 200 entries over the past week, one thing became eminently clear: there is SO MUCH TALENT in our group of fantastic recipe contributors. We carefully considered every entry, in many cases visiting the original blog posts on the entrants' websites to get even more backstory and see more photos when we could. It was incredibly impressive, not only seeing the fantastic recipes, but also reading some awesome food writing as well. You guys are so darn talented!
Fall Fest looked for the best Sweet and Savory recipes in the Paleo community, in celebration of our new Sweet Pack and Savory Pack of spices. (We have recently decided that the Sweet Pack will be a seasonal item, so get your orders in before they're gone!) Today we are awarding prizes for Best Sweet Recipe, Best Savory Recipe, and are presenting the People's Choice Award which was put to a vote over the last week. To bring together these amazing prize packs, we partnered with some of the most highly regarded brands in Paleo.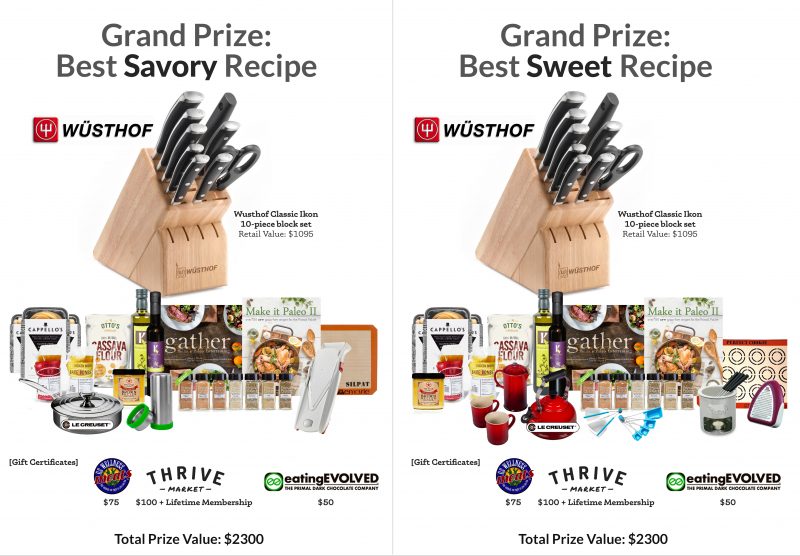 The prize packs are something we hand-picked, as we reached out to our favorite companies to participate along with us. As a show of thanks, please consider visiting their websites, and let them know how excited you are that they have chosen to partner with us to offer these great prizes.
Wusthof Classic Ikon 10-piece knife set & block
Cappello's ($100 mixed-product pack)
Bare Bones Broth (4-flavor sample packs)
Le Creuset (3 qt Stainless Saute Pan / French Press Coffee Set)
Kasandrinos (Olive Oil and Balsamic Vinegar)
Tin Star Ghee (16 oz Brown Butter Ghee)
Otto's Cassava Flour (2lb Bag)
Primal Palate Organic Spices and Cookbooks
US Wellness Meats Gift Certificate ($75)
eatingEVOLVED Gift Certificate ($50)
Thrive Market ($100 Gift Certificate + Lifetime Membership)
(Speaking of Thrive, right now Thrive Market is offering all first-time members a FREE sample box—including a full-size jar of Nutiva organic virgin coconut oil. This sample box is valued at $25 and includes some of the online shopping club's best healthy products (there is a $1.95 shipping charge for the coconut oil). The free coconut oil applies to new members only, but if you are already a member like we are, you can get 10% off your purchase at this link.)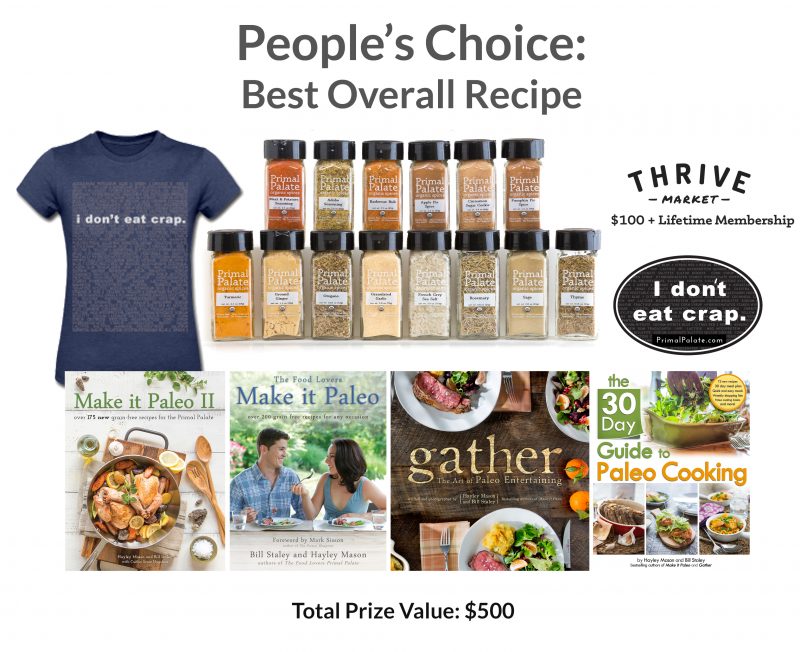 In addition to the two Grand Prize packs, voters spent the last week vying to crown the People's Choice Award recipe. We've put together a grab bag full of our own products for this prize.
---
Best Sweet Recipe
Selecting the Best Sweet Recipe of Fall Fest was the hardest part of this contest. With so many stunningly beautiful and amazing-looking recipe entries, it was a difficult task to narrow down the field to 10 finalists and ultimately a single winner. Here are this year's finalists for Best Sweet Recipe.
The Best Sweet Recipe category was insanely competitive in our eyes, with so many more entries than just these 10 exemplifying the themes of the contest. The winning "Best Sweet Recipe" dish best exemplified these three characteristics, not the least of which was an undisputedly gorgeous presentation. With no small amount of difficulty, we finally crowned Hazelnut Apple Tarts recipe by Jessi's Kitchen. There are so many things we liked about this recipe, it's hard to know were to begin. It has such great balance of ingredients. The cooking methods are simple and straightforward (even I was able to bake it by myself, successfully, so that's saying something – Bill). It's also minimally sweetened, which is kind of cool for a dessert. All around, this recipe is a home run.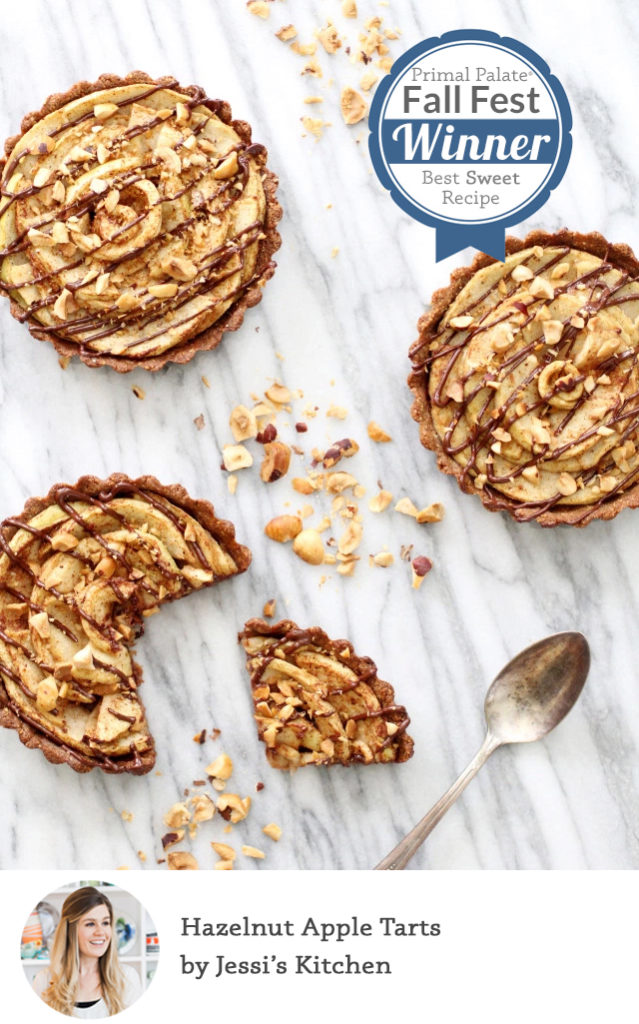 ---
Best Savory Recipe
The deliberation process for selecting the best recipes of this contest was a huge task. We carefully reviewed entries based on three criteria: Originality, Balance of Ingredients, and Photo Quality. It was tremendously hard to select just one winner. We narrowed down the field of entries to 10 Finalists.
The winning "Best Savory Recipe" dish best exemplified the three characteristics we were looking for; a unique and original use of seasonal or fall flavors, great balance of ingredients, and a stunning photo. After carefully considering all the entries, we settled on the Curried Pumpkin and Apple with Raisins recipe by Raj of The Primal Desire. This recipe sort of took us by surprise with it's unique twist of using both pumpkin and apples in a warm and spicy curry. I made this recipe on Monday and have been eating the leftovers with meals for days. I really enjoy the heat of the recipe (did 3/4 of the serrano pepper, no seeds),  the crunch of the apple, and the little pops of sweetness from the raisins. This is one you should definitely try!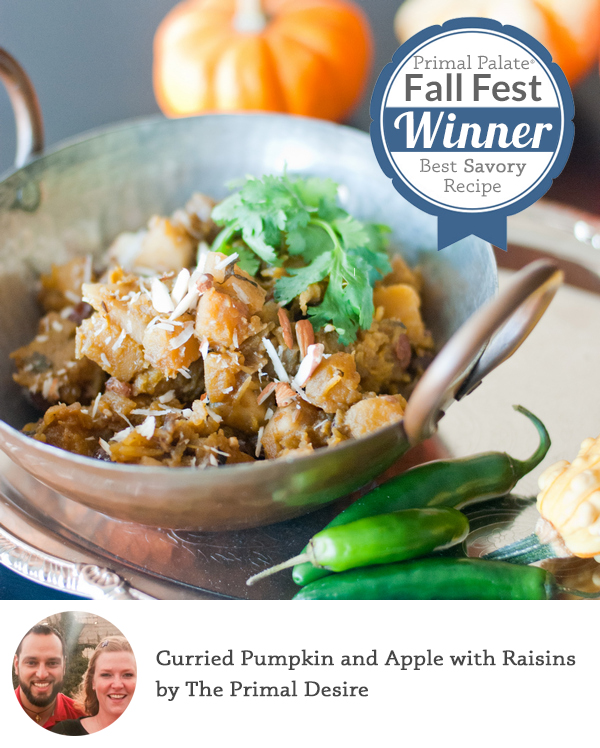 ---
People's Choice Award
The People's Choice Award was decided by popular vote. Any one person / household could cast one vote, per day, per recipe (for as many recipes as they wished). The voting was close all week, with several recipes ultimately running away with the votes. Your winner, with 596 votes, is Katie from Personally Paleo for her Dairy-free Caramel Apple Cheesecake. Congratulations Katie!!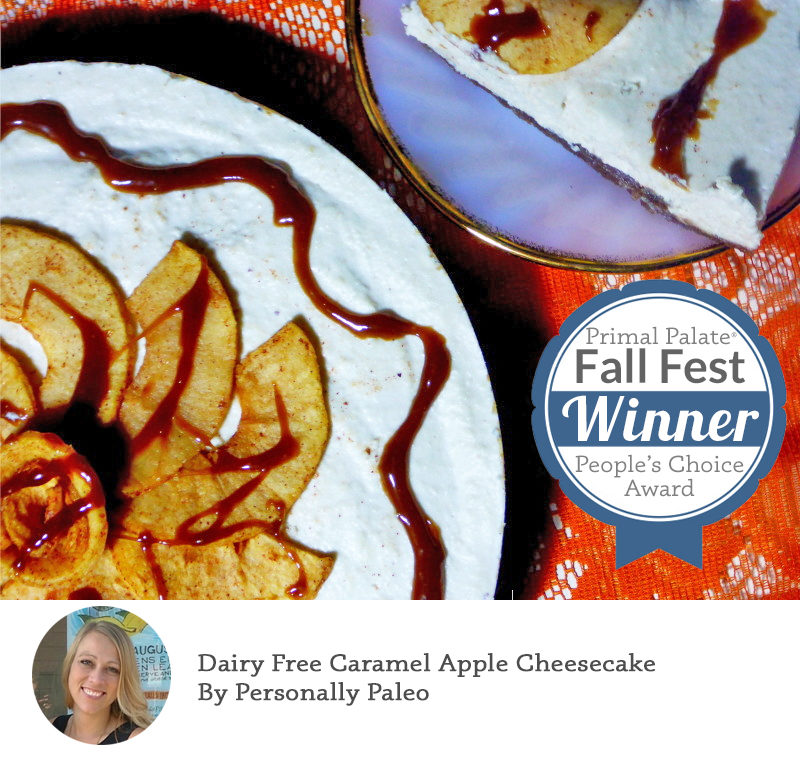 ---
Congratulations to all of our Finalists and Winners!
We are just blown away by all of your talent, and are so impressed with your submissions this year. We're hoping to do this again sometime soon, and if we do we hope you all will consider entering again! Thanks to everyone that entered and voted!
Happy Cooking,
Bill & Hayley