Hello friends!
We are very excited to announce a brand new pack of organic spice blends in the Primal Palate Organic Spices family, The Taste of Asia Pack! This pack is near and dear to our hearts because we LOVE so many types of Asian cooking. The spice blends in this pack include Curry Powder, Garam Masala, and Chinese Five Spice.  These three blends are ones we tend to use often in our cooking, and we've been getting a LOT of requests to add them to our line.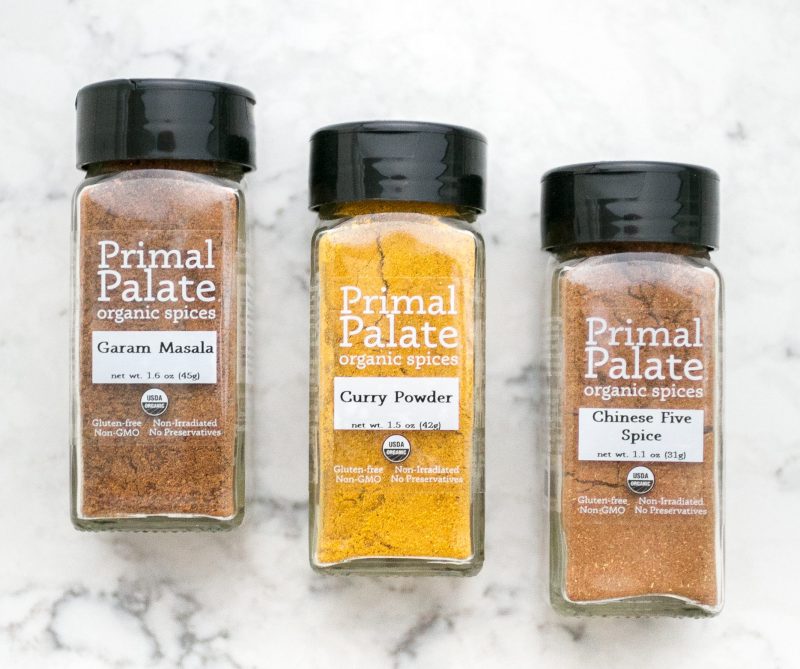 Curry Powder: Our blend of traditional Indian flavors adds complexity with a touch of heat to your favorite dishes.  Use it to season meats, or add it to coconut milk for a delicious curry sauce.
         Ingredients: Turmeric, Coriander, Ginger, Garlic, Cumin, White Pepper, Fenugreek, Cayenne, Cloves, Mace, Caraway
Garam Masala
: Our Garam Masala blend contains spices commonly used in
Asian
cuisine. Bring extra warmth and sweet flavor to your curries, rice, or rogan josh dishes.
        Ingredients: Cumin, Cardamom, Cinnamon, Black Pepper, Cloves, Mace
Chinese Five Spice
: Ubiquitous throughout
Asian
cuisine, our warm, spicy-sweet blend goes well with meat, stir fry vegetables, as well as slow cooked recipes.
       Ingredients: Fennel, Cinnamon, Star Anise, White Pepper, Cloves
All three of these blends are salt free, and the Garam Masala and Chinese Five Spice are also FODMAP-free! Asian cooking is very diverse of course, so this pack isn't meant to be the end-all, be-all of Asian flavors…. just a taste! We also realize that curry powders and garam masala vary from region to region (and even family to family). These blends were carefully crafted with ingredients that respect the broad diversity of flavors in Indian cooking.
To get you excited for these blends, we want to show you some of the many ways you can incorporate them into everyday cooking. If you are not familiar with cooking with these flavors, it's time to get acquainted, because they are SO tasty!
(^Click to view all^)