This is Part II of a three-part series. Be sure to check out Part I here where we address AIP, coconut-free, egg-free, and dairy-free recipe options.
We know many of you have food sensitivities / dietary restrictions that limit your food options. We also know that Paleo doesn't fit perfectly inside one little box. There are many different "versions" of Paleo, and some of these versions are closely aligned with other diets and lifestyles. This is why we have included twelve specialty diet and allergen filters on our site. If you are following one of these diets for health reasons, weight loss, etc., you will still be able to find recipes that suit your lifestyle.

Today we are going to go over four dietary options available within our recipe database and online meal planner, myKitchen. These include:
Sugar-Free
Pescetarian
SCD (Specific Carbohydrate Diet)
GAPS (Gut and Psychology Syndrome)
If your lifestyle follows one of the four above categories, keep reading to find recipe ideas that suit your needs. And stay tuned for Part III of this post, where we go over common allergens and food intolerances!
Sugar Free 
A sugar free diet eliminates foods that contain sugar. Yes, this even means Paleo-approved sugars! All natural sugars are completely eliminated when this dietary filter is selected. Meaning no honey, maple syrup, stevia, molasses; you name it. You will not even find fruit or fruit juice in the recipes categorized as, "sugar-free."
The sugar-free dietary filter can be especially helpful if you are doing a 21 Day Sugar Detox. We have provided a full 21DSD Menu Plan for your reference, so be sure to check it out. If you'd like to swap out a recipe on any given day, you may do so by looking through our entire collection of sugar-free recipes. Or, check out a few of our favorite sugar-free recipes below. Remember – just because a recipe isn't sweetened, doesn't mean it can't be bursting with flavor!
Pescetarian
On occasion, we have received the question, "Is it possible to follow a vegetarian version of Paleo?" It would be extremely difficult to consume an adequate supply of protein, and we have therefore included a pescetarian dietary filter on our site. A pescetarian is one who maintains a vegetarian diet, with the addition of fish and other sea foods. In other words, pescetarians eat fish and shellfish, but still abstain from eating other meat sources.
Many Paleo eaters are known to love their pasture-roaming protein sources, but vegetables and wild-caught fish are also a vital element of the diet. Rest assured, you will certainly find many delicious pescetarian recipes with this filter.
Specific Carbohydrate Diet (SCD)
The Specific Carbohydrate Diet is very similar to the Paleo diet in regards to the foods it allows and eliminates. SCD foods are unprocessed and free of grains, starches, sugars and most dairy. The goal is to eat foods that are natural and nourishing to provide the body with a diet similar to what our ancestors ate. The SCD diet was originally intended for those with Crohn's disease, ulcerative colitis, celiac disease, diverticulitis, cystic fibrosis and chronic fibrosis. SCD has helped many individuals with various forms of bowel disease and other ailments to greatly improve their quality of life.
There are a few key differences between Paleo and the SCD diet. These include:
The SCD does not allow starches included on Paleo, including: sweet potatoes, yams, arrowroot flour, and plantains.
The SCD allows some legumes not allowed on Paleo, including: peanuts, peanut butter, black beans, and kidney beans.
The SCD does not allow natural sweeteners allowed on Paleo, including: coconut sugar, coconut palm sugar, and maple syrup (honey is allowed).
The SCD allows some dairy which would be considered "Primal" in the Paleo world, including: 30 – day aged cheeses and homemade yogurt.
Here is a snapshot of the SCD Illegal List. [Please note, this is not a fully comprehensive list. For the full list, click here.]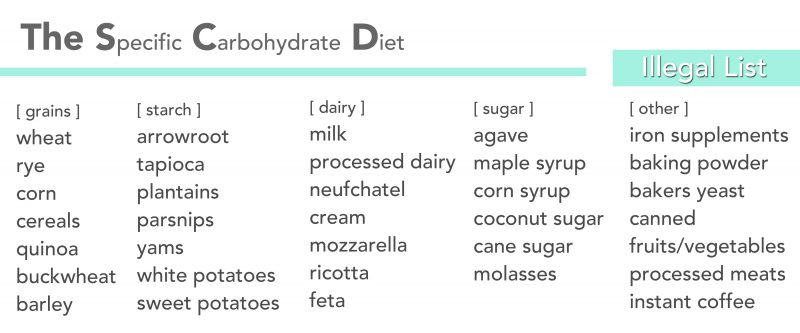 If you follow the Specific Carbohydrate Diet, be sure to check out our entire collection of SCD approved recipes here. Or, view a few of our favorites below!
GAPS
GAPS stands for Gut and Psychology Syndrome, and was created by Dr. Natasha Campbell-McBride, a neurologist and nutritionist. Campbell-McBride argues that 90 percent of our cells and genetic material reside in the gut, and therefore healing the digestive tract is essential to healing the nervous system, and rest of the body. The GAPS diet is used to treat children with autism, ADHD or other gut-related disorders, but it can benefit anyone with depression, psychological disorders, allergies or subpar gut health.  Following a high-quality, nutrient-dense diet is one of the most effective ways to maintain health and prevent disease.
The GAPS diet itself is broken up into three phases:
The GAPS Introduction Diet, which is divided into six stages
The Full GAPS Diet, and
Coming off the GAPS diet.
*For a full explanation of the GAPS diet and each of its stages, please view this simplified outline. 
Before jumping into the Full Gaps Diet, one must first go through the detoxification process of the Introduction diet. The GAPS Introduction Diet serves as a complete elimination diet, where foods are slowly added back in each of the six stages.  Bone broth from pastured animals (think soups, stocks, etc.) and homemade fermented foods (sauerkraut, kimchi, homemade yogurt, and fermented pickles) are staples throughout the GAPs diet.  If you are starting the GAPs diet, you might find these recipes helpful:
For the purpose of our dietary filters, we categorize recipes according to the Full Gaps Diet. Click here to see our entire collection of GAPS-friendly recipes.
The recipes found in your search will not contain the following foods (*Note: This is not a comprehensive list. For the full list, click here.)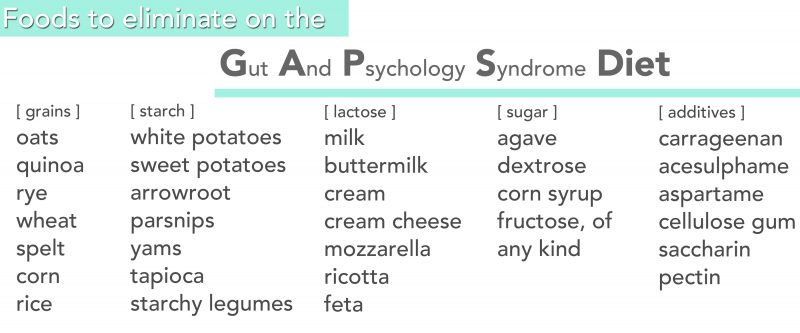 >>Be on the look-out for Part III soon!<<