Here's a funny thing about the internet. Sometimes when you follow people, you get the sense that you KNOW them. There are many people whom I've never met, yet feel as though I know simply because we e-mail back-and-forth or follow each other on Instagram. Hopefully this isn't coming off as creepy. But here's a fun fact I discovered: today's guest poster, Alexa of Simple Roots Wellness, and I actually DO know some of the same people! [Yes, in "real" life.] After following her blog and drooling over her food photography, I discovered we are both from Iowa and have mutual friends. Small world, right?
Alexa is a nutritionist, and believes wholeheartedly in eating real food. Her talent lies in making real feed so delicious, and so decadent, you would never dream of eating anything processed again. Which is actually what she did with her latest recipe, Apple Streusel Flatbread with Salted Caramel Sauce. This dessert Paleo pizza will make you never crave a double-stuffed Oreo again. And yes, I'll stand by the statement. Thanks for sharing your recipe, Alexa! -Kara
*
Excuse me as I finish licking this sticky, delicious caramel off my fingers. Oh my gosh you guys, I am so excited to be a guest blogger here on Primal Palate and even more excited to be sharing this mouth watering Apple Streusel Flatbread with Salted Caramel Sauce.  Did you catch that? Salted Caramel Sauce. Umm yes, just go ahead open your mouth and drizzle it in, you're not alone. This very well could be a slice of Heaven!
The sautéed apples in a flavorful combination of fall spices and drumroll please, butter alongside gooey caramel could be my new favorite thing about fall. I may or may not have just eaten it for breakfast and possibly even let my three year old spoon the caramel into her mouth before heading out the door for preschool. It's the little things in life, right?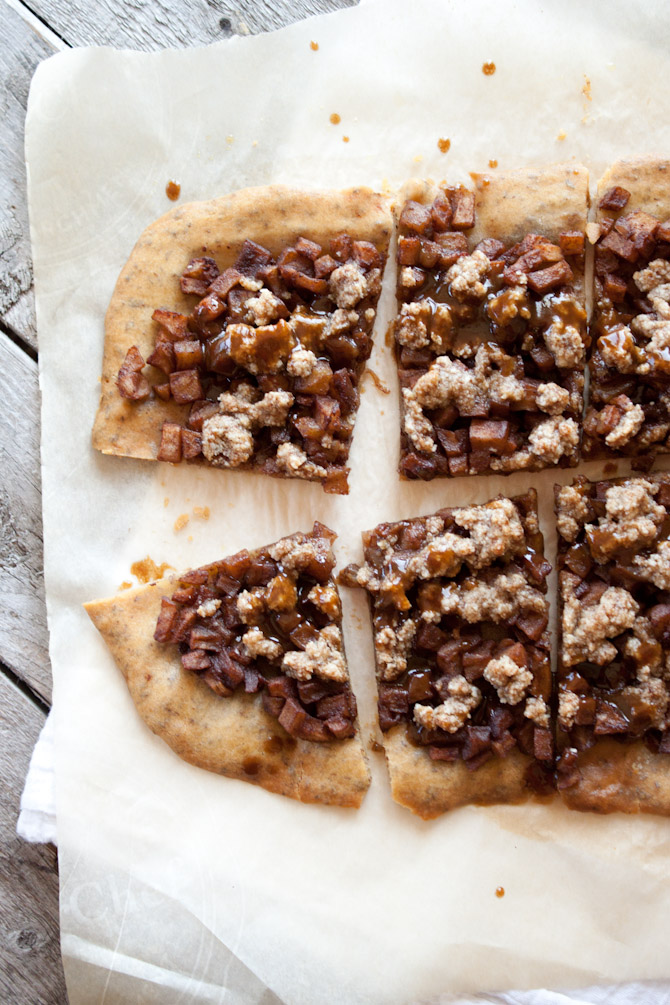 All the while I am a nutritionist. Yes, my passion in life is to help people change their lives and learn how to live a realistic and healthy life of eating real food. Real food with roots, grown in the ground or from the ground. Things bearing life. The unfortunate part in this journey is that real food has a bad rap. Bland and boring are two common terms I hear people use when summing up what they think is a real food life.
It makes me cringe and it makes the rebel inside of me want to make real food so incredibly delicious that even the biggest junk food lover can't turn it down. So this is what I try to do. Sometimes I fail and other times I have success. I would call this flatbread a big success in my real food world. Let's be honest though, anything drizzled with caramel is a success, right?
To take apples, streusel, flatbread and caramel combining them into a heavenly creation without –>hold your breathe<– added sugar is amazing with a capital A. Now breathe, do you smell that, oh yes, that is apples sautéing in a perfect blend of spices and butter. Can someone please bottle that and put it in a candle?
Back to the sugar issue. Seriously, the entire flatbread, caramel sauce and all has just 1/2 cup of natural sugar, using maple syrup and coconut sugar. That's assuming you use the entire bowl of caramel, which would literally mean dousing your flatbread in it, but hey you do what you've got to do.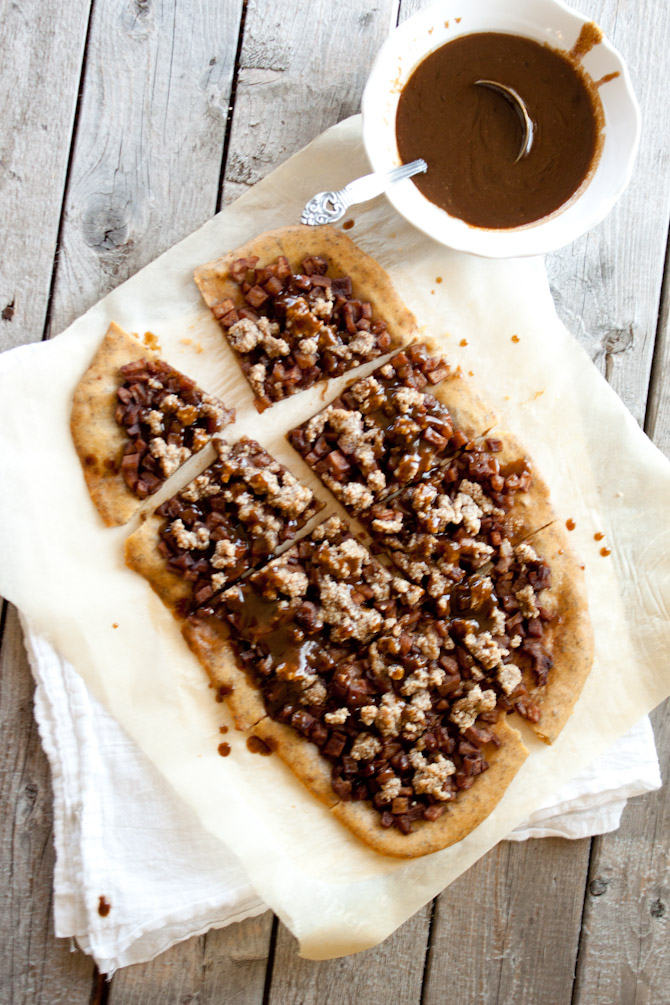 So sugar, what's the deal with it anyway? To sum it up, it is our number one evil in our food system. Something to take seriously, as it is the root of over 200 disease processes in our bodies. Plus, it is so stinkin' addictive. A vicious cycle that pulls too many of us in, hook, line, and sinker. Ugh!
Your goal should be to limit sugar as much as you can and train your body to be a believer of real food. To actually crave it, want it, decide you can't get enough of it. Yes, it can be done, everyone can experience a life without deprivation, a life without restrictive diets, a life without counting anything. That is a life worth living and most importantly it is a life that can be done forever.
The best thing that can come from the cookin' madness that happens around my house is helping someone become a real food believer. To turn from their old ways of processed foods and become reintroduced to their body and its needs. Learning to date yourself again, to know yourself and most importantly to trust the amazing, intricate thing we call our bodies.
Do you want this? On Monday, I'm offering my next course on how to become a real food believer. In my 8-week Nutrition Bootcamp e-course, learn eight new habits that make this "real food" life easy. I will show you how this flatbread as well as hundreds of other delicious foods can fit into a healthy life. Will you and your family join mine in saying no to processed foods all the while living a life without deprivation? Soon enough you will be spooning this caramel sauce into your mouth and realizing that a life free of added sugar isn't such a bad life after all.
Now go turn the oven on, let's make this thing!