This delicious apple crisp is the perfect ending to an autumn meal, or a wonderful addition to your Thanksgiving dessert menu!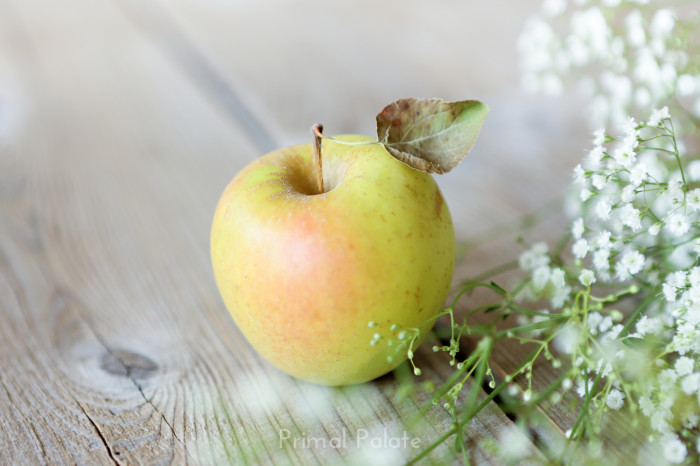 One of our very first recipes on this blog was for apple crisp. I don't really want to link to the blog post, because it is so not cute, and we used grapeseed oil in the original recipe (OMG WHAT WERE WE THINKING).  It is so crazy to see how far we have come with developing recipes, food styling, and photography. It only took 4 years of blogging, and 4 cookbooks (plus doing the photography for a couple other books that are not our own) to get here. Practice makes perfect, and this is our own evolution in our work, and it really shouldn't be anything to be ashamed of. I'm so proud of how far we have come, and it's just a reminder to never stop wanting to be better. When we posted that original blog post for apple crisp we thought those photos were "the poop" (I'm trying to be PG here). Now they actually look like poop. Okay fine, I'll link to that post for you now. PS-that original recipe is revised on our site to use coconut oil, NOT grapeseed. Anyway, my point is that this was a good reminder of where we started, and how we have developed and evolved what we love doing most over the years. If you are passionate about something, go for it, and never stop until you crush it!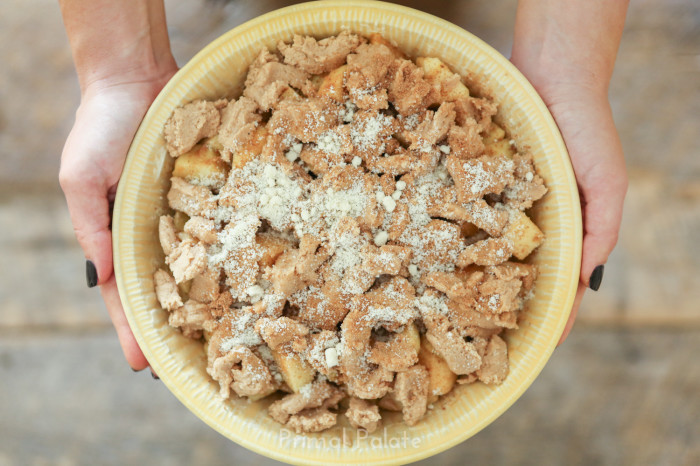 Apple Crisp before heading into the oven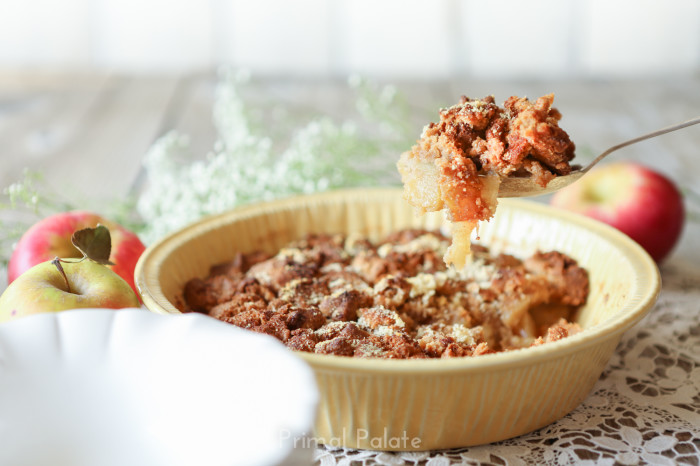 …and after baking
We are about to turn in our 4th cookbook. We really don't have time to blog right now, but since I'll do anything to avoid the final work on this book, I made a new recipe for the blog (Michele, if you are reading this, don't worry Bill has been working on it all day. Ha). It is the sequel to our first cookbook, Make it Paleo. Make it Paleo holds a very special place in our hearts. It was the beginning of everything for us. It was the proof that we could see success from starting a little blog that only our mom's and Liz Wolfe read. It was proof that together, we could accomplish anything. Most importantly, it was proof that we loved each other so much, with every ounce of both of our beings, that we could spend every single day together making a cookbook, and still want to spend every single day together after it was finished.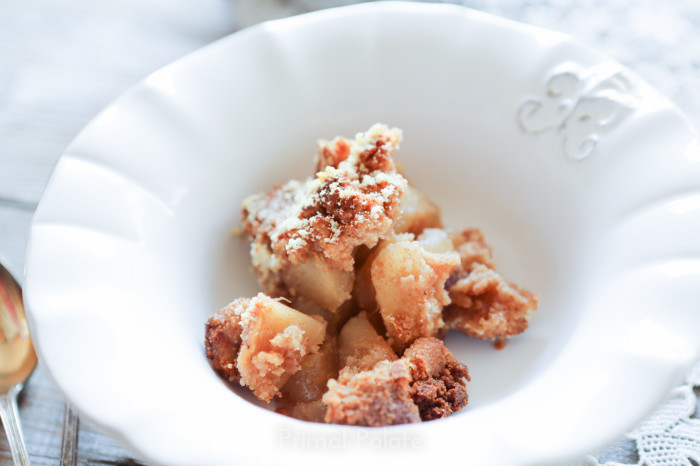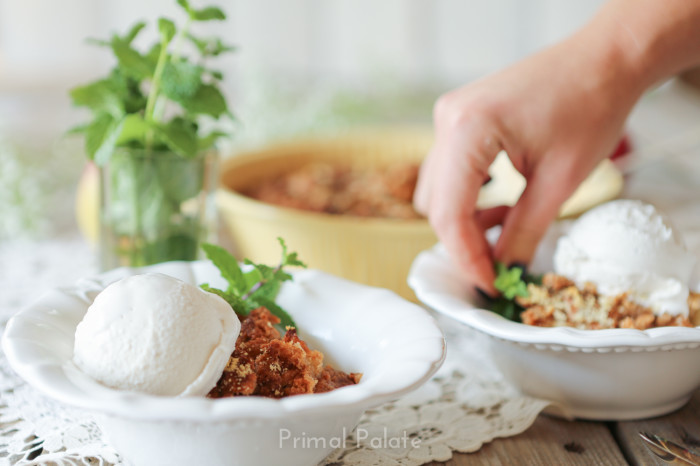 When we decided we wanted to start on another book, I said to Bill, "I wish we could remake Make it Paleo, because if we did it now it would be so much better." After a call with our publisher, we decided it was time to start on Make it Paleo 2. Although we could make our first cookbook better, it's our first cookbook, and it's perfect the way it is. I feel like we are honoring that beloved book by writing the sequel. The thing that makes this new book even more special is that my little sister, Caitlin (also known as Caito) has been working on this book with us. She is a trained sushi chef, and was the ONLY female sushi chef in Pittsburgh for a while. When she stopped making sushi professionally, Pittsburgh lost its one and only female sushi chef. She really kicks butt at making sushi, and really any other food she makes. She is also a killer food stylist, and since working on this book with us, she has started working with a very successful food photographer in town to do food styling for him. I'm just so proud of my little sister. She kicks so much butt. She really has helped us make this book so amazing, and it wouldn't be the book it is without her help. I'm so proud of the recipes that are in this book, and I think all of you are really going to love it!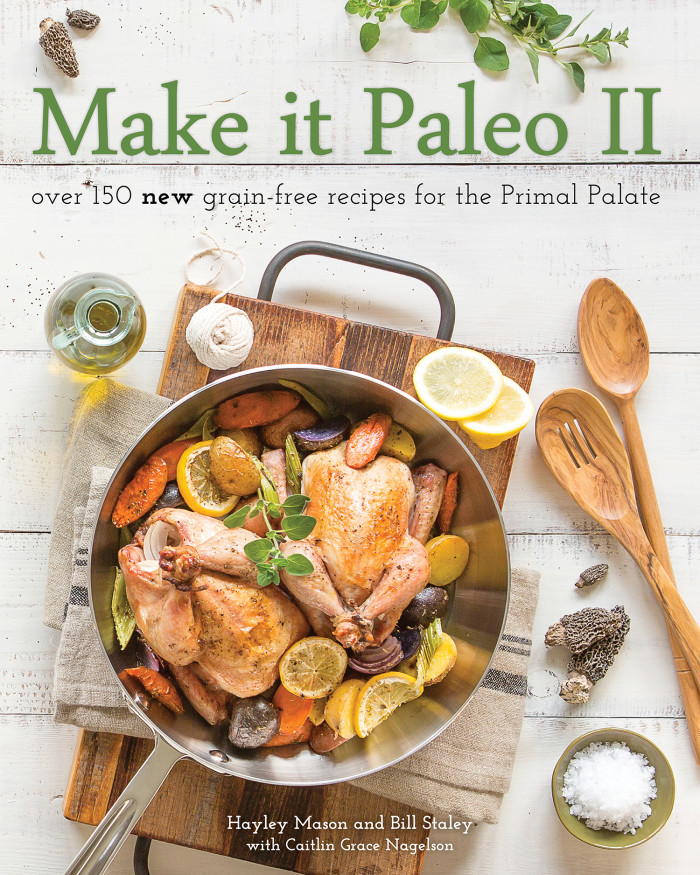 (Make it Paleo 2 is now available for preorder on Amazon)
Okay, back to the recipe. If you saw my first (and right now only) makeup tutorial the other week, then you know that we went apple picking two weeks ago with our friend Juli. It was so much fun, and we brought home a huge bag of freshly picked apples! We of course don't go through apples that quickly, so I needed to do something with the left over apples. Since I was avoiding working on the book (and it's now FALL), I decided a revised, and better-than-ever apple crisp recipe was in order! What did I change about this recipe? Pretty much everything, except that it still uses apples. I used a blend of apples, Granny Smith, and then a few different ones from apple picking. You can do the same, or you can stick to one variety of apple. Granny Smith apples are aways great for apple crisp or apple pie, but if you want to get really into fall flavors, you can use honey crisp. I prefer more tart apples for a pie or crisp because of the added sugar in the recipe. If you use a sweeter apple, consider reducing the sweetener in the recipe.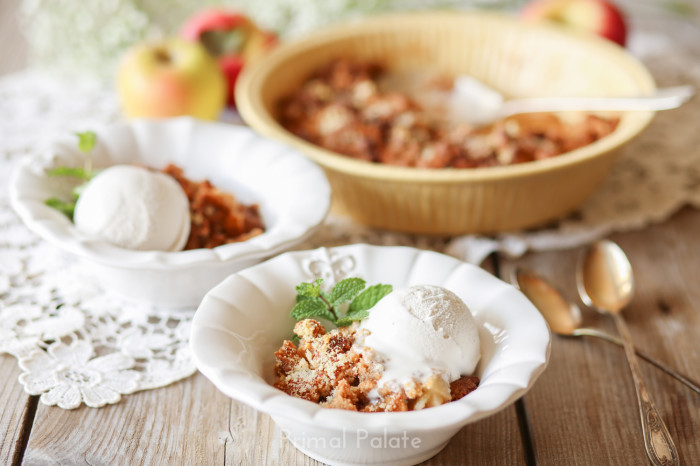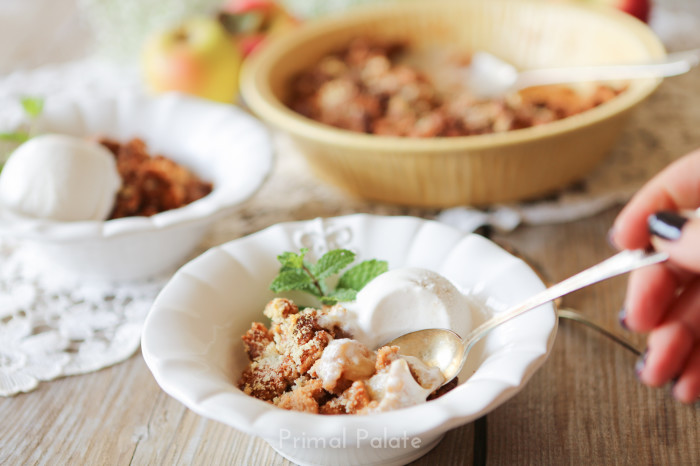 For this recipe I also completely changed the crumble on top. I did a blend of blanched almond flour, coconut flour, maple sugar, and butter. It was pretty much the most amazing thing ever. If you can't eat grass-fed butter, organic palm shortening (Spectrum brand ethically sources their palm oil, and we ONLY advocate using ethically sourced palm oil) would be a good replacement. This recipe was so simple to throw together, and in my mind, was better than any apple pie I have ever had! It would be a perfect addition to your dessert menu for Thanksgiving as well!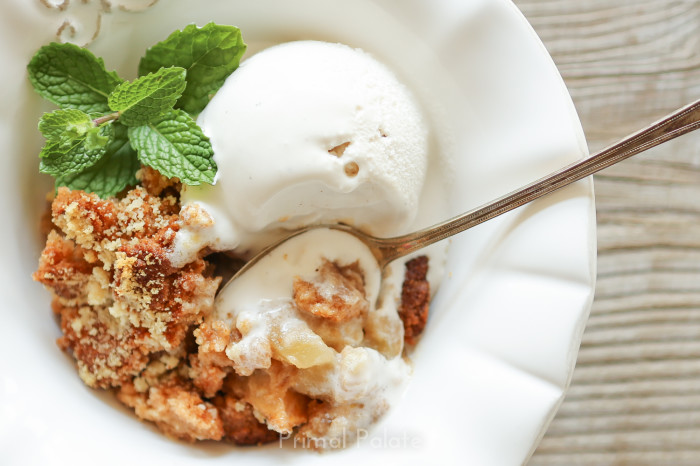 If you have the chance to get to an apple orchard for apple picking this fall, definitely try this recipe out. If you can't go apple picking, then still try this recipe out! Enjoy!