Tacos are one of my favorite foods. It's not a complicated love affair either: the savory and spicy flavors of the meat (usually beef here in the US, but sometimes chicken, pork, fish, or shrimp). The abundance of freshly chopped veggies, and their amazing crunch. Creamy guacamole and sour cream. Melted cheese. Sometimes in a hard shell, sometimes in a soft tortilla, and sometimes presented as a salad. And topping it all off with some fresh cilantro – my favorite.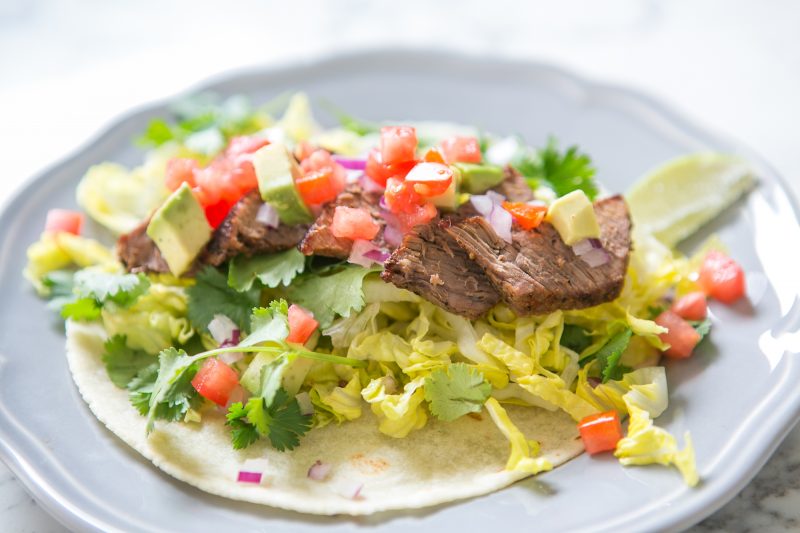 I feel like the Taco Tuesday before Cinco de Mayo is the biggest Taco Tuesday of the year. And don't get me started on how May 5th can sometimes land on a Tuesday, as it did back in 2015… watch out for that one! There's always a reason to enjoy Tacos, no matter what day it is. And while Cinco de Mayo could be a window into the VAST culinary heritage of the Mexican people, I have observed that the holiday has taken a significant turn away from celebrating Mexican culinary heritage, and has morphed into a Mexican version of St. Patrick's Day.
Look: I'm not here to rain on your Taco Parade, not at all! But I think it's an opportunity to shift the way we celebrate the cuisines of non-US cultures here in the US. After doing a little reading on the subject of Tacos, I came to realize that a hunch I held was correct: some tacos we normally see are traditional to Mexican cuisine, though many more popular taco varieties were developed here in the US and do not reflect what is actually enjoyed in Mexico. What we are presenting today is a blend of the two, and I will do my best to identify which ones are traditional Mexican tacos, and which are non-traditional. If I've made a mistake, please let me know in the comments below.
Traditional Mexican Tacos
A variation on Tacos de Camarones, shrimp tacos originated in Baja, Mexico. Typically served with shredded lettuce and pico de gallo. Served on a soft tortilla (like the Siete one pictured here). The toppings we chose were an embellishment on this traditional taco recipe.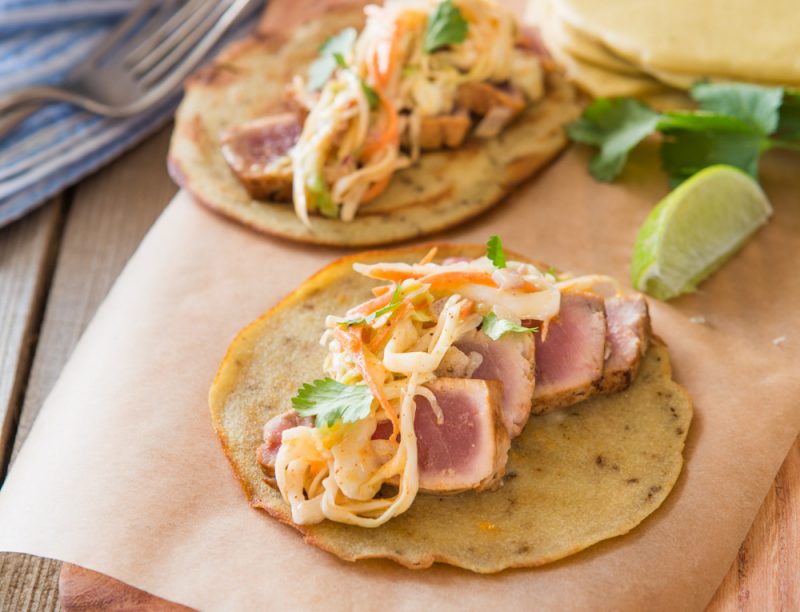 Another traditional Mexican taco is the fish taco (tacos de pescado). We used yellowfin tuna in this recipe which is a little unusual here: typically you'll see flaky white fish used in fish tacos. The cole slaw is a California-style variation on this Baja original.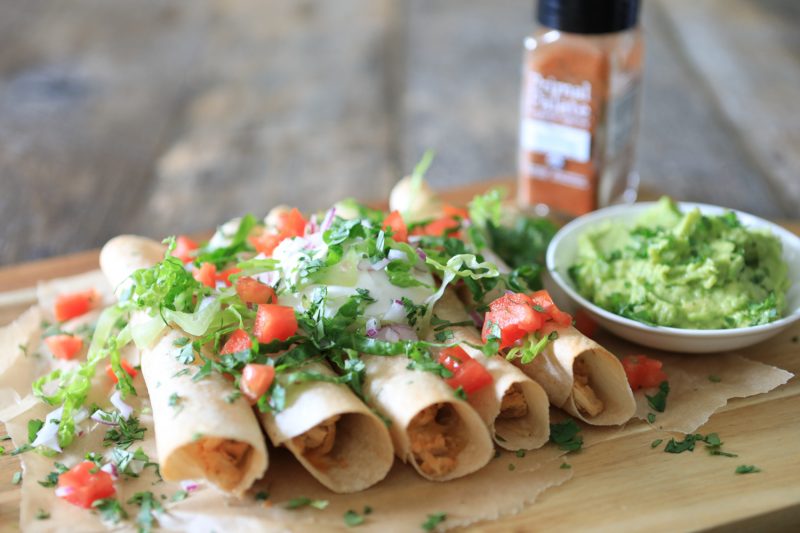 Literally meaning "golden tacos" – these typically fried tacos are also called flautas or taquitos (shown). Our Chicken Taquitos recipe is a riff on this traditional Mexican taco, using Siete cassava tortillas and our Organic Taco Seasoning.
Other variations of traditional Mexican tacos include:
Tacos al Pastor: thin pork steak slices seasoned with Adobo Seasoning (you can bet we'll be making those soon!)
Tacos de Asador: grilled carne asada, tripe, or chorizo
Tacos de Cabeza: literally "head tacos" made with meat from the head of a cow
Tacos de Cazo: "bucket tacos," referring to the frying method. Tender beef cuts, carnitas, or offal such as pig tripe
Tacos de Lengua: made from cow's tongue. We actually do have a recipe for this, though it was shown served on endive which we thought would be confusing in the context of traditional taco recipes. Cow tongue might be a foreign ingredient to some of us in the US, but this yields an amazing, flavorful, and tender beef taco. Give it a shot if you can find beef tongue at your local store!
Tacos Sudados: "Sweaty tacos" which are soft tacos that are steamed to keep warm.
As you can see, there are still a lot of traditional Mexican Taco varieties that we have not yet explored on this site. Many of them sound delicious!
Taco night needs taco seasoning, And our organic, Whole30 Approved Taco Seasoning is just the ticket for seasoning your beef, chicken, fish, shrimp, or pork!
---
Non-traditional Tacos
We LOVE fish tacos, and they are super tasty when you use Jerk Seasoning. This recipe for Jerk Shrimp Tacos is light, and refreshing topped with our Mango Pomegranate Salsa.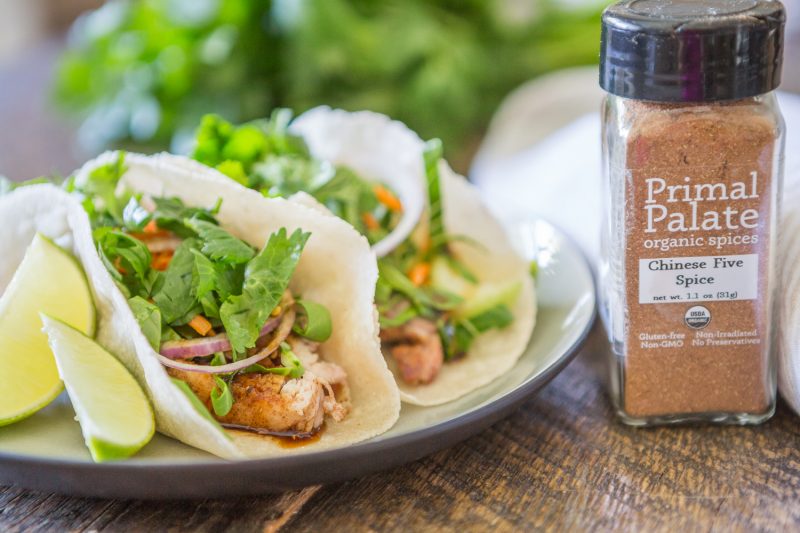 Looking for a way to spice up Taco Night? These chicken tacos with Asian flavors are the perfect way to bring some new flavors to your weeknight taco dinner.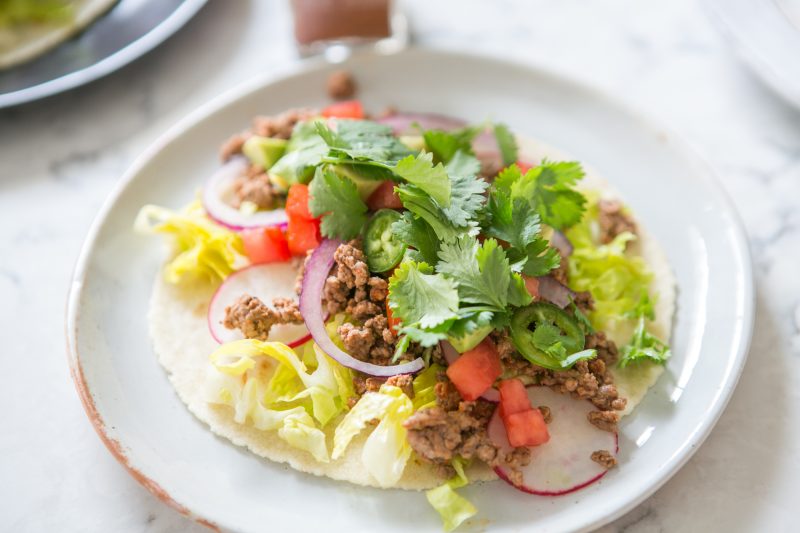 This is a basic taco recipe that is so easy to make (and economical, since it uses ground beef). Use our Taco Seasoning for a smoky flavor and spicy kick!
Despite having Taco in the name, this isn't even close to being what would be considered a Taco (let alone Mexican). This recipe more or less exists in the crossroads between typical American Tacos and a Frito Pie (often seen at Football games, where chili is loaded into a bag of Fritos). Regardless of the questionable pedigree, this unusual dish is delicious and fun to have at parties!