Did you know that with our mobile friendly myKitchen FREE paleo meal planning tool you can choose from 10 one week pre-populated meal plans. Yes, all this is FREE to you!!  … And we get asked this question all the time: when do the payments kick in on our meal planner? Here's the answer… never! Because we don't charge people to use myKitchen, our meal planner. All you have to do is login (or register if you haven't yet), and you'll have access to ALL of our free meal plans! (see them below).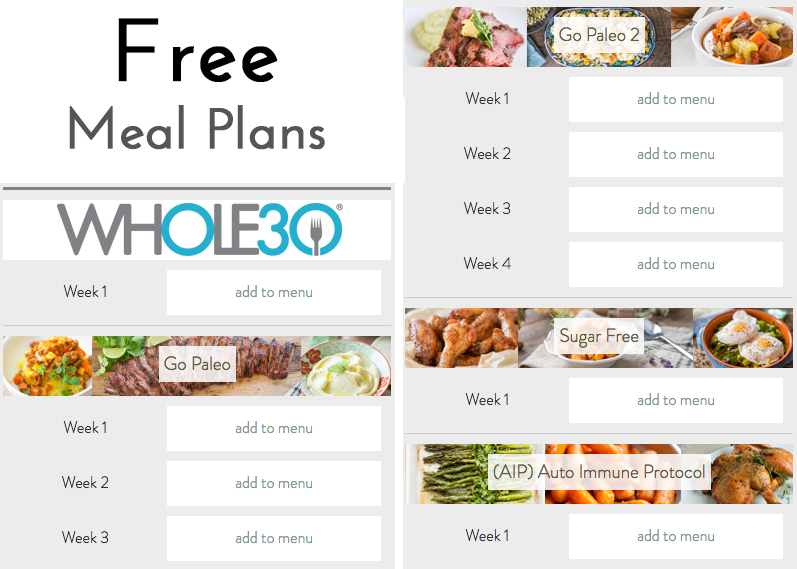 How to get the myKitchen Meal Plans
Register an account on Primal Palate, or login to your account
– If you're registering for the first time, you'll receive a verification email before you can login.
Click on the myKitchen tab at the top of the site
Click "View Meal Plans" under the Meal Plans column
Click "Add to menu" next to the meal plan week of your choice
In the Meal Plans (center column), you can change serving sizes of recipes, and it will reflect updated values in your shopping list. You can also add or delete days, and rearrange them. If you want to do a whole month's meal planning in one shot, go for it! It could also be equally useful if you are planning a large get together. Simply add recipes to myKitchen, drag them into the meal planner, increase the serving size, then print or email the shopping list to yourself. It couldn't be easier!  Don't forget – you can also use our recipe filters to easily add the recipes to fit any of the plans!

This week we are highlighting a few of the delicious recipes available in our 1-week SUGAR FREE Meal Plan. It's challenging, but also so worthwhile to kick a nasty habit (like SUGAR).  There are many health benefits gained by eliminating sugar from your diet. We recently read a great recent post from Mark Sission "Sugar's Day is Done" reviewing Gary Taubes' latest book, The Case Against Sugar.
Sugar Free meal planning is easy and delicious with myKitchen. See below for a few of the wonderful recipes you'll find in our SUGAR FREE Meal Plan.
Happy Cooking!
Bill & Hayley