If you missed it, we announced our Fall line of spices on Saturday! I started brainstorming for these blends earlier in the summer. It's kind of hard to think about fall flavors when it's 90 and sunny outside, and you really just want grilled food and popsicles. However, we got into the holiday spirit, and went to work in the kitchen mixing up delicious spice blends that you can use all fall and winter! Our Sweet Pack of spices includes Apple Pie Spice, Cinnamon Sugar Cookie, and Pumpkin Pie Spice!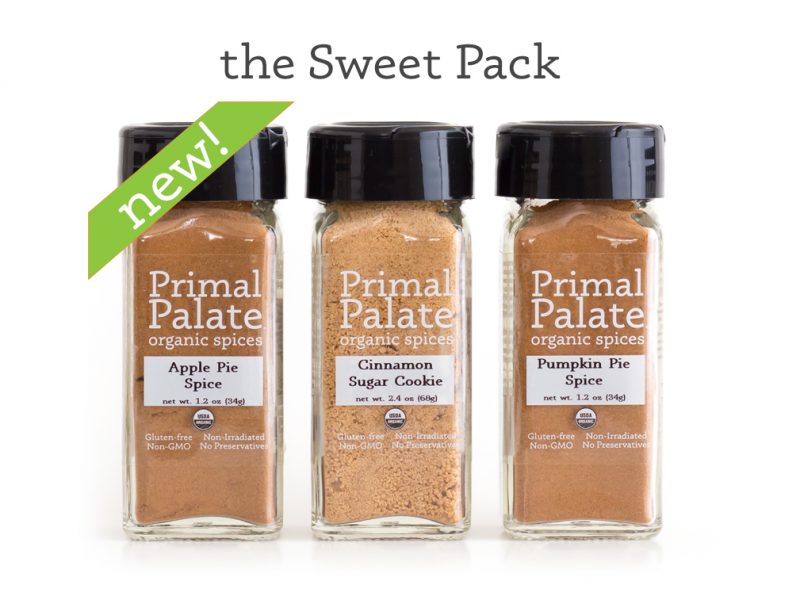 Along with our fall spice blends, we've also added to our line of single spices with the Savory Pack. We will be sharing recipes for fall using these herbs, but this pack was born out of the idea to create a blend to be used on roasts for holiday dinners. As we started to create the herb blends we realized that it was more beneficial to offer the single herbs along with one of our favorite coarse salts so that you all can season your roasts and cool weather comfort food using any variation of the herbs we've included in this pack. Our Savory Pack includes French Grey Sea Salt, Rosemary, Sage, and Thyme!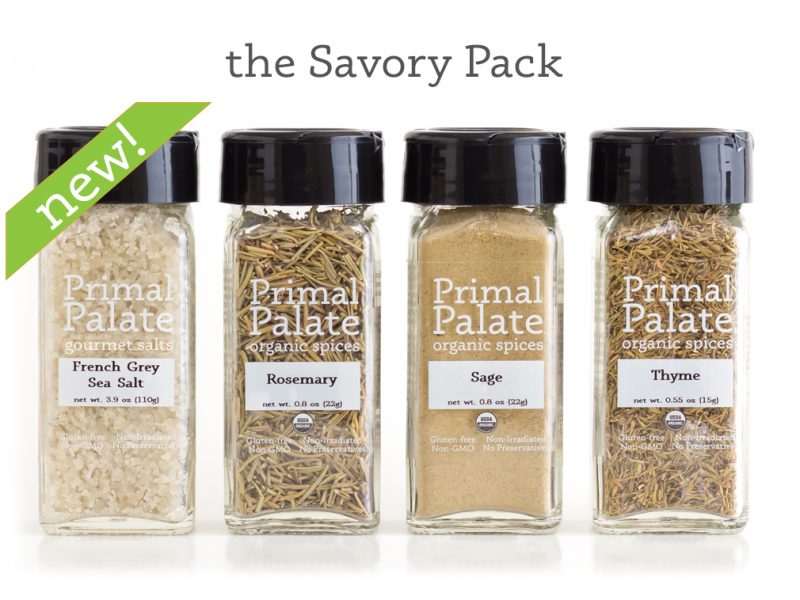 To create the Sweet Pack blends, we knew we needed a Pumpkin Pie Spice. Fall is all about flavors of pumpkin. I remember our first fall blogging, and we made pumpkin everything! One of our most loved recipes is Bill's family pumpkin pie, so Pumpkin Pie Spice was a must for us.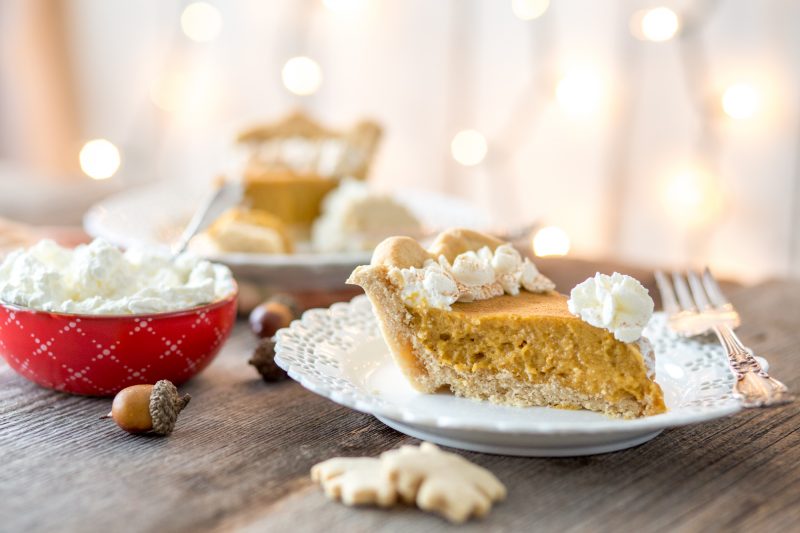 The second spice blend I really wanted to make was a cinnamon and sugar blend. I was thrilled when we were able to get our hands on organic maple sugar for this blend as well. Cinnamon is the signature spice of fall, and every fall dessert starts with cinnamon. This blend can be sprinkled on your favorite grain-free toast, used on our Apple Streusel Muffins from Make it Paleo 2, and we just shared our Snickerdoodle recipe from Make it Paleo 2 as well. This is a really fun blend to have around through the holidays. There is so much you can do with it! Bill has been calling it "the Adobo of the holiday blends", because the Adobo Seasoning from our Signature Blends Pack has become a crowd-favorite. We think Cinnamon Sugar Cookie has that potential! It's -amazing-.
Along with the Pumpkin Pie Spice and Cinnamon Sugar Cookie, I wanted to create an Apple Pie Spice. Apple pie is a favorite of my mom and sister, and Bill's mom. My sister always requests apple pie at Thanksgiving. Bill's mom ordered apple pie for dessert every night that it was on the menu on our Mediterranean cruise, and another one of our first recipes was for Nellie's Apple Crisp.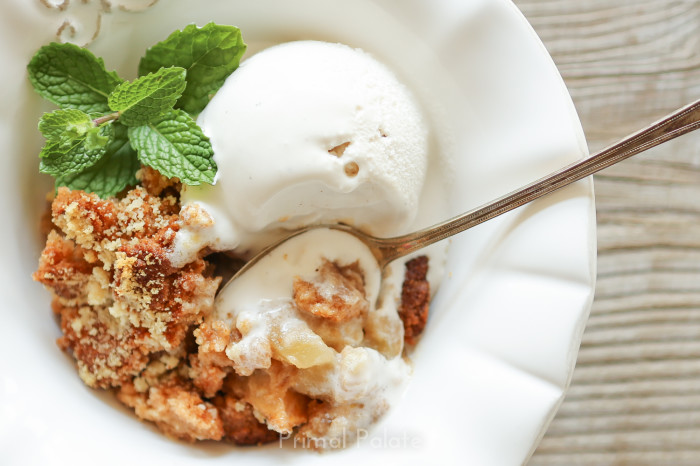 When Bill's mom first changed her diet to more of a Paleo diet, she made apple crisp for us often, so once again, our inspiration for this spice blend came from family meals, and that brings us to today's recipe!
A couple years ago, Bill's sister started making homemade applesauce. This recipe is special to me because it was a part of a meal that we had many times with Bill's family before I got really sick. Many of you know that I've been struggling with my health for a couple years now, and finally got a diagnosis of Chronic Lyme Disease and mold toxicity, and one of the first symptoms that showed up for me was a significantly reduced appetite, and food aversions to everything I loved. Anybody who knows me prior to this, knows that I have always LOVED FOOD. Hello, that's why we started this blog! Also, family meals have always been really important and special to me, so it was sad to lose that, and making this applesauce reminded me of dinners with Bill's family eating pork loin, his sisters applesauce, and baked potatoes. A really delicious meal, that just makes you feel warm and cozy on the inside.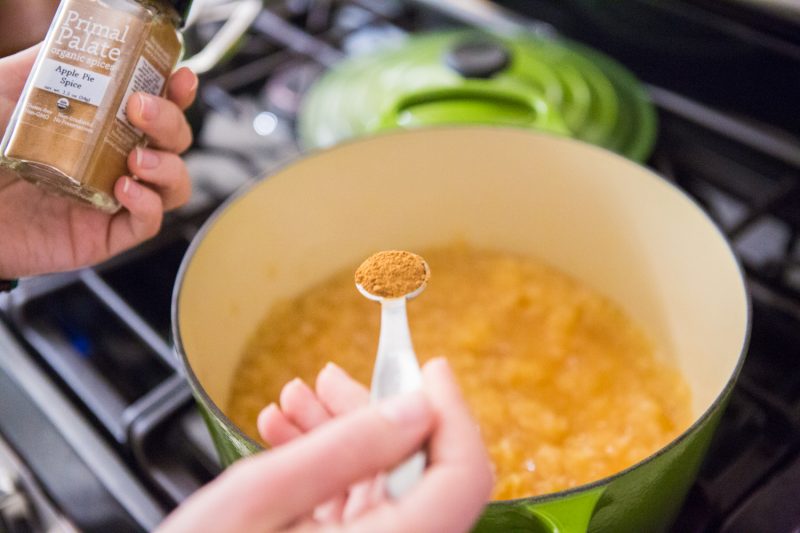 This recipe is not the same as Bill's sisters recipe, mainly because I just kind of winged it, but the memories were definitely there when the smell of warm apples and cinnamon filled our house while it was cooking. For this recipe we even got to use locally grown Honeycrisp Apples, which made me feel a little less sad about the weather changing. For this recipe, I peeled and diced the apples, and let them slow cook on the stove top until they became soft and fragrant.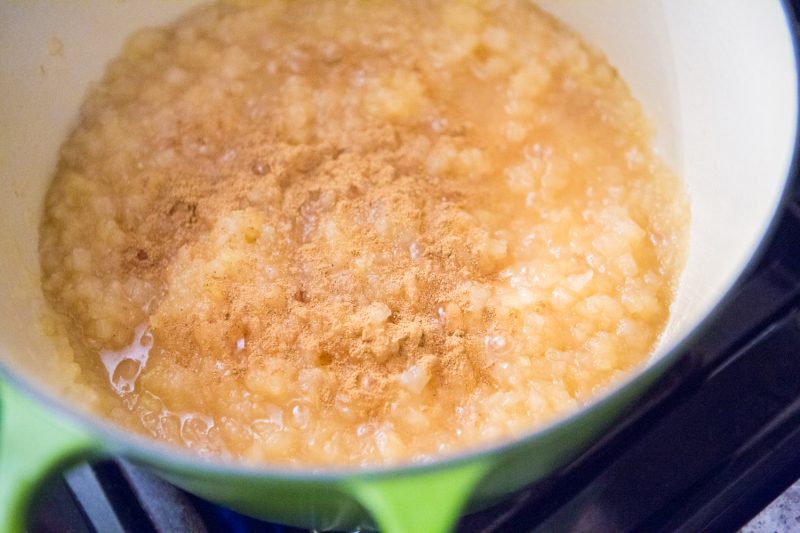 Once they cooked for about an hour, I seasoned them with our Apple Pie Spice (you can order that HERE), vanilla extract, and just a touch of maple syrup. I let it cook for a bit longer, and then it was perfect. This apple sauce would even be a fun gift to give out to friends and family over the holidays. Last year I made cookies for a lot of family, but I think a mason jar of homemade apple sauce would be something cute and delicious that everyone would enjoy.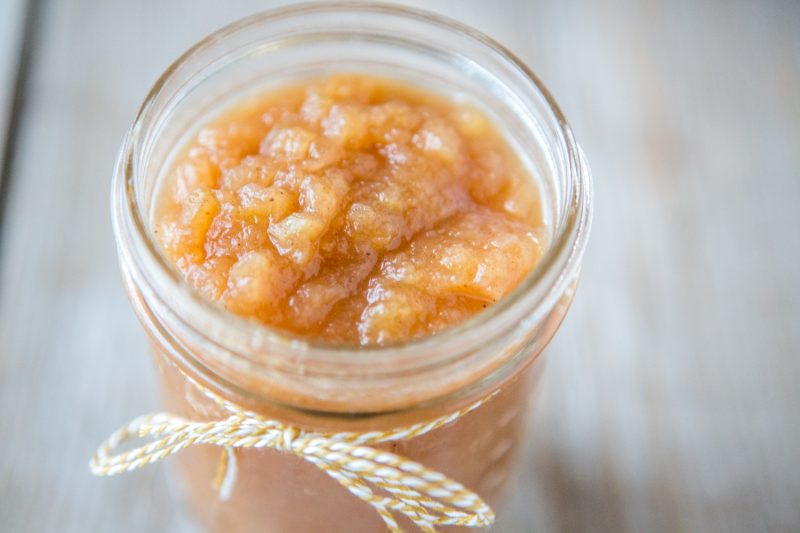 I hope you guys love this recipe as much as we do! Tell us what recipes are a family tradition for all of you during the holiday season.
xo,
Hayley