Hello Friends!
Today, we are SO excited to announce our new Fall & Holiday flavors. Are you ready for this? there are SEVEN new flavors, doubling your choices! When it comes to fall and holiday cooking and baking, these are the flavors of the season that make us feel cozy and festive. We aptly named the two new sets the SWEET and SAVORY packs. These are the flavors of the holiday season to us. Just like the Signature Blends and Healing Pack, these new spices carry the same high quality, and freshness that many of you have already grown to expect and appreciate from us.

We have been so excited about the success of the Signature Blends and Healing Pack, we knew back in early JULY that we were going to expand and bring you something fresh and exciting for fall. These flavors, you guys, are just the best. We also took time to listen to what you wanted. These new flavors are all nightshade and fodmap-free, a great option for people who can't tolerate nightshades or fodmaps. Our new fall flavors are just with flavor. One of the incredible spices delicately woven into all three blends is Saigon Cinnamon. There's no other cinnamon that can compare. It's otherworldly, and brings our Sweet Pack flavors to life.
Although everyone has pumpkin and apple on the brain when fall rolls around, we couldn't forget about the star of the show come Thanksgiving… that's right, the turkey. We put together our Savory Pack with our favorite herbs for holiday roasts, as well as everyday comfort food meals for cooler weather. The Savory Pack includes classic herbs: organic Rosemary, Thyme, and Sage. Also included in this pack is one of our favorite salts: French Grey Sea Salt. This gourmet coarse salt is perfect for any roast, or as a finishing salt on your favorite holiday side dishes like roasted green beans or Brussels sprouts.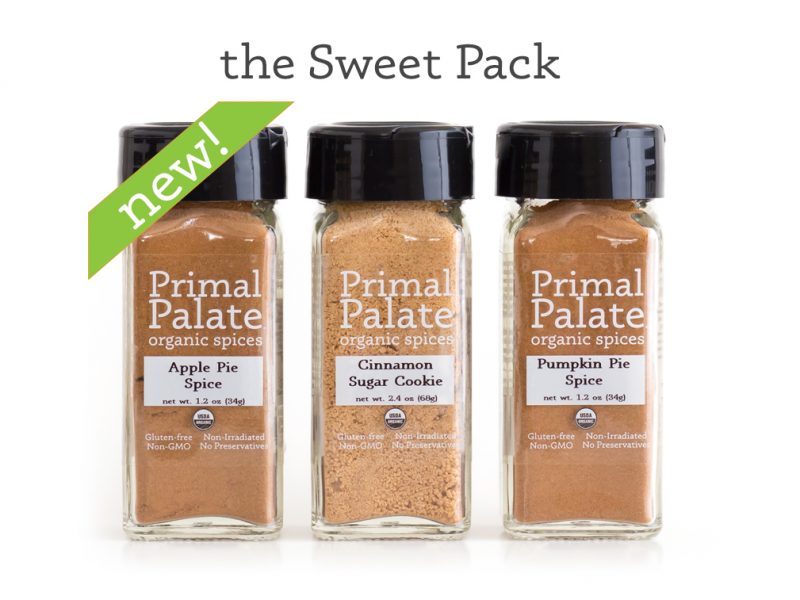 (Note: Orders containing this item will ship the week of September 24)
Our Sweet Pack brings together three of our favorite spice blends, perfect for all the familiar dishes of fall gatherings. The trio pack of seasonings include:
Apple Pie Spice: This harvest season favorite is a great addition to pies, cakes and muffins. Our unique blend of exotic spices will make any dish instantly feel cozy with warm and bright flavors.
Ingredients: Saigon Cinnamon, Ginger, Allspice, Cardamom, Nutmeg
Cinnamon Sugar Cookie: Bring back the flavors of your favorite holiday memories with this magical blend. Beyond cookies, try it with cinnamon rolls, on baked apples, or on coffee cake.
Ingredients: Granulated Maple Sugar, Saigon Cinnamon
Pumpkin Pie Spice: The pinnacle of fall flavors, our Pumpkin Pie Spice is fantastic for pies, muffins, cheesecake, custards, sweet potatoes and winter squash, or even your pumpkin spice latte!
Ingredients: Saigon Cinnamon, Ginger, Cloves, Nutmeg
All of our blends are made from USDA-certified Organic ingredients, a standard of quality you trust and expect on your table.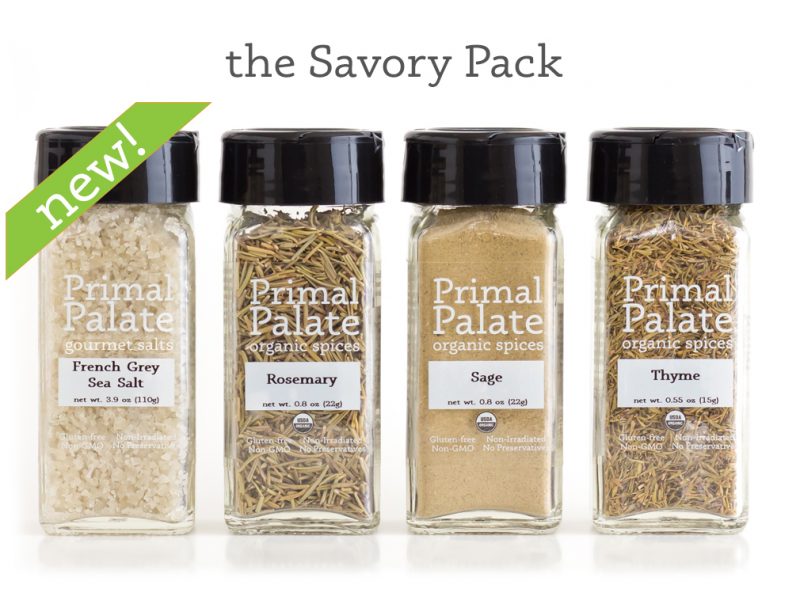 (Note: Orders containing this item will ship the week of September 24)
Our organic Savory Pack sets the stage for hearty, cool weather meals. Whether you are preparing a special holiday feast, or simply preparing an easy dinner in the slow cooker, these four classic flavors will help you season just about anything.
French Grey Sea Salt: Known in France as "sel gris" (grey salt), this salt is prized for its moist, delicate crystals and rich ocean flavor.  Use this versatile finishing salt to flavor your beef, lamb and poultry dishes.
Rosemary: Rosemary is a fragrant, woody herb that imparts a distinctive flavor and aroma in cooking. This versatile herb pairs especially well with chicken, turkey, lamb, and pork.
Sage: Sage has legendary status as both a medicinal and culinary herb. Enjoy this herb, with its slightly peppery flavor, on your holiday roasts, poultry and other meats.
Thyme: Thyme is one of the oldest and most popular herbs. Its distinctive flavor complements most hearty and savory dishes including soups, roasts, and vegetables.
---
NEW RECIPES
We want you to be excited about these new spice blends, so here are some fantastic NEW recipes to get you started with them. Simply click on each image to view the recipe.
These new spices and spice blends are currently in production, and first orders will be shipping out around September 24th. We are excited for you to try them!
Visit our online store to see all of the spices we have available, and get the best deals on them (There are some money-saving bundles, and even one where you can get One of Everything, and save $20 off your order… thats like getting one pack almost for free!)