There's nothing quite like a perfect, freshly baked chocolate chip cookie. The slight crisp on the bottom, breaking it in half to reveal melty chocolate chips, and the warm and sweet flavors blending together when you take a bite. Oh, and a hint of sea salt takes it over the top for some of us. I love them fresh out of the oven, given a few minutes to cool slightly, and then I go total-Cookie-Monster on the batch. #noregrets
But what if you are looking to do other things with your chocolate chip cookie dough? It's a question few have ever asked question before. Ever since we launched our organic and grain-free chocolate chip cookie dough, we've been asking ourselves this question and have come up with seven fun things to make with cookie dough.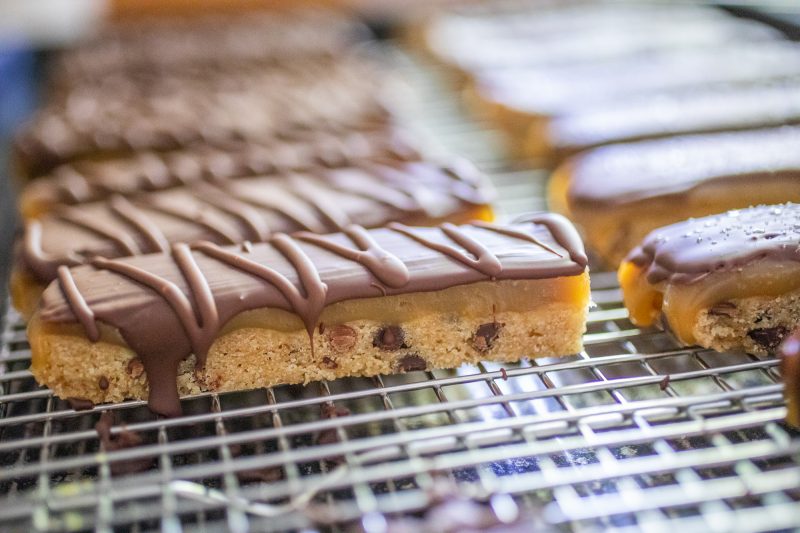 For the longest time, I've watched Rachael DeVaux (@RachaelsGoodEats on IG) make some unbelievable copycat Twix Bars. They look amazing every time she posts them, and I came to realize that I needed to try making them. So yesterday we made our own version, but it happened in a roundabout way. At first, I thought about making chocolate chip cookies in the shape of a bar, and then dipping the top half in chocolate. I still might do that anyway. But then Hayley said I should make Twix bars with a caramel layer. And that was the real lightning bolt idea for this recipe. So I guess it wasn't really my idea to make these 😉 But I'm glad Hayley told me I should make them!
To start off, this recipe uses a chocolate chip cookie base instead of a shortbread base. Thank me later! We call for our own chocolate chip cookie dough, but you can make a cookie layer from scratch. Either is fine!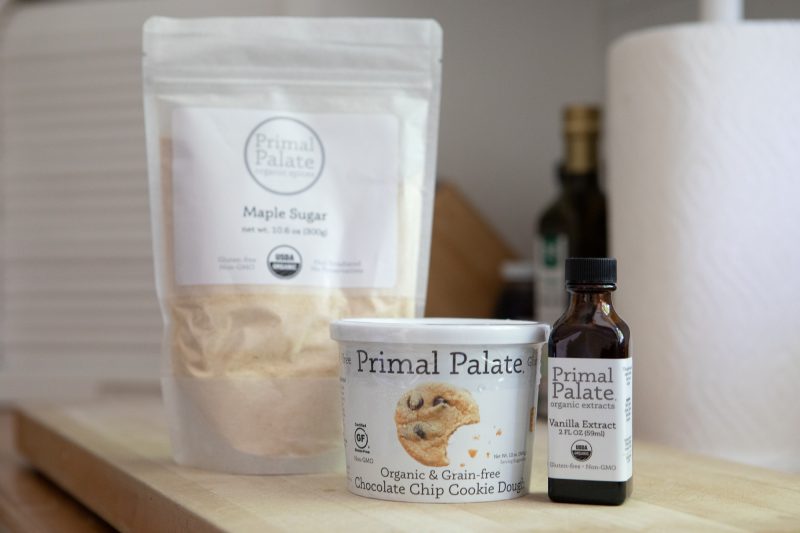 Your purchase supports Primal Palate recipes!   Maple Sugar  |  Cookie Dough  |  Vanilla Extract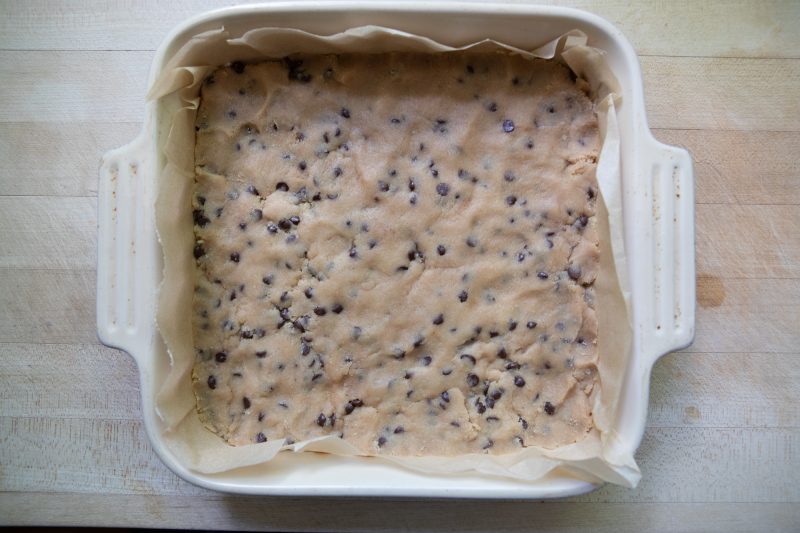 The first batch was a bit of a failure. I didn't use a candy thermometer to measure the peak temperature of my caramel and it was too soft. And then I covered the entire batch with a layer of chocolate that was too thick. So when I went to cut it, even though it was frozen, the chocolate shattered and the caramel smooshed out under it. Not a good result.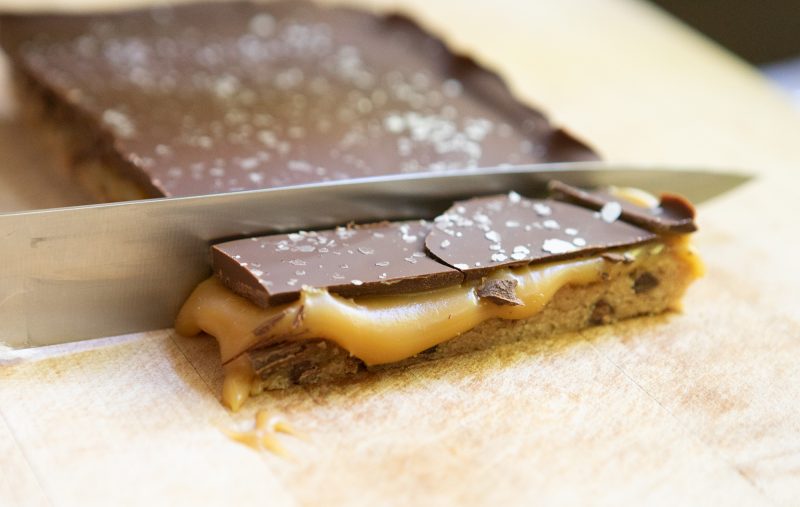 (These tasted great, but the presentation was a failure)
For the next batch, I leaned on science, and used a candy thermometer to get more accurate with the caramel. I took the caramel to firm ball stage, though I think you could take it even higher to hard ball or soft crack. If you don't have a candy thermometer, you might want to get one for this recipe so that you can be exacting with your caramel, too.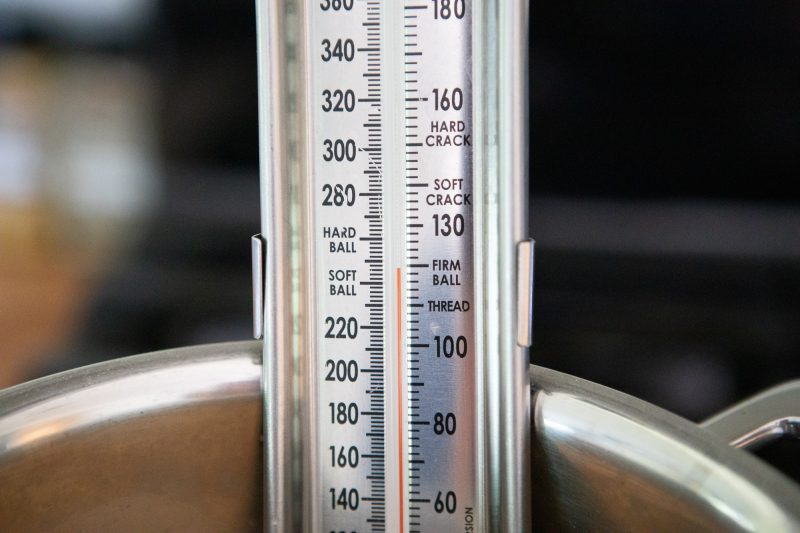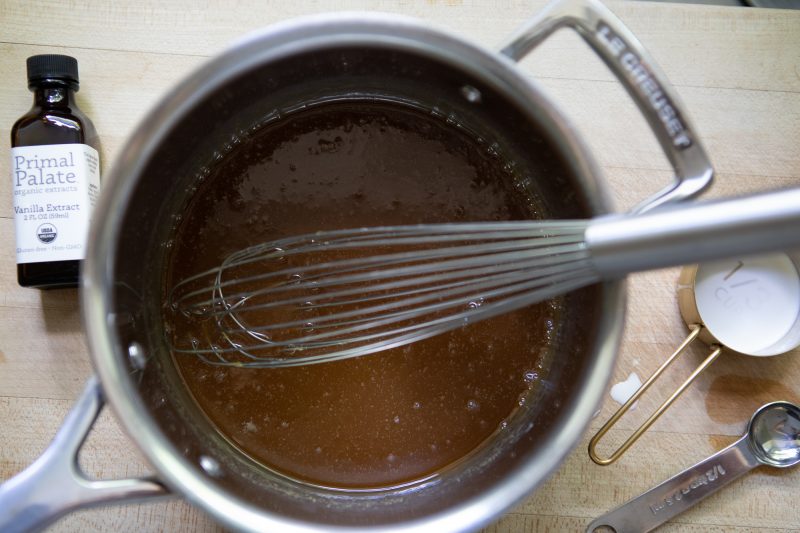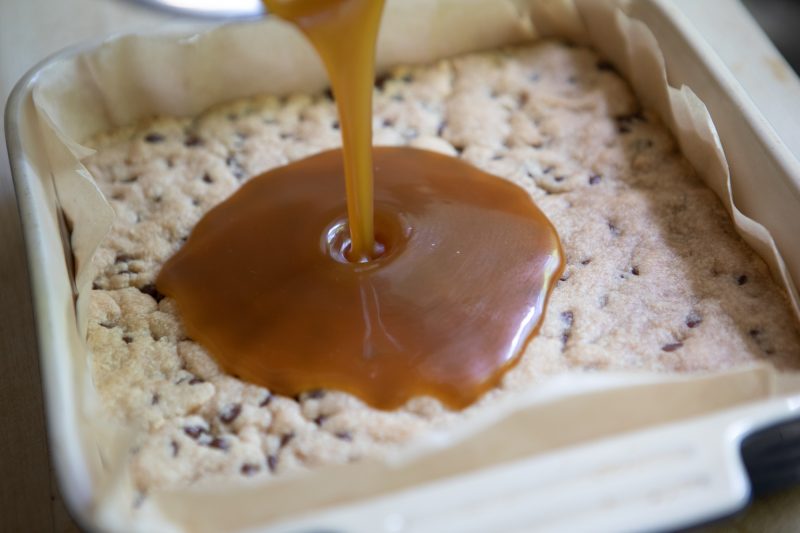 Pop the whole thing in the freezer and let it get really cold and frozen. This will make cutting it a lot easier, which sounds counter-intuitive, but trust me.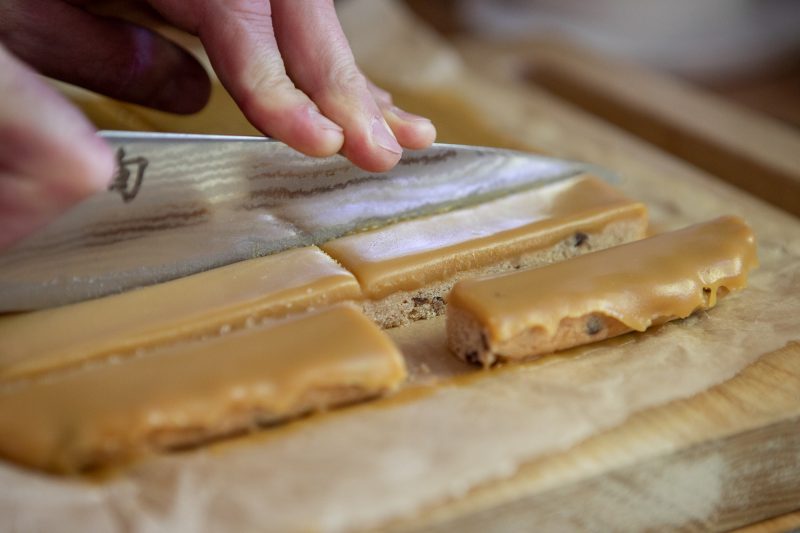 Hayley suggested cutting into bars before covering in chocolate, and it was a great idea. The result was exactly what we were hoping for! We finished the bars off by spooning melted and slightly warm chocolate onto the bars, then spreading it with a small brush. And in the moment before the chocolate solidified, we sprinkled some of our Kosher Flake Salt onto them (coming soon!)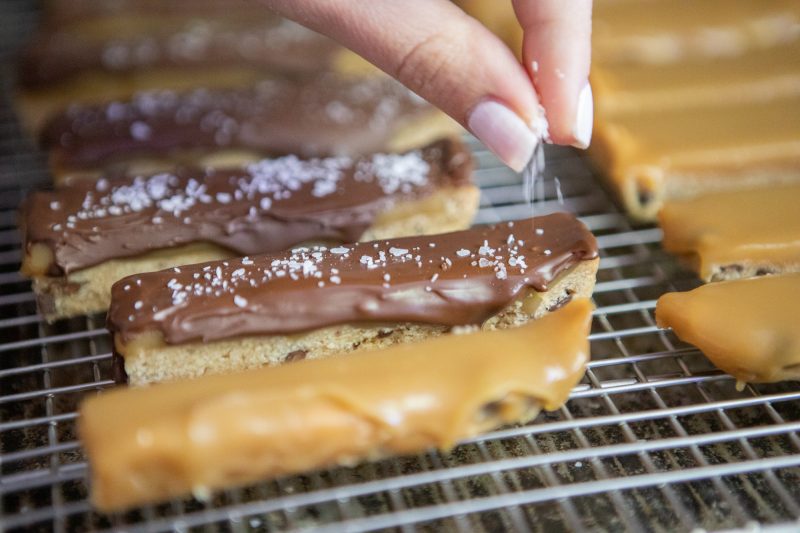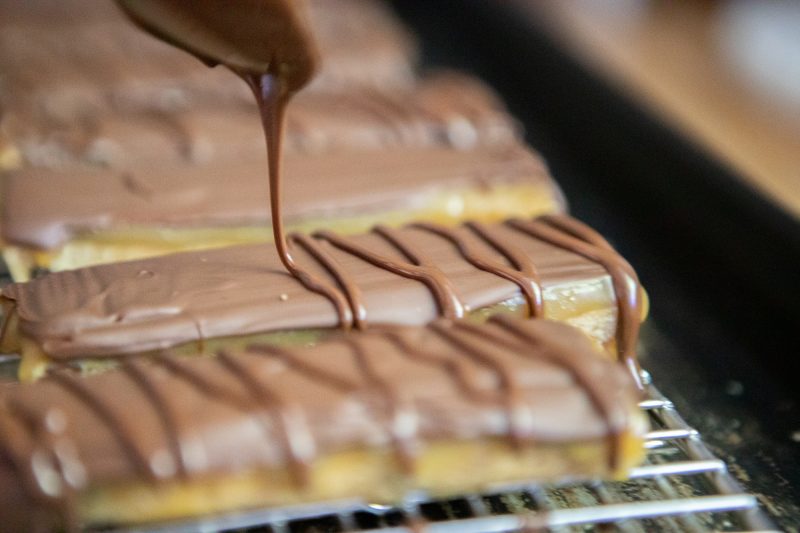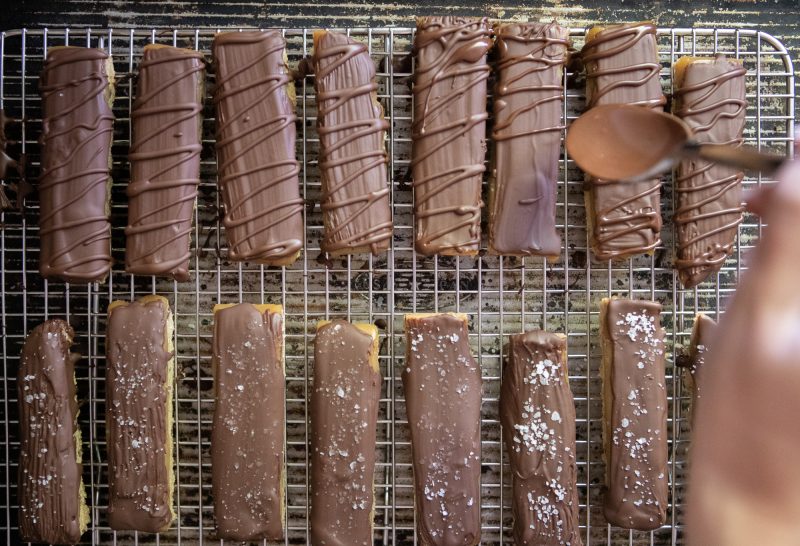 We hope you enjoy this recipe as much as we did. It was really nice spending some time in the kitchen together, and collaborating on this devilishly indulgent recipe. Keep them in the freezer for best results, and keep them out of sight so they don't disappear too quickly. 🙂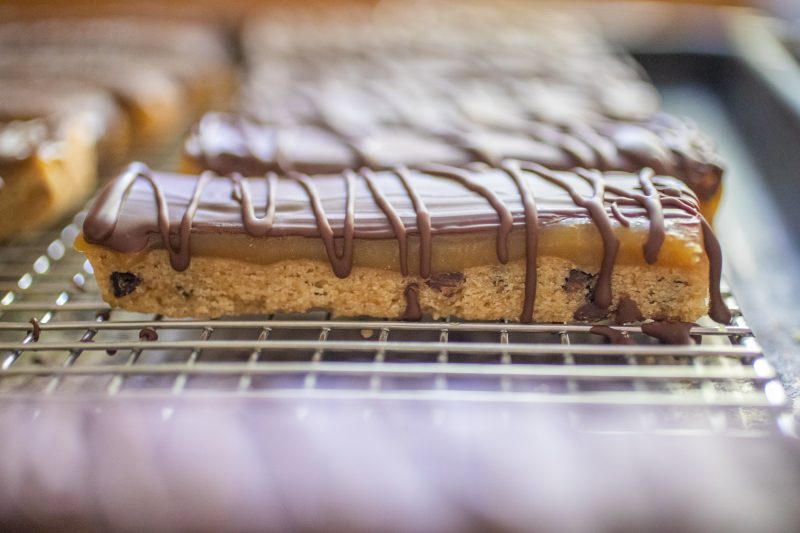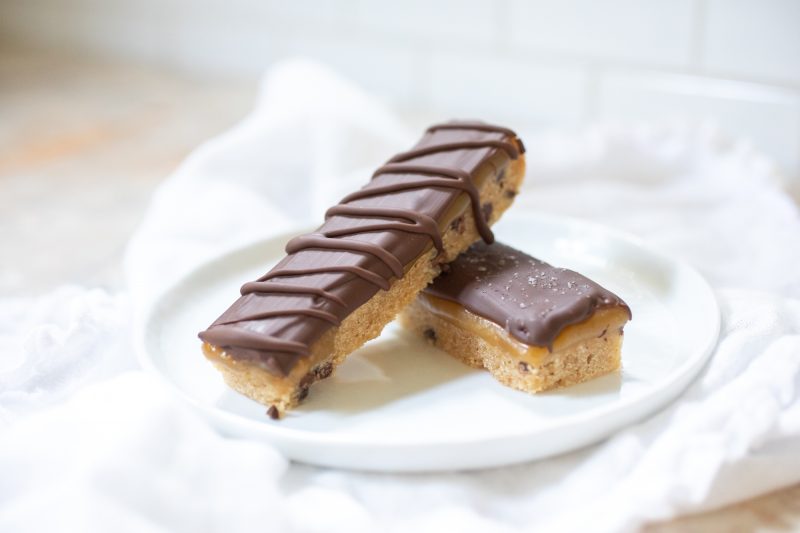 Twix bars were one of my favorite candy bars when I was a kid. This version is a whole lot cleaner, but just as decadent. Bet you can't have just one!
Process
Note, these instructions are written assuming the standard serving size, since you have modified the number of servings, these steps may need to be modified for best results
Preheat your oven to bake at 350 degrees.
Line an 8x8 baking dish with parchment paper. Press the cookie dough out in an even layer to the edges of the dish. Bake for 20 minutes.
While the cookie dough is baking, prepare the caramel.
In a sauce pan, combine the butter, maple sugar and water over medium heat. Use a candy thermometer, and bring the mixture up to "firm ball" while whisking frequently. Firm Ball stage is approximately 250F, and this is the lowest heat I would suggest for the caramel. This heat will yield a creamy and super soft caramel.
Once the caramel reaches firm ball stage, keep it there for another 3-4 minutes, continuing to whisk. Add the salt and vanilla, and remove from heat. Whisk in the heavy cream and set aside to cool.
Allow the cookie layer and caramel to cool (measured 115F or less, or able to be handled with bare hands, but can still be warm).
Pour the caramel over the cookie layer, spread it to the edges, then place the entire dish in the freezer for at least one hour. Ideally for several hours to really get cold and firm.
Melt the semisweet chocolate chips over low heat, stirring constantly. Add the palm shortening (or your choice of fat) and stir until incorporated. Once liquified and mixed, set aside to cool until you can handle it with bare hands (115F or less).
Bring the frozen cookie layer out of the freezer. Cut in half, then cut into 1" strips. This will yield 16 candy bar-shaped pieces.
Spoon the warm chocolate over the candy bars, and spread with the back of the spoon or a brush. Immediately sprinkle with Kosher Flake Salt or another finishing salt of your choosing. Our French Grey Salt is also another good choice.
Re-freeze to store, best served cold!
Notes
If you want to do the chocolate layer all at once, keep the layer VERY thin so that it is easy to cut without shattering into shards. I know this because the first attempt on this recipe I did a thick chocolate layer all over, and wasn't able to cut it. 🙂
If you have a container of our cookie dough in the freezer and want to try something new with it, here are a few ideas: