Whenever someone says Paleo seems too "limiting," all I can think is, "You should try AIP." While a diet without eggs, nuts, or chocolate might seem impossible, it also gives a lot of freedom to those with autoimmune conditions. When I spoke to Bre'anna of He Won't Know it's Paleo, she told me, "When you get sick from eating one little thing, it's easy to cut out." After being diagnosed with celiac disease and Hashimoto's, Bre'anna switched from a standard diet to gluten-free, to dairy-free, to Paleo; to ultimately the AIP protocol in 2013. She openly says she "starved that first week," having no idea what she could eat. She started her blog and went on to write her (new!) cookbook to show everyone that AIP doesn't have to be limiting.  She named her blog after her husband, who ate Paleo for six months without knowing it. With her "gluten-loving" husband serving as a taste-tester, you can be sure Bre'anna's AIP recipes taste just like the "real thing." Keep reading to find out how she healed herself, and for tips on how to get started on the autoimmune protocol. Thanks for sharing your story Breanna!
For more information on Hashimoto's and the Autoimmune protocol, be sure to follow Bre'anna's blog, and catch up with her on Facebook and Instagram!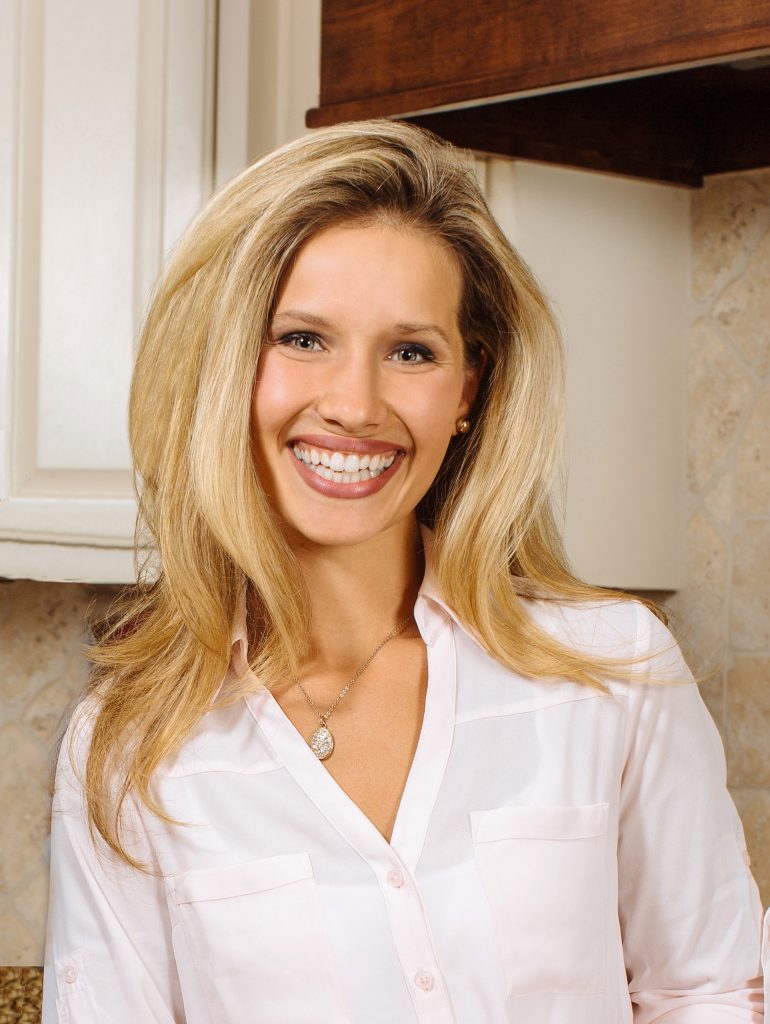 When did you start seeing changes in your health? Had you been sick your whole life?
Actually no; I was relatively healthy until I had our second child. I had started having IBS issues in college, around 17 or 18. But at that age, you don't really think about it. Eventually I graduated, got married, had a baby; everything was fine. It was after having my second baby that I started having issues. I'm usually a really outgoing, bubbly person; but I felt really dull and down. I had never felt like that before. I gained 5-10 pounds without changing any habits. Knowing something wasn't right, I went to the doctor. Tests showed my thyroid was three times its normal size, and I was diagnosed with Hashimoto's.
For those who are unfamiliar, can you explain what Hashimoto's is?
Hashimoto's is an autoimmune condition that attacks the thyroid. While tests showed my thyroid was still in the normal range, doctors informed me it would eventually stop working. For the time being, I just had to put up with the symptoms. I was a classic case, having dealt with GI issues previously and now being diagnosed with Hashimoto's. After having further blood work done, my endocrinologist found I had Celiac antibodies. She suggested I eat gluten-free for three weeks, then see a GI doctor. At this time, I still had it in my mind that typical medicine would fix me. I had no reason to think it wouldn't.
What happened after you saw the GI doctor?
I went to the GI doctor and met with the physicians assistant. She asked me if gluten-free was helping, but I hadn't seen any drastic changes in my symptoms. She told me, "Yea, Celiac disease is the disease of the month. Go home and eat a fiber supplement. You'll be fine." So I went home, ate gluten, and lived a normal life. (Unbelievable!!! -Bill)
Shortly after, I got pregnant with our third baby, and just like before, my issues went away while pregnant. After I gave birth, my issues came back and then some. I had numbness and tingling. I was losing my hair. At that point I decided, "I'm going to try going gluten-free again." I decided to try it for six weeks to see if anything improved.
By the end of those six weeks, I could not believe how good I felt. I felt like a whole new person! I walked around thinking, "This is so great!" I told my doctor about the changes in my symptoms, and she replied, "I still need to formally test you. Go back on gluten, eat as much as you can, and see how you feel."
Four days later, I called her crying. I was fainting, all my issues came back, it was horrible. I couldn't even leave the house my stomach hurt so bad. My doctor said, "Ok you need to stop because clearly your body is not handling this." With all the fainting and other neurological symptoms I was having, I went to the hospital. I was tested for MS, rheumatoid arthritis, and lupus – basically anything I could be tested for right then and there. When every test came up negative, they declared I had Celiac Disease by exclusion. They decided it was too risky to go through with any more testing. And frankly I wasn't going to go through that again to prove something so obvious.
What happened when you switched to a gluten-free diet permanently?
When I went back to gluten-free, I never felt as awesome as I did those first six weeks. It was as though I wrecked my system too much. I switched doctors, and found this great woman who specialized in functional medicine. After talking with her, she suggested cutting out dairy. It helped; much to my dismay because I really like dairy! When I switched to Paleo, I really saw a difference. I would still get flare-ups – I started noticing this whenever I ate tomatoes. I started reading about nightshades and I thought, "Noooooooo I live in San Antonio! Salsa is everywhere!" That's when I finally went autoimmune (Paleo). I'm pretty sure I starved that first week while figuring out what to eat. The house was full of goldfish and granola bars; it was definitely an adjustment. But I tell people all the time: when you feel terrible from eating one simple thing, it's easy to cut out.
Did your family think you were crazy?
Yes, totally!! Before I was Paleo I accidentally ate a chicken nugget I thought was gluten-free. I had symptoms for four weeks! No one in my family believed I could have issues for that long. Now, everyone is pretty supportive. My mother-in-law is really careful about cross-contamination at family holidays. She knows not to stuff the turkey with stuffing, and I'll always offer to bring a side dish or dessert.
How did you get the idea for your blog?
I used to describe my husband as, "Someone who would eat anything, as long as he doesn't know what's in it." When we were first married, he told me he didn't like onions. Yet, I was chopping them up so small, he didn't know there were onions in the food he was eating. I knew my husband wouldn't want to go Paleo, so I just didn't tell him. I cooked AIP Paleo for a good six months and he didn't know. He was losing weight, feeling great, and saying, "Wow the 30's are good to me!" Finally I told him the truth. He couldn't believe it. He said, "Whaaaatttt???!! Well, you need to start a blog or something, because this food is really good." So I named my blog after him. He has come so far. At one point, I wouldn't even tell him what I was making. Now, he goes, "This is really good…Should I even ask what's in it?"
Since you're a wife and a mom, is your entire family Paleo?
My family is pretty Paleo. I would say my husband is 70/30. I'm more focused on keeping them gluten-free, since it can be genetic. My son has eczema and apraxia of speech. Basically, it's dyslexia, but with speech: it's difficult for his mouth to say what his brain is thinking. Through reading books and talking with other families, gluten-free seems to help these kids. Therefore, I keep the house completely gluten-free.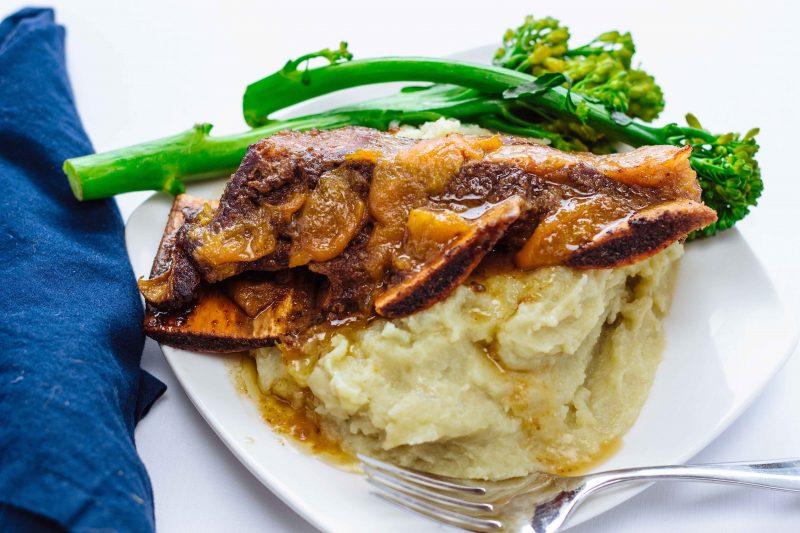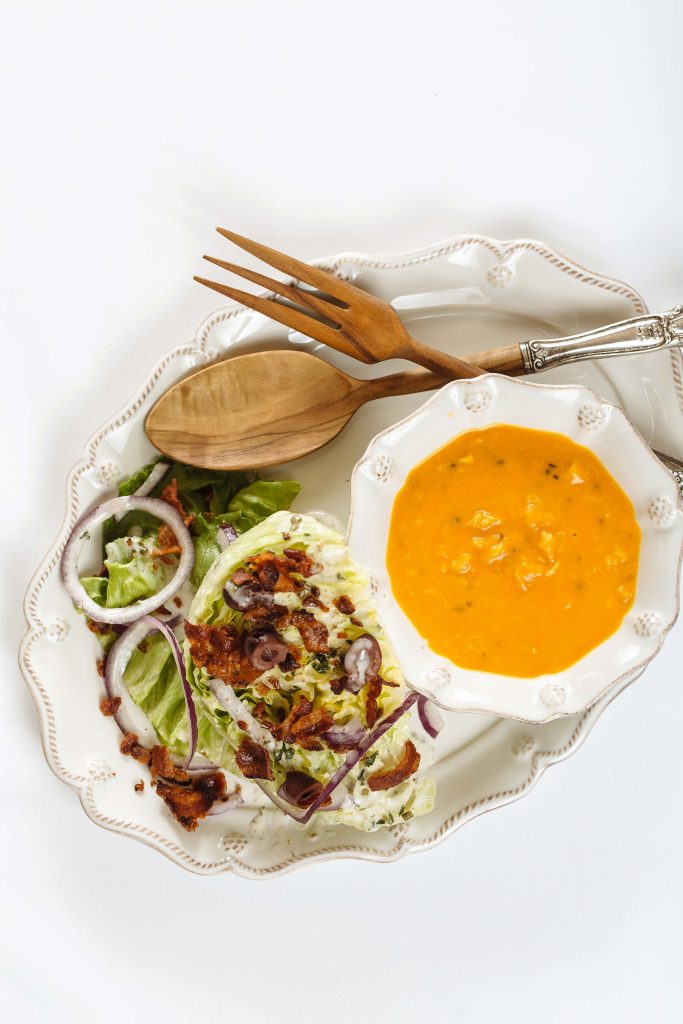 Do you have any advice for raising a family on Paleo?
I don't want the kids to feel like they're being deprived, so I like keeping treats like brownies and cookies in the house. When I started Paleo I got some great cookbooks and found recipes I really liked. When I switched to AIP it was really hard because you can't use eggs, almond flour, or cocoa. That's when I really had to get creative. One of the first things I made were these little banana bread bars. I made an egg substitute using gelatin and water. Once I had the chemistry down, I could piece the puzzle together for other recipes. I bake with coconut and arrowroot flour, but need to be careful with arrowroot because it is so starchy.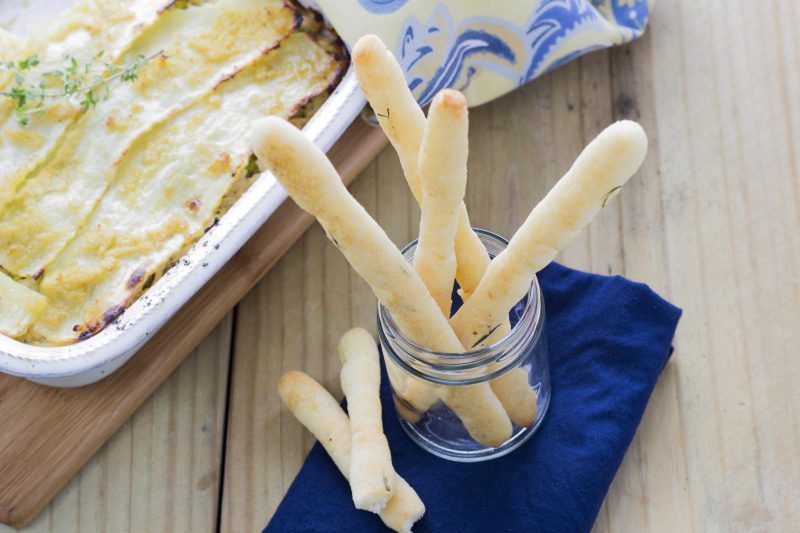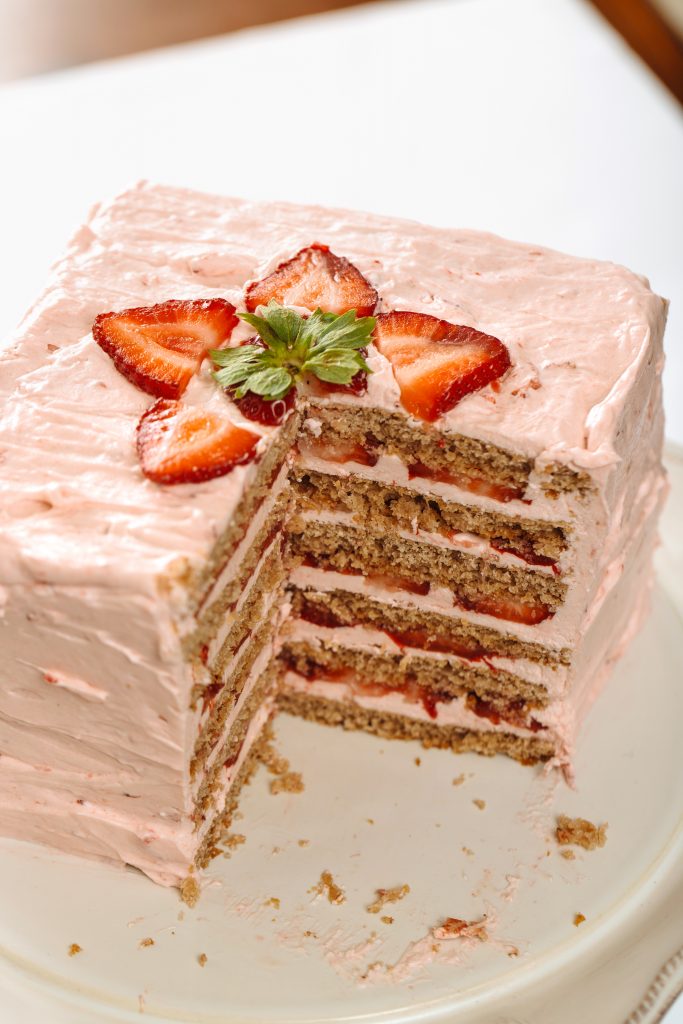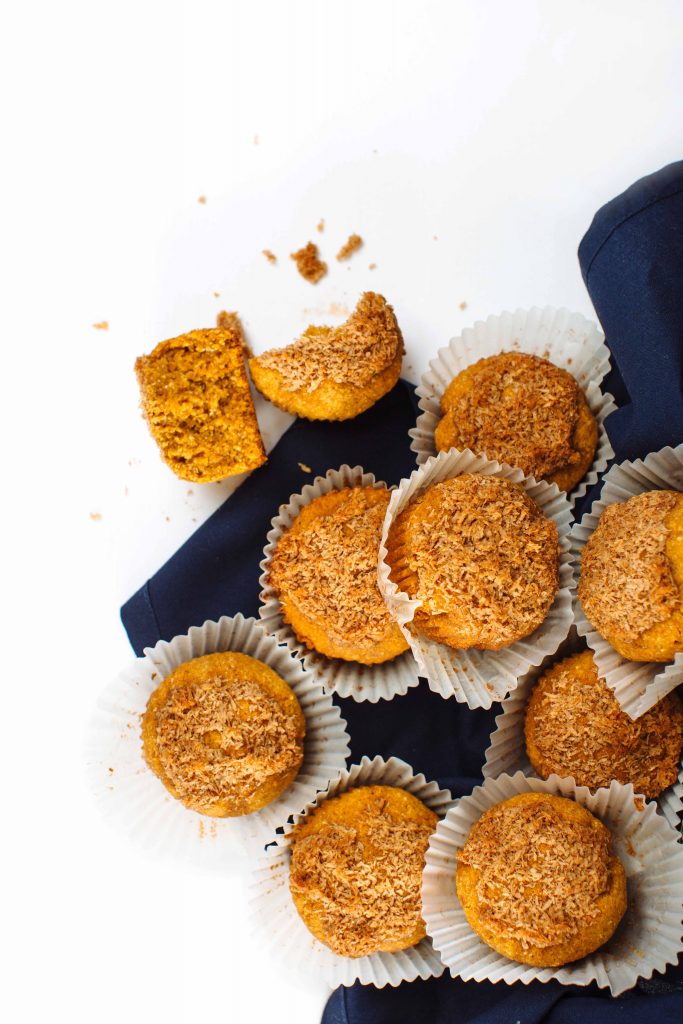 My kids like to eat anything they can pick up. Chicken drumsticks are one of their favorite things. They also enjoy fish, Applegate hotdogs, and kabob sticks – they're really good meat eaters. For snacks they enjoy Larabars, apples and almond butter, things like that. I've found it's important to make sure things are seasoned well. Broccoli may not taste that good (to a kid), but a little avocado oil and salt will really help change the flavor. Making food that tastes good sounds so rudimentary, but just making things they like – and sticking to those things – is key.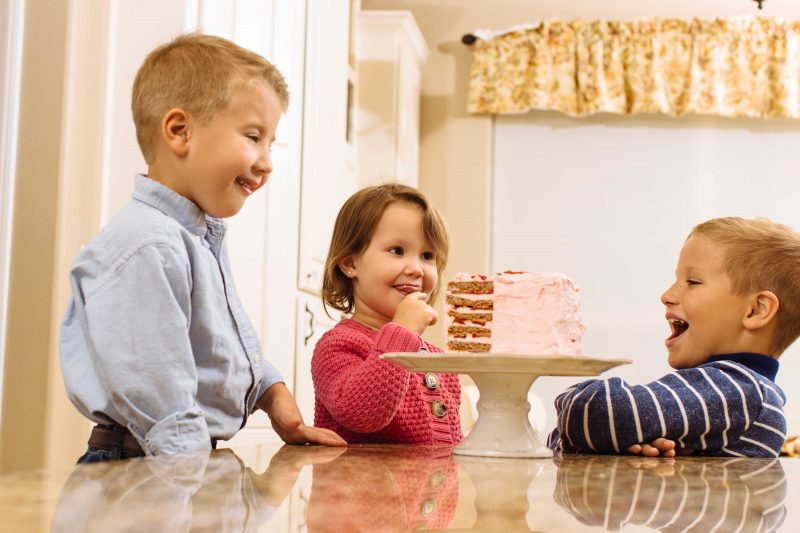 For me, it's about finding the non-negotiables. In our house, it's not negotiable to not eat vegetables. The second non-negotiable is gluten, because I don't want our son exposed. But if I'm making pasta, I'll have spaghetti squash while everyone else may have gluten-free noodles. It just comes down to making things everyone will enjoy.
Is there any advice you want to give to someone who is going AIP?
When I first went AIP, I wish someone would have told me to just stick with it. The first time I tried, I quit in two weeks. I put everything back into my diet at once, so I never pinpointed what I was reacting to. You need to have patience. Your body takes time to heal. There will be days where you don't feel great – just be patient.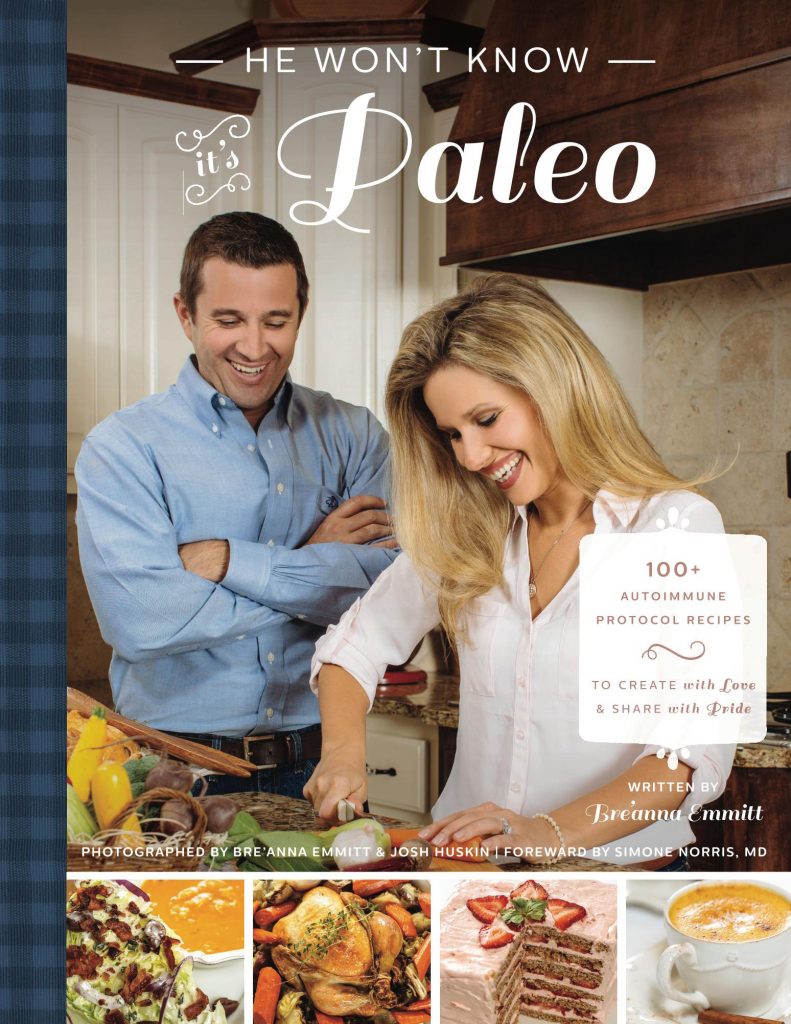 Last but not least, tell us about your new book!
When I first started my blog, there were very few AIP resources out there. My intention was to show people you don't need to just eat broccoli for the rest of your life to follow this lifestyle. In my new book, "He Won't Know it's Paleo," the biggest thing I wanted was to make AIP individuals feel normal. In the beginning, you feel so isolated! You're scared to go into any restaurant, particularly in our culture. The book includes 120 AIP recipes, including appetizers, desserts, breads, muffins, entrees…everything. I want people to cook from it, bring a dish to a party, and have everyone else say, "That's AIP??"
We're starting our next Paleo challenge off April 1st!  Grab a friend, download the guide, and join us for one month of strict, clean Paleo eating. It includes everything you need to get started today! (click the link below)