It's officially fall here in our little corner of south western Pennsylvania. We had an amazing September, with weather that was consistently better than anything we got during the entire summer. It was just beautiful. Now it's October, and although we are getting some pretty fall days, we are also getting a good bit of rain, cold, and grey skies. It's a preview to the long, grey winter that always lies ahead, and thinking of it makes me sick to my stomach. Sunshine is something we never take for granted… ever!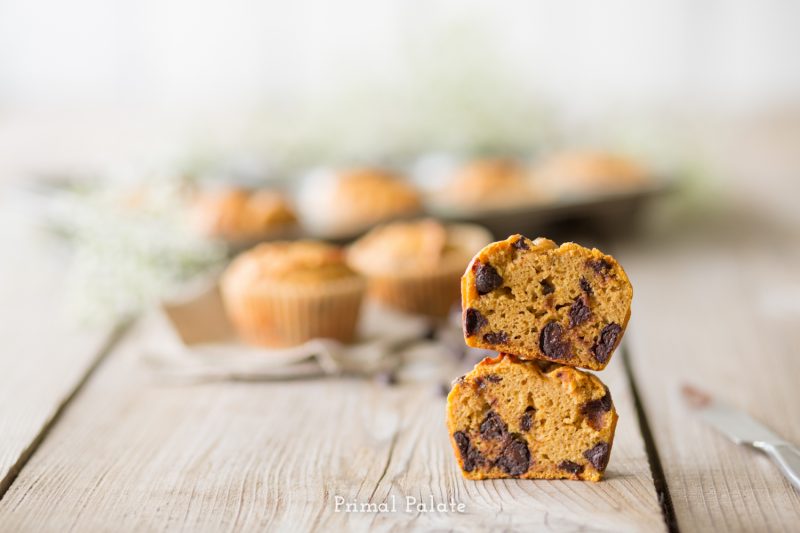 Today I woke up and decided that I needed to make pumpkin muffins. It just had to happen. I really didn't have time for it because we are in the final stages of work for our new cookbook (Make it Paleo II), but I needed to do it. I've been trying to make a nut-free pumpkin bread for weeks, and I just couldn't get the texture right. It kept coming out too wet in the middle. So, what's a grain-free girl to do? Either make it with nut flour, or make muffins! Muffins are a great way to modify a bread recipe that wont cook all the way through as you had hoped. The smaller amount will usually turn out perfectly, and in this case it did! I'm sure Brittany Angell could make this recipe work with coconut flour in a loaf form, but I'll just have to wait for her new book "Every Last Crumb" to come out to learn that!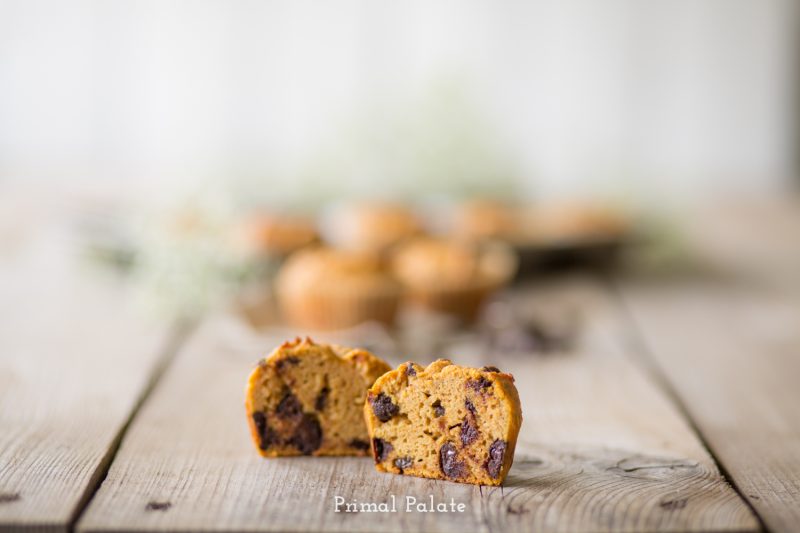 Yes this picture is moving, isn't that cool?!
I used a blend of coconut flour and tapioca starch for this recipe. I find the starch to be a really important component to grain-free baking, because it really changes the texture of the baked good, and helps create a more traditional (like wheat-based) end result. When I bake with coconut flour, I make sure to add coconut milk to the recipe as well, because coconut flour will continue to absorb moisture after it's baked, and will often become very dry when it sits. The added moisture from the coconut milk helps prevent that problem, but since these were pumpkin muffins, the pureed pumpkin added just enough moisture to this recipe!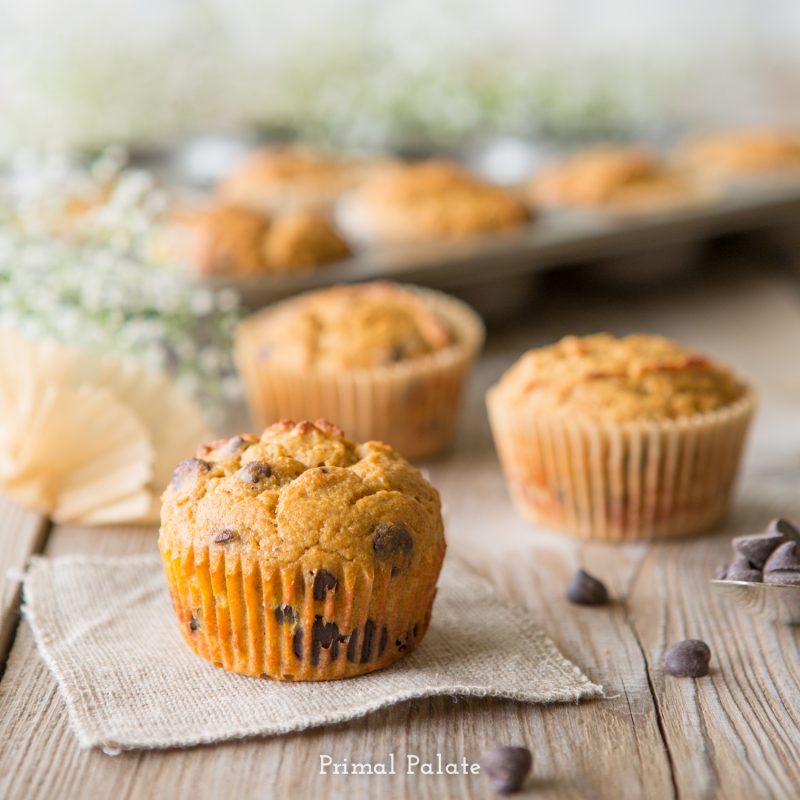 I also used granulated maple sugar in this recipe, because I was concerned that a liquid sweetener like maple syrup or honey would make this recipe too wet, and it wouldn't cook correctly. It's always a challenge trying to find the right balance of dry ingredients to wet ingredients with grain-free baking, especially when working with coconut flour. Things can get really tricky! I wasn't sure how this recipe would turn out, but I hoped for the best, and luckily it turned out fantastic!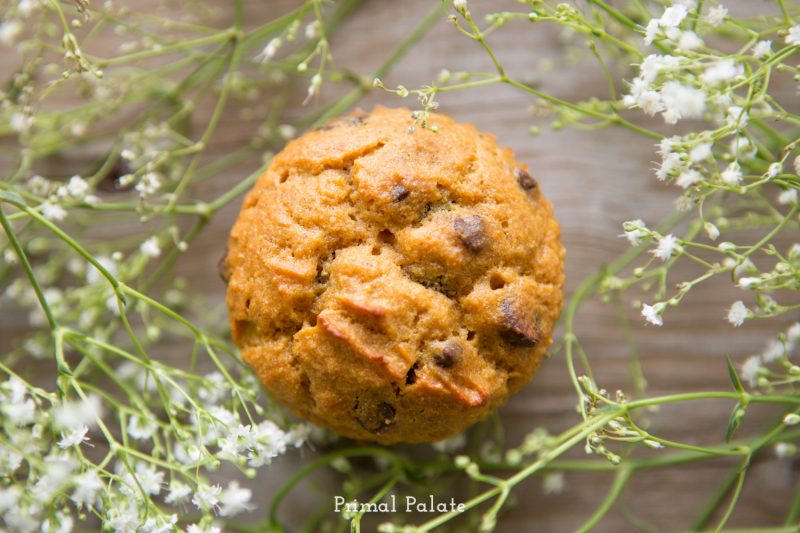 Another tip I want to add in this post is that the type of cupcake liner you use for grain-free baking is very important. I ran out of the ones that we typically use, so I used some that I bought just for food styling, and the muffins got ruined when I tried to peel the paper off. We always use the If You Care brand of cupcake liners. They come in standard size, and mini, and they are the only ones I can recommend for baking. Nothing sticks to these guys, and they are also unbleached, and totally chlorine-free! Of course you can also use silicone baking cups if you'd prefer.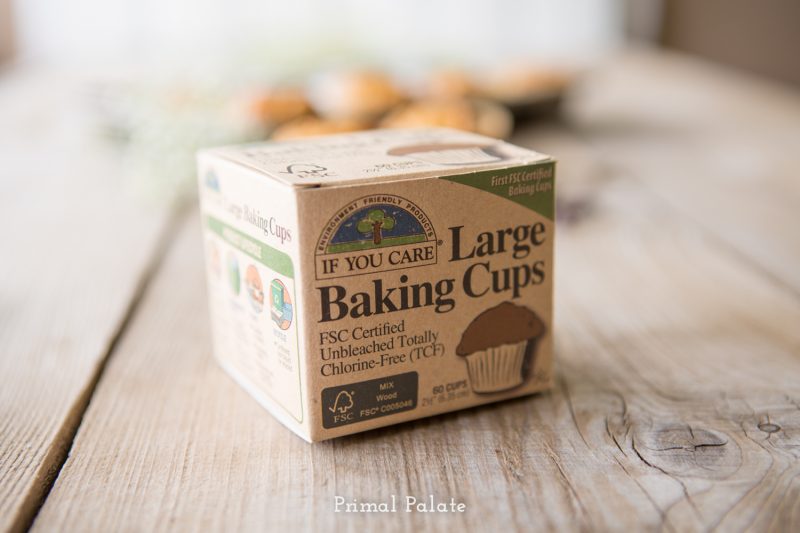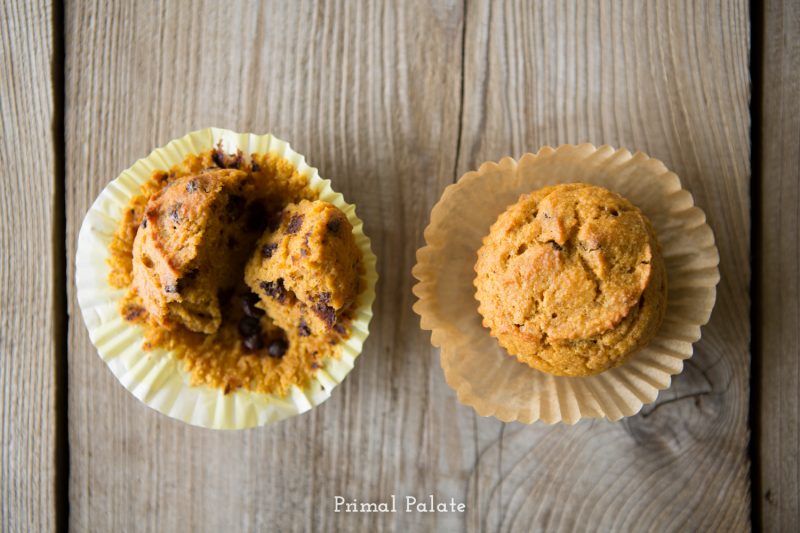 Regular baking cups, versus If You Care baking cups. HUGE difference!
Unfortunately I only made these muffins in standard size, so I don't have a bake time for mini's. Mini's would be adorable, and perfect to bring to a party, or make for children. They should take less time to bake, so my suggestion for that would be to start them at 10 minutes, and just check every 5 minutes after that until they are done.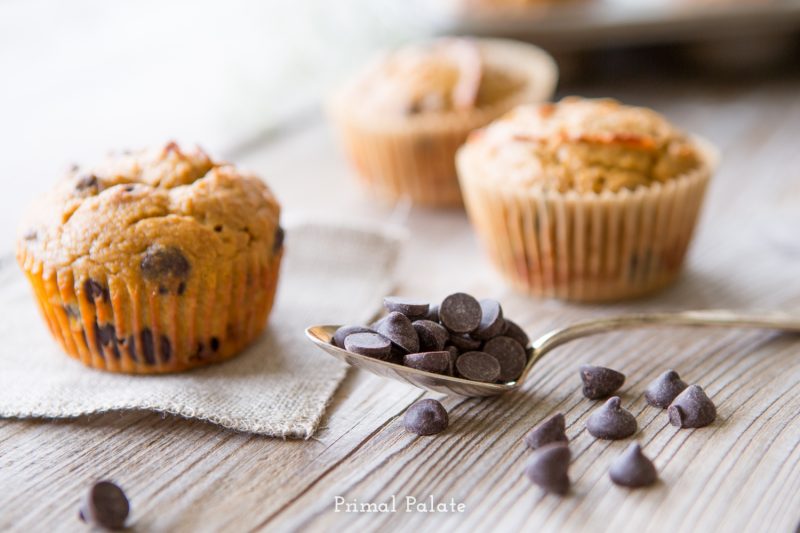 I hope you guys love this recipe as much as we do! Enjoy!
Oh, and before I forget. We have been nominated for the annual "Best of Paleo" awards by Paleo Magazine in THREE categories.

Best Product, Sweet Treat (for our "Primal Palate Cookies by Cappellos)
Most Anticipated Cookbook (for Make it Paleo II, due out in February!!), and
Best Food-Centered Blog (for this blog, which you are currently reading)
If you have another 3 minutes to spare, would you please consider heading over to Vote for us (and many of your other favorite Paleo blogs and brands?) We would all appreciate it!