It's hard to believe that we've had our very own organic spices for an entire year now! Today is the one year anniversary of launching our spices. (Okay… actually tomorrow is, but just like a kid on Christmas, we can't wait to open presents.) Over the last 12 months, we have seen this little project grow into something much bigger than we expected, with many thousands of people trying and loving our spices. We can't thank you all enough for your support over the past year, and all the support yet to come. Stay tuned as there are some awesome things on the horizon…
The big idea behind Primal Palate Organic Spices was to develop a line of the freshest, highest quality organic spices available in the market. Our spices have a taste (and quality) that is unparalleled in today's food market (both in stores and online). You won't find fresher, higher quality Organic spices anywhere. But the true test for us was to create something we would want to use in our own everyday cooking, and we've absolutely succeeded in doing just that. It's not because they are ours, but we really love these spices and we hope you do too !
To show our appreciation, we're offering 10% off your order! Use code "celebrate" at checkout for the discount.
---
As this week marks the one-year anniversary of our launch, and the six-year anniversary of Primal Palate, we are excited to announce our newest pack of everyday cooking blends: the Griddle & Grill Pack. This trio of spice blends is so special, and bring three new and unique flavor profiles to the Primal Palate line.
Our Griddle & Grill Pack brings together big and bold flavors for a wide variety of dishes. The theme with these three spice blends is big flavor from the grill to the griddle (or stovetop). The cooking method doesn't much matter, actually – but the result is that you will end up with huge, bold flavor on almost any dish. We've included almost 10 new recipes below to show you just how versatile these spice blends are.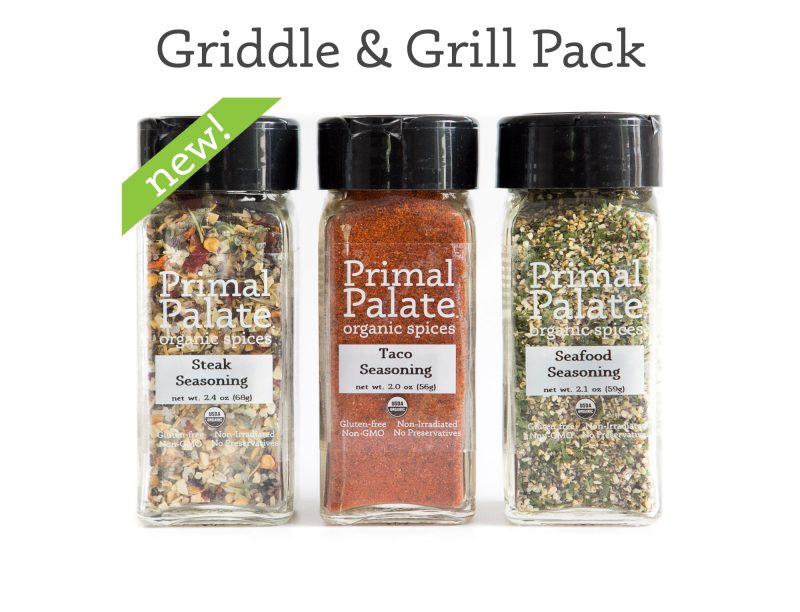 Steak Seasoning
Not just for grilling steaks, the coarse textured blend of salt, spices, and herbs brings a unique and bold flavor to your favorite beef, pork, chicken, or vegetable dishes.
Ingredients: Coarse Sea Salt, Onion, Black Pepper, Garlic, Chilies, Thyme, Rosemary, Dill, Coriander
What we love about the new Primal Palate Steak Seasoning is the coarse texture and diverse flavor profile of the blend. As with some other steak seasonings you may have tried before, this is based on a pickling spice mix that originated in Schwartz's Deli in Montreal. This particular spice mix has roots in Eastern European and Jewish Romanian cuisine. It's no wonder I'm smitten with this spice blend, then, because I have Jewish Romanian roots on my Mother's side of the family.
As you'll see in the recipes below, you can try it on any type of dish… don't feel limited by the name (it's not just for steak!) Try it on chicken, potatoes, sweet potatoes, vegetables, pork, or anything else you might like. The flavor profile is a little salty, a little spicy and peppery, with notes of rosemary, garlic, and onion. Then some subtle hints of dill, thyme, and coriander. I think the reason this works so well on so many different types of dishes is the diversity of spices in the mix. We could have easily called this "Everything Seasoning."
Taco Seasoning
Taco Tuesday is everyday with this tasty seasoning. This perfect blend spices up ground beef, carnitas, and chicken. Try it on your next taco, fajita, or salad.
Ingredients: Chipotle Chili Powder,  Pink Himalayan Salt, Paprika, Black Pepper, Cumin, Garlic
Everybody loves a good taco, right? We have heard your pleas over the last year, and finally delivered on an amazing organic Taco Seasoning for you all. This isn't some ordinary taco seasoning, though – it's smoky and complex, and packs a bit of a kick. As a result, you can dial back how much you use on your food, or season boldly for the ultimate flavor punch. We are in love with how this blend turned out.
We have created four new taco recipes (below) that are all awesome! With a basic ground beef taco, a sirloin steak taco, chicken taco, and shrimp taco… there's a recipe for every taste bud. (Unless you're vegan… in which case, sorry about that!) Beyond just putting it on tacos, try it on breakfast eggs for some butt-kicking Huevos Rancheros, or over a salad. And of course, it is awesome on Fajitas, too.
Seafood Seasoning
The lemon peel and chives in this blend provide a wonderfully bright, citrus forward flavor to make your seafood dishes really shine, especially shrimp, salmon, and scallops.
Ingredients: Pink Himalayan Salt, Onion, Black Pepper, Lemon Peel, Garlic, Bay Leaves, Parsley, Chives
Rounding out our lineup of blends in this pack (and in our overall line) is this awesome, bright Seafood Seasoning. This blend is SO different from everything else we offer, and we think you're going to really enjoy it. This blend contains lemon peel (organic, of course), rubbed bay leaves, parsley and chives… some great flavors to enjoy on Seafood! But just like the Steak Seasoning, don't feel constrained by the name. We've been putting this on everything from Broccoli to Chicken, and a few other non-seafood dishes. The combination of lemon and garlic goes well on so many things. Get creative and try it on something new, then post it on Instagram (#PrimalPalateSpices) and let us know how it worked out!
In a mission to make these the best spices possible, we have been relentless in our quality standards. We're fanatical about ingredient quality, and know you are too.
---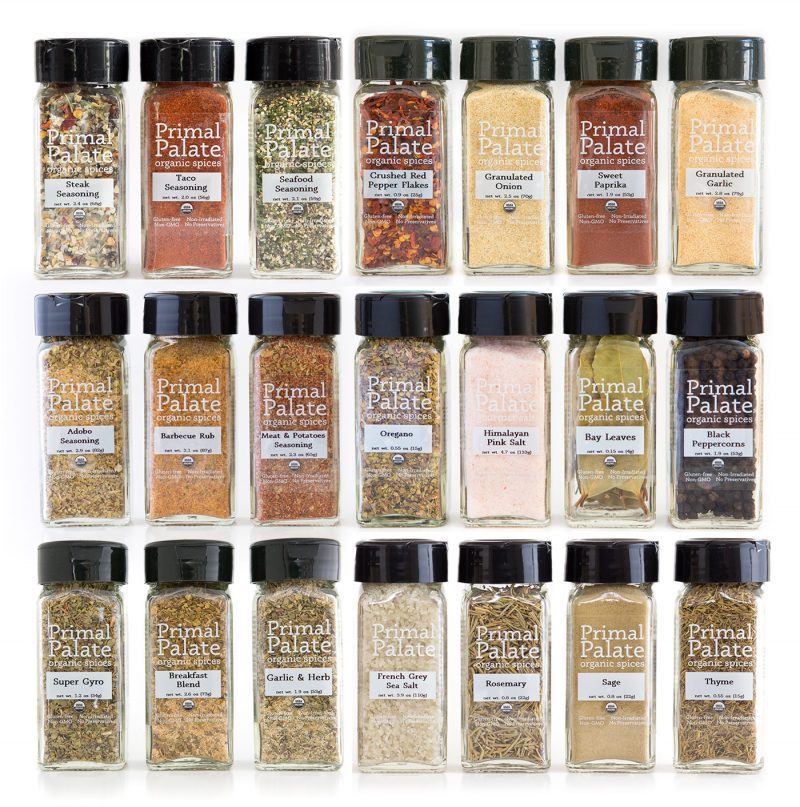 ---