This summer, Bill, Hayley, and I all headed overseas on vacation. No, not together – although we did tour some of the same areas. The Primal Palate duo did a multi-country tour around Europe, while I flew to Italy and trained between Rome, Genoa, and Venice. One aspect of Italy floored us all: Italy is a dining heaven for anyone who eats gluten-free. Shocking, right? This was my first time traveling to Italy, but the land of pizza and pasta originally sounded like a gluten-free hell to me. Yet, no matter where I was in Italy, everyone knew what gluten was, and gluten-free options were in abundance. The census currently states roughly 1% of Italians (approximately 150,000 people) have Celiac disease, although the AIC (Italian Celiac Association) believes these numbers are closer to half a million. Formed in 1979, the AIC has gone to great lengths to ensure the Celiac population has safe access to food in restaurants, hotels, pizzerias, and other public places. So if you are traveling to Italy in the near future (or never considered the trip feasible due to a food intolerance) here are a few things to know before you go. -Kara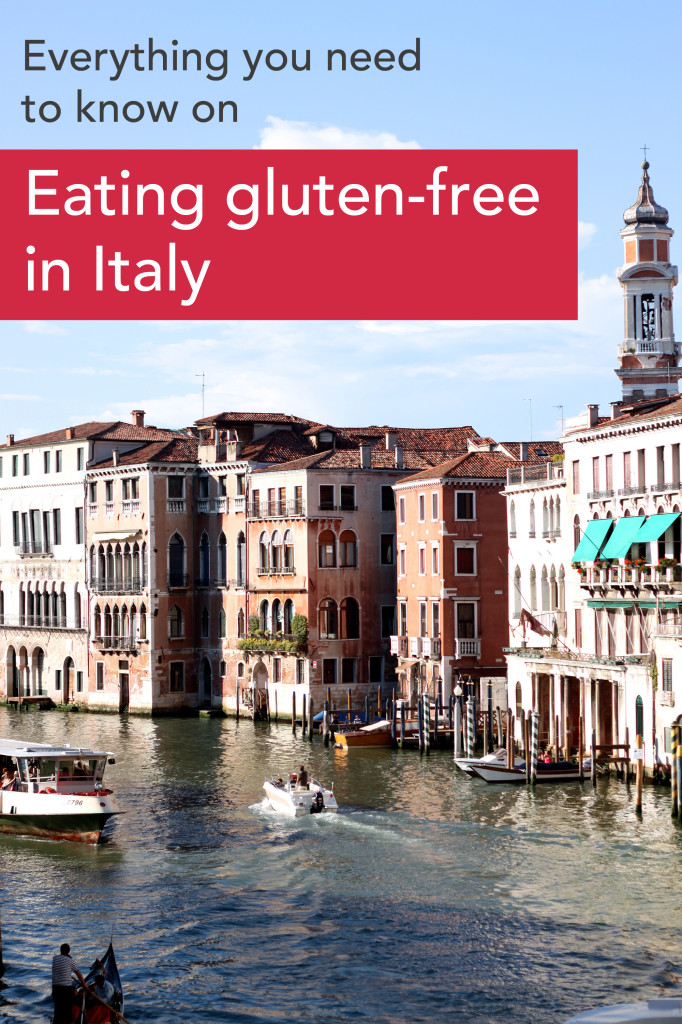 7 Things you didn't know about Celiac disease in Italy:
1. Children in Italy are tested for celiac disease by age 6. Yes – by age six. In the United States, elementary school kids get tested for lice…well, in Italy they get tested for Celiac disease.
2. Citizens diagnosed with Celiac disease receive a monthly stipend to buy specialty gluten-free food. This amounts to roughly 140 euros per month, and the stipend becomes available starting at age 10. They also receive extra vacation time to prepare gluten-free food.
3. Gluten-free food is heavily stocked in pharmacies, since it is considered a medical necessity. The Ministry of Health maintains a "Register of Foods" listing which products individuals can spend their monthly stipend on. The full list of certified companies and products can be found here. 
4.  By law, gluten-free meals must be made available at schools, hospitals, and other public institutions to those with Celiac disease. While many mothers in the U.S. may worry about their child getting "glutened" at school, in Italy special gluten-free meals are provided.
5. Restaurants, hotels, cafes, and even gelato shops can become certified gluten-free through the AIC. Through "Project Eating Out," the AIC educates restaurants and employees on celiac disease and how to prepare gluten-free food (more on this below). The full list of certified businesses can be found here. 
6. The European Union has adapted universal labeling laws for gluten-free. If the food contains less than 100 mg/kg, it may be labeled "very low gluten" while if it contains less than 20 mg/kg it may be labeled "gluten free."
7. The AIC was founded in 1979. Let's think about this one for a second. Many Americans had no idea what gluten was just five years ago. The FDA passed gluten-free labeling laws this month. The Celiac Disease Foundation was not founded in the U.S. until 1990, and The American Celiac Disease Alliance followed in 2003. Just how far behind are we?
Words to know before you go:
Bill, Hayley, and I all had the same experience during our time in Italy: the people are so nice! If you explain you do not eat gluten, you will be shocked at how willingly they accommodate you. I was even able to enjoy a delicious cake made from almond flour (pictured) while touring Genoa! In order to communicate your dietary restrictions to a restaurant employee (or to read the ingredients on a nutrition label), learn these terms:
Io Sono Celiaco [I am Celiac]
Senza Glutine [without gluten]
Possono contenere [may contain]
Contiene [contains]
Grano [wheat]
Orzo [barley]
Segale [rye]
Avena [oats]
How to find an AIC – certified restaurant:
Remember: just because a restaurant or cafe has not been certified by the AIC does not mean they cannot provide a gluten-free meal. It is extremely common to find restaurants with a separate gluten-free menu. However, if you are extremely sensitive to gluten and want to ensure you are eating somewhere safe, an AIC certified location is your best choice. To be included, employees in these establishments must:
 Have participated in a course on celiac disease and a gluten-free diet, organized by AIC
Follow all the rules provided by AIC for the preparation of gluten-free food to avoid the risk of contamination
Use gluten-free ingredients approved by the Italian Ministry of Health and listed in the Register of Gluten-Free Food
Periodically receive information material of the Association
Allow periodic inspections by the local AIC, which occur at least once per year

Wow! Wouldn't you feel safer dining out in the United States if a similar certification was available? So now the question is: how do you find these places? If you see the above logo in a restaurant window, you know they have been certified. You can also find the entire list of certified businesses online. Let's walk through the search process together, so you can find exactly what you're looking for. Let's pretend you're looking for a gluten-free restaurant in Rome:
Go to the AIC website, and click the third tab (in orange) on the home page titled, "Dietza Senza Glutine." Then click the sub-tab, "Eating Out." Make sure you have Google Translate on!
Select the second option on the left bar, titled "Search Exercises." Type in the Category [Ristor/Hotel = restaurants and hotels], the City you will be visiting [in Italian, not English], the Type of establishment [restaurant in our example]; and hit Cerca .
All AIC certified restaurants (plus contact information) is displayed for you!
4-5 Star AIC certified restaurants in Rome (rated by Trip Advisor)
Chances are, your search results might be a little overwhelming. But luckily for you, I have done a little homework for you. Below you will see a Google Map of ALL AIC certified restaurants (i.e. not including bars or gelato shops) that have been given a 4 – 5 star rating by Trip Advisor in Rome. If you're headed to Rome soon, hopefully this helps you find quality, gluten-free restaurants near where you're staying!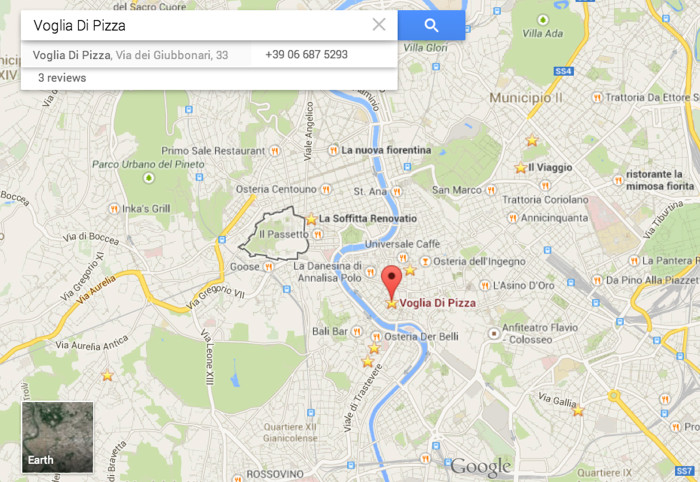 A few restaurant highlights:
Trip Advisor Ranking: #621 of 8,392 restaurants
Recognition: 4 Stars, Certificate of Excellence 2014
Comments: "Best gluten free pizza I've ever had" "Paradise for Celiacs"
2. Il Viaggio
Trip Advisor Ranking: #1,473
Recognition: 4 stars
Comments: "It can be frustrating eating gluten-free in Italy..but here is your oasis!"
Trip Advisor Ranking: 2096
Recognition: 4 stars
Comments: "I am severely allergic to gluten and soy, which limits my ability to eat out. Thankfully, Voglia di Pizza has amazing gluten free pizza. I ate it 3x in one week because there were so many variations of gluten free pizza."
Trip Advisor Ranking: #791
Recognition: 4.5 Stars, Certificate of Excellence 2014
Comments: "Exceptional attention to celiac disease, Mario personally explained each item on the menu.
Additional resources:
Restaurant card: If you're nervous about your Italian pronunciation, CeliacTravel.com has a great restaurant card for you to print out and show to any Italian restaurant explaining your situation. Click here to print the card.  
Mobile app: I've found two iPhone apps which will help you find gluten-free restaurants on-the-go. Click here and here to download the apps.
Do you have any gluten-free travel tips? Share them in the comments!
Still Hungry?  
Craving Italian? You might enjoy these recipes from the Primal Palate community:
---
Plan your next Italian dinner using Primal Palate Menus!
We have menus created for almost every occasion, theme, or holiday. Click here to go to our Italian Menu. 
---