If you know me, you know I love real cream, and real butter. Bill and I usually do okay eating cream and butter as well. We cook with butter a lot, but don't use cream daily-well at least I don't,but if you follow our Instagram, and see all of Bill's attempts at latte art, you'll see he's been eating cream a lot lately. Making a real Alfredo sauce would not be hard, and would be quite tasty! I know many of you cannot have dairy, so I decided to try making a recipe for dairy-free Alfredo sauce.
My method of choice was making a cashew cream. I love cashews-they are one of the few nuts I still like on their own (okay, well they are actually seeds, botanically speaking). Paleo has sort of made me hate nuts. Too many snacks of raw almonds I guess. Unless it's a nut flour, I want nothing to do with it. Not even nut butters…grosses me out. Weird, right? Anyway…I do like cashews, and I like ice cream made out of cashew cream, so I decided to try Alfredo made out of cashew cream.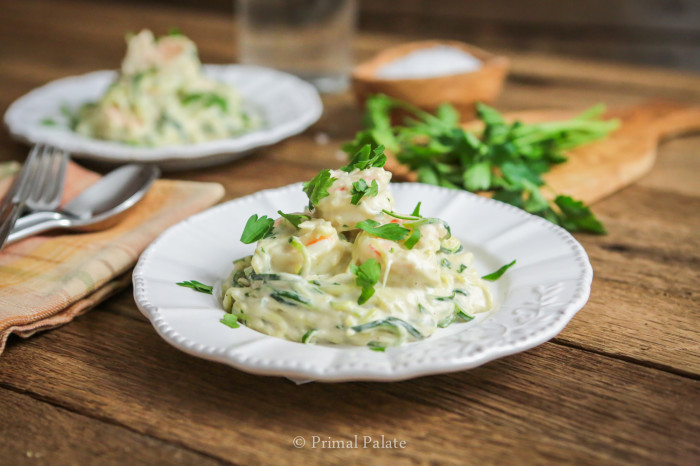 First thing I did was soak the cashews overnight, and since I'm lazy sometimes, I let them soak for about 24 hours. It didn't cause any issues. Then I drained the cashews from the water, and blended them with about 1/2 cup of water (might have been 3/4 cup) in our Blendtec. I wanted to use just enough water to make the cashews blend, but not too much that it made the sauce too loose. I knew my plan was to use zucchini noodles, which adds more water to the sauce. I really wanted to keep this sauce thick, so I used as little water as possible. Once the cashews were blended, I seasoned them with onion, garlic, and salt and pepper. I tasted it as I went along until the flavor was right. I didn't worry too much about a strong flavor in the cashew cream, because I knew there would be fresh garlic, and more salt and pepper in the finished sauce when I finished the meal. Then, since I'm lazy again sometimes…I put the cashew cream in the fridge and didn't touch it again for 24 hours. No big deal. It was totally fine, and good for all of you to know that you can prep your cream, and have it ready for when you need it!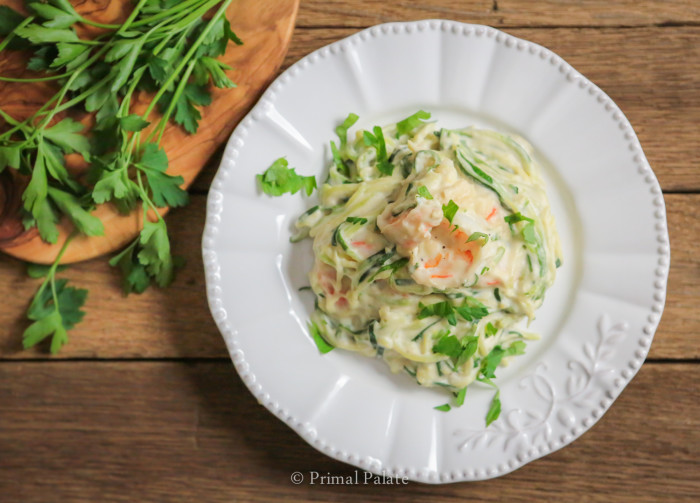 Bill and I made this meal together. I peeled and deveined the shrimp (worst job ever), while he rinsed the zucchini, spiral sliced it, and put it in our steamer pot. By the way, we totally have a pasta steamer pot-that we registered for (on purpose), for our wedding, with the idea in mind that we would use it for steaming veggies and squash noodles. We love it! Anyway…Bill steamed the "noodles," while I finished the sauce. I sautéed the shrimp with garlic, adding a pinch of salt and pepper, and the parsley, and then the cashew cream. The cream was really thick after being in the fridge overnight, but once it warmed up with the shrimp it became more like a cream sauce. With the addition of the zucchini noodles, it became even creamier. I also added an extra tablespoon of ghee (okay-really we used butter, but if you want to avoid as much dairy as possible, use ghee) because I thought it would add flavor and better texture to the sauce.
This recipe was super delicious! If you cannot have dairy you will love it! I will make a real dairy Alfredo sauce and post that as an option as well if you cannot eat cashews, but can have cream and butter. Enjoy!