We first met Pete and Sarah at Paleo F(x) this past spring in Austin, Tx. Pete runs the popular Paleo meal delivery service, Pete's Paleo. If you've never heard about their business, Pete's Paleo creates fresh meals delivered to your door (nationwide, via fedex). Everything is shipped fresh, not frozen. These guys are already in the process of taking the Paleo & Crossfit scenes by storm. You can learn more about them HERE, and also place an order for food (including bacon). After you see the 24 hour affair outlined below, you just might want to click "buy now" instead of making it. But hey, what fun would that be?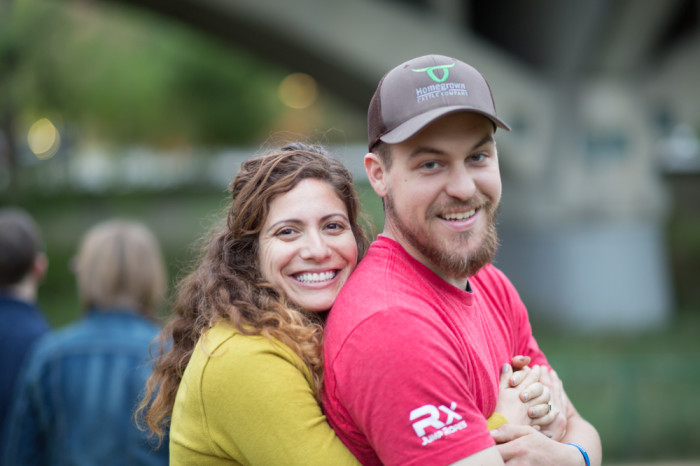 When we got married last month, we had the opportunity to spend a little more time with Pete and Sarah. I (Bill) have been interested in making my own bacon for a long time now, but never really wanted to take the time to do so. However, every time we see Pete and Sarah we get to have some of their amazing bacon. While this is different than the recipe shown below, it's equally amazing. So after spending some time with Pete, I decided it was time to defrost some pork belly and get smoking!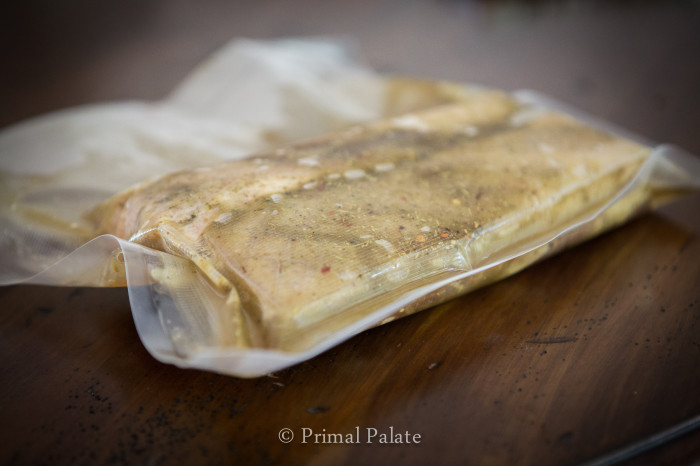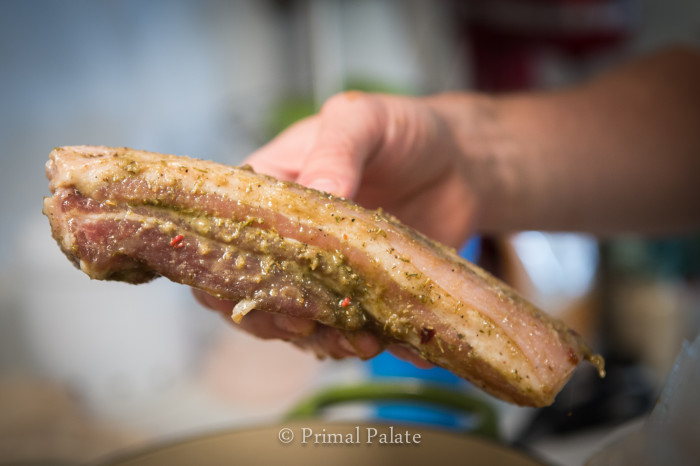 After the wedding business had calmed down, I texted Pete and asked him how to make bacon. Phone a friend, right?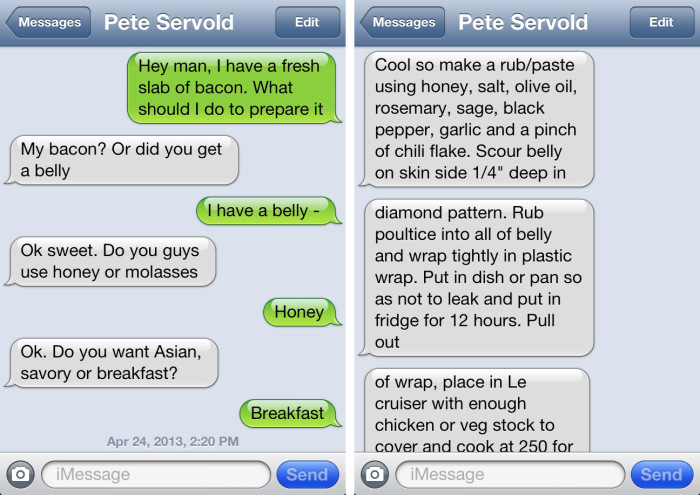 Flash forward a few weeks to when I actually had a little free time (last week), I went down to our chest freezer and pulled some pork out to get cooking. I grabbed two slices of belly as well as a big pork tenderloin end. Then I fired up the smoker with some pecan pellets!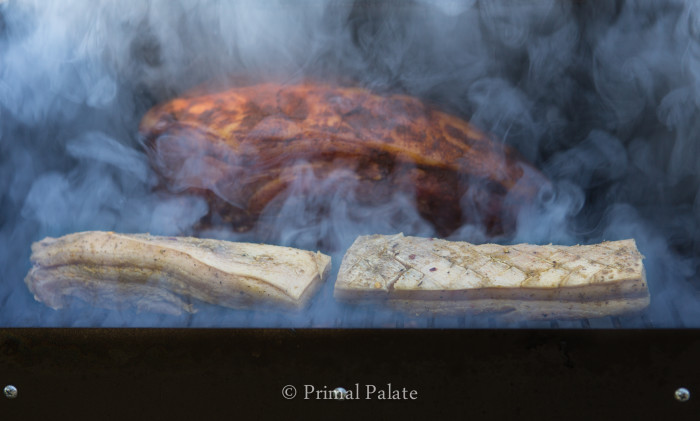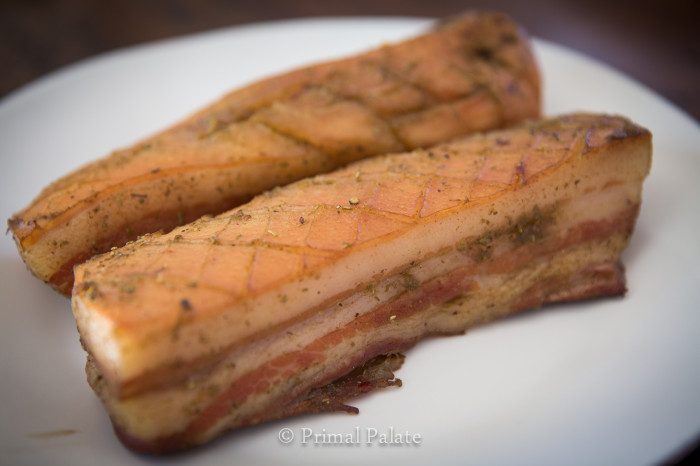 The process of making this pork belly into bacony goodness isn't easy or short. First you make a rub and let it rest in the fridge overnight. Then you smoke it for an hour. Then you braise it for 12 more hours at 250 degrees. Then you chill it for an hour, then you slice it and fry it up. When it's all said and done, you've spent over 24 hours on the best bacon you'll ever have. It's so worth it, let's be honest.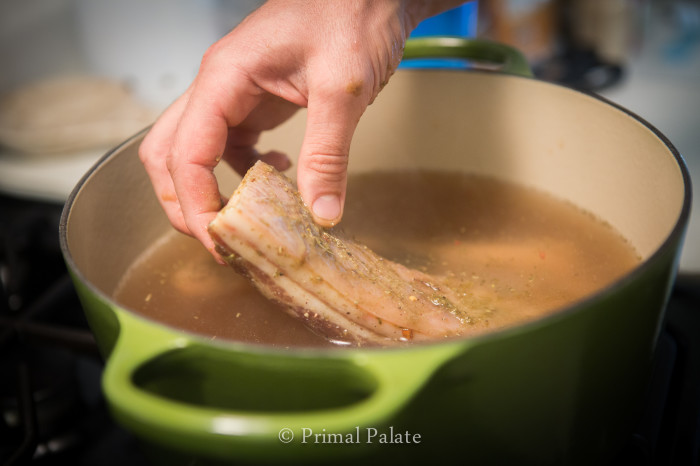 Here it is all smoked up, and going into the chicken stock bath for 12 hours. Seems pretty cozy to me.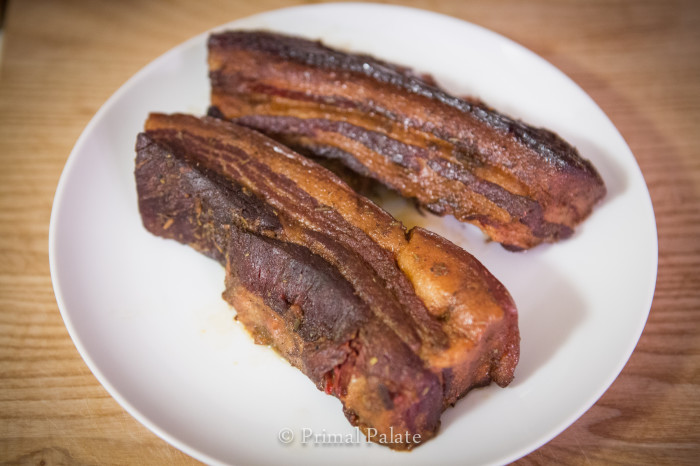 When it emerges from the long and slow braise, it'll be super delicate to be GENTLE with it.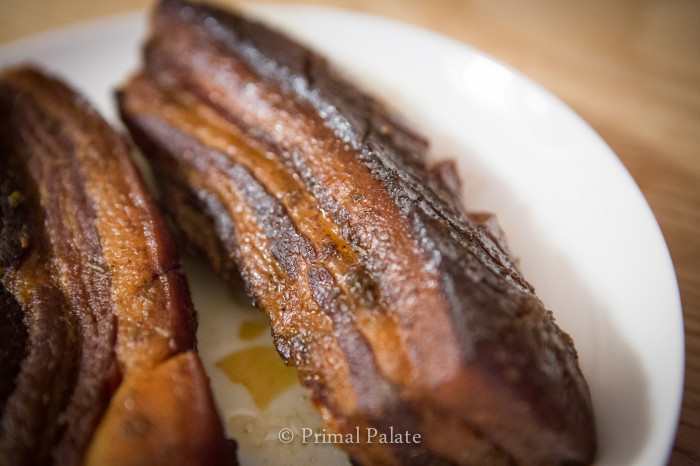 At this point, you could technically just go to town on it. Grab a fork and knife, and eat the heck out of it.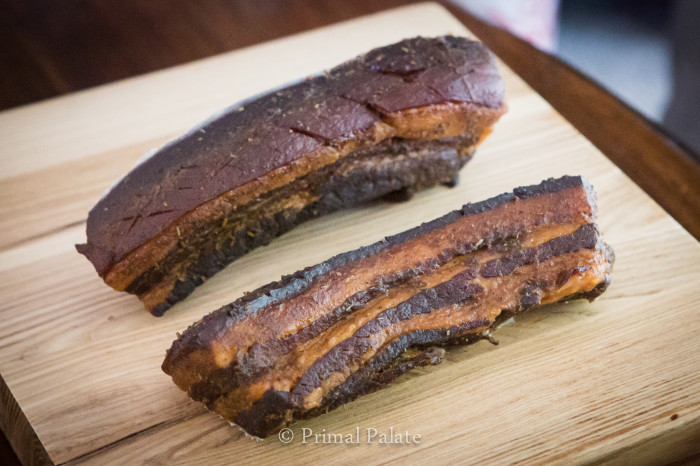 After chilling it, it'll be a lot easier to handle. At this point you can slice it. Pete told me to slice it into 1″ thick sections. I thought this was a typo, but he was being serious. I sliced ours really thin (maybe 1/4″ if that), and they fell apart upon frying and flipping. Very sad!
That, however, didn't prevent us from thoroughly enjoying the belly! We had almost half of it in it's chilled, fatty glory. It was amazing!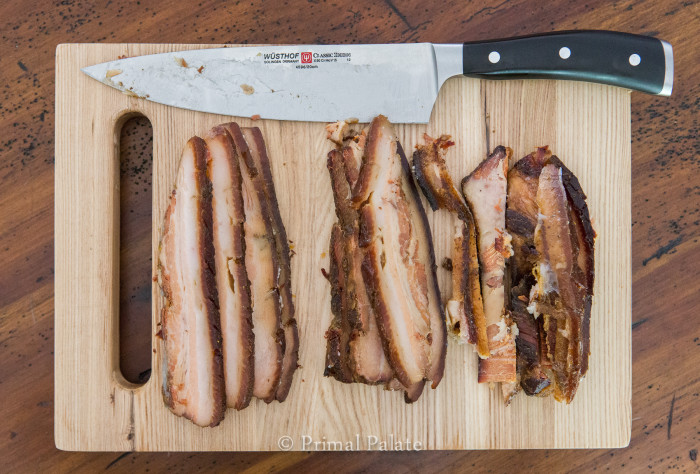 I'm glad Pete was willing to share this recipe with our crowd, because I really do feel like it's important to know some of the techniques behind making a great dish. All too often, we get caught up in the same methods that are blissfully simple. So once in a while, it's nice to get a little more technical and try something new. Speaking of which – they haven't really announced it yet (per se), but Pete is working on a technique-based Paleo cookbook that focuses on cooking seasonally. You guys are really going to dig it, I'm sure. Everything Pete's ever made us has been delicious, so we have a LOT of faith in the book he'll be putting out this year! Check out their Facebook page, where I'm sure they'll eventually be releasing more details! Thanks for sharing your culinary expertise with us today, Pete!