Hi everyone! Today we're bringing you something exciting and delicious that will make this years Thanksgiving a lot easier for one lucky person!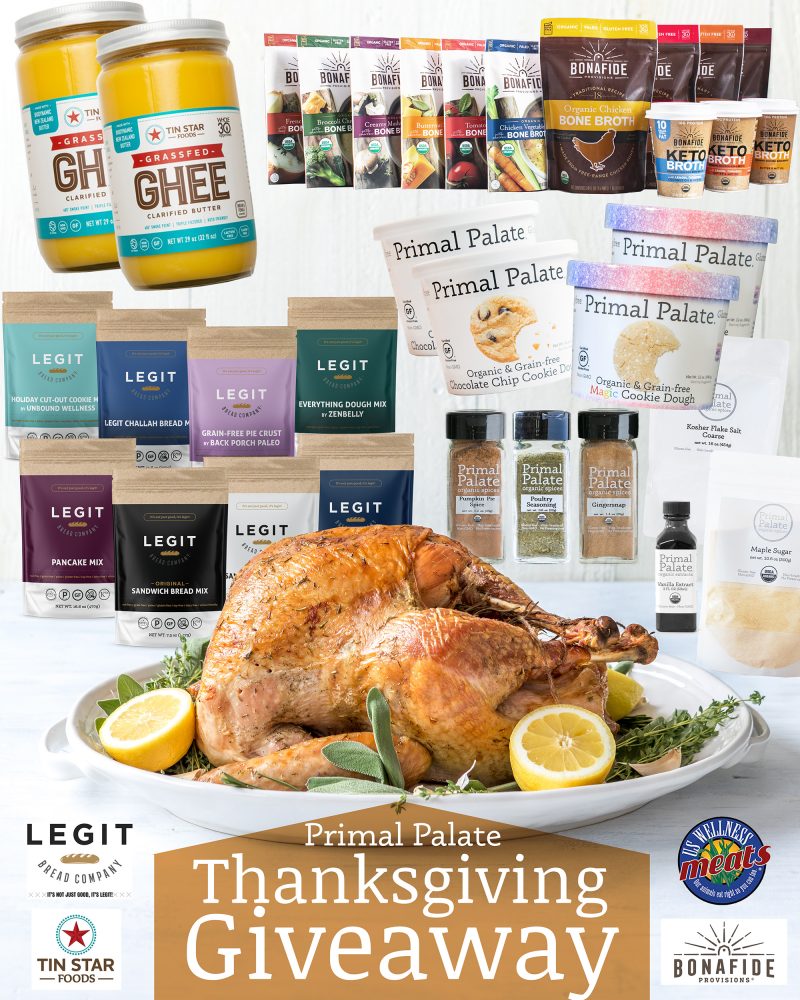 We teamed up with some of our favorite healthy food brands to bring you one epic giveaway for Thanksgiving. We wanted to create a care package that includes many things you could use to cook a delicious, nutrient dense, and comforting meal this year.
I'm sure you know all of these brands well by now, but in case you do not, I wanted to share a bit about them with you.
Legit Bread Company: Legit Bread Company is founded by Jennifer Robins, a mom of 3, military wife, and chronic illness warrior. After having to eliminate gluten and grains from her diet, she realized there was a real need for grain-free baked goods in the market that didn't leaving you feeling like you still had something missing from your diet. Jennifer started with a bread mix so legit, that you wouldn't know it was grain-free, and has since launched 6 grain-free mixes for everything from bread, to bagels, to pancakes, and even Challah! We love having the option of an easy to bake grain-free bread mix to make Thanksgiving stuffing, and we know you will too! (Check out the Legit Pumpkin Bread, and Legit French Toast we have made with her products)
Tin Star Foods: Tin Star Foods is founded by Hima Pal, a mom of 2, and Crohn's Disease warrior who found her way back to a traditional diet after the onset of her autoimmune diagnosis. Hima creates some of the best ghee on the market, and her brown butter ghee is my favorite to use in baking. We love having Tin Star Foods ghee on hand to use for all of our cooking, and it is fantastic in our Carrot Soufflé recipe, for your turkey prep and basting, and mixed into mashed potatoes. This nutrient dense cooking fat is a must-have for your kitchen! (See recipes using Tin Star Ghee, and Brown Butter Ghee)
Bonafide Provisions: Bonafide Provisions is founded by Sharon Brown, a mom, and clinical nutritionist who was inspired to start her nutrition practice after the onset of her sons health issues. Bonafide Provisions provides an array of bone broth based products, including frozen broths, soups, and bone broth cups. Bonafide Provisions is always our go-to for store bought broth, and the one we feel is closest (or even better) than making it from scratch yourself. I love having their turkey broth on hand for my Thanksgiving turkey basting, and making homemade gravy. Even if you don't choose to use broth or stock in your Thanksgiving cooking, having Bonafide Provisions in the freezer during the holiday season to sip on is so comforting! (See our recipes using Bone Broth here)
US Wellness Meats: US Wellness Meats is owned and run by family farmers who are devoted to raising animals in a way that is best for the animals, human health, and our planet. We took a trip to visit US Wellness Meats back in 2011, and we learned so much about the process, and what makes US Wellness Meats different. We saw first hand their lush pastures, and happy and healthy animals. Not a worry if you can't get pasture raised meats where you live, because the best part is that they ship right to your door! We always shop US Wellness Meats for meats, organs, and soup bones, because we know we can trust the quality! (click to see a video of our visit to US Wellness Meats)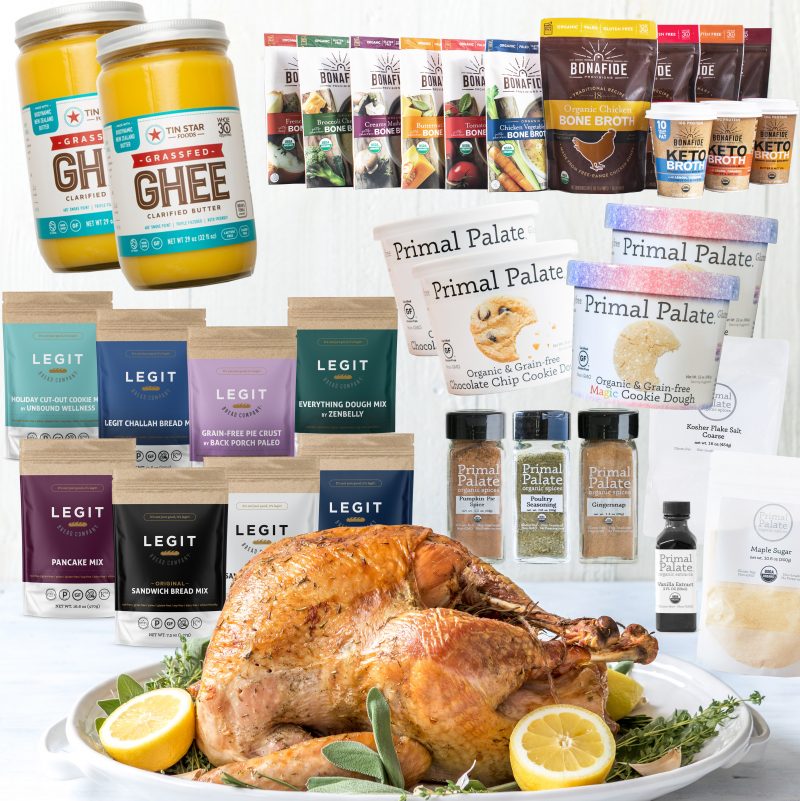 What's Included
Now that you know what brands are included in this giveaway, I'm sure you want to know what is being offered for this epic Thanksgiving care package.
Primal Palate: 4 containers of cookie dough (2 Chocolate Chip, and 2 Magic), 1 bag of Organic Maple Sugar, 1 bottle of Organic Vanilla Extract, 1 bag of Kosher Salt, a 3 pack of organic spice blends, including our NEW Poultry Seasoning, Pumpkin Pie Spice, and Gingersnap.
From Legit Bread: "All Mixed Up" and "Seasons Eatings" Bundles which include Pancake, Sandwich Bread, Blonde Sandwich Bread, Legit Bagel Mix, Holiday Cutout Cookies, Legit Challah Bread, Grain-free Pie Crust, Everything Dough Mix.
From Tin Star Foods: Two 29 ounce Jars of Grass Fed Ghee.
From Bonafide Provisions: "A Bonafide Sampler" Bone broth soups, Bone broths, and Keto Broth Cups.
From US Wellness Meats: A whole pasture raised turkey, and a container of pasture raised duck fat.
My mouth is watering just thinking about all of the delicious food that will be made with these amazing gifts. We will be sharing this giveaway with entry over on Instagram, and we will be going live on Instagram 3 times this week to show you how to make some of our favorite holiday recipes with these products.
Good luck to you all!
xo,
Hayley and Bill