A couple weeks ago, just before we took a few days to go to Fancy Foods in NYC and then the beach, we got a special delivery from Fishpeople. Inside the package was a giant filet of Wild Yukon River Salmon. It had to be at least 2 pounds, though I didn't weigh it. We took the frozen salmon and stashed it in our freezer, knowing we'd have something delicious to come home to after our trip. (Fishpeople is a cool company focused on increasing access to quality, seafood by making it convenient and affordable, while harvesting only sustainable seafood species.)
During our time at the Fancy Foods Show, we had the opportunity to meet the team at The New Primal, another Whole30 Approved brand (like ours!). We all hit it off, and a few days after getting back from our trip, we were greeted by a wonderful care package from them. Inside were their signature jerky packs, sticks, and their new marinades (see IG pic). Naturally we had some jerky right away (duh), but we were really looking forward to trying the cooking sauces. The spicy marinade really stuck out to us, and we thought it would be a great one to try with the salmon.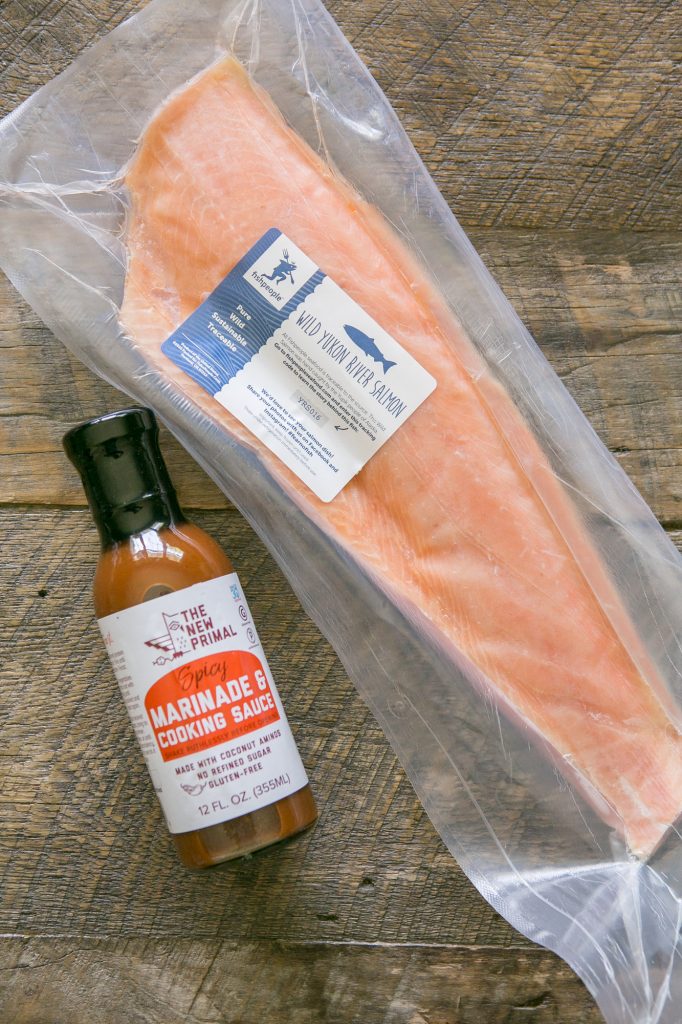 We cut the salmon into several filets, and drenched them with half a cup of the spicy marinade. I wasn't sure if half a cup would go far enough, but it was plenty! And much to my delight, it looked like we had barely put a dent in our bottle. So this meal will be repeated many more times.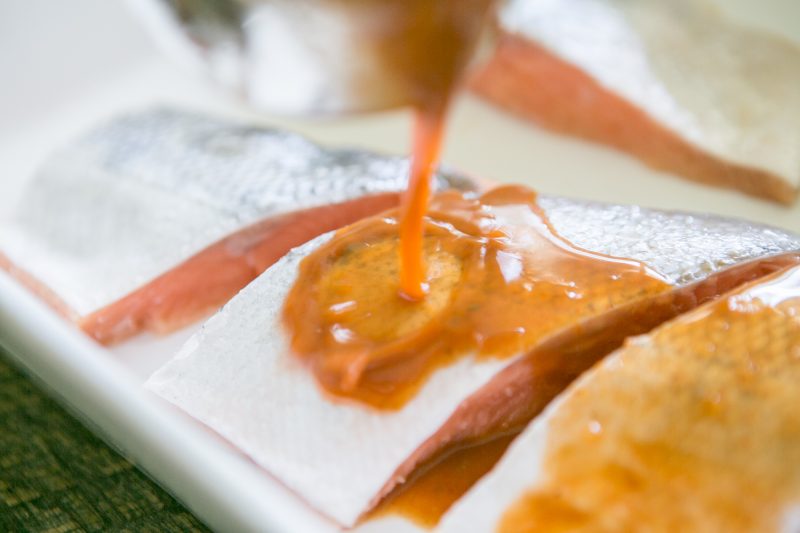 After covering all the pieces, we gave them a flip to make sure all surfaces were covered, then put them in the fridge for a few hours. We've been in the habit of eating really late in the day (like 3 or 4 pm for lunch), so I started marinating these around noon and took them out around 3. That seemed to be great, though I'm sure 30-60 minutes would suffice too. I wouldn't go too long, though; raw fish is quick to expire, even refrigerated.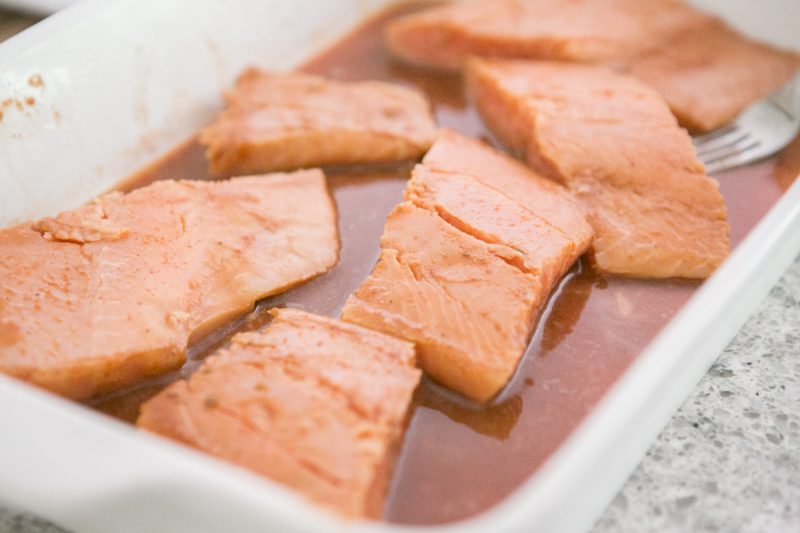 While the salmon was resting with the kick*ss marinade, we went about our business and got some other things done. We ran to the nearest grocery store and got a head of cauliflower, figuring that we wanted to make something to go along with the fish. Cilantro and Lime is a flavor combination we love, so we decided to spice up our cauli rice with these ingredients. (Maybe the flavor idea was subconsciously planted by The New Primal sticks we got? Hmm…)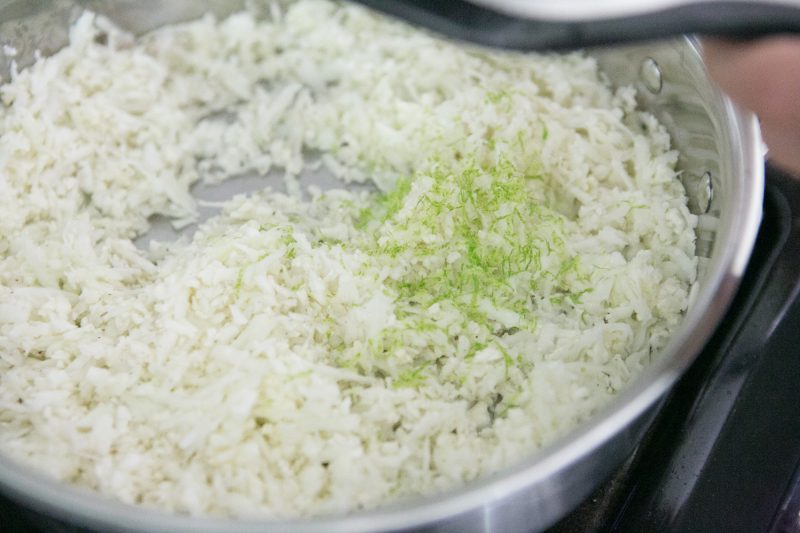 Instead of lime juice, we used the zest of the lime to infuse the citrus flavor. This was Hayley's insight, and a very very good call. The cauliflower rice turned out to be seasoned perfectly with it.
After a dash of salt and pepper, we reduced the heat to low, and grilled the salmon. We always use a fish plate when grilling fish, so that it doesn't get stuck to the grates of the grill. Since it's a stainless steel plate, it doesn't have any non-stick properties. So we sprayed it lightly with olive oil immediately before adding the fish, and it worked out great. We go skin-side down first, so that some of the skin fat releases and further helps to grease the plate.  Flipping the fish was totally drama-free.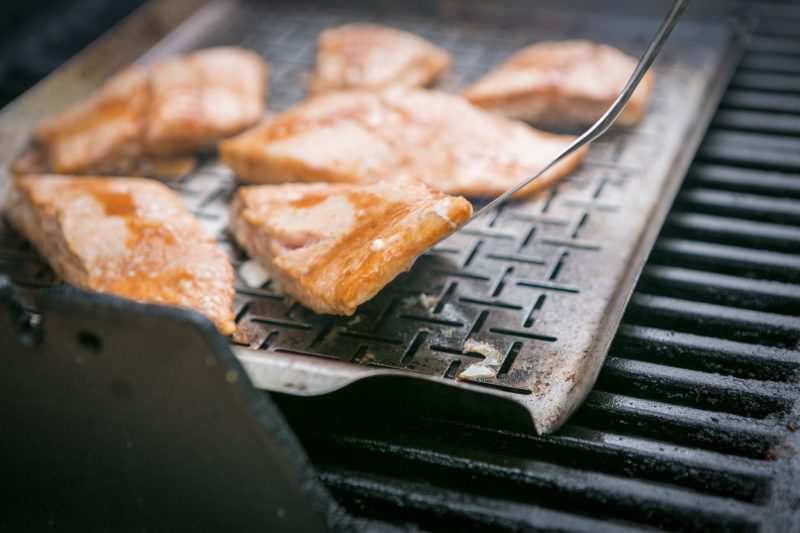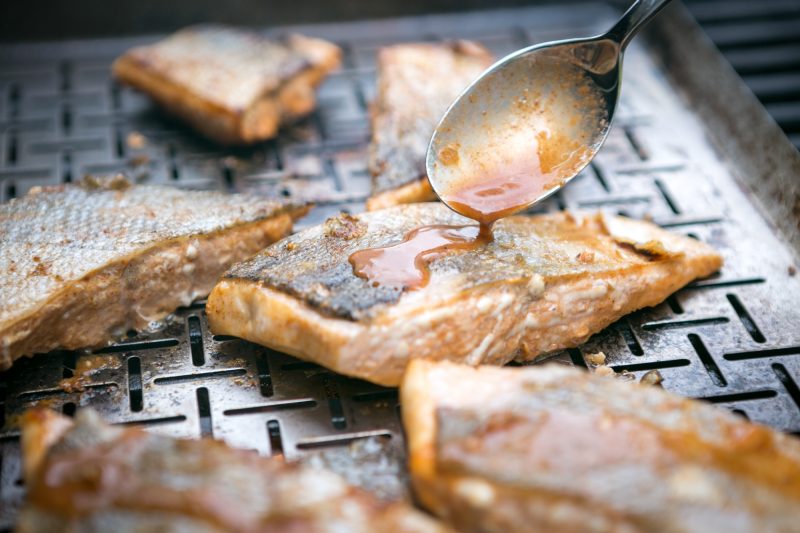 With each turn, we spooned a little bit of the leftover marinade over the fish to keep building the layers of flavor on it. If you're using the leftover marinade, you want to make sure you cook ALL sides before serving, since it had come in contact with raw fish. You can also use fresh marinade, if you have any concerns about food safety. But adding more marinade is an important part to building the caramelized flavor on the fish.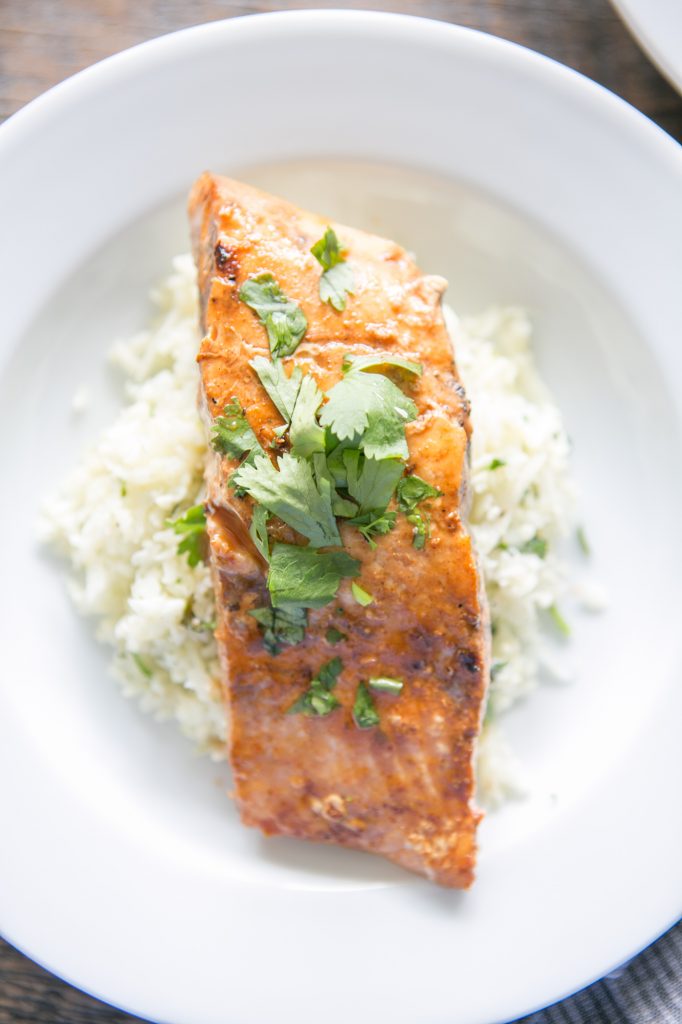 After coming off the grill, we served the fish over the Cauliflower Rice, topped with a little extra fresh marinade and some chopped cilantro to garnish. This recipe is SO easy, SO Whole30 compliant, and SO delicious! You should give it a shot and let us know what you think!
Cheers,
Bill & Hayley