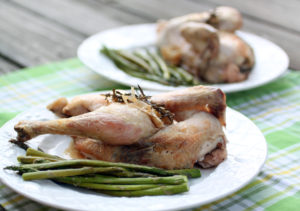 Wednesday is turning into our favorite day of the week now that the farmers markets are open. Luckily we live pretty close to one held at Shady Side Academy High School in the Fox Chapel area. Yesterday we stopped by right before dinner time, and as soon as we got out of the car we walked straight to our favorite farm stand, Green Circle Farm. We love Green Circle Farm because the farmer is very particular about what she feeds her animals, and she knows not to give them soy. We never have any question about whether or not the animals we are eating were fed an optimal diet when we purchase from Green Circle.
When we got the stand, we said hello to the owner, Erika, and proceeded to grab items we wanted. First it was blueberries, then she let us try her snap peas (amazing!) We were sad that we missed her amazing strawberries, but that's our fault for arriving too late, though the blueberries made up for it. They were mouth watering! We saw that she had fresh petite chickens that day, and we knew that was something we would love to try. I had just told Bill the night before that I was wanting to roast a chicken soon, so this was perfect timing.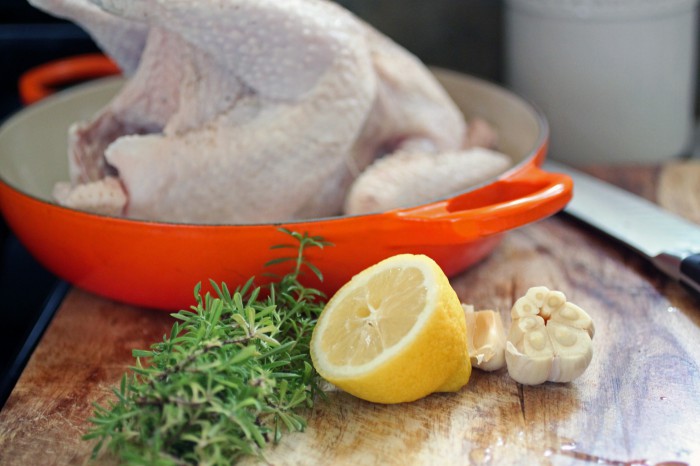 The chicken definitely was petite, but looked like it had a good amount of meat on it. I roasted it very simply with garlic, fresh lemon, and my new herb obsession–winter savory. The chicken was teeny enough that I just cut it down the middle with our kitchen shears and plopped half the chicken on my plate, and the other on Bill's. I ate all the dark meat first, and saved the breast for another meal, but Bill ate all of his!
It was so fun sharing the little chicken with Bill. It was almost like having a special treat. We will definitely be sure to grab another when Erika has them!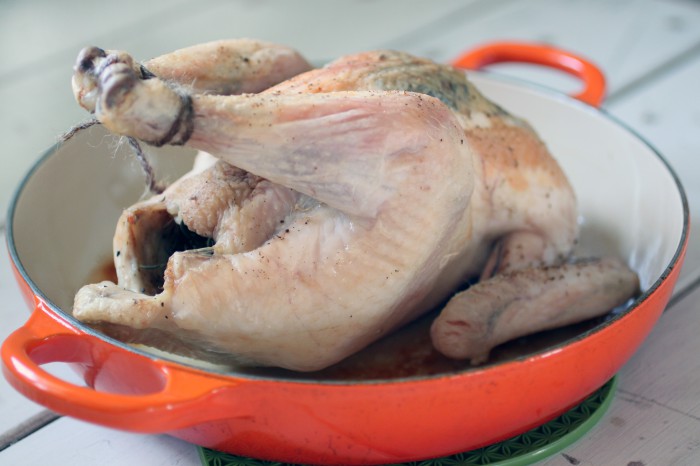 Process
Note, these instructions are written assuming the standard serving size, since you have modified the number of servings, these steps may need to be modified for best results
Preheat oven to roast at 350 degrees.
Rinse chicken under cool water and pat dry.
Sprinkle the entire chicken with salt and pepper.
Stuff winter savory under the skin above the breast.
Stuff the body cavity with half of a lemon, one head of garlic, and one bunch of winter savory.
Roast chicken 20 minutes per pound, or until a thermometer reads 165 in the breast.