A few days ago, during one of our twice-weekly runs to the local (non-Whole Foods) grocery store, I came upon what looked to be a new offering of grass-fed Eye of the Round in the meat case. It's an increasingly common story: "conventional" grocery stores are really catching on that consumers want higher quality options when it comes to meat and produce. Naturally, we're huge advocates of supporting your local farmers, and even growing some of your own food if you have the chance. It'll really give you a good perspective on how much effort is involved.
I'm getting off track, but it has been cool to see our local stores carry more and more high quality foods. I was happy to find a grass-fed Eye of the Round there lately. Maybe I have passed by it before. Maybe it's brand new. Who knows. The cut is familiar to me: My Aunt and Uncle make an outstanding Eye of the Round at Christmas every year. I'm not sure of their exact cooking method, but it involves beer. This past year, they prepared it with Omission gluten-free beer, which was so generous of them.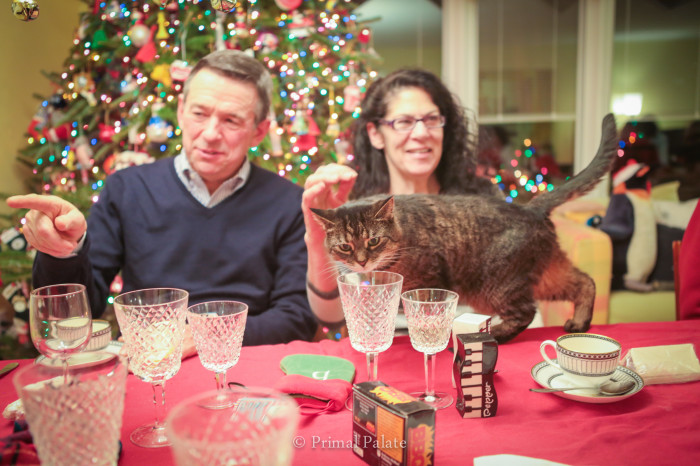 (Don't worry, the cat only pulls this move AFTER everyone has eaten. Also, I love my parents so much!)
So when presented with this "new" Eye of the Round offering at the store, I was excited to take the opportunity to make it. Oddly, I don't think I've ever cooked an eye of the round before. I've done just about every other cut of meat, but I know that this lean cut requires special attention. Like any good 30-something home cook, I turned to Google for a recipe. One of the top results on Page 1 was for "Perfect Eye of the Round," by The Domestic Man. Hey, I know that guy! So I checked out Russ's recipe, and it looked like one I'd want to try. This isn't the first time this year I've turned to a Russ recipe, either. We tried his Chicken Tikka Masala to review his new book Paleo Takeout, and ended up getting totally hooked on that recipe for a few weeks. It was glorious!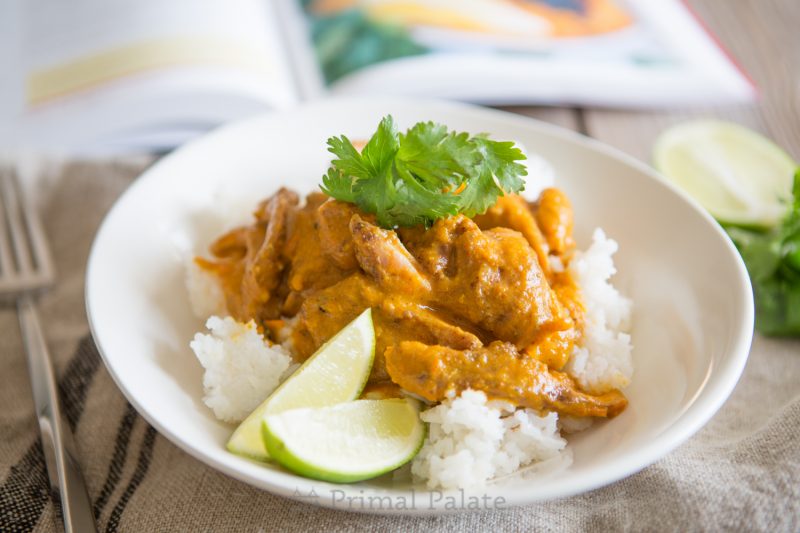 Russ's method for the roast is very straightforward: Rub it with all sorts of delicious ingredients: Salt, Pepper, dried Thyme, and fresh garlic. The recipe also suggests doing the roast over chopped root vegetables: hell yes, sign me up for that. So we pulled out some of our new spices (the French Grey Sea Salt, and the organic Thyme – both from the Savory Pack), and preheated the oven to 500.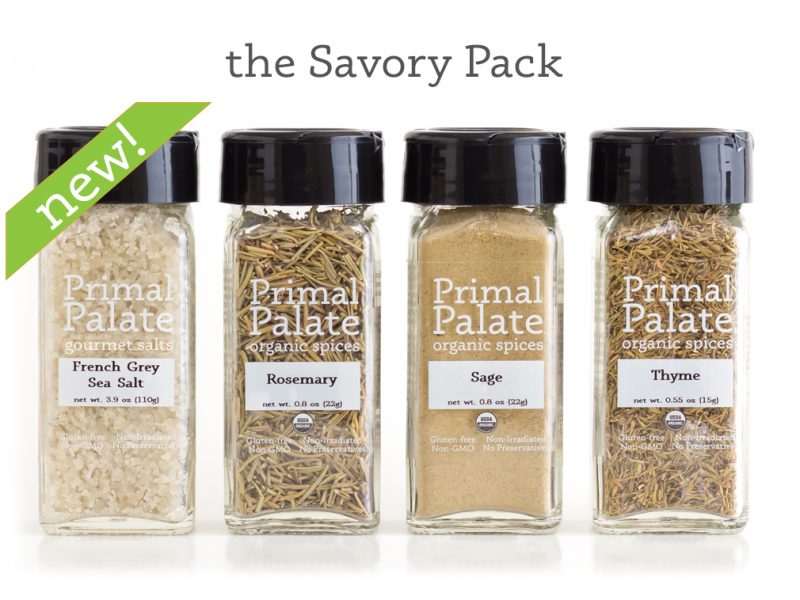 For the root veggies, we opted for organic russet potatoes (the organic part is important when it comes to potatoes), onion, and carrots from our garden. We rubbed down the meat with a spice and garlic mixture, and then seasoned the vegetables a little extra as well.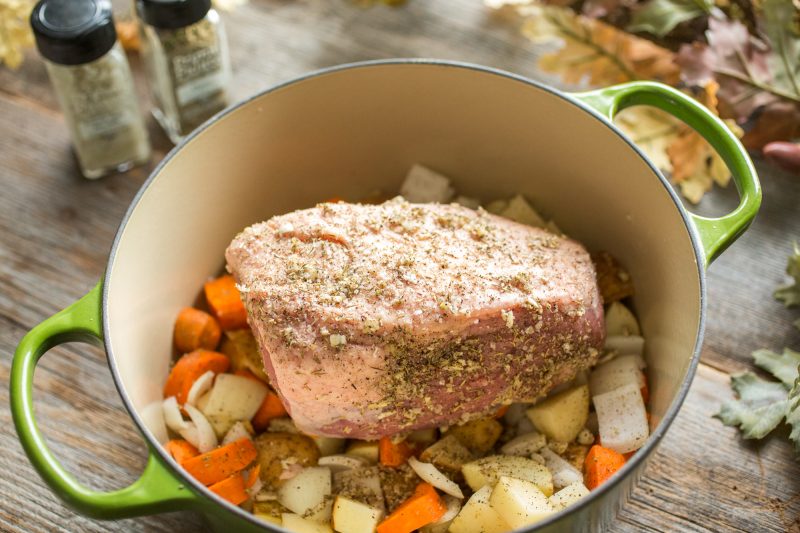 The roast goes into the 500 degree oven 7 minutes for every pound, then the temperature is reduced to 170, and the roast stays in the warm oven for another 1 1/2- 2 hours. The only way you'll really know the roast is ready is when it hits 13oF in the middle (which will be 135F after a little rest). Definitely give the roast a solid 10 minutes to rest (this helps to lock in the juices). Any less, and you'll have a flood of juices on your cutting board. If you're in a hurry like we were, you'll just have to deal. It'll be okay.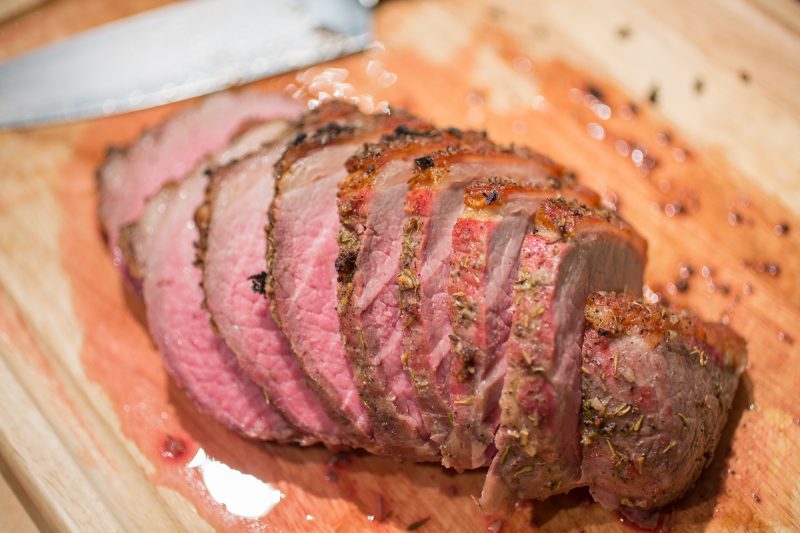 I think we let ours go a hair too long, although it was still a beautiful medium pink. The fat cap and crusty spices on top were to-die-for… definitely the best part of it. That is, until you get to the vegetables in the pan, which are out of this world.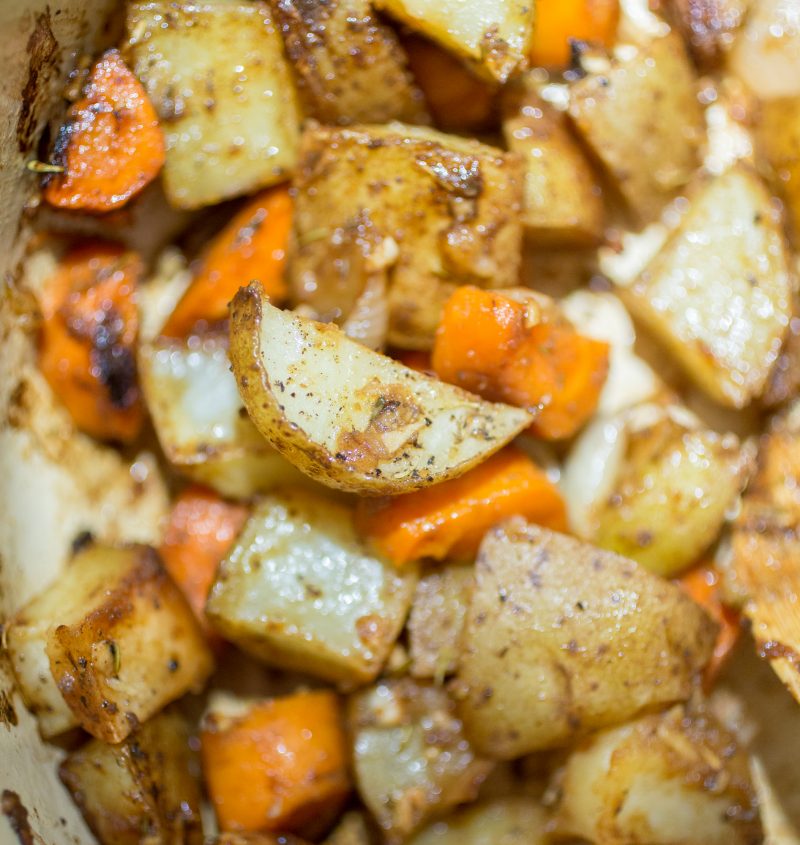 It's not often we work from someone else's recipes, but this is the second time in a few months that I've been blown away from one of Russ's recipes. If you want to check out this recipe on his site, click here. It's also in his book, The Ancestral Table. Try this recipe!!
Bill