This fall one of our favorite restaurants, Legume featured a gluten-free braised lamb shank dish. Beware when ordering a dish like that out at a restaurant, because gluten will often hide in the sauce. The one at Legume was fine though. Anyway… I ordered it twice, not in one night, but I ordered it twice. It was delicious both times.
We are stuck in the polar vortex, and comfort food is a must right now in Pittsburgh. Therefore, it's the perfect time to try out a new braised lamb shank recipe that will hopefully be as delicious as the one from Legume. I'm not a trained chef, I'm a home cook–trained by family, so sometimes I have to allow google to teach me how to cook some things. I of course know how to braise meat, but I needed a little inspiration for the sauce that I wanted the lamb to braise in. So I did what I always do: browse google, check out all of the non-paleo recipes there are out there, get a feel for how something needs to be cooked, and then wing it!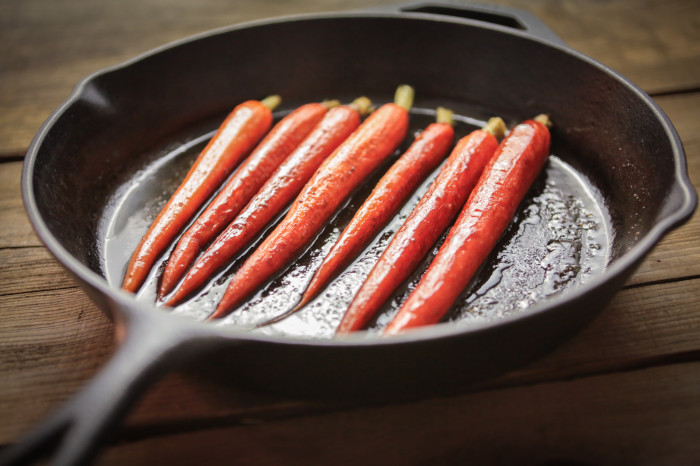 There were a few ingredients I threw together that I was unsure of after I added them, and thought to myself… "Well, I have either ruined the lamb we got from Whole Foods, or I'm a genius." Which I'm guessing is what every self proclaimed chef has said to themselves at some point in their lives. I'm actually not a self proclaimed chef. In fact I'll never call myself a chef, but that's besides the point. Luckily lamb shanks aren't too pricey, but I still would have cried if it didn't work out.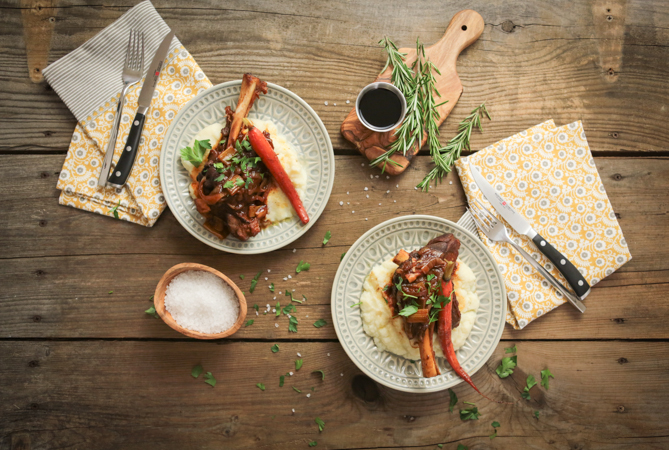 Luckily for me (and Bill), I did something far from ruining the meal. I actually created magic. I really wanted to cook this lamb in red wine. Really badly. I love lamb or beef cooked in red wine, however I didn't let myself. Not that I have a problem with cooking food in wine–it adds amazing flavor, I just wanted to keep the recipe "strict" Paleo. Instead, I used aged balsamic vinegar and coconut aminos in equal amounts. The fresh herb in this dish is rosemary, which is an herb I wouldn't typically pair with coconut aminos, but in this case it totally worked! The flavors in this recipe are out of this world, if I do say so myself. This meal was so easy to make, albeit time consuming, but definitely a way to impress dinner guests without killing yourself in the kitchen.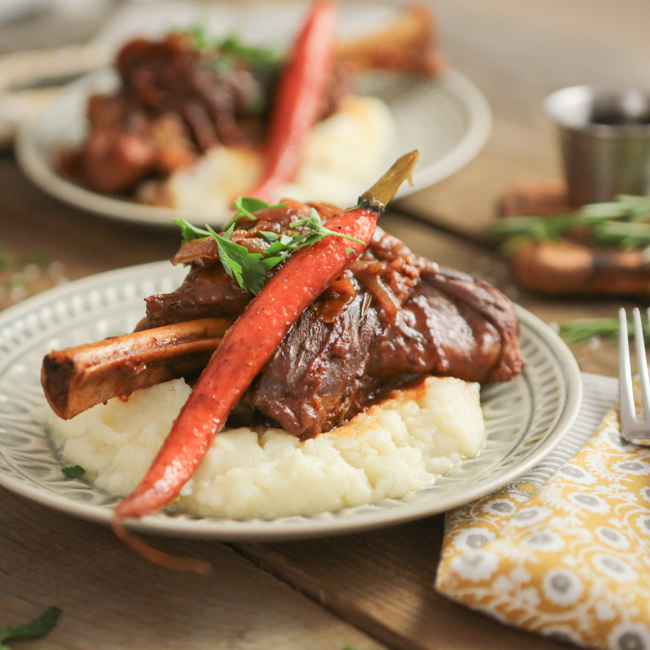 I served glazed carrots with this dish, and everything was served over pureed cauliflower. Typically you would use brown sugar to make glazed carrots, but for this recipe I did a simple mixture of butter, water, and coconut aminos. They cooked in 20 minutes, and it all took very little effort. I think it makes a great addition to the "lets pretend I'm a trained chef and impress guests with little effort" list of recipes I make. This meal was really fun for me. Sometimes I enjoy doing something that takes a little more time and consideration. It's calming to me. Maybe I should cook fancy meals for my husband more often! 🙂  (uhhh, YES! -Bill)
I hope you all enjoy this recipe as much as we did!