Yesterday we were snowed in. We are still sort of snowed in today, but might be able to leave the house later on. We all have cabin fever, even the dog. I'd say even the cats, but they haven't been outside since they were born and have no interest in it, so that's doubtful.
If you haven't noticed, Bill and I don't have set work hours, which means we are working pretty much all the time… so when we are snowed in on a Saturday, it's still a work day. Most Saturdays are work days for us, and today is Sunday and again a work day… but anyway… you get the point. Yesterday I was bored, and I didn't feel like working. It was cold and snowing, so I decided to make cookies. Lets be real. I was bored and snowed in, so I wanted to eat a treat. So I made cookies. I've been wanting to work on a new recipe for cookie cutter cookies that are as close to sugar cookies as possible using grain-free flours. Creating a grain-free sugar cookie is really challenging for one specific reason. You need less moisture in the batter for the grain-free dough roll out and not get sticky and messy, but that will often result in the texture of shortbread. Hard and dense. Not light and fluffy, like sugar cookies should be. Bummer, right?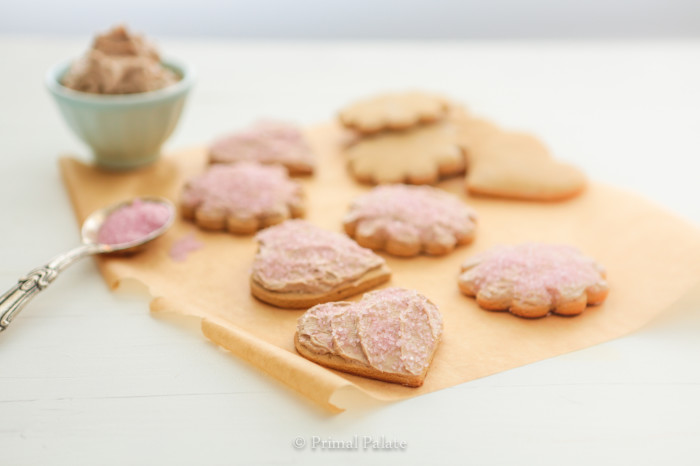 If you follow our friend Brittany Angell, you may have seen that she recently posted an amazing recipe for sugar cookies using coconut flour. This amazed me. I don't really like baking with coconut flour because I always feel so limited in what I can do with it (cupcakes, cakes, or muffins only), but Brittany has found a way to master the art of baking with coconut flour, being the gluten-free baking expert that she is. She has given me a few tips and tricks. Not a ton, but enough that I could try to create a new cookie recipe using coconut flour. I did add chestnut flour to this recipe (Brittany also turned me on to chestnut flour – thanks Britt!!), so that I wouldn't feel like I was totally copying her sugar cookie recipe, even though I haven't ever seen her sugar cookie recipe.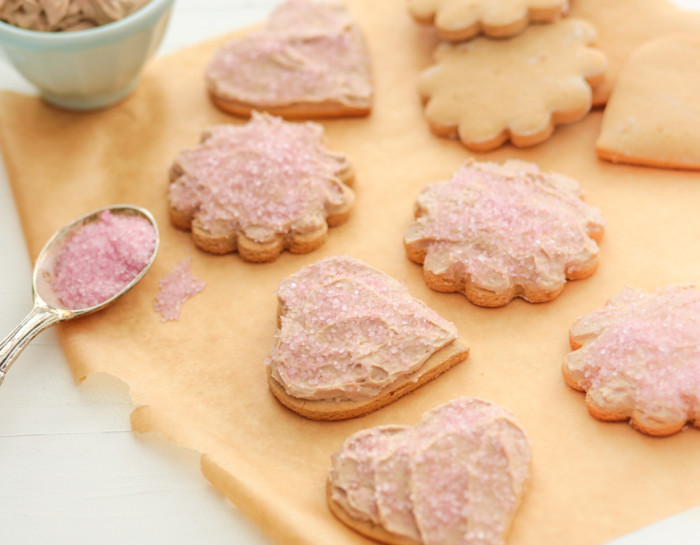 The cookies turned out great! I wasn't so sure I loved them at first, but I just had one again today (I'm telling myself I had to for all of you), and I feel like they are even better than yesterday! I'm really surprised. They do have a bit of a maple flavor to them, which is expected when using maple sugar to sweeten, but it's pretty mild. For frosting, I used a new recipe for dairy-free buttercream frosting. I recently made homemade powdered sugar with coconut sugar, and maple sugar (separately), and it turned out great! Powdered sugar is the key ingredient to making traditional buttercream frosting (besides the butter of course), and since real powdered sugar is not grain-free, I really wanted to take a shot at making it from scratch with an alternative sugar. I'm not so sure powdered maple sugar would work well for something like macaroons, but I definitely would like to try sometime.
I also used India Tree sprinkles to decorate the cookies. They were so cute. Perfect for a Paleo-friendly Valentines Day treat! This recipe would be great for Christmas tree cookies, Birthday cookies, or any other type of cut out cookie you'd like to make.
Enjoy!