Hello Friends!
If you are visiting our site for the first time in a few weeks, you might notice things look DIFFERENT around here. Not like we're using a new color scheme, or a new font…. like every single piece of this website has been updated. It's pretty neat, right? Take a moment and poke around, but come back to this post after you do, because we have a real treat for you today!As a part of the total overhaul, we have added a feature that allows anyone to upload recipes to our site. We're SO excited about this feature, and hope you'll try it out by uploading a few of your own recipes (
try it here
). The neat thing about it is that you can use your own recipes in our
free meal planner
, scale the serving size and ingredients effortlessly, see nutritional information, and it will also show up on
our App
!
Along with this feature, we have also hand-picked a group of bloggers we're calling "Featured Contributors," chosen for their exceptional recipe quality and beautiful photography. (If you're interested in becoming a Featured Contributor, start out by submitting some of your recipes, and we just might add you to the list!)We wanted to kick off our brand new 
Featured Contributor Spotlight
with an amazingly beautiful collection of recipes from the immensely talented 
Russ Crandall
, author of the soon to be released Paleo cookbook, "
The Ancestral Table
" and award winning blog
The Domestic Man
. As a part of the Featured Contributor Spotlight, we will be featuring
Russ's gorgeous recipes
on
Facebook
and
Twitter
for the next two weeks, in celebration of the release of his new book. We sat down with Russ to talk with him about his new book, see what inspires him, and get the scoop on his favorite things to eat and cook. Let's dig in!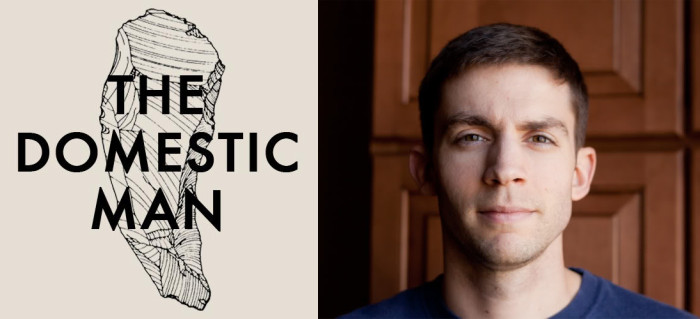 Your new book The Ancestral Table releases on February 11th, just over a week from now. What will people find in that book? Any surprises?
The Ancestral Table is the result of several years' work, collecting and redeveloping my favorite traditional and international dishes to fit a Paleo template.  I worked hard to come up with a collection of recipes that are a good blend of classics (Chicken Fried Steak, Smoked Turkey Legs) and some new culinary adventures (Pesce al Sale, Butter Chicken).  There are a few surprises inside, the biggest surprise being that there are white rice, potato and dairy dishes in the book, along with a thorough explanation of why I think these foods have a place on an ancestrally-minded table.  For those sticking to a more conventional interpretation of Paleo, don't worry – there's a substitution guide in the back of the book that explains how to adjust eat recipe to meet your dietary needs.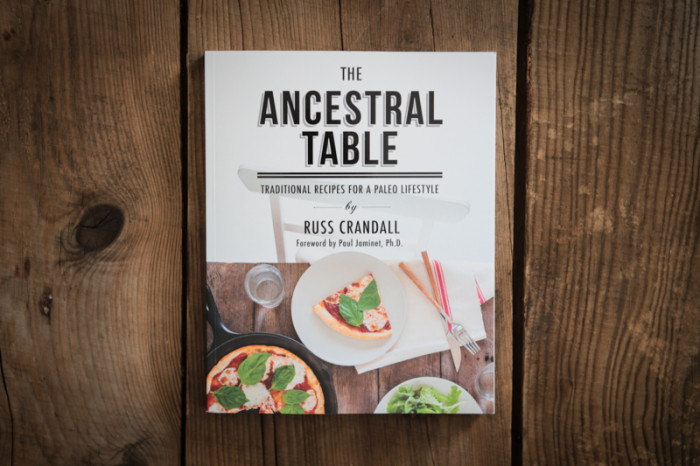 The next question we have is a three part question: What were your favorite dishes from the book to eat, cook, and photograph? 
Man, that's a tough question!  
Favorite dish to eat?  Seafood Paella.  Something about braising a ton of vegetables, meats, seafood, and rice together with a bunch of broth kills me every time.  
Favorite dish to cook?  Pesce al Sale (Salt Crusted Fish), where you cover a whole fish in coarse sea salt and bake it for 25 minutes.  It forms a shell that you crack open to reveal a perfectly roasted fish inside.  It's so fun!
Favorite dish to photograph?  We had a lot of fun shooting the Southern Fried Chicken picture.  I made a whole spread, including Dirty Rice and Meaty Collard Greens (also in the book) and then we arranged a table setting and took a few shots before devouring the whole thing.  Most of the cookbook shots were ultra simple, so it was fun to do a big event photo like that.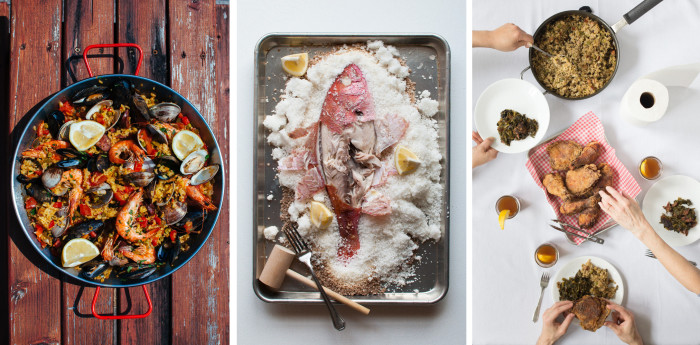 What was the most challenging part of the book writing process (other than keeping it a secret)?
You're right, keeping it a secret was super tough.  Besides that, editing the recipes was the most challenging part; it was hard to keep track of all the little things in my head – proper wording for how to braise something, standardizing how long it takes for an onion to soften (which can be anywhere from 4-8 minutes, depending on who you ask!).  But once all of those inconsistencies were addressed, the wording really flowed, so in the end it was totally worth it.
When you go out to eat, what are your favorite types of dishes to order? Is there a particular cuisine you and your family favor?
When we go out, our family usually goes out to Korean.  Here in Baltimore there is a huge Korean population (the Baltimore-Washington metropolitan area has the third-largest concentration of Korean-Americans) so there are a ton of great, authentic places to eat.  We'll order a couple meat dishes and then go nuts on the fermented veggie accompaniments.  In general our family tends to favor Asian cuisines; my wife is from Hawaii, and I spent most of my adult life there, so it reminds us of home.
Who are some of your creative influences? Do you read any other food blogs?
I love checking out new blogs.  I tend to "stalk" forums and recipe aggregate sites like Chowstalker.com, to discover new Paleo blogs as they start up.  I've made some great friends that way!  Including you guys, who I met through the RobbWolf.com forums way back in the day (well, 2010, but you know what I mean).  I have an RSS reader full of great Paleo blogs – both for inspiration and to make sure that I don't publish a recipe at the same time as someone else; nobody wants to see two meatloaf recipes in the same week!
I have quite a few creative influences, especially gourmet chefs and magazines.  Some of my favorite authors are Nigel Slater and Yotam Ottolenghi, everything they touch is magic.  For me, I love clean, simple photos, where the food is the star.
What's next for The Domestic Man? Any plans for a follow up book or other site-related projects?
Shoot, I have no idea what's next.  I'm just going to keep publishing new recipes on my blog every Tuesday, and see where it takes me!
Thanks for taking the time to talk with us, Russ! We LOVE your recipes, and your new cookbook is fantastic. If you would like to meet Russ and get a copy of The Ancestral Table signed, and you live in the Washington DC area, Russ's book release party is coming up soon. Here are the details:

Saturday, February 15th, 8pm-10pm
Red Apron Butcher (Union Square)
1309 5th St NE, Washington DC, 20002
(By pre-ordering on Amazon, you are guaranteed the lowest price between the time you order and when the book releases!)