Hello Friends – happy weekend!
Today we're sharing one of our favorite chicken recipes: Chicken with 40 Cloves of Garlic. We included a version of this classic recipe in our first cookbook, Make it Paleo, and I was convinced the dish had made an appearance on the blog back in the day as well. But after about 15 minutes of fruitless searching, I realized that was wrong. So many, many years after we initially made this recipe, we've revised it for you all. (You can find our first version here – perfect for those who don't have an Instant Pot)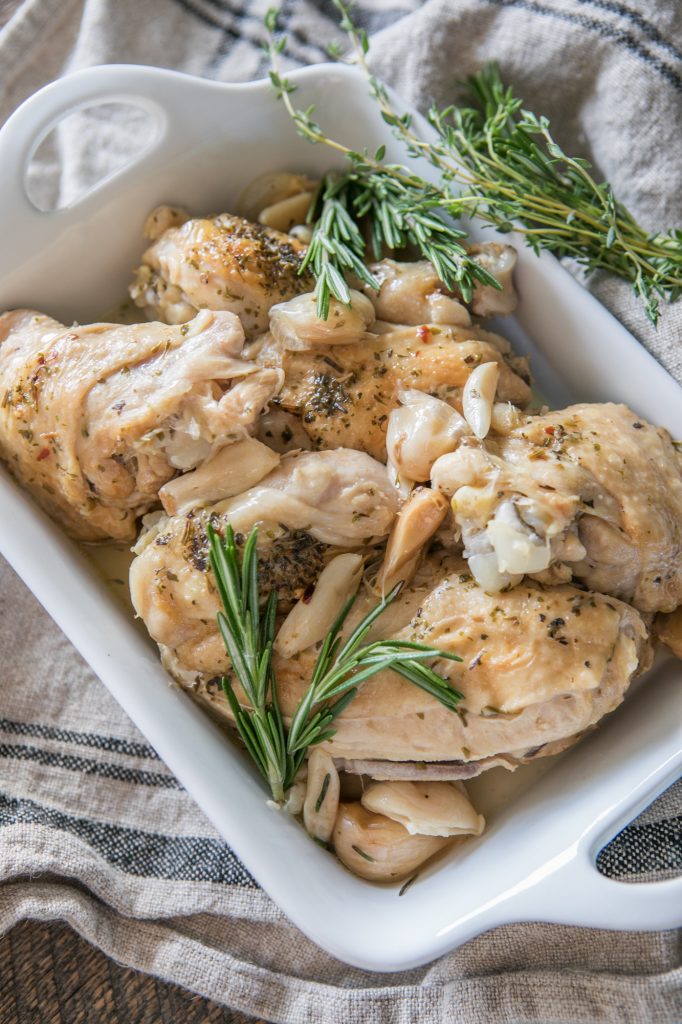 The Instant Pot is one of our favorite kitchen tools, and with good reason: it can do a LOT of different things. From perfectly hard boiled eggs (that ACTUALLY peel), to perfect pulled pork, to soups and stews (and rice), it combines the best features of a pressure cooker and slow cooker, all into one appliance. We knew it would reduce the amount of time needed for this classic dish, and it certainly delivered!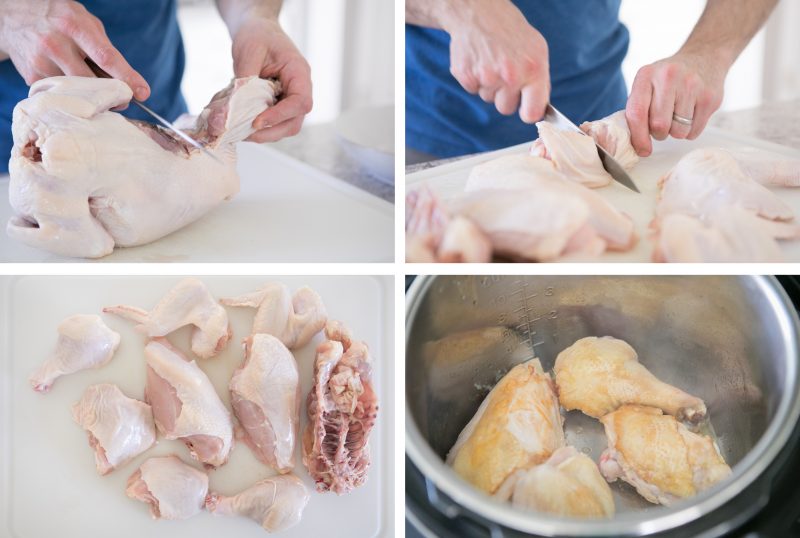 To some people, 40 cloves of garlic sounds like a hell of a lot of garlic. But because of the way the cloves get cooked in this recipe, they transform into these succulent little pouches of garlic that are mild enough to eat all on their own. Non-paleo recipes often suggest serving this dish with some fresh bread so you can smear the soft garlic on the toasted bread and make a sort of rustic garlic bread. Not going to lie… that sounds amazing! Since this is a Whole30 friendly recipe, and also Paleo, we're skipping the bread this time. Yeah, even the "paleo" bread.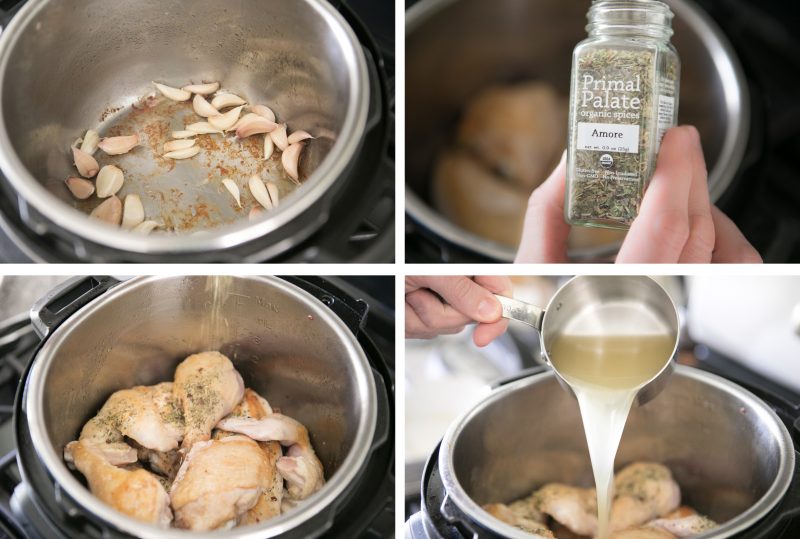 I really love the simplicity of this dish. Seared chicken, slow cooked (or in this case, pressure cooked) with garlic, spices, and chicken broth. What could be better? You could even turn it into a whole meal like our Chicken Pot Roast recipe, by adding some vegetables on the bottom. I'd recommend the addition of carrots, celery, onion, and potatoes.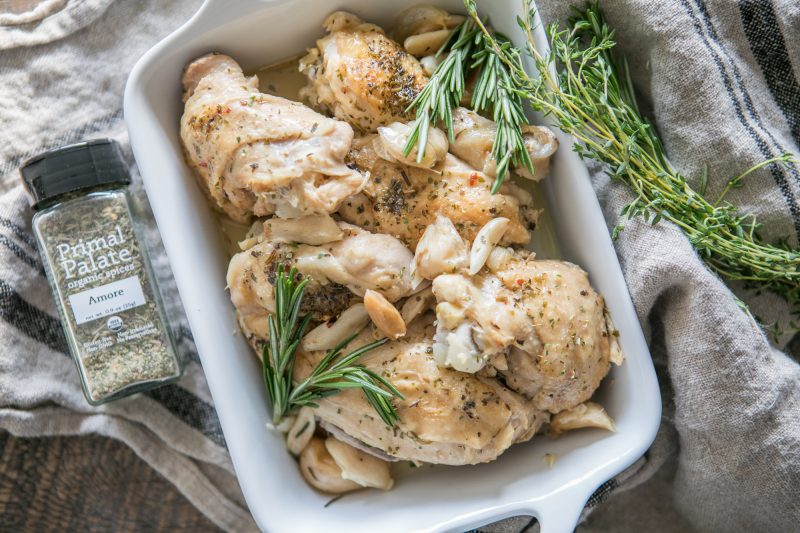 We seasoned the dish with our Amore Seasoning because it's the easy-button version of fresh herbs, which we neither planned for, nor are they even in season here right now. And with how fresh our blends are, it's honestly the perfect substitute. Plus our blends last about 100x longer than fresh herbs, which we always fail to use in time.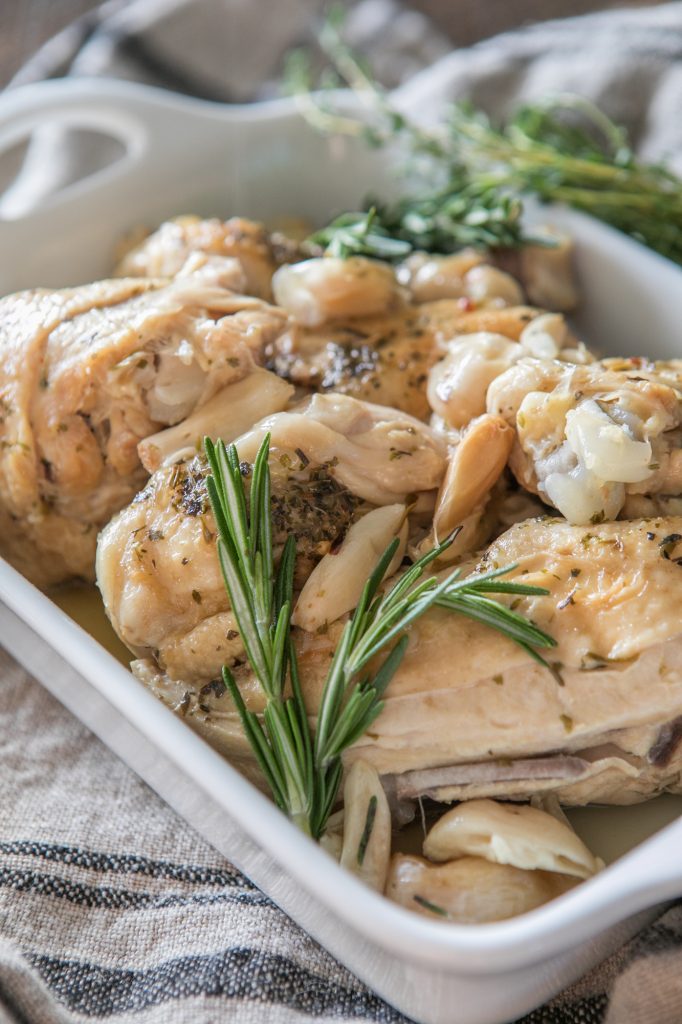 Give this recipe a shot and let us know what you think! Hope you enjoy this Instant Pot Whole30 recipe!!
Bill & Hayley