If you missed it last week, we announced that our line of Primal Spices are now officially Whole30 Approved! All of them except the Cinnamon Sugar Cookie (which should sort of be obvious to most people). One of the questions we had for Melissa Hartwig (Co-creator of Whole30) in all of that was about how the Apple Pie Spice and Pumpkin Pie Spice fit into her vision of the Whole30 Approved program. Her response was great, suggesting that people could use them in flavoring savory side dishes using things like squash. Thats pretty genius. She should write a cookbook, or something.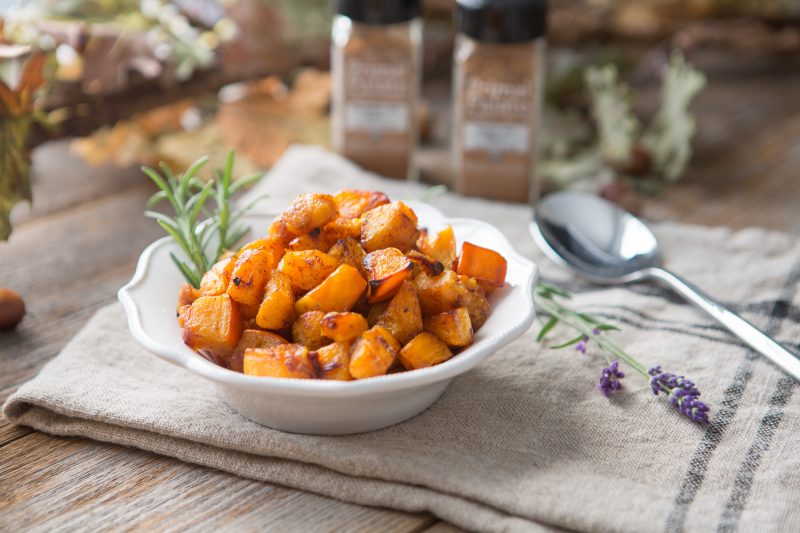 So without wasting so much as a day, I went out to the grocery store to try things out for ourselves with that idea in mind. We picked up an Acorn Squash and a Butternut Squash. Now, I will say that roasting winter squash is a great dish unto itself, and when the edges get crispy and caramelized, it takes on a hint of sweetness. To accentuate this hint of sweetness, we paired it with the Tin Star Brown Butter ghee we have on hand (at all times). The caramel flavor note is the perfect compliment to the squash.
** Side Note: Also, be sure to check out how we have improved our Ingredient pages on the site. Any time you click on an ingredient, you can see ALL the recipes on Primal Palate that use the particular ingredient! **
Cooking each type of squash separately, we paired the Butternut Squash with the Apple Pie Spice, and the Acorn Squash with the Pumpkin Pie Spice. Truthfully, it might not matter. We ended up mixing everything together for this photo, and it tasted great. In fact, maybe you'd want to do that anyway.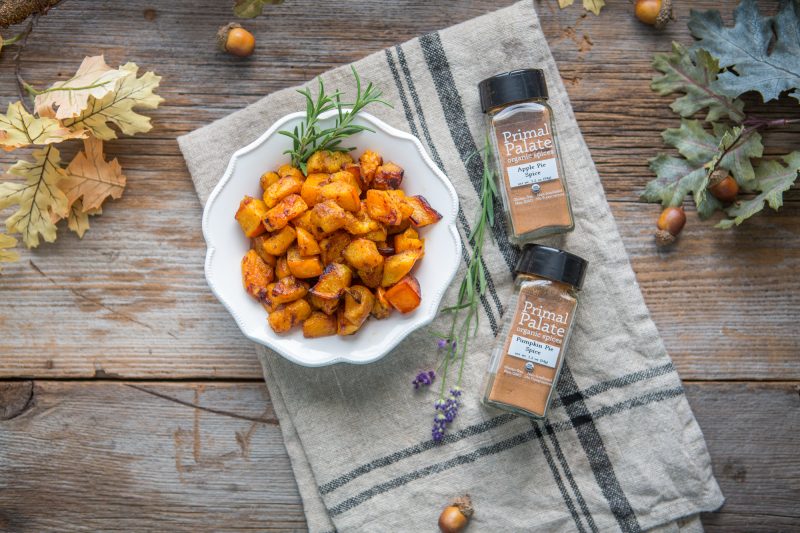 This is a WONDERFUL way to use your Primal Palate Sweet Pack spices in a non-dessert, real food way. We also like using a dash of them over chai tea or butter coffee. Look for more non-dessert uses for these great flavors on the blog over the next few weeks.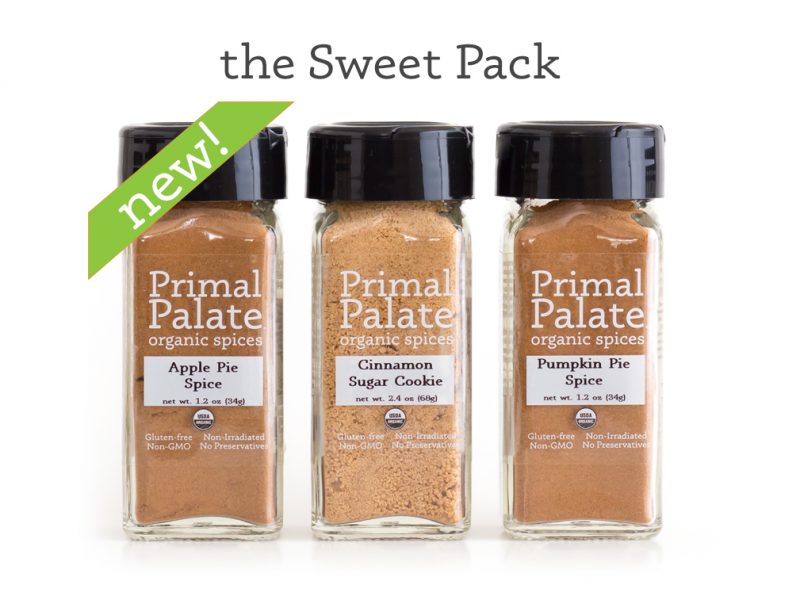 Too much awesome…
As another note for you all, you might notice our Signature Blends are on back-order in the online store right now. We sincerely apologize for this! Here's what happened. We did a bad job of forecasting how popular our spices were going to be this fall, and with increased lead-times to make them FRESH (which is so key), we fell behind. The good news is that we have more in production as we speak! You are welcome to place 'backorders' on the site, which will begin shipping the first week of November.
Thank you all for your HUGE support of our Organic Spices! We have been so pleased with the release, and have some great new stuff planned!