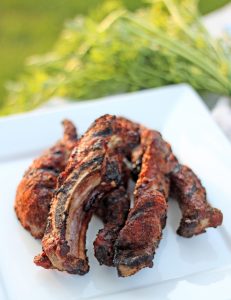 On our first trip to the farmers market this year, we purchased pastured (no soy) pork country style ribs from our favorite local farm, Green Circle Farm. As we have said in a previous post, Erika, the owner of Green Circle follows a Weston A. Price based diet, and is very particular about what she feeds her animals. This is why we love her (plus she is super nice)!
We had pork back bone ribs once before at our friends Stacy and Matt's house, Paleo Parents. This was the first time we had ever had country style ribs, and we were in love with the first bite. Matt is an excellent cook, and he really fed us well! After that we were on a mission to get that same style of ribs from a local source.
For this recipe we mixed up a simple rub, and threw the ribs on the grill. They were perfect. This grill rub is also great on flank steak, baby back ribs, and would be quite tasty on chicken also. I would even recommend mixing it into ground meat for meat balls. You really can't go wrong with this one!