Life has been pretty busy for us lately, and needless to say, our available energy for cooking has been running low. We have been mainly following Whole30 guidelines since the September Whole30, so that means cooking our meals from scratch (which we do anyway).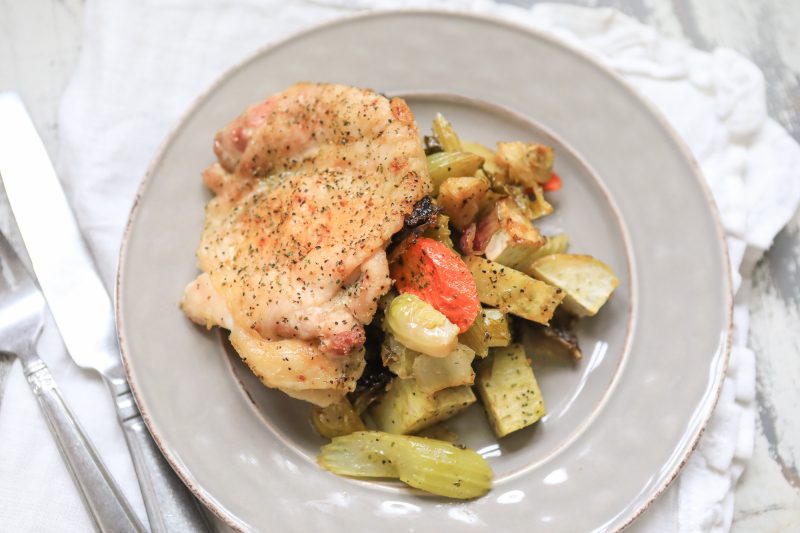 I wanted to cook up something comforting, flavorful, and easy for lunch on Monday, so I threw together a simple sheet pan meal. This does take a little prep to chop all of the veggies, but besides that it comes together easily, and left us with lunch at the office for a couple days!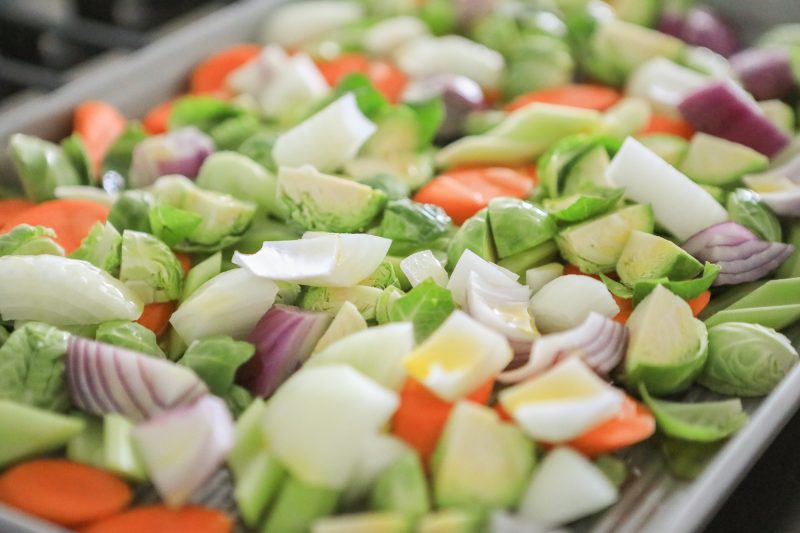 My current go-to spice blend of ours is our Seafood Seasoning. We have been tossing around the idea of changing the name of this blend, because it is so wonderful on chicken, lamb, pork, and vegetables. It's not just for seafood! It is an aromatic herb blend with lemon peel. It's one of my favorites of ours, and I knew I wanted to use it for this recipe. (shop spices)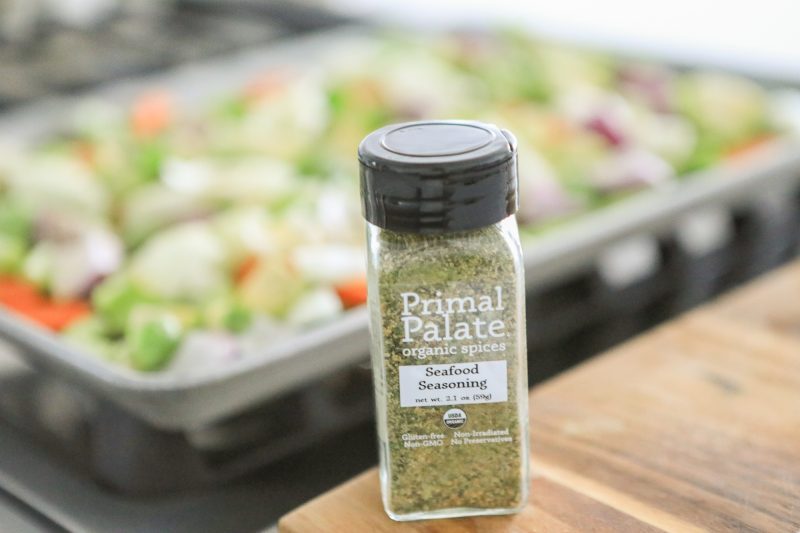 For this recipe, I chopped up some of my favorite vegetables to roast, carrot, celery, onion, Brussels sprouts, and Japanese sweet potatoes. I pretty passionately dislike orange yams, but I will happily eat white Japanese sweet potatoes at every meal. They are one of my favorite starches. If you enjoy yams, and can't find the Japanese sweets near you, you can sub yams for this recipe.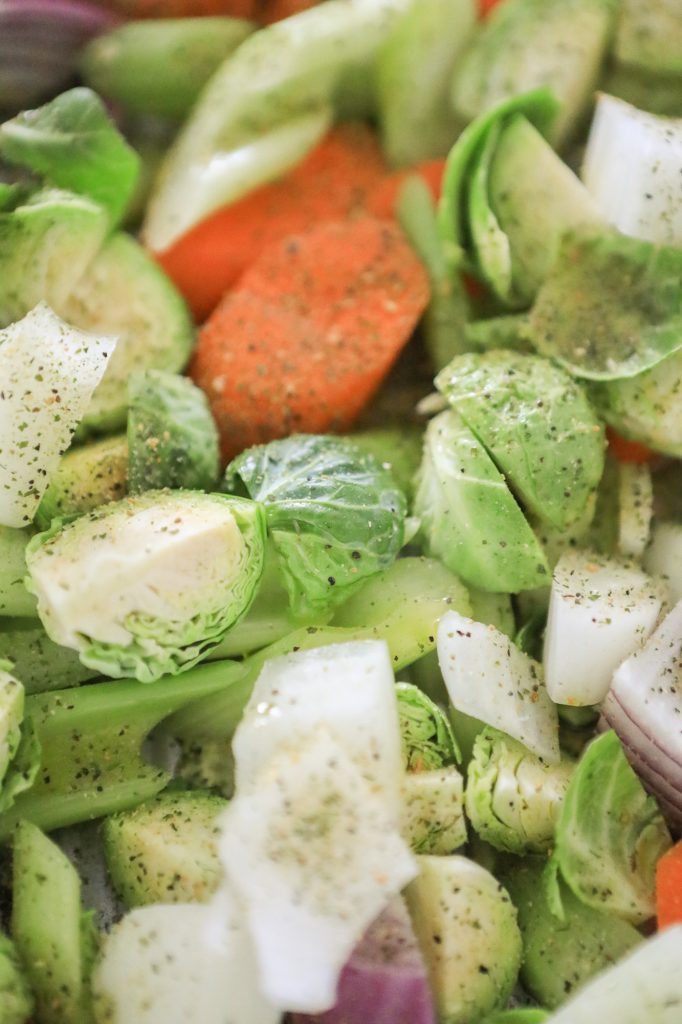 Once the veggies were all chopped, and spread out on my rimmed baking sheet, I drizzled them with olive oil, and seasoned with our Seafood Seasoning, and then carefully moved the veggies around to make sure they were evenly coated. An easier way to accomplish that step would be to toss the veggies, oil and seasoning in a large bowl, and then spread out on a rimmed baking sheet. I actually forgot to add the sweet potatoes, and had to add them after this recipe had cooked for a little while.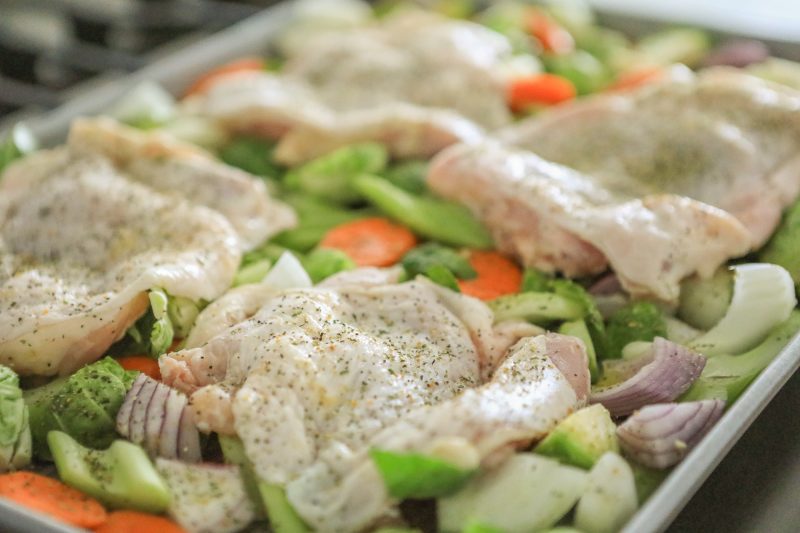 I then removed the bones from 4 chicken thighs, and placed them on top of the veggies, and sprinkled more Seafood Seasoning on top of the thighs. I baked the veggies and chicken for around 35-40 minutes at 400, or until the chicken thighs were cooked through, and the skin was crispy.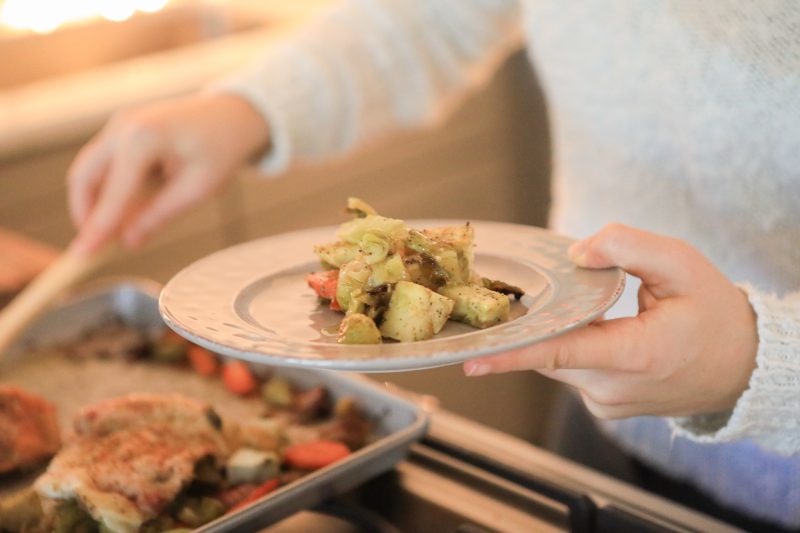 Once the chicken was cooked, I removed it from the veggies, and then stirred the veggies, placed them back in the oven for another 20 minutes or until they were fork tender, but the edges were browned and crisp.  This recipe is a really easy lunch or dinner, and is even delicious as leftovers!
Enjoy!
-Hayley