If you read Doug's story, you'll see it wasn't as if he was inactive person.  As a U.S. Marine, he was always working out.  But after coming off active duty, transitioning to a corporate job, and eating "every Twinkie and pizza in sight," he quickly gained weight.  He'll tell you straight out, "Eating was how I dealt with my depression."  He didn't just turn his own life around, but quit the job he hated to become a fitness coach and personal trainer, helping others follow the same healthy lifestyle.  Thank you for sharing your story Doug! -Kara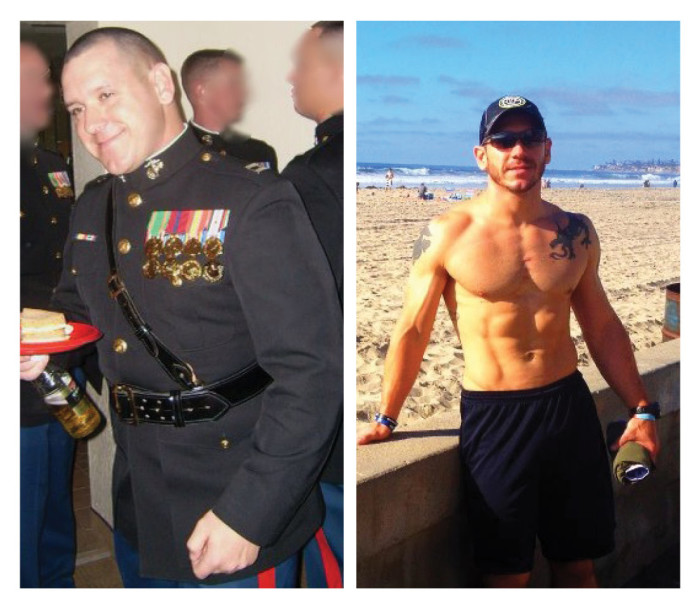 What was your life/wellbeing like before Paleo (physically, mentally, etc.)?
I've been in the Marine Corps since I was 22 years old. So I was, for the most part, physically active but as far as proper clean eating went, I didn't know what the right thing to do was. I'd follow whatever diet that my buddies were on. This would include Big Macs, milkshakes, cookies, you name it. Salads were a rare thing for me. I used to have a real problem with heartburn and indigestion. I'd feel bloated, gassy and have issues from day to day with my stomach and digestive track, depending on what I decided to eat that day.
What was the motivating factor (or turning point) that led you to make the switch to Paleo?
Aside from being fat and unhappy? I was introduced to Paleo from some of the members at my CrossFit gym. The Paleo lifestyle intrigued me because of the way people spoke about it – their enthusiasm and zest for this healthy lifestyle made Paleo even more enticing. Not only was Paleo a unique concept, but the science behind eating as naturally as possible made complete sense to me. At the peak point of my unhappiness, I was considered obese. I knew there was no reason not to try Paleo, and surely enough, I saw results almost immediately.
Were there any roadblocks, etc. that you overcame along the way?
At first, I had extremely low energy during my workouts. I quickly figured out the reason behind this: low fat intake. Like many others, I had been conditioned by American health fads to avoid fat at all costs. Diet this, low calorie that – I now know that low fat is a misconception.
In your testimonial you mention having little time to work out in 'Corporate America.' This is one problem a lot of our followers face.  Any suggestions to them?
The easiest way to save on time, avoid scrambling before each meal and to ensure that you are eating the proper portions, is to begin meal prepping. This means cooking several different types of meat, veggies and fat and portioning your food in advance. We only cook once or twice a week, and recommend this to our busy clients at Go Time Fitness. It's also important to learn how to shop. Educated decisions at the grocery store means a quicker and more time/cost effective meal prep at home. Don't go crazy trying to cook a million dishes at once. If you're new to Paleo, I recommend keeping your meals simple until your diet is all dialed in – then, let the experimenting begin!
If you were speaking to someone who was considering going Paleo, or who maybe had started Paleo and wasn't seeing the results they desire, what would you tell them?
Take the time to learn your body, be patient with a new regiment, and test your results. People respond to diet changes differently. Not everyone has a fast metabolism – if you're gaining fat on the Paleo diet, figure out what portions work best for you. Paleo is also often misunderstood thanks to social media and the pop CrossFit culture: Paleo does not mean you can eat as much bacon as you want! Do your own research about Paleo, and don't be afraid to ask questions.
Are you ready to make Paleo your lifestyle? Grab a copy of our book, The 30 Day Guide to Paleo Cooking and get started today!

---
Want more Paleo Success Stories? Read the stories of these inspiring people:
Think you can handle doing Paleo for a whole month? Get our extensive (and popular) 30 Day Guide to Paleo program! It includes everything you need to get started today!