"KARA!  You can't eat that!" That's how my interview with Jamison began last week.  Jamison was the only one from our host of testimonials who I was fortunate enough to meet in person.  He had just moved to Pittsburgh and I took him to a coffee shop where I purchased…a Chai Tea Latte. 
The barista was phenomenal.  He offered to make me a latte from scratch, using only tea leaves (not the typical concentrate with added sugar) and combined it with whole milk.  Jamison seemed satisfied.
"For me, it's all or nothing." He told me.  He has every reason to be.  Jamison didn't make the switch to Paleo because he suddenly felt enlightened or decided to make good on a New Year's resolution.  His change happened while lying in a hospital bed, recovering from a heart attack at only TWENTY-SIX YEARS OLD.  Having lost his older brother to a heart attack as well, Jamison made a major life change.  With a friend serving as a personal trainer and a "get-that-crap-outta-here" attitude toward any donut, soda, or brownie standing in the way, he lost 100 pounds in just half a year.
The word "diet" has a negative connotation to it, especially in social gatherings.  One of the biggest lessons I learned from Jamison is that you should never let anyone make you feel guilty or embarrassed for making your health a priority.  Celebrations are about people, not food; office meetings are about ideas, not donuts; birthdays are about one more year together, not cake; and no, actually it's NOT about dieting, it's about leading a healthy life.  Thanks for your story Jamison-and for the reminder! Kara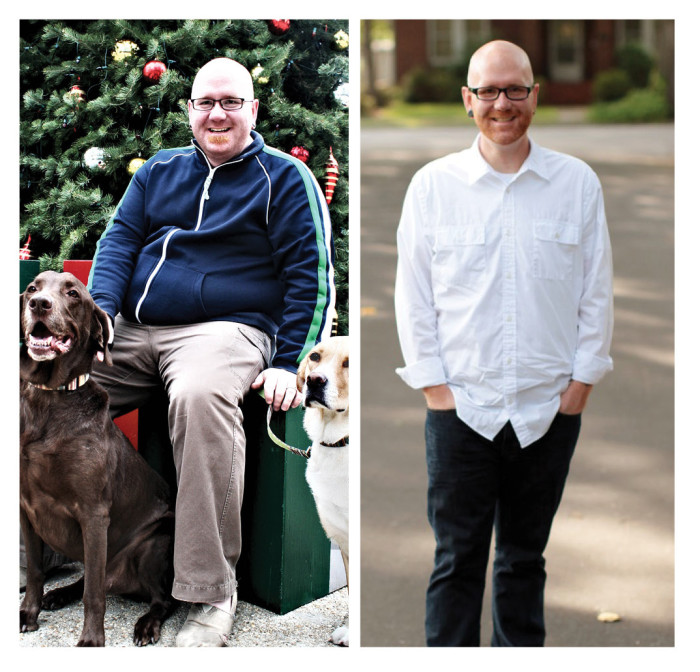 Ok.  So my Chai Tea Latte is proof you follow strict Paleo.  Did you ever cheat? 
Oh yeah.  The biggest cheat I ever did was after I hit my goal.  My goal was to go from 300 to under 200 in just six months. So from June 2010 to January 2011 I worked out almost every day and followed strict Paleo.  We threw a huge party in January with before and after photos to celebrate.  Then the morning of the final weigh-in, I woke up early, ran, and worked out.  I stepped on the scale and it said 199.  That was the first time I had seen 199 in forever.  I was 268 when I graduated high school.
After I weighed in, I went to a friend's house and they had just made fresh monkey bread.  I had hot monkey bread, milk, Oreos, Chick-fil-A…and then I was sick for DAYS.  I was absolutely miserable.
As far as cheating goes, I definitely have them.  But that's also why I think it's so important to have goals.  I knew this week would be bad because I moved to Pittsburgh, and I would be trying out new restaurants.  But I gave myself a week, and said "Ok. After this you're back on track," because I want to keep moving forward.  The only downside to reaching a milestone is it makes you more likely to cheat.  You think that a little slip-up and everything "will be ok."  But if you keep setting new goals, you won't have those thoughts.
How do you set your goals?
I call it the "SPAM" method.  SPAM= Specific, Practical, Applicable, and Manageable.  When I first started, it was easy to stay motivated because everyone was so excited.  People get excited when you're losing 20 pounds a month, and now I'm just trying to lose ten!  But I'm not done yet.  I want to get more toned and defined.  I don't think goals should be limited to numbers on a scale.  Actually, I threw my scale away.  Health is so much more than just pounds lost.  A goal should be something you can visualize: whether it's gaining muscle, losing fat, or running a 5k.
One of my first goals was to be able to run a mile in under 15 minutes.  I had literally never ran a mile before!  I was intentionally sick every single day we had to do it in school.  So I ran a mile, and my time was 13:33.  Now, my goal is to run a half marathon by Christmas or New Years.
Let's start from the beginning.  What made you decide to go Paleo in the first place?
I had always been overweight.  I literally can't remember a time when I was happy with who I was.  In middle school, high school, and college I was "the fat kid."  For some reason I thought I carried it well, whatever that means.  I thought I could dress a certain way and you couldn't tell.  Who was I kidding?  You can't hide that!
I tried everything.  I went on different fad diets.  Once I went on The Special K diet…I was actually excited about that one.  It wasn't like I was eating horribly, but I was eating like a typical Southerner with lots of fried food.  Then, in June of 2010 I had a heart attack.  I was 26.  So yea, that was fun.
You had a heart attack at 26 years old?
Yes. I wasn't expecting that.  I can remember that morning perfectly.  I had gone to Starbucks, and got my usual iced venti double shot.  I came back to the house, and immediately knew something was wrong.  Full-on heart attack.
Fast forward, and after a few days I was out of the hospital.  I had a stress test and other things done, but basically the doctor said, "Look.  You have to make a choice here.  You are too young to have this happen."  My dad had a heart attack.  My brother died from one.  So for the next 5 or 6 months, my friend Mark, who is now a marine, promised to be my trainer.  He wasn't licensed, but had the body of a Greek god.  We were opposites in every way imaginable but I truly believe God put the right person in my life to go through that experience with me.  He would call me while he was traveling to make sure I had done my sets.
You just told me why you decided to lose weight.  But there are a million diets out there; why did you choose Paleo?
When we [Mark and I] first started, we began on a conventional American "healthy" diet.  We ate whole grain pasta, oatmeal, and were generally smart about our choices.  Then two weeks in Mark came to me and said "Hey…I found this diet and it seems pretty crazy and extreme."  He was apprehensive, but I thought, why not?
I found Bill and Hayley in July or August of 2010.  I sent them an e-mail after I ran my first 5k, basically as a thank-you note and saying that they were with me that day, and I really appreciated their recipes and all the time and effort they put into them.
What other changes did you see in your life through Paleo?
With Paleo, everything had a domino effect.  I had a new self image, self confidence, and got a job as Vice President of HR.  I used to take medications for depression and insomnia and I'm off both.  You have no idea what can happen.  I can't promise it for anyone who tries Paleo but I do believe you will surprise yourself.
For me, it wasn't just a physical change; it was an emotional change as well.  My relationship with my dad is a big example of that.  He had been verbally abusive for years, and one night we were playing drinking games and I had too much to drink.  I was puking my guts out and Mark absolutely lost it on me.  He started screaming, "You're changing on the outside but on the inside you are still being controlled by someone who doesn't love you, and who completely disrespects you!"  He told me that if I didn't change things, he would quit working out with me.
I wrote my dad a letter, basically giving him an ultimatum.  Nothing happened, so I ended my relationship with him.  On Saturday, it will be three years since I last spoke to him.  August 10th.
There is something that goes on psychologically with those who lose a lot of weight.  You still visualize yourself as the person you were before.  I am still apprehensive to dive into sports or go shopping for clothes because I still think of myself as weighing over 300 lbs.  In reality, I should be excited to walk into Gap and try on clothes because I'm a size 34.  But for 24 years of my life, shopping wasn't fun.  My friends are constantly reminding me, "Dude you're not fat anymore!  You can have fun with these things."
Were people supportive of your weight loss, or did you have people who tried to tempt you?
Those close to me were great.  They were really supportive in my ordering choices.  People should respect you enough not to tempt you.  And usually, others will catch on and decide they want to be healthy too.  I blogged the whole time [I was losing] and a couple friends of mine lost a significant amount of weight.
Others, particularly colleagues, weren't as supportive.  I had one coworker who bought cookies or cupcakes for every single celebration.  I think it's important to stick up for yourself in those situations.  If you're struggling to stay on course, it's ok to say, "Hey I'm trying to reach a goal here so don't send me an e-mail/come into my office when there are desserts being passed around."  Look up menus before you go out to dinner and don't be afraid to be the annoying customer who asks a lot of questions.
What tricks did you pick up to help you stay motivated?
Always take before and after photos.  I had a friend who was a photographer, and I went to his house every week to track my progress.  We made a flip-book of all the pictures at my party.  At that same party, we stole a bunch of weights from the gym and put them in a bag so people could feel what it was like to carry an extra 100 lbs.  I would also recommend saving a pair of pants from when you first begin.  I still have a pair of size 44 dress pants.  When you're frustrated because the scale isn't changing, anything to remind you of how far you've come will help you stay on track.
Is there anything else you would like to tell someone just starting Paleo?
Know where your meat or produce is coming from, and make smart decisions in where you buy your food.  Make time to work out and meal prep; and learn to make the crockpot your best friend.  Also make time to line up your finances.  I was an unemployed bachelor when I first started.  I've seen people try to cut corners because they didn't want to invest in quality food.  You think organic food is expensive?  Have a heart attack.  That's pretty damn expensive.
And you know what else I'd like to tell them?  Sometimes, it just f#%&ing sucks.  Sometimes, it's just hard.  I don't want people to read this conversation and think it's easy.  I started screaming at Mark while doing burpees at the gym, yelling that he had "no idea what it was like to be fat."  There were many nights that I cried because I was frustrated, hungry, or upset; and in those moments, you have to ask for help.  You can always reach out to someone for encouragement or motivation.  Just always remember where you came from, and where you are going.
---
Join us for our next Paleo challenge!
Think you can handle doing Paleo for a whole month? Get our extensive (and popular) 30 Day Guide to Paleo program! It includes everything you need to get started today! (click the link below)

Want more Paleo Success Stories? Read the stories of these inspiring people: