For anyone who has ever said they don't have the time or money to eat clean, you should talk to Grace.  On a college budget, and while majoring in bioengineering (hey, that's not exactly a walk-in-the-park!), she made the switch to Paleo.  She couldn't find a Crossfit gym so she started by doing P90X in her living room.  She is also the first person I have ever talked to who said losing weight "purely for aesthetics" would never be "enough" of a reason to stay motivated.  When she realized she could have an impact on others by leading by example, she found her reason for sticking it out.  Thanks Grace! -Kara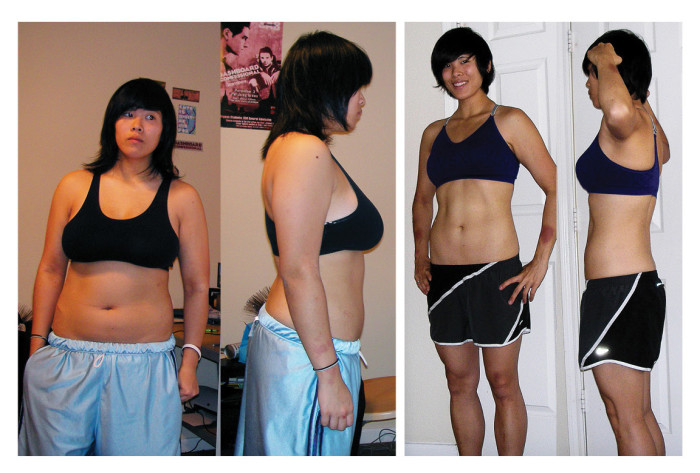 What was your life like before Paleo?
I was pretty active my whole life, but I never paid attention to what I ate.  I ate whatever I wanted, whenever I wanted to: processed food, junk food, everything.  As a kid, my family ate anything that was cheap or quick: Long John Silvers, Pizza Hut, all-you-can-eat buffets…My parents didn't really pay attention to nutrition.  I was overweight until my junior year [of college], when I made the decision to get healthy.  Eating at the school cafeteria, drinking, and consuming too much pizza was causing more problems with my weight.  I think my highest weight was somewhere around 180.
There wasn't any one specific event that set everything off; it was more a combination of things. I never had high self esteem.  I didn't like buying clothes, so I was always wearing jeans or hoodies.  I never bought "girly" clothes.  It all just kind of built up.  I just finally thought that if I was going to be healthy for the long-term, I had to start now.
If you were still in college when you decided to make the change, how did you manage?
By my junior year, I was living off campus and cooking my own food.  A big chunk of it was just taking the time to educate myself.  I was getting really interested in Crossfit, and found Paleo through Crossfit.  I read Robb Wolf's book and Wheat Belly.  I found out I had a gluten intolerance, so going gluten free was the first step.  After 3-4 months I gradually transitioned to Paleo.  There weren't any Crossfit gyms around, so I did P90X and Insanity.  Eventually I switched to Insanity Asylum and trained for a half marathon.
Finding time to exercise in college was never a problem for me.  I had plenty of time to exercise, and I majored in bioengineering!  90 minutes is the longest I ever spent.  If you write down everything you do in a day, you'd be surprised at how much time you really have.  What it comes down to is time management and making priorities.
Any advice for those trying to go Paleo on a college budget?
On a college budget, I couldn't buy organic.  I tried, but just couldn't afford it.  So instead I did the research to find out what produce would not be as harmful to me if bought conventional.  When I started, I ate a lot of turkey burgers.  I would make them in bulk and freeze them for later.  I would do the same with chili.  It was so easy to make, and I'd just freeze half the batch.  Now I eat a lot of stir-fry with meat and veggies, leftovers, huge salads with protein, and some fruits and nuts.  And I ALWAYS have eggs for breakfast-I LOVE eggs.
What would you say to someone who was struggling with Paleo?
I would tell them it's all about consistency.  I always tell people, "Don't think of it as a diet."  A diet is something that's short term.  Dieting also has a negative connotation.  Instead, think "This will benefit me in the long run, and it will help those around me by leading by example."  I believe in the saying 'everything in moderation.' So if you do slip up, don't go beating yourself up over it.  One treat won't kill you.  It all starts with just putting things into perspective.
How did you stay motivated through all of it?
I've had so many friends go on diets, and it was purely for aesthetics.  To me, that is such a shallow reason that it will never actually stick.  Looks fade, you will get old and wrinkly no matter what; this should be about your health.
My weight loss was so gradual, I never would have known except my clothes started getting bigger.  In the end the results made me stick to it.  Then, people started asking me for advice and I found a new reason to stick it out. It was like I was a role model for others.  It was really one of the most amazing experiences to realize that.  I wasn't influencing others because I was getting skinnier; it was because I was more aware of my body.  When I started eating better my parents did too.  Then, when I started working out really hard, my mom started going to the gym regularly.  That was huge-the most exercise she had ever done was golf!
Do you have any other advice?
The easiest piece of advice I can give someone is to never go down a grocery aisle.  There's no need for it.  Part of my science background is that I KNOW what goes into processed foods, and they just wreak havoc on your body.  I truly believe your body is your temple and you should put good food into it.
I also kept a food journal to hold myself accountable.  Finally, and this one may sound kind of weird, but I really recommend taking pictures.  I took pictures every month, and it really helped.  It made me realize that was I was doing was actually working.  Finally, I just want to tell everyone to stick it out.  Eating right feels right; it feels natural.  And you will be shocked at the impact you have on others.
Are you ready to make Paleo your lifestyle? Grab a copy of our book, The 30 Day Guide to Paleo Cooking and get started today!

---
Want more Paleo Success Stories? Read the stories of these inspiring people:
Think you can handle doing Paleo for a whole month? Get our extensive (and popular) 30 Day Guide to Paleo program! It includes everything you need to get started today!