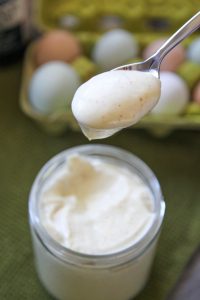 For those new to Paleo, when you realize you have to figure out a way to make some old time favorite foods on your own in a healthier way, it can be really depressing. Let's face it, it doesn't matter what oil you use, a homemade mayo just isn't going to taste like Hellmans, and even a magic spell wont make paleo ketchup taste like Heinz. That being said, I'd take the homemade version any day over soy bean oil, or high fructose corn syrup, but it's still a little sad. For those more adjusted to a Paleo lifestyle, you may not miss those things as much, and for those veteran Paleo folk–any type of faux condiment tastes amazing because we really can't remember what the conventional stuff tasted like.
We don't often think about eating things like mayonnaise or ketchup, and since this is our lifestyle, and we don't just use Paleo to look a certain way, we have found other options that we can purchase such as the ketchup at whole foods made without HFCS and with organic sugar. Yes it's sugar, but when you put MAYBE a tablespoon of ketchup on a lettuce wrap burger it's waaaaay less sugar than eating a piece of fruit–think about it. Now the mayo has been a little more tricky. We were recently turned on to the Wilderness Family Naturals mayo, and it is absolutely delicious. The WFN mayo credits Mary Enig's oil blend as being the main component that makes the mayo so wonderful. And of course it says "NO SOY BEAN OIL" right on the front. Awesome right?! Not so fast… Yes the mayo does not contain soy bean oil which is the main reason we all don't want to buy conventional mayo, however it does contain sugar, garlic, and onion. Although all of those ingredients benefit the flavor of the mayo greatly, it is not ideal for someone who reacts to garlic and onion (like Bill), or someone who is trying to remove sugar from the diet for health and body composition purposes. Like buying organic store bought ketchup, the sugar in the mayo is very little and absolutely nothing to get worked up about, but I know I don't feel as good about consuming something that has sugar added to it.
The other interesting factor with the WFN mayo, is that no where on the bottle does it say "Gluten Free". Looking at the ingredients you wouldn't have any reason to think it's not, but when you dig a little deeper you will find that the vinegar used in the mayo is durived from rye (GLUTEN). Weston Price is not gluten or grain free, so in that respect I get it. Also, I did not notice ANY sort of reaction from eating the mayo (except wanting to eat more), and neither has any of our friends who has had the mayo as well. I don't know if eating a vinegar durived from a plant containing gluten would cause a harmful effect on the body, so just going by my reaction to it I would have to say it's okay. I didn't notice any bloating, weight gain, or any sort of gut irritation from the mayo. With all of that in mind, the big question rolling around in my head for weeks was "can I make a version of this mayo, and actually have it taste as good?" Up until now our favorite mayo is made from macadamia nut oil. The mild flavor of mac nut oil lends itself perfectly to mayo, but it's been a while since we tried making a better version of our mayo recipe, so I was ready for a challenge!
Recently we had an overwhelming amount of eggs in our house. Last week we purchased four dozen fresh eggs from our favorite local farm, Green Circle Farm, and that very day we ended up going to visit another farm where we will be taking our engagement photos. The farm is owned by good friends of my Aunt and Uncle, and after we got a personal farm tour, we were sent home with a chicken (not live) and three dozen eggs. Beyond that, we already had a dozen pastured eggs that we had bought from whole foods to get by until we got the good local ones. Since we had waaaay too many eggs in the house, we decided to make some egg salad. We were low on macadamia nut oil, so I said to Bill…"okay I'm going to make my own version of the Wilderness Family Naturals mayo today, and it will be good!" We kept it simple, basically using our own recipe, but substituting Mary Enigs oil blend. We also doubled the batch. We usually make one cup of mayonnaise, but this time we made two. I also used one whole cut of coconut oil, and a half cup each of olive oil and sesame oil. The other difference was that we used eggs that we left at room temperature. I really think that made a big difference in the consistency of the mayonnaise.
We used our new twister jar for the Blendtec, which is much smaller than the regular jars, so after we had poured about half the oil in it really started chugging from the change in texture. That mayo got really thick, really fast! I was a little nervous that with all the coconut oil, it would firm up in the fridge, but it was perfect! The flavor is outstanding, the texture and consistency is on par with that of conventional mayo, and it made our egg salad ridiculously delicious! For the egg salad, we grabbed a pack of Seasnax, and made little wraps for the egg salad. It was dangerously good. This will definitely be a meal/snack option that we will keep in our back pockets for a long time!