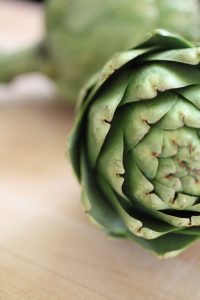 About a year ago I wrote a pretty lengthy post about FODMAPs. No I'm not yelling at you – FODMAPs are Fermentable, Oligo-, Di- and Mono-saccharides And Polyols. These are foods that contain fermentable short chain carbohydrates which elicit an IBS-like response (ie, diarrhea) from some people. You can read at length about it here, but Ttday I want to talk about what has happened in the 14 months since I wrote that last post, and the way forward for my personal optimal gut health.
After Hayley helped me self-diagnose my FODMAP aversion last summer, I began eliminating those foods from my diet starting with the worst offenders: onions, coconut milk, and cabbage. Prior to figuring out this problem, I would make smoothies using coconut milk and had a nickname for how they would make me instantly have to run to the bathroom. After a while, it wasn't so funny anymore. Over the year, I felt as if I were becoming more and more sensitive to FODMAPs that weren't a problem for me previously; things like garlic, broccoli, avocado, asparagus… they were all giving me problems.
It took me over a year to actually do something about it all, other than casually eliminating some of these foods. I know, right? A YEAR.  When people say they think going Paleo will be too hard, too restrictive, or too "anything" – I get it now. It's all relative, and hell – I know how they feel. As a Paleo eater, how would you feel if you couldn't eat the following foods without getting ill:
Excess Fructose fruit:
Apple
Mango
Nashi fruit
Pear
Persimmon
Rambutan
Watermelon
Excess Fructan fruit:
Persimmon
Rambutan
Watermelon
Excess Polyol fruit:
Apple
Apricot
Avocado
Blackberries
Cherries
Longon
Lychee
Nashi Fruit
Nectarine
Peach
Pear
Plum
Prune
Watermelon
Excess Fructose vegetables:
Sugar snap peas
Excess Fructan vegetables:
Artichokes (Globe & Jerusalem)
Asparagus
Beet
Brussel Sprouts
Cabbage
Chicory
Dandelion leaves
Fennel
Garlic
Leek
Legumes
Okra
Onion (brown, white, & Spanish)
Peas
Radicchio lettuce
Shallot
Spring onion (white section).
Excess Polyol vegetables:
Avocado
Cauliflower
Mushrooms
Snow peas
This list does not even include all of the foods that Paleo folks typically avoid: Grains, Dairy, and many others. This post on Cassandra Forsythe's Blog is fairly comprehensive in listing the foods (which I referenced above) – take a look, it is staggering. So back to the point I was trying to make: How would YOU feel if you were trying to follow a Paleo diet and the above foods couldn't be consumed? Most of our staple fruits and vegetables are on the list. FODMAP aversion, according to Diane Sanfilippo and other experts, is a symptom, not a condition in and of itself. In other words – something else going on in your gut is causing you to react to FODMAPs.
After living with these particularly distressing symptoms for well over a year, I decided that I would have to walk the walk and see a doctor. Equipped with as much knowledge as possible, Hayley and I set off for my appointment with Dr. Franne Berez. Franne is our family doctor – she is the cousin of Hayley's grandfather, "Buz." If you have our cookbook, you'll recognize him from pgs 18-19. One of the things we specifically brushed up with for this appointment was the podcast Diane and Liz did with Chris Kresser about gut health and FODMAPs. You can check that out here on Diane's site.
In the appointment, the first thing Franne did was ask about my history. Knowing what I do, I started all the way back at birth. I was a cesarian birth, and quite colicky as an infant. The doctors suspected I had an intolerance to something in my mother's breast milk, perhaps onions (ironically, a FODMAP). My family ate healthier than most other families. 27 out of 30 dinners each month were home cooked – if not more. And while grains were a part of our diet, we did not drink soda regularly, treats were occasional, and I was strongly encouraged to eat fruit instead of sugary processed desserts. My parents did well with us.
My family traveled a lot in my childhood, and I suspected that I picked up a gut pathogen while abroad early on. By the time I got to high school, I clearly had digestive issues going on. At the time, I thought it could have been from stress, but the signs were there. Every time I ate onions or pasta sauce (with garlic and onions), I would get diarrhea. I had no clue why, but I knew tomato sauce was a trigger for me. Franne suspects that I was eating enough grains to constipate me to the point that my digestion felt somewhat regular. Upon going Paleo, the grains were eliminated and thus my symptoms got much worse.
Franne suspects that I may have any combination of the following: Candida, SIBO, low stomach acid and/or a gut pathogen. That is the initial thought, at least. Currently, I am preparing for a stool test as well as a blood test. To prepare for the stool test, I have to eliminate probiotics for 2 weeks prior to the test. This means a 14-day hiatus from Kombucha, unfortunately. I'm currently taking HCl for stomach acid supplementation which seems to be going well. Franne said that if I had adequate stomach acid, taking just one HCl would have me doubled over in pain. I can typically take 2 tabs with a meal before feeling anything. After the stool test, I'll be taking a heavy regimen of probiotics. I will report back with my test results and progress in about a month. I hope this post will help shed some light on issues some of you may be having out there. Of course, I'm not a doctor (ie, don't substitute this blog post for REAL help) – but you should GO SEE ONE if you are experiencing gut issues. Don't be like me and wait over a year… GO NOW! And yes, that is me yelling. 😉