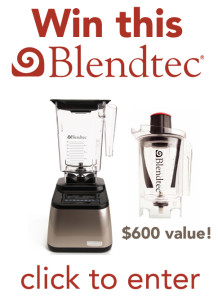 We've teamed up with Blendtec again for the second year in a row to give away one of their fabulous, world famous blenders! To celebrate us reaching 50,000 Facebook fans this week, we are giving away one of their top of the line Designer Series blenders with an additional Twister Jar to go along with it! This combo is the best blending machine money can buy, and we're so lucky to have one ourselves (which we've had for over two years.) We've made everything from soups, to ice creams, to nut butters, to mayonnaise in it. We even made dark chocolate hazelnut butter with George last year. And on a daily basis, we also use it to whip our coffee into frothy perfection (some call it Bulletproof Coffee).
Here are some things we've made with our own Blendtec Blender.
Making Mayonnaise using our Blendtec
And here we are making Mashed Cauliflower
Or what about almond milk? No problem…
Okay, so you probably get the point. We love our Blendtec. Here's your chance to win one of your own. Use the widget below to enter. Open to residents of US and Canada, only!