Writing about something so beloved as Bacon is, believe it or not, a touchy subject. Every time we've posted "teaser" photos of this recipe (for example), we get  comments on our facebook page like "I love how Americans rave over their "bacon" lol like I keep saying.. This IS bacon" – thus followed by a photo of Canadian bacon. Indeed, bacon means many different things all over the world. And sometimes we Americans forget that. However, today, we are making American bacon. Maybe we'll do Canadian bacon next time. 😉
Find our Latest Recipes on

After receiving our smoker gift from our friend George, we immediately went on a hunt for big cuts of meat with big fat caps. Every time we went to our local farmers market, the request was the same: "Got anything big with a lot of fat? We need cuts of meat for our smoker." A few weeks into our quest, we had a huge payoff: our favorite pig farmer had what she said was a whole pork belly. In fact, she said it might be around 30 lbs. I think my heart stopped for a moment. THIRTY POUNDS? Of course, the words were barely out of her mouth before I told her we'd take it. She would bring it to the farmers market the next week and that was that!
Fast forward a week and we picked up this beautiful rolled up piece of pork belly. It actually turned out to be 13 lbs, not 30, but that was just fine for us. After having it in our freezer for a few days, the initial fear wore off and we were ready to tackle project "makin' bacon." The first step was to find a trustworthy recipe online, since we'd never actually cured pork belly like this before. Fortunately, I had just chatted with Josh (aka Slim Palate) a few days earlier and knew he had used Michael Ruhlman's recipe for bacon from his popular book Charcuterie to make bacon himself. Using Ruhlman's recipe as a starting point seemed like a damn fine idea to me. Normally, I'd happily fuss with anyone else's recipe quite a bit to fine tune it to my liking. Not with curing meat, though. Some brief reading on the subject of curing pork belly informed me that the salt ratio is really important to get right for food safety concerns. Therefore, other than some minor tweaks, this is really, really similar to Michael Ruhlman's recipe. Just want to make that clear!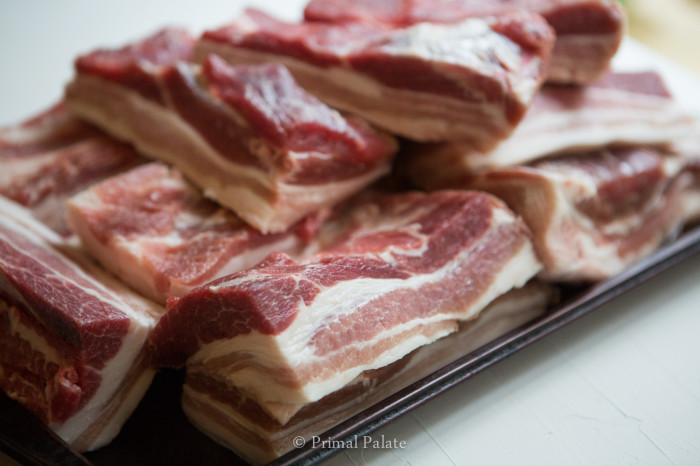 First, we cut up the belly into approximately 1 lb chunks. Small pieces are easier to handle throughout the processing, so make some logical cuts. Also consider what will be easy to fit into your skillet. Our pieces are about 6-8″ long, and 4″ wide. This slices up nicely for frying.
Mix up the salt and sugar rub evenly over each piece of belly, making sure to get even coverage. Since the salt ratio is important, it's therefore also important to portion out the salt and sugar rub amongst all the pieces of pork belly you have.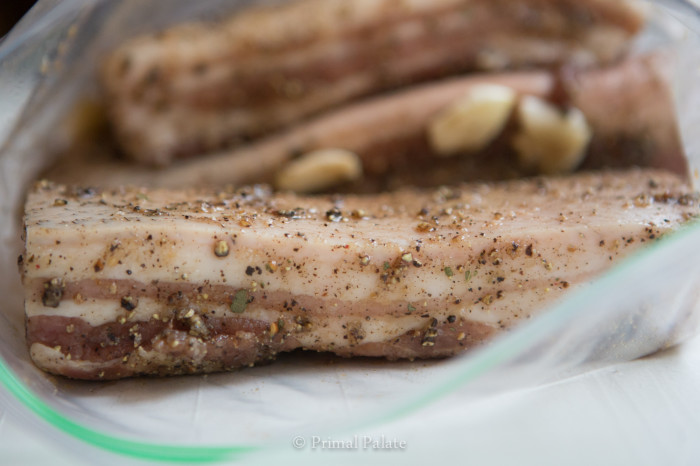 The pork belly is going to dry-cure for 7 days, sealed up in your refrigerator. Place several pieces of the belly in each resealable bag (use the ones from Target which are BPA-free, if that's a concern). When closing, try to force out as much air as possible. Place all the sealed belly on a jelly roll pan, and place in your refrigerator for one week.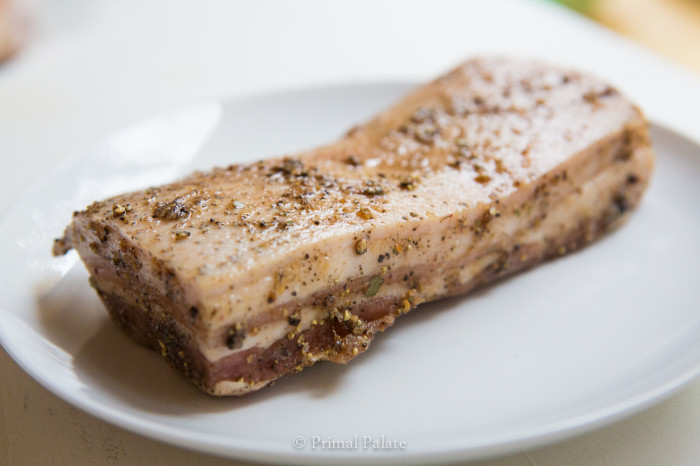 After one week has passed, take the belly out of the refrigerator.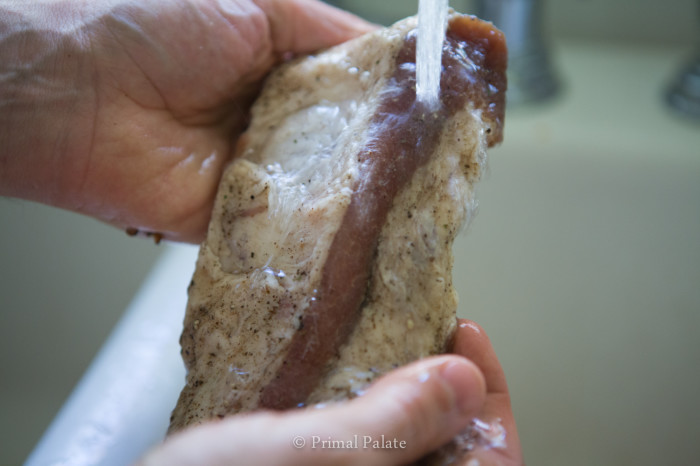 Rinse the belly, and try to remove as much of the dry cure as possible. Use your hands to "scrub" the belly under a steam of cold water.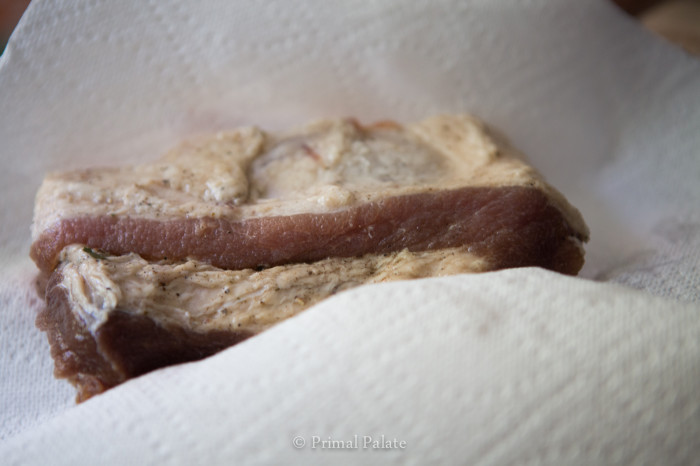 Pat the pork belly dry with paper towels. While drying the belly, fire up your smoker. If you don't have a smoker, you can use your oven (but alas, you will miss out on the smoky flavor that is classic to bacon).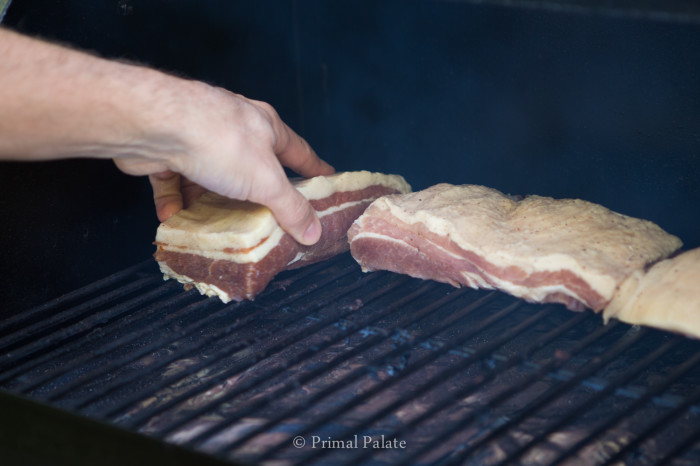 Place the pork belly in the smoker. You should have it set to a low smoke setting (200-220 degrees), and smoke the belly for 2 hours.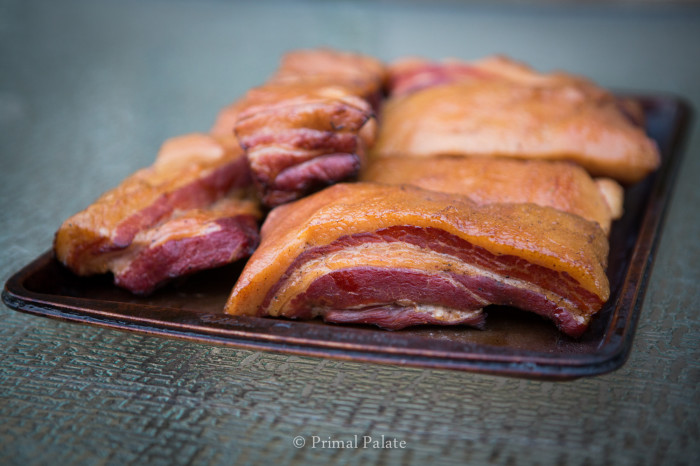 After 2 hours, your pork belly will be almost this delicious looking. This batch (above) went for 2.5 hours, and developed a very strong smoky flavor along with a darker color. Keep the smoking to 2 hours only – the second batch we did went 2 hours and it was better than the batch that went 2.5 hours. Ideally, what you really are looking for is an internal temperature of 150 degrees. You can also cook the belly in your oven set to 200 degrees for 90 minutes. We tested that method as well and it worked just fine. The only shortcoming was the lack of smoky flavor.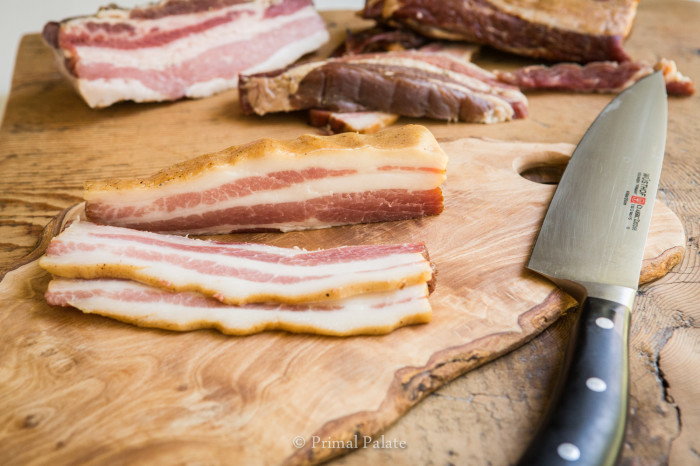 When the pork belly comes off the smoker, it should be refrigerated overnight to help the belly firm up. At this point, we like to vacuum pack our bacon so that it will keep a long time in the freezer. Although let's be honest – it's going to go FAST. That bacon in the front of the photo is from the batch that went 2 hours. Look how pretty…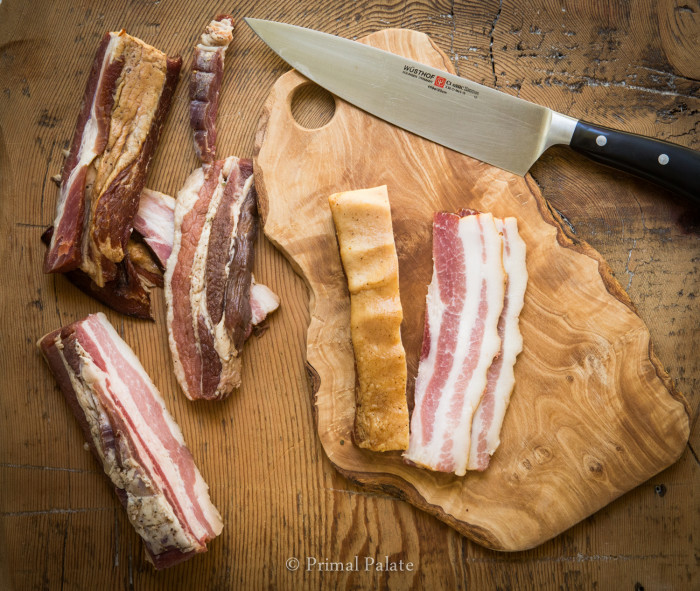 After allowing the bacon to firm up in the refrigerator over night, you're ready to fry up some bacon! Fry it, eat it, and enjoy!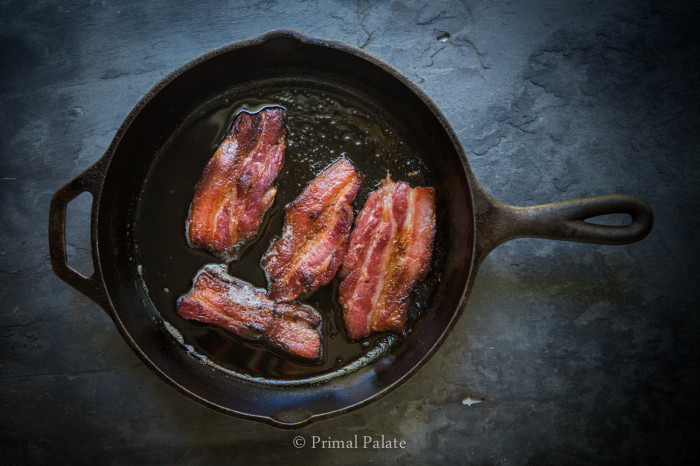 To cook it, we recommend placing the cool bacon in a cool cast iron skillet. Cook it slowly over a medium low flame until it reaches its desired crispiness.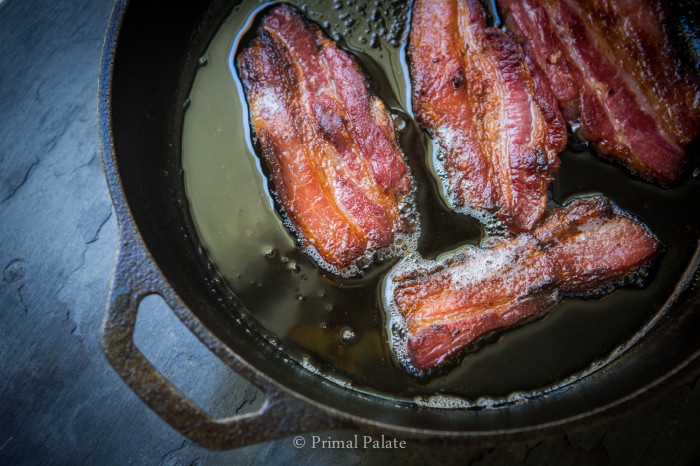 Nice work! Now, share this recipe! 🙂