My birthday was the day after our wedding. For those of you recently married, or engaged and planning your wedding, you know that you really don't get to pick your wedding day. Maybe your wedding month, or wedding season, but typically not your wedding day. Well, not if location, photography, and videography are important to you. If the most important thing to you is the date of your wedding, then maybe the other things trail behind. For us though, that wasn't the case. First and foremost, the photography was important to us, and that meant having Heather. She is one of THE BEST wedding photographers in the Pittsburgh area, and thanks to her we found ShoFilms– who we have used many times beyond our wedding if we need something professionally filmed. They are outstanding. When you are trying to hire the best of the best, and several different "best of the best" companies, you have to find a date that works for all of them, and then of course all of that has to coordinate with a date that the wedding venue is available. It's a bit stressful, and causes slight bridezilla panic, but eventually it gets worked out. Since we had to change wedding locations several months into planning, this meant our wedding date ended up being the day before my birthday. All of this ended up being for the better, but it was a big bump in the wedding planning road.
I'm not super into birthdays, well not my own birthday, at least. Mostly because I don't really like being the center of attention. When I was very little I did, but somewhere down the road that changed. I literally forgot that my birthday was coming up this year because all I had on my brain was our wedding. Bill being the wonderful (now) husband that he is, surprised me with a very special birthday present the night of our wedding because he knew my birthday would get pushed to the side, and he wanted it to still be special. When we got back to our hotel after the wedding reception Bill handed me a birthday card. It was one that he made on the computer himself, and it had Disney princesses on the front. He booked us a trip to Disney World for my birthday! I had never been to Disney World, and he knew I wanted to go. I had been to Disneyland in California many times as a child, but never Disney World. Bill was smart to book the flights and hotel before surprising me with this gift, because I would have never let him go through with it, but now that the trip is over I'm really glad that he did this for us.
Bill being the smart cookie he is, made sure to book our trip so that we wouldn't miss the Epcot International Food and Wine Festival. That, of course, ended up being our favorite part of the trip! Epcot is pretty amazing as is, and the addition of the Food and Wine Festival makes it even more amazing. It really felt like we were world travelers for a day, tasting cuisine from all around the world (well, at least each country that had a gluten-free option). One of our favorite stops (and there were many favorites) was Singapore. We got to taste a Lemongrass Chicken Curry with Coconut Milk and Jasmine Rice. It was unbelievable… I mean, really unbelievable!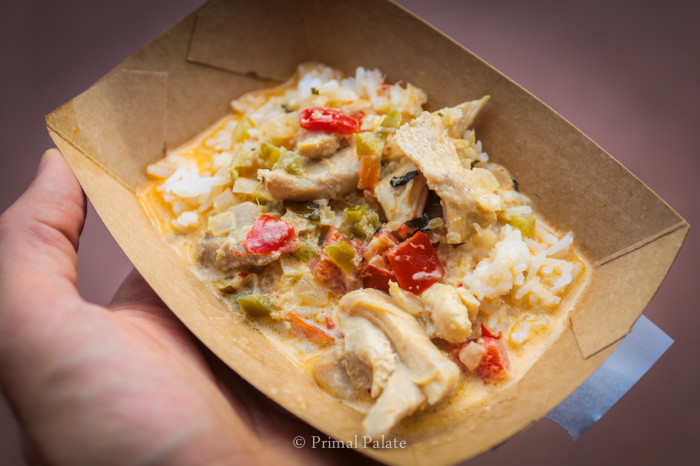 I told Bill I absolutely had to try to make this at home. This was my first time trying a curry dish like that, and I had never made one before, so I was a bit intimidated to try to make it on my own. I even spent some time trying to find the recipe through the Disney blog, or even just Google. No luck. Sunday, when we went to Whole Foods for our "post-vacation shopping trip" I decided to get ingredients that I knew I would need to make this recipe, and thought "well, I might as well just wing it and see what happens." So that's exactly what I did.
The only part of this recipe that may have been a "cheat" on my part was using green curry paste. I'm guessing if I made my own curry sauce spices, or my own paste it would be more authentic, but it turned out beautifully with the curry paste, so I'll take the shortcut :). I remembered that there were parts of garlic cloves in the curry we had (if you have ever had slowly cooked garlic in a sauce or soup you know how wonderful it is), and from what I remembered there was red bell pepper and zucchini (I remembered seeing red and green colors, but it may have just been peppers). I'm not positive, but those seemed like they would be a tasty addition so I added them to the recipe along with carrot. I figured a veggie heavy dish would be tasty, and it was!
For my made up version, I started out by sautéing half of a chopped yellow onion in ghee. Once the onion started to turn translucent, I added a tablespoon of minced fresh ginger, and added about a teaspoon of salt to enhance flavor and to help the onion release some liquid. Once the ginger started to soften I added 5 garlic cloves that I sliced in half to the pot, and let them cook slightly just so they would release some flavor. After this I added a heaping tablespoon of Thai Kitchen brand green curry paste, and 1/4 teaspoon of red pepper flakes for color and heat. I stirred the curry paste quickly to make sure it evenly coated the onion, ginger, and garlic, and I turned the heat down slightly to keep the spices from burning. Once the flavors combined I added a can of coconut milk, and stirred to combine. After that I added one cup of home made chicken stock that I made the day before with left over frozen chicken bones we had. Then I added 1 tablespoon of coconut aminos, and 2 drops of Red Boat Fish Sauce. I continued to stir the sauce as I added these last ingredients. I then added one stalk of lemongrass to the pot (adding lemongrass is sort of like adding a bay leaf-you just want it in there for flavor), allowed the sauce to bubble on medium heat for a few, and then turned the sauce down to low to simmer. Voila. Delicious curry sauce complete!
While my sauce was simmering I prepared my chicken. I took 5 bone-in, skin-on chicken thighs, removed the skin and excess fat (fat is good, but I didn't want the sauce to be overly fatty), and placed the bone-in thighs into my curry sauce, bone side down. I wanted to leave the bones on to continue the layers of flavor I had going on with this sauce. I brought the sauce back up to a low boil, and let it boil for a few minutes, and then turned it down to low, covering with a lid, but allowing steam to come through a bit by not placing the lid directly on the pot. While the chicken cooked in the sauce, I prepared the veggies. I chopped one red bell pepper, one medium zucchini, and 3 medium carrots. I placed them in a skillet with some ghee, seasoned with salt, and sautéed them until they softened and browned slightly. I also flipped the chicken over once it seemed to cook for a bit on one side, because the chicken wasn't submerged in the sauce. Once the chicken cooked for almost 30 minutes, I added the veggies, and stirred to combine all of the veggies and chicken. I cooked the chicken until it was tender enough to shred (about 45-50 minutes), but before removing it from the pot to shred, I turned the heat up so that the sauce would reduce slightly. The addition of chicken, bones, and veggies added more liquid to the sauce and thinned it slightly, so you will want to reduce the sauce a bit so that it thickens up.
Once the sauce reduced by about an inch (maybe slightly less) I removed the chicken and shredded it with two forks (be careful it's hot), and then added the chicken back into the pot. I let the curry sauce simmer while I prepared the cauliflower for "rice", because I figured the longer it cooks, the better the flavor would be. I grated two small heads of cauliflower, and placed them into the skillet that had the veggies, added about a teaspoon of ghee, salt and pepper, and sautéed the grated cauliflower until it was tender, but not mushy. Once the cauliflower was finished, we plated the chicken curry sauce over the cauliflower rice, and dug in. It was fantastic! I have a feeling we will be making this curry dish in the near future again! Delish. 🙂