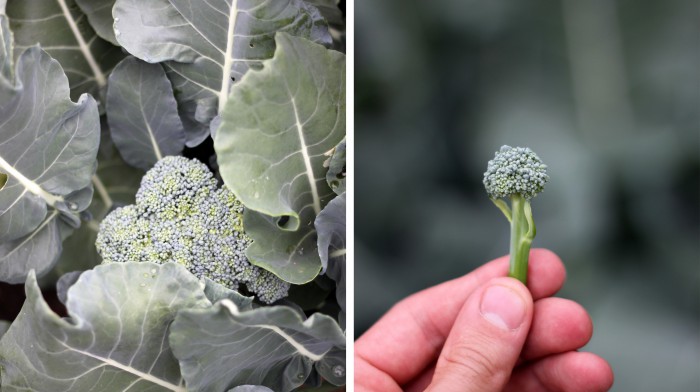 Things around here have been crazy lately with all of the work we've been doing on our various projects. Of course, that means very good things for everyone that visits our site because we have some amazing things planned that will be releasing this summer (the supporting members get "First Look access" to new features, and have already caught a glimpse of these projects). In addition to our usual work on the website and these new projects, last week we also attended a funeral, a wedding, and a graduation party. The emotional roller coaster ride of life was too much for us by the end of the weekend, and I spent much of yesterday sitting at our desk in a daze. I felt buried by all of the work and projects on my plate, and felt like I couldn't get anything done. Late in the day, I made the decision to simply do what we do best: create a new recipe for our blog.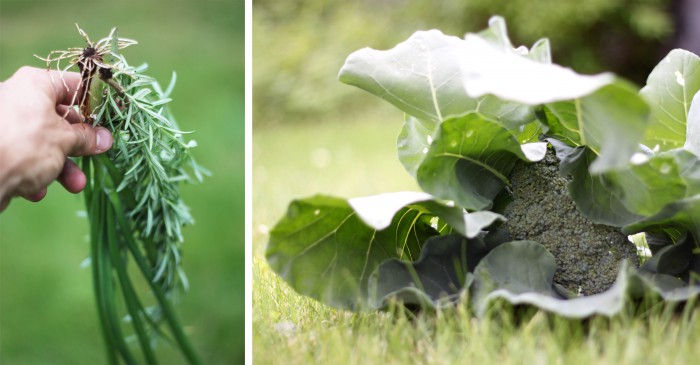 Our vegetable garden has become a sanctuary for me lately. Situated about as far from the house as possible in our yard, I thoroughly enjoy walking barefoot across the lawn to this little oasis of vegetables, herbs and fruit. By the time I get there and pry the chicken wire fence open, I feel peaceful – and once inside the wire fence, I'm completely disconnected. While the food we get from the garden is great, the enjoyment of "the act of gardening" is far greater. My mother is the same way, so I know where I get that. Our broccoli has been growing by leaps and bounds this week, and will be ready to fully harvest in a few more days. Last week, we promised a broccoli recipe – and for the first, we're offering up something pretty unique with the broccoli greens. When I originally decided to cook the greens, I thought they would be good with some sauteed onions mixed in. Unfortunately, we happened to be out of onions last night – so I pulled up a green onion in the garden as a replacement. I also grabbed some rosemary for seasoning, and set off for the kitchen.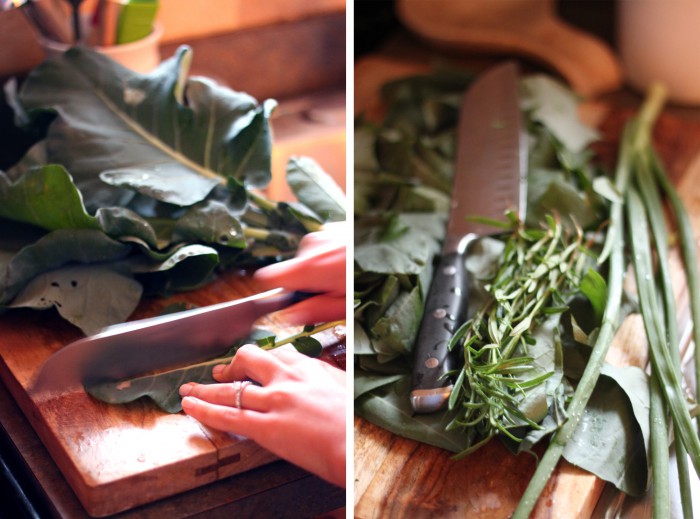 At the end of a tough week, it felt really good to be enjoying the most fundamental element of our relationship: cooking together.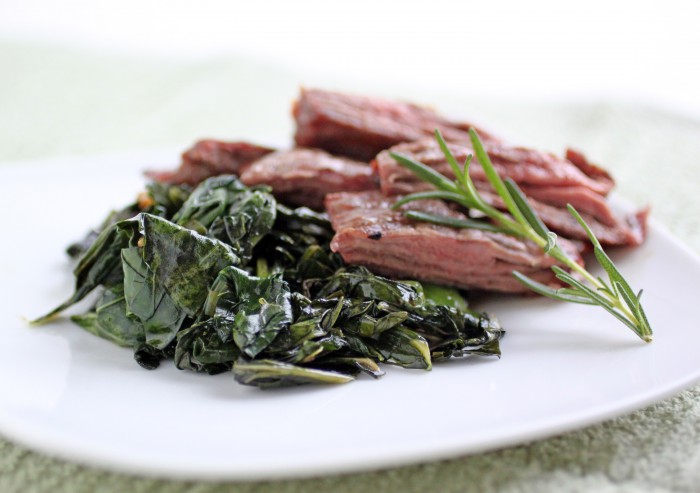 In most northern locales, broccoli greens can be found at farmers markets (or in your garden) in late spring. Enjoy this dish alongside a cut of steak for some sturdy, in-season comfort food.
Process
Note, these instructions are written assuming the standard serving size, since you have modified the number of servings, these steps may need to be modified for best results
Wash broccoli greens and remove stems (including the primary vein bisecting the leaves).
Tear broccoli leaves into small pieces, chop green onion, mince garlic and rosemary.
Heat the bacon grease in a large soup pot or french oven over medium high heat.
Saute green onion and garlic for 2 minutes, then add the broccoli greens and rosemary. Saute for 10-15 minutes, stirring often - it will be finished when the garlic and onions soften and the broccoli greens are wilted.