I have a new-found respect for every baker, pastry chef, and patisserie-owner in existance after re-creating this recipe. Don't panic: I'm not saying the recipe was difficult. Actually, it was relatively easy to make!  Nope, my new-found respect has to do with the fact that I literally gave myself a stomach ache from "taste-testing" this recipe – literally DOZENS of times – throughout it's creation. 
Let me explain one thing. You know you are licking the spoon too much when A) you haven't added anything to the batter, yet you've tasted it fifteen times or B) you have to run the dishwasher because you've completely run out of spoons. I did both.
And it was so worth it.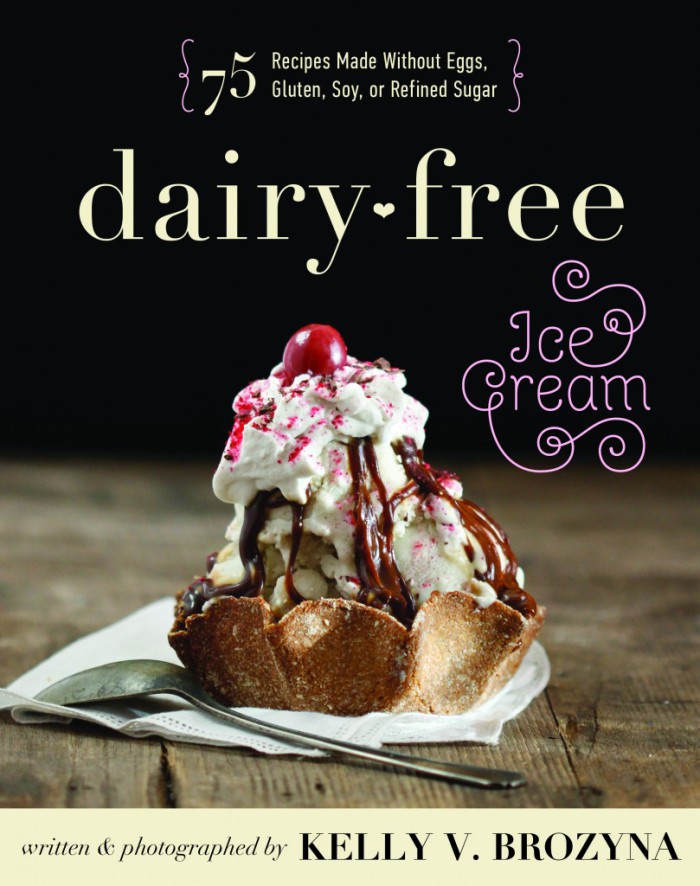 I have never made ice cream before. Ever. Let alone dairy-FREE ice cream. But this was amazing. And for all you coconut-milk haters out there, allow me to make one thing perfectly clear: you cannot taste the coconut. My roommate, who hates coconut with a fiery passion, had no idea coconut milk was even an ingredient. Fooled you, sucker. 
Kelly Brozyna is an awesome person, mom, blogger, recipe-creator, and baker (who clearly has much more willpower than I do). I met her for the first time at PaleoFx this spring, and there is only way to describe her: sweetheart. I'm not sure if that's corny to say, but Kelly Brozyna IS an absolute sweetheart. Plus, her recipes are amazing. So when Bill and Hayley asked if I wanted to borrow her new book, "Dairy-Free Ice Cream," I gave them a side glance that read, "Is that a serious question?" An excuse to make ice cream? Then EAT said ice cream? Yea, I think I'll take that book now. 
The only reason one would not want to make a half gallon of ice cream, is probably the same reason one would not buy a half gallon of ice cream: the fear of eating it ALL. Potentially in one sitting. Luckily, that's what roommates are for. 
I live in a house of five girls between the ages of 24-27. Yes, five. That's a lot of estrogen living under one roof, so trust me when I say we can handle our fair share of sweets. As you can tell, they were very upset to hear what I would be making.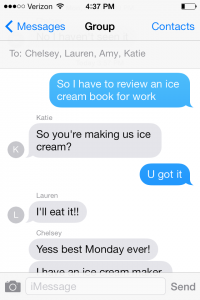 I told my housemates to "vote" for an ice cream flavor by placing a sticky-note on the recipe page. Ballots were cast for Pumpkin, Chocolate Chip Cookie Dough, Pecan Praline, and Chocolate Hazelnut. I chose that latter. In a house of peanut butter and Nutella addicts, I figured this would please everyone. Plus, I had never attempted homemade Nutella!
The great thing about Kelly's book is almost every recipe stems from the same base. Once you have mastered chocolate or vanilla, you can make almost any flavor you wish. Plus, the ingredients list is remarkably short, and I already had 80% of the items on hand. Even the Chocolate Hazelnut Spread portion of this recipe (which I honestly thought would suck the life out of me) was easy to make. It was a little runny at first, but set-up nicely after chilling in the fridge. I think this was due to the coconut milk I used, so go for a quality, thick/creamy brand (recommended: Native Forest). Afterward, one of my roommates (while eating it out of the jar) said, "This is better than Nutella…this is like, Brownie Batter Nutella." 
Brownie Batter Nutella. Now if that doesn't sound good to you…
Due to the multiple components of this recipe, it was a little time consuming, yet came together beautifully. Minus one minor setback when I thought it would be a good idea to pour the ice cream base into a food processor, when the instructions clearly state to use a blender.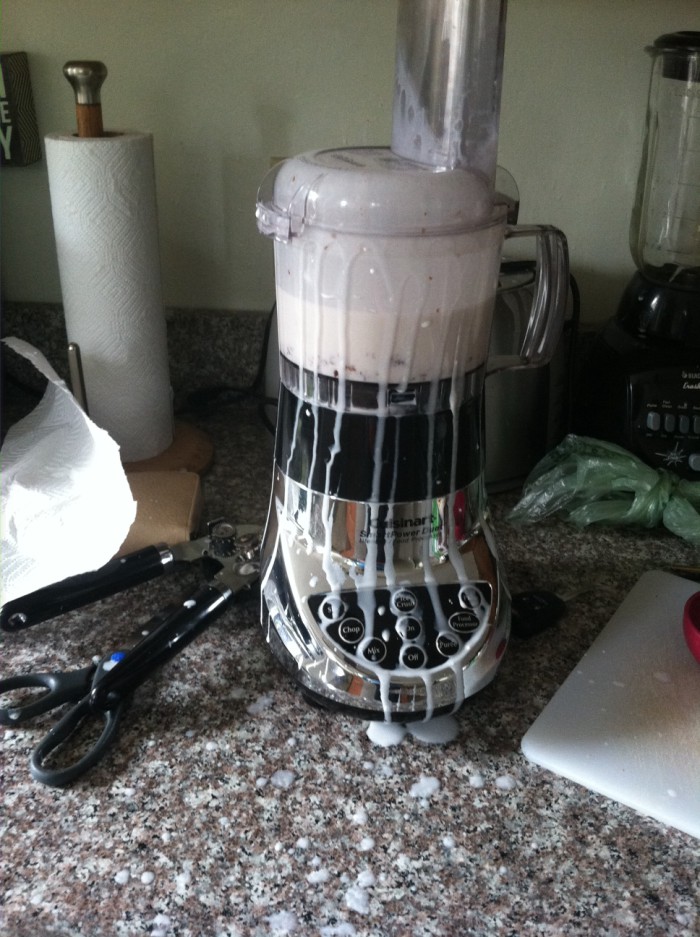 Don't do that. 
When the ice cream finished churning (I used Whynter electronic model), it was just like soft-serve chocolate ice cream. If you can time things perfectly so you can eat it right away, DO IT. It's almost like having a chocolate malt.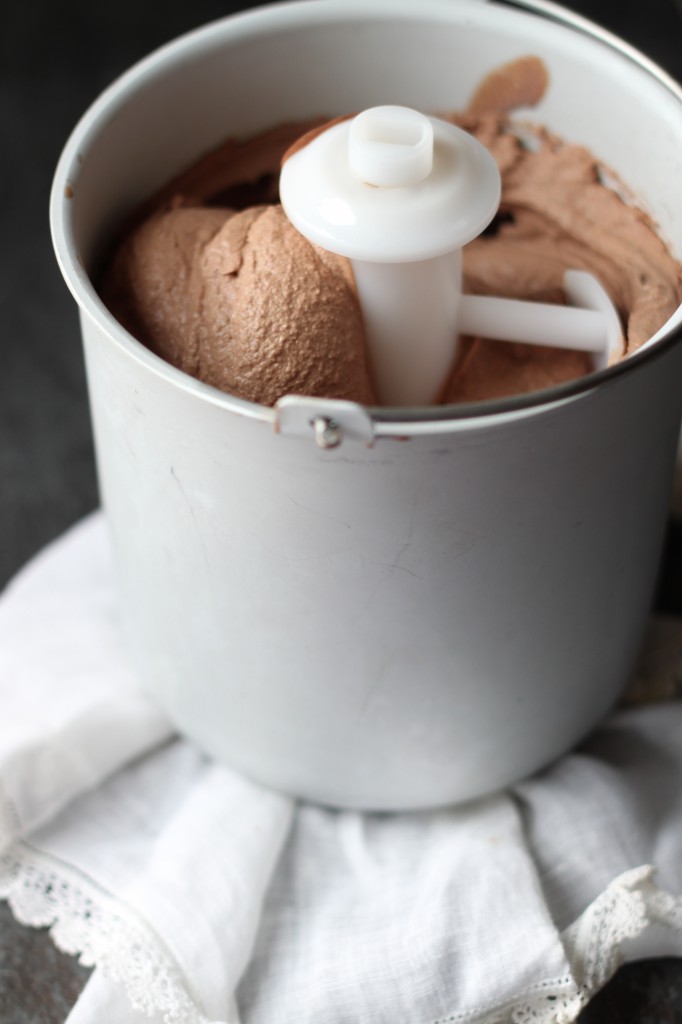 I definitely plan on making more flavors from Kelly's book after being so impressed with this one. Oh, and that Chocolate Hazelnut Spread is getting poured over EVERYTHING.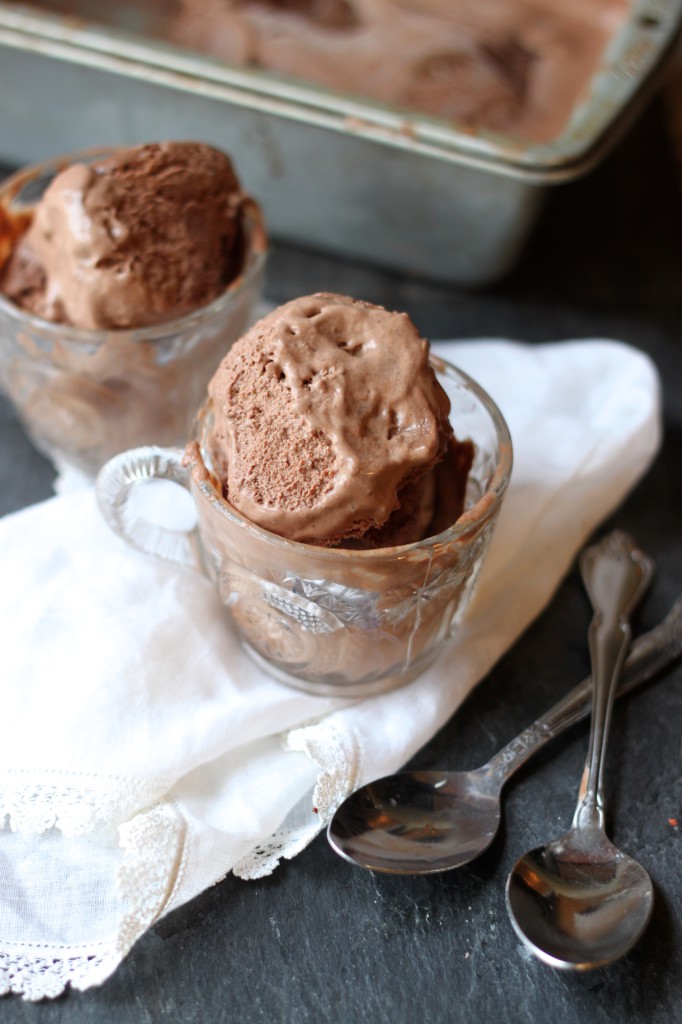 Still Hungry?
Want to make this recipe? Get the ingredients in the Primal Palate store!
If you feel inspired by this post and want to find what brand of coconut milk, chocolate, and other ingredients we recommend, visit the Primal Palate online store! You'll find all the cooking gadgets you'll need.
---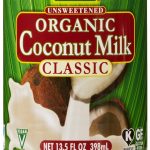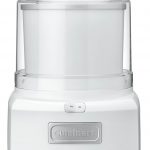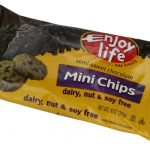 ---
Send us your ice cream recipes!
Have a family-favorite ice cream recipe you'd love to share? Upload it using our user-uploaded recipe feature. We accept dairy ice cream too! In the meantime, here are a few Primal Palate ice creams you might enjoy:
---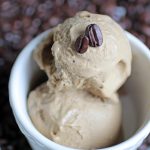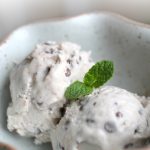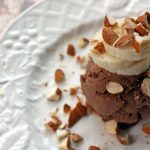 ---
Don't know what to pair it with? Check out our Menu section!
Our Summer Cookout, 4th of July, and Memorial Day BBQ menus would pair perfectly with this recipe. Check them out here. 
---
---
Our next Paleo Challenge begins August 1st!
Think you can handle doing Paleo for a whole month? Get our extensive (and popular) 30 Day Guide to Paleo program! It includes everything you need to get started today! (click the link below)

Get ALL of our recipes – purchase our three fabulous cookbooks!