So we aren't at Paleo FX this year, and we are pretty sad about it. This is the first year we have missed the conference, and it's something we look forward to every year, because we get to be with all of our friends for a few days. I just really didn't have it in me to travel yet, and we were still getting some test results the week of the conference, so it just wasn't in the cards for us this year. I'm trying super hard to not blame myself, and feel like I'm keeping Bill from a fun weekend in Austin, and just reminding myself that it's not forever, and better to put health first right now. But it's hard. I'm really good at blaming myself. For those of you who missed it, I had a pretty big health crash back in February when we tried going on a book tour (You can read about that here). I have not posted an update yet, because I'm trying to just take time for myself right now, but I will be talking about it soon-ish.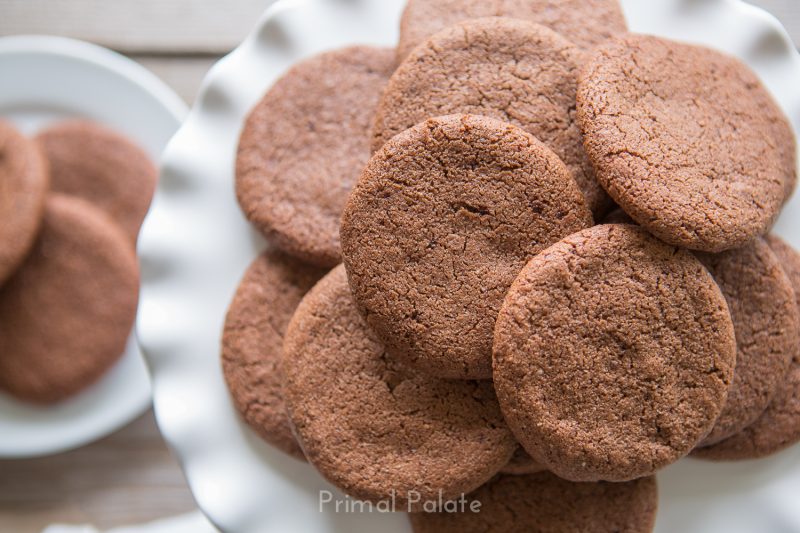 Anyway…since we are sad about missing out on all the Texas fun this weekend, I decided to make cookies to make us feel better. I actually couldn't eat the cookies, because sugar doesn't sit well with me since I've got some adrenal/anxiety issues going on, and I showed high antibodies to cocoa on the IgG food allergy test I did, but I had tons of fun actually making the cookies, and it always makes me so happy to see Bill enjoying something I've made!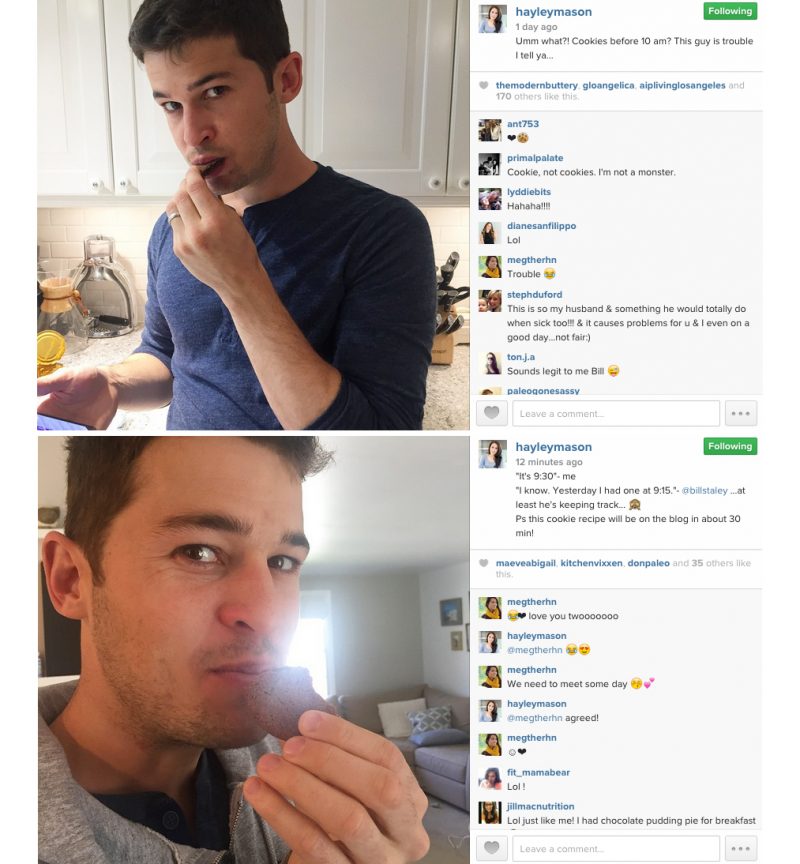 Last week I had a follow up doctor appointment with my new doctor, Dr. Nori Onishi. I was so nervous for the appointment because I thought I'd be starting on some IV therapies, and my stress response has been on HIGH ALERT lately, so the idea of getting my first IV really freaked me out, and I'm not even scared of needles! I've had blood work done a million times, and donated blood before, been numbed for dental work and skin checks at the derm…you get my point. I know IV therapy is amazing, my grandpa has been doing it since way before I was born (my mom always got an IV when she was sick), but I'm just a big scaredy cat these days, and had myself convinced I'd have a heart attack or something absurd like that.
My doc ended up not wanting to start me on anything like that right now, so I got all worked up for nothing! Well, not really. I was still really freaked out about my test results too. I can't wait till I can handle stress like a normal person again… Anyway, I made cookies to take to them because I thought maybe cookies would make them be super nice to me. They are super nice anyway, so maybe I was just distracting myself by making cookies. Their son has allergies to gluten, dairy, and eggs, so I decided to make a version of our chocolate chip cookies that he could eat. They turned out great, and were a huge hit, but the texture wasn't exactly what I had planned on. They turned out super crispy, almost like my gingersnaps!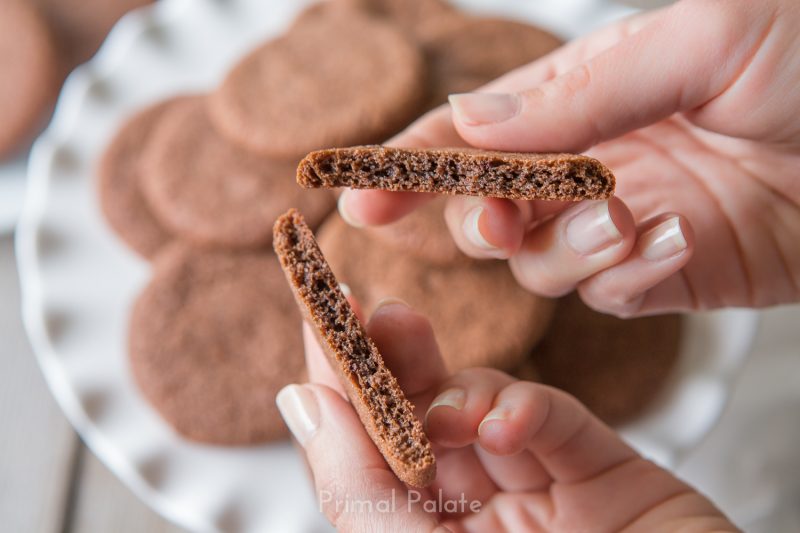 Fast forward to yesterday (that sounds weird), and I'm sitting on the couch, feeling sorry for myself because I'm home instead of in Austin with my friends, and I'm scrolling through Facebook trying to avoid all the #PFX15 posts. Then I see a video from Tastemade for a chocolate tart with strawberries. I think I watched the video about 4 or 5 times, and was literally salivating (signs I'm getting better! My appetite has been crap for over a year… NO JOKE). It just looked so amazing, and it made me want to make a grain/dairy-free version! The crust for the tart was simply Oreo cookies and butter, what's better than THAT? Then I thought about how perfect my gingersnaps would be as a tart crust. Then it hit me, the egg-free cookies I made for the doctor would be perfect if I just added some cocoa powder!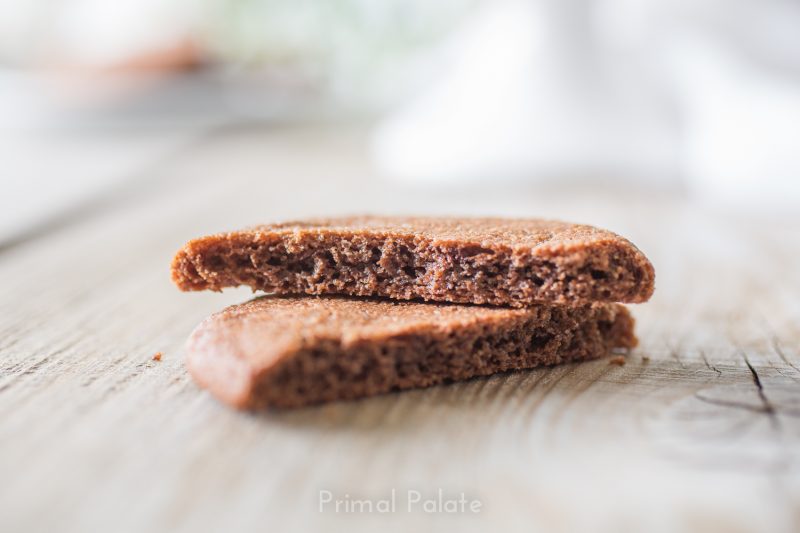 I drank my adrenal healing cocktail, got up and stopped feeling sorry for myself, and after dinner I went to work on the cookies. They are seriously like the chocolate version of my gingersnaps. Such great crunch! I think it's the mix of having some starch in the flour mixture, as well as a good bit of baking soda. I'm not a chemist, so I just don't know. I just know they worked. I wish they were AIP friendly, but I think it would take magic to make cookies this good that follow the AIP guidelines. I'll work on my magic skills. You really need almond flour for these guys, so they are not nut-free (If you can eat eggs, but not nuts, try this cookie recipe), but for those of you with egg and dairy allergies, they are a great option! If you can't have cocoa like me, you could use equal amounts of carob powder, and I'm sure they would still be pretty good.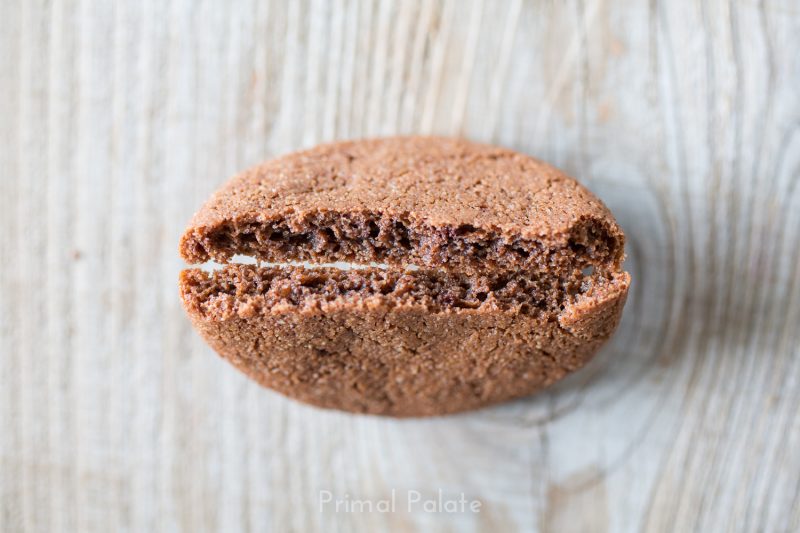 I hope you guys love this recipe! Check back in a few days for the tart when I turn these bad boys into a crust!
xo,
Hayley