When I think of classic chicken salad, I think of shredded chicken with a heavy amount of mayo, and that's pretty much it. Chicken salad has always been on of my favorite things to eat, either on a bed of lettuce, on a sandwich, or in a wrap.
Sometimes I feel like it's hard to get enough vegetables in each day, so lately I've been making chicken salad, and adding in lots of fresh, organic (or even from our garden), chopped vegetables. Almost like a chopped salad, but with yummy mayo to hold it together and make it really creamy and delicious.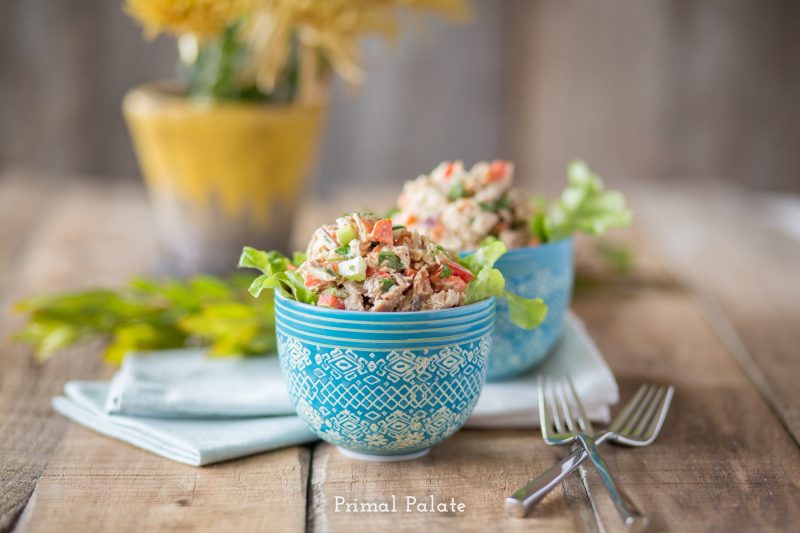 This recipe is fun, because you can add any vegetables you like. The staples in my recipe are always diced carrot, diced celery, diced bell pepper (any color you'd like), diced red onion, sliced scallions, and finely chopped cilantro. This is a recipe that is so easy to whip up, and have around in the fridge for emergency meals. It could make a weeks worth of lunch options, or even a small snack, or dinner.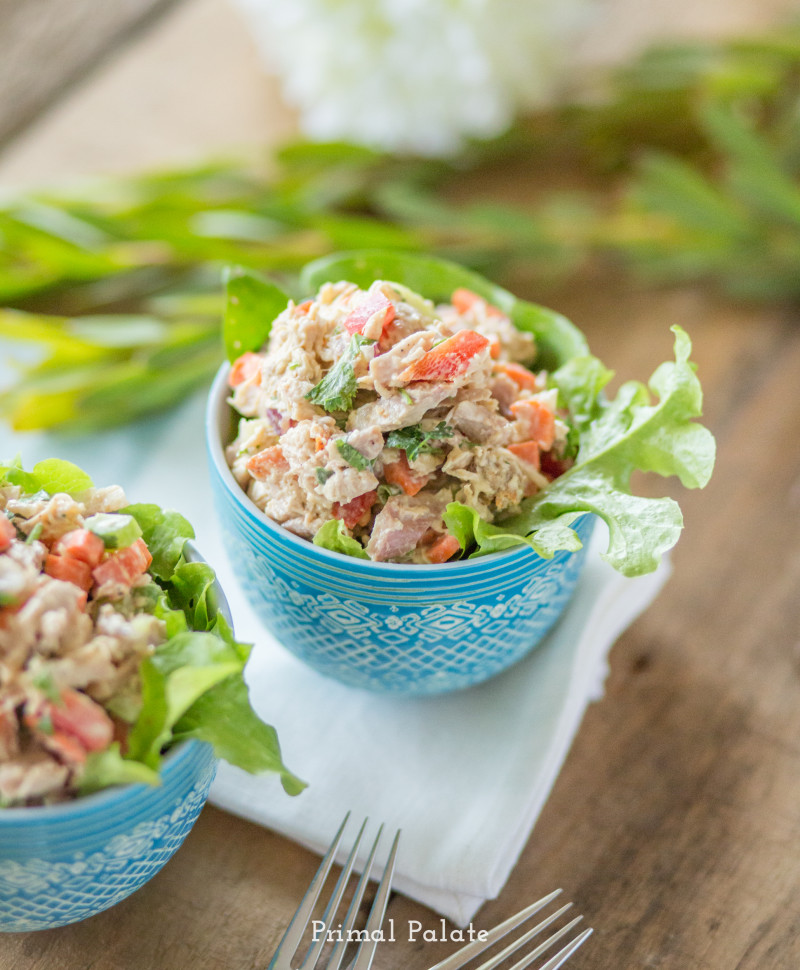 I love having a big batch of this chicken salad in the fridge for when I need a meal, and don't feel like cooking. When following a diet based on eating real food, it's always nice to have easy meals around. To make this recipe even easier to throw together, you can purchase a good quality rotisserie chicken from your local health food store. We are guilty of grabbing either The Naked Bird, or herb rubbed rotisserie chickens from Whole Foods for an easy dinner. They aren't organic chickens, but they are Bell and Evans air chilled, and they are made fresh daily, so it's a good option in our minds for as close as we can get to "fast food."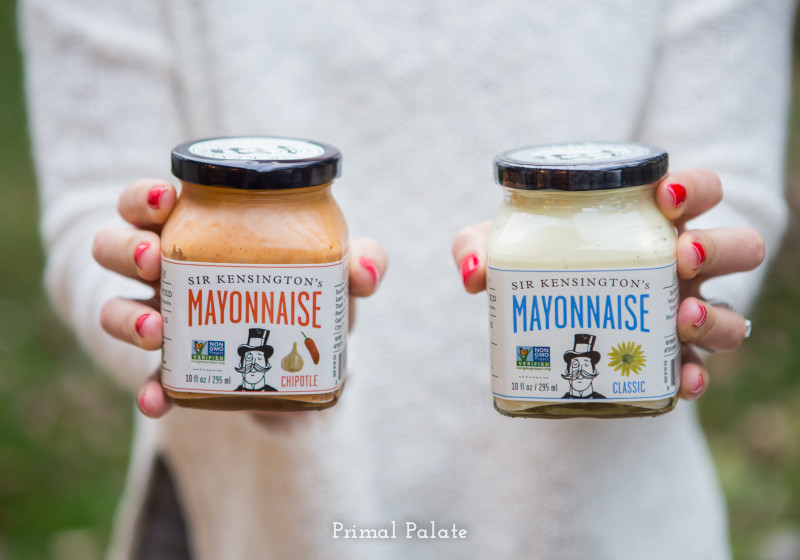 Another option for this recipe that can help expedite the time needed to make it, and enhance the flavor is using Sir Kensington's mayonnaise. We LOVE Sir Kensignton's, and it really adds amazing flavor to any recipe you are creating that uses mayonnaise. It puts any homemade Paleo mayo to shame, because the flavor is just so darn good. Sir Kensington's also has 3 different flavor options for mayo, the classic (which we LOVE), the sriracha (we have yet to try), and the chipotle (which we also love!) The classic mayo is my favorite for this chicken salad recipe, but the chipotle would be a fun, spicy twist to change things up a bit. Since this mayo is very well flavored, you probably wouldn't need to add any additional sea salt to this recipe to enhance the flavor, but I always love a little extra cracked black pepper.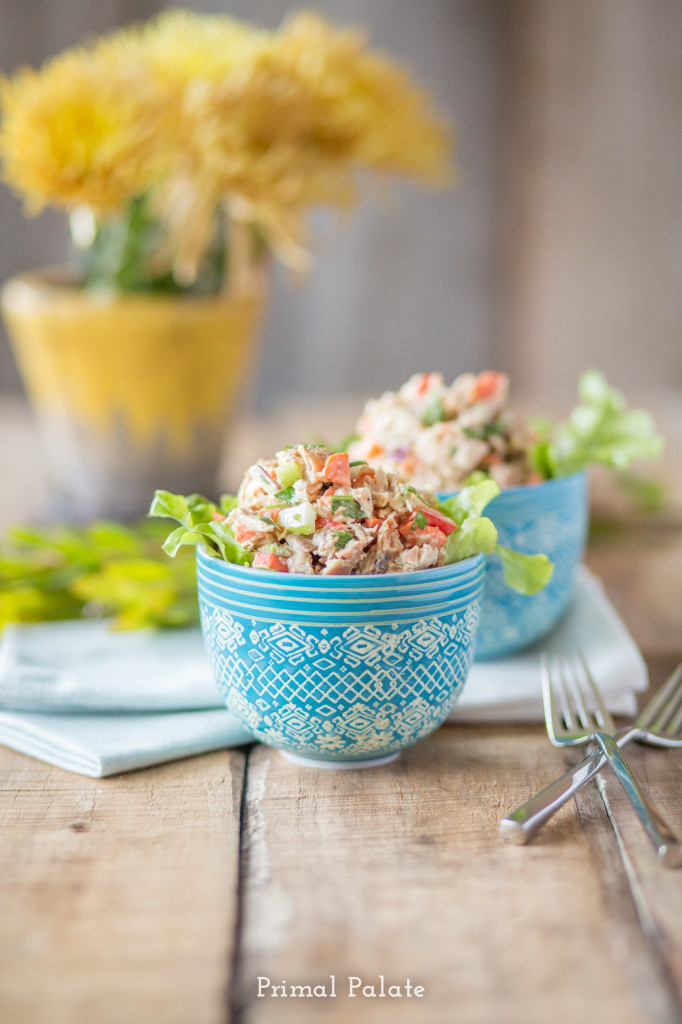 If you choose to make this recipe using a homemade mayo, then I would recommend adding a pinch of sea salt (pink Himalayan is our top choice always), and a dash of garlic powder, and black pepper. However, we really recommend trying the Sir Kensington's, because it is seriously AMAZING. Not only do they make awesome mayo, but they also make the best ketchup ever, and a few varieties of delicious mustard as well. Pretty much your one stop shop for condiments.
Sir Kensington's Discount Code:
Sir Kensington's were kind enough to offer a coupon code for all of our readers from now until November 21st. Upon checkout, use the code "primalmayo" for  15% off your order!
And A Giveaway!
We also are offering a giveaway with Sir Kensington's Mayo. Just comment below (whatever you'd like to say-preferably something nice) to enter to win a sample pack of Sir Kensington's products and a copy of our first cookbook, Make it Paleo (which will be fun to have before it's sequel, Make it Paleo II comes out this February!)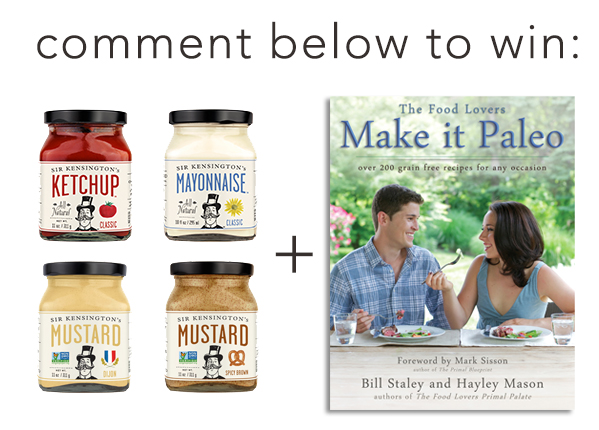 Happy cooking, and good luck!