Hi everyone!
First off I want to thank each and every one of you who reached out to me via blog comments, Instagram, Facebook, and email after this weekend's (very personal) post on my ongoing struggles. I am absolutely blown away by all of your support, and slightly overwhelmed by all of the other suggestions for testing and diet modifications. Haha. I wish I could see every single doctor, try every treatment, and do every diet that all of you recommend, but for now I'm just focusing on the information I will be gaining soon from my recent testing and doctors, and hope that it will help me.
Seriously though, I do want to respond to each an every one of you, because every person really touched my heart, and helps me to not feel alone in all of this. Unfortunately it doesn't make it much easier, but it helps me stay strong and have more hope. So thank you all so much, I am just so blown away by all of you!

Grain-free Carrot Cake
Yesterday I got up and made a special cake for my mother in law. She had a "milestone" birthday this past Sunday, and she spent it in a hospital in Ohio helping take care of her father in law (Bill's Pop Pop), who needed emergency surgery on Friday night. Say a little prayer that Pop Pop heals up. It's been a little rough this year between my stuff, and some illness with grandparents, and I think I can speak for Bill's whole family when I say that we are ready for some happy times!
Even though I'm still feeling really fatigued, and just kind of weird, I really, really wanted to do something special for Bill's mom. She always puts others before herself, and I just wanted to find some way to make her birthday a little special. I know I'm not the only one who felt that way as well.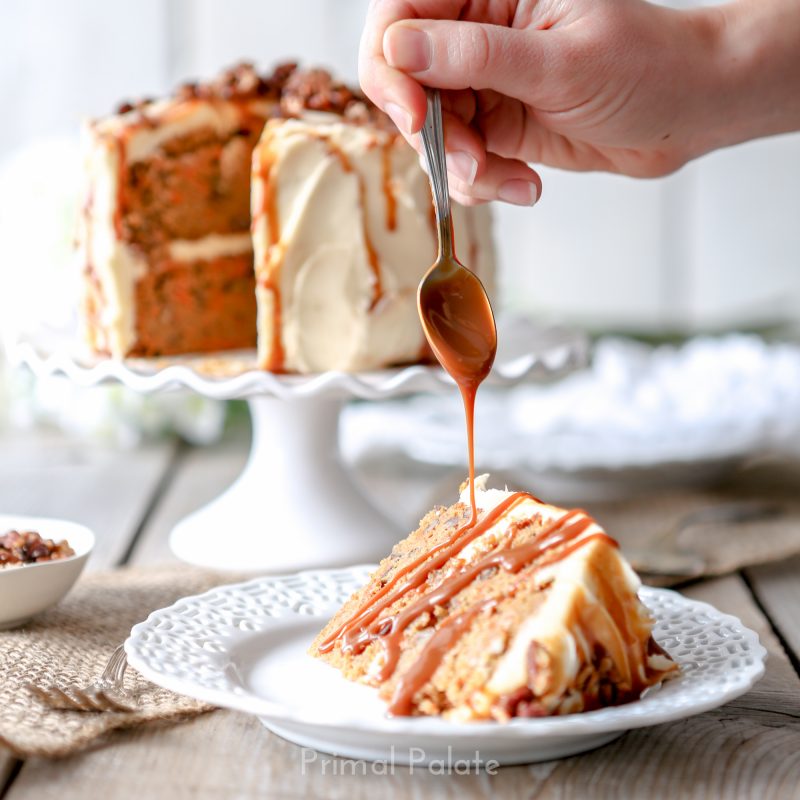 Carrot cake is her all time favorite cake, and the first carrot cake I ever made was for her birthday 4 years ago, when we had first started blogging. To this day she says it's the best carrot cake she has ever had, so of course I wanted to challenge myself to make one even better. My grain-free baking skills have come a long way since we first started our blog in 2010!
For this recipe I used our Petite Chocolate Cake from Make it Paleo 2 (IN STORES NOW!) as the recipe base (minus the cocoa), added shredded carrots, chopped pecans, and some delicious spices.
**(If you already have the book, please help us out by leaving a review for it on Amazon!)**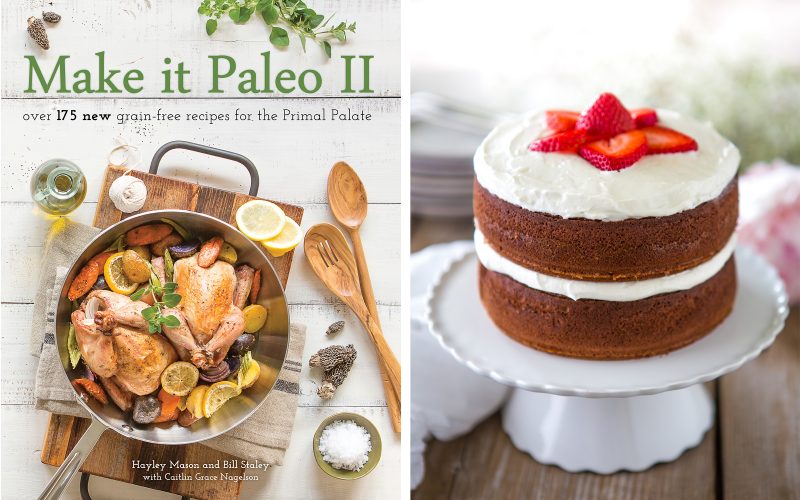 The Petite Chocolate Cake is a dairy-free cake, but for this recipe I did use butter, because I needed it for the frosting anyway. Speaking of which… this carrot cake is NOT dairy-free, and I used organic powdered sugar in the frosting, so technically it's not super Paleo-friendly, but it's a great gluten-free/healthier option to any carrot cake you would buy in a bakery. One of these days I will work on a dairy-free cream cheese frosting recipe, but yesterday I just didn't have the time or energy to try to figure it out, and I wanted to make sure this cake was exactly what Bill's mom would want.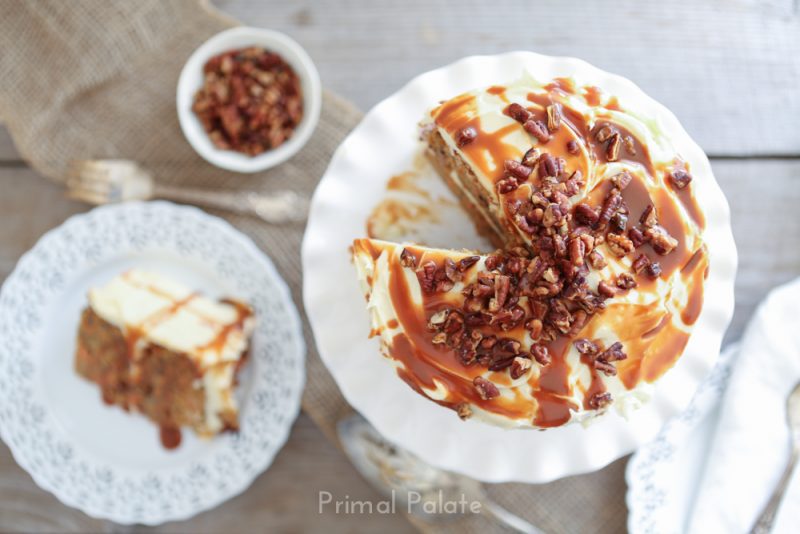 Here are some tips on how you could possibly modify this recipe to make it dairy and refined sugar free:
For the butter, just sub equal amounts of palm shortening. We use the spectrum brand which is sustainably sourced.
For the cream cheese, you could try using the Daiya brand which is a dairy, gluten, and soy-free cream cheese.  I've never used this product, because unfortunately it contains many ingredients, some of which I don't love, but if dairy makes you sicker than the ingredients in this product, you could try it out.
The most Paleo option would be to make your own cultured coconut milk cream cheese, but that is a beast that I have not tried to tackle yet.
You could also try making my dairy-free vanilla frosting and adding a touch of apple cider vinegar to it to try to get that classing cream cheese tang.
As for the sweetener, my good friend Brittany Angell told me she just started working with honey powder, which she uses to make powdered sugar by processing it even more in her food processor. I have yet to try it, but she told me the flavor is great, and it's much lighter in color than maple sugar, so it wont change the color of your frosting as much. If you don't care about the color of your frosting, I would suggest using maple sugar, and blitzing it in your food processor to make it powdered sugar.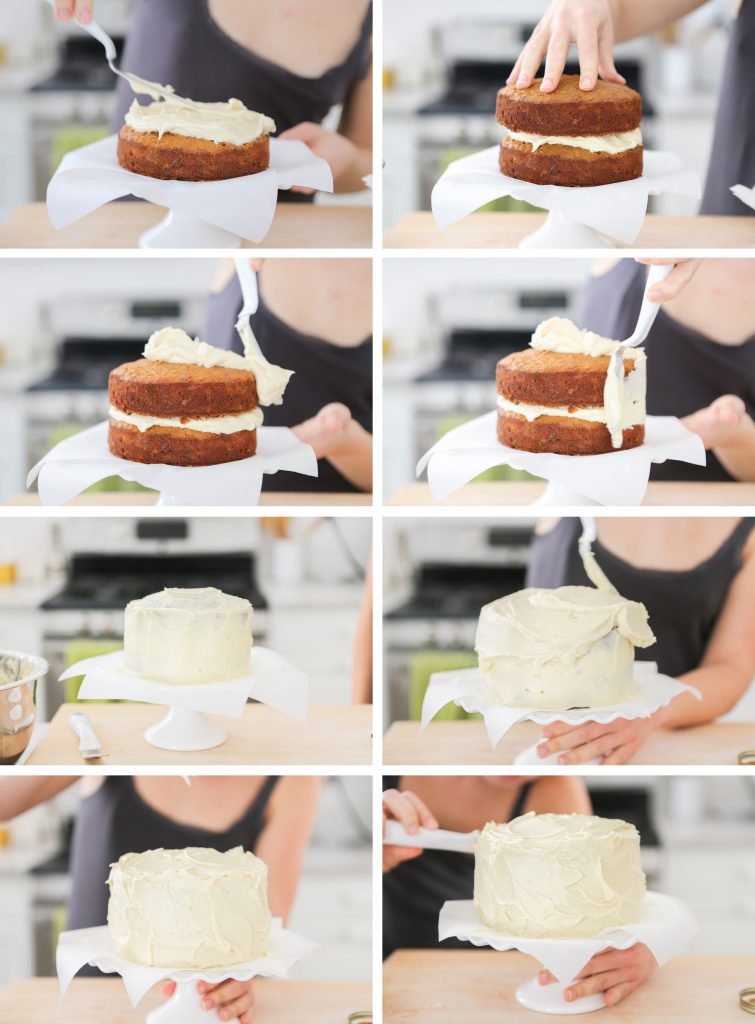 To top it all off (literally) I drizzled this goats milk salted bourbon caramel that we found at Whole Foods over the cake (it came in a tiny jar, and was more than enough for the cake, which was awesome).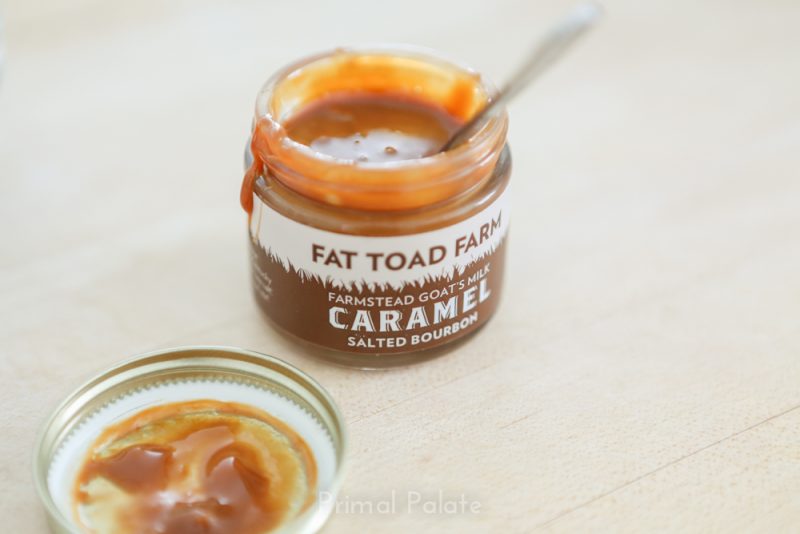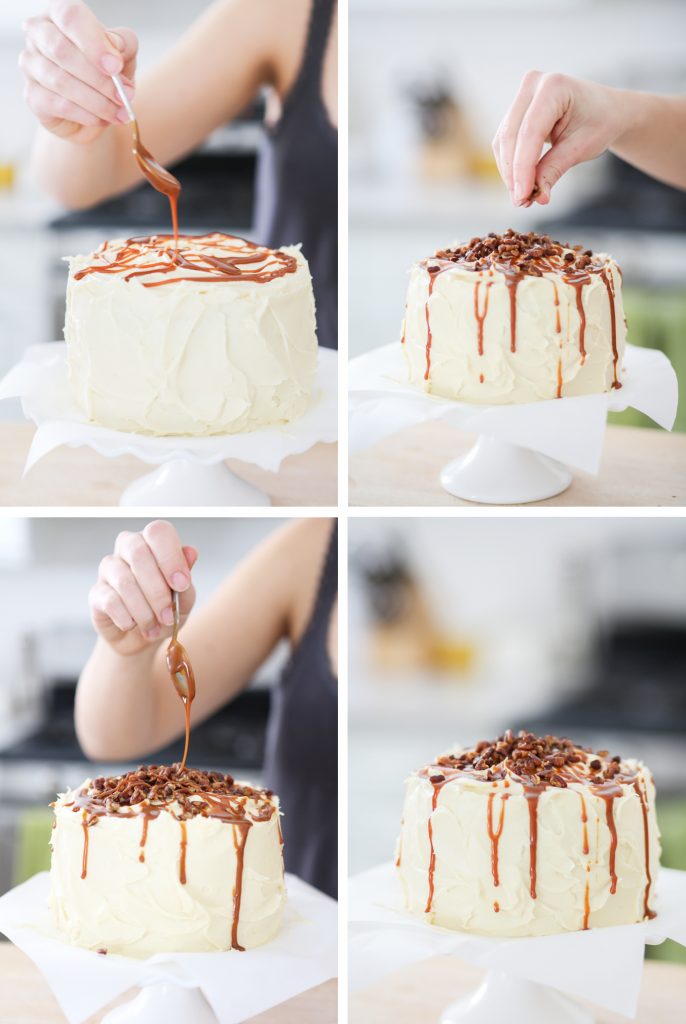 Then topped it with chopped pecans that I lightly sautéed in ghee, salt, and cinnamon. This cake is pretty much all things over the top, but what can I say, I just love making ridiculous deserts. If I felt like I was doing the world something good I would consider opening a bakery because I love baking that much, but I think I'm benefitting you all more by offering window shopping desserts, so I'll just stick with making things for pictures.
I hope you guys love this recipe, and if you can't or don't want to eat it, I hope you enjoy looking at it just as much!
xo,
Hayley