Those of you who know me (okay maybe just Bill and our friends Stacy and Matt), know that I love marshmallows. Our friends Stacy and Matt are the ones who really started my obsession, but even before I found homemade marshmallows, I liked the junky ones. S'mores people, s'mores. Need I say more?
Once I found out that these fluffy, sugary, pillows of magic were first created by our friend Jenni (The Urban Poser) it all made sense. Jenni is working on her masterpiece of a pastry book, and yes it is really a masterpiece (from what I have seen on Instagram). I cannot wait for her book to come out, and you should definitely pre-order NOW! I told her that she must be using witchcraft to make the food that is in her book, because there is no way she did all of that with grain-free flours. I'm counting on her book to teach me how to really bake with grain-free flours. She is truly magical.
Okay, back to the marshmallows. Anytime I want marshmallows I call Stacy and Matt, and beg them to make marshmallows for me. Usually it's when we are on our way to DC, because they are in Virginia, and we are in Pittsburgh…so luckily for my waistline I can't force them to make me marshmallows all the time. I have tried making them a few times and always fail. I can make delicious marshmallows, but they just end up looking like brains, or like that pound of body fat they show you in health class in high school. I bet I'm really making you all want marshmallows right now, aren't I? Yikes.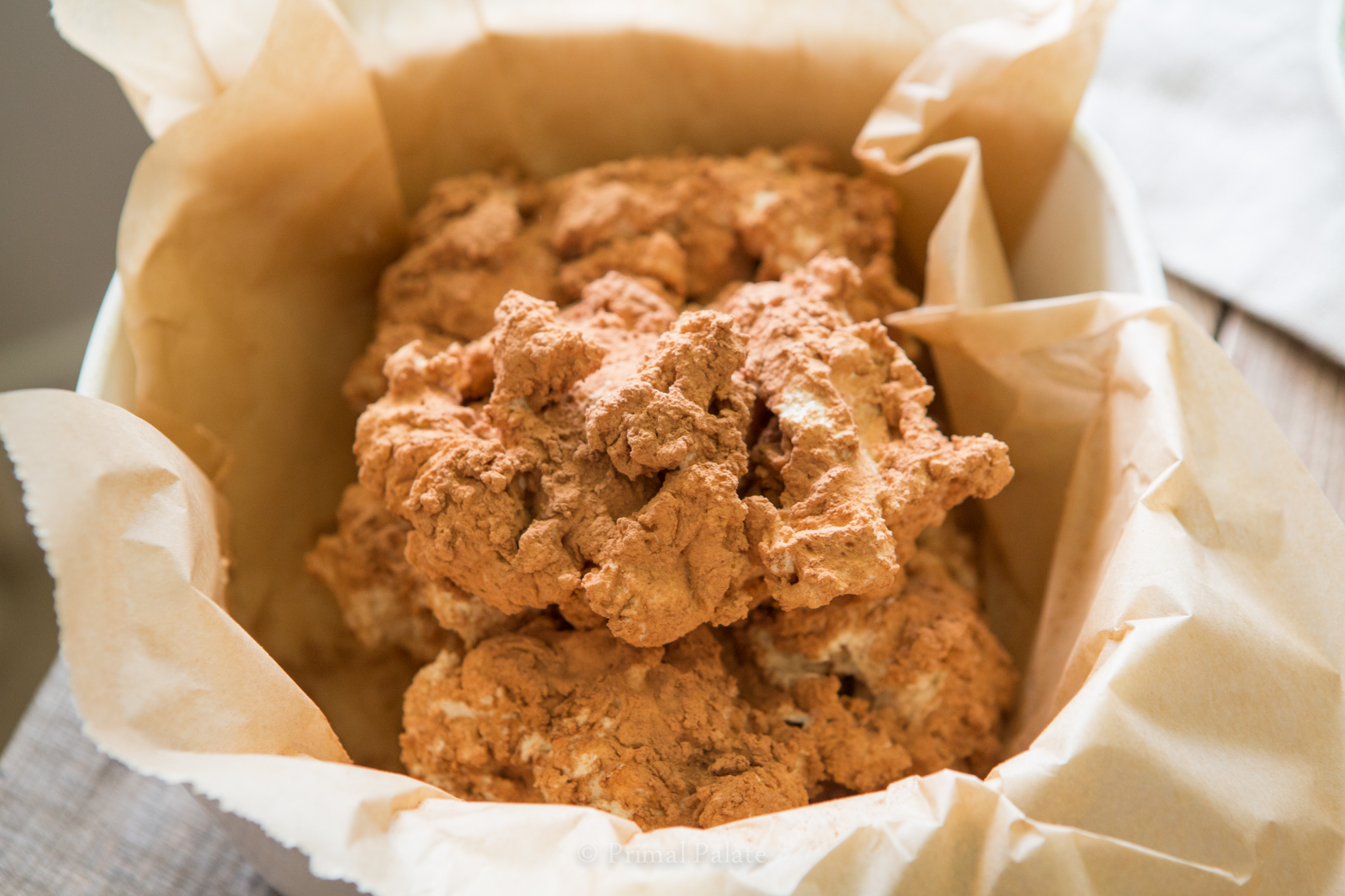 Here are the marshmallow "brains" – dusted with raw cacao powder.
So, basically I suck at making pretty marshmallows. They are never cute, and it boils down to two things. The first is that candy thermometers are the devil. You can't trust them at all. The second is that our Kitchen Aid mixer (available in our online store – we highly recommend getting one!) is super powerful, and whips the heck out of the marshmallow, so it ends up setting up too quickly. Between having sugar that is too hot, and overly whipped marshmallow, by the time I go to scoop it into the pan, it's already set and just ends up looking like (for lack of a better word), doo doo. Luckily for me, and thanks to some tips from some lovely ladies on Instagram, I finally made a successful batch of marshmallow, despite Bill telling me I was never allowed to make them again. I'll get to more of that later on.
The reason I decided to try making Jenni's marshmallows again was because we made plans with Bill's family to go to the Dave Matthews Band concert this past weekend, so I figured we would bring cupcakes with marshmallow frosting as part of our contribution to the tailgate food.

I wanted to test the cook time for a chocolate cake batter I made in mini and regular cupcake molds instead of a cake pan, so I took this as my opportunity to do that. The cupcakes turned out beautifully, the marshmallow on the other hand didn't quite behave. I almost had it, and then I lost it. I was able to frost about 8 cupcakes with the marshmallow, and then when I went to fill my piping bag again it was already set up. Crap. So I just threw the rest of the ugly marshmallow into a bag and brought it to the tailgate for anyone to eat if they wanted to. Nobody touched it. Except Diane, who was at our house with her fiance Scott. Diane doesn't discriminate against ugly food. That's why we are friends. Just kidding.
So we left for the concert with 7 toasted marshmallow mini cupcakes, and 17 mini cupcakes with some last minute pink buttercream roses. I knew we were just going to a concert tailgate where everyone would be totally hammered and playing corn hole, but that doesn't mean my dessert shouldn't look cute, plus who wants cupcakes without frosting? NOBODY. Several drunk-ish people from neighboring cars showed much interest in them, so I really feel I made the right decision by making a different frosting at the last minute.
When we got to the concert it was hot outside. Really hot, like the parking lot at First Niagara Pavilion was actually on the surface of the sun instead of right outside of Pittsburgh. So while I was covering my body with ice and observing all of the crazy drunk people (since I don't drink alcohol ever, and was too scared to move, because I didn't know what would happen since I was so overheated), I couldn't help but think about what I did wrong with those marshmallows. Actually what I couldn't help think about was how hot it was, but I tried thinking about the marshmallows to distract myself, and remember that pretty much last week it was snowing in Pittsburgh and I shouldn't complain about any sunshine. The marshmallows escaped my brain for several hours after that, and I focused more on Dave's awesome music, hanging out with my super adorable husband, and watching wasted people get arrested left and right, but then this morning it was back to haunt me. I knew I had to try to make these work. I took the advice I got on Instagram to heart (try using less gelatin, and whip by feel, not by time), and watched another one of my favorite marshmallow videos from Chicago Metallic, and decided to give it one more shot! Speaking of Chicago Metallic, I used their 8″x8″ no-bake, collapsible pan to form the marshmallows – which made all of them pretty and square. It's available in our online store, if you'd like to order one!
The thing that I realized with these marshmallows, which is a great life lesson for cooking, is that sometimes you just can't follow a recipe exactly. You have to listen to your gut, and just sort of figure it out by feel. For me, that meant turning off the boiling sugar before it starts to overflow the pot, instead of waiting for it it reach 240 degrees F (for all I know it was at 240 degrees anyway, because I cannot trust any candy thermometer), and whipping the marshmallow fluff until the texture looked right, instead of longer, just because a recipe says how long it should take. And yes, I actually overflowed the pot of sugar, and hot molten lava sugar went all over our stove top. Which Bill really wasn't happy about…since he cleaned it all up for me.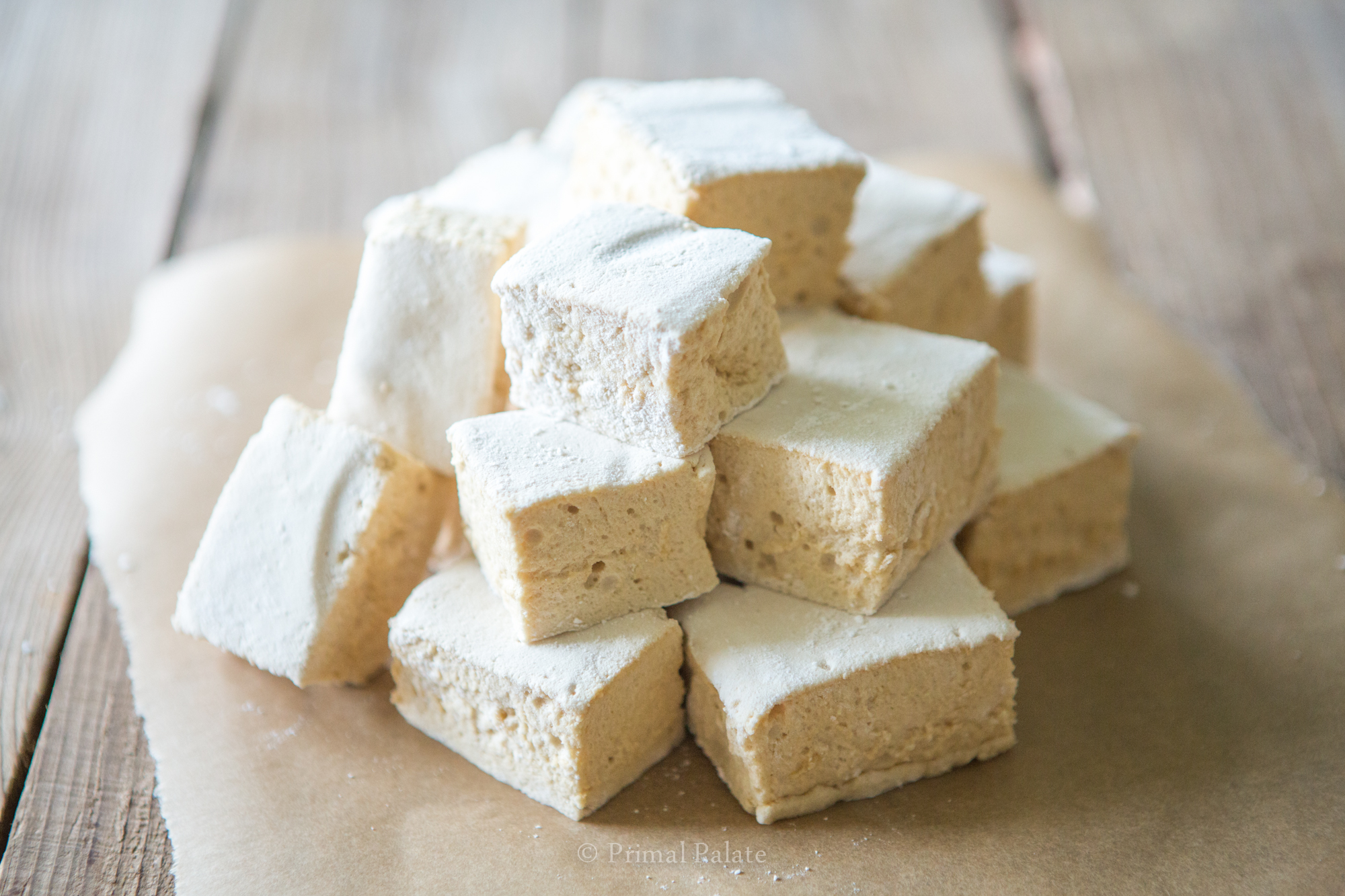 I originally planned on just promoting Jenni's marshmallow recipe, which is FABULOUS-obviously since it started my love affair with marshmallows. Just because I couldn't do it, doesn't mean you can't! However, since I tweaked it a bit with what I learned from friends on Instagram, and by watching the Chicago Metallic video, I'm also going to share my recipe, so that anyone who may need some troubleshooting has some options to figure out how to make the marshmallows work for them too. Plus with these adaptations, I think I would have been able to frost more than just 8 cupcakes :). Candy making is hard, people!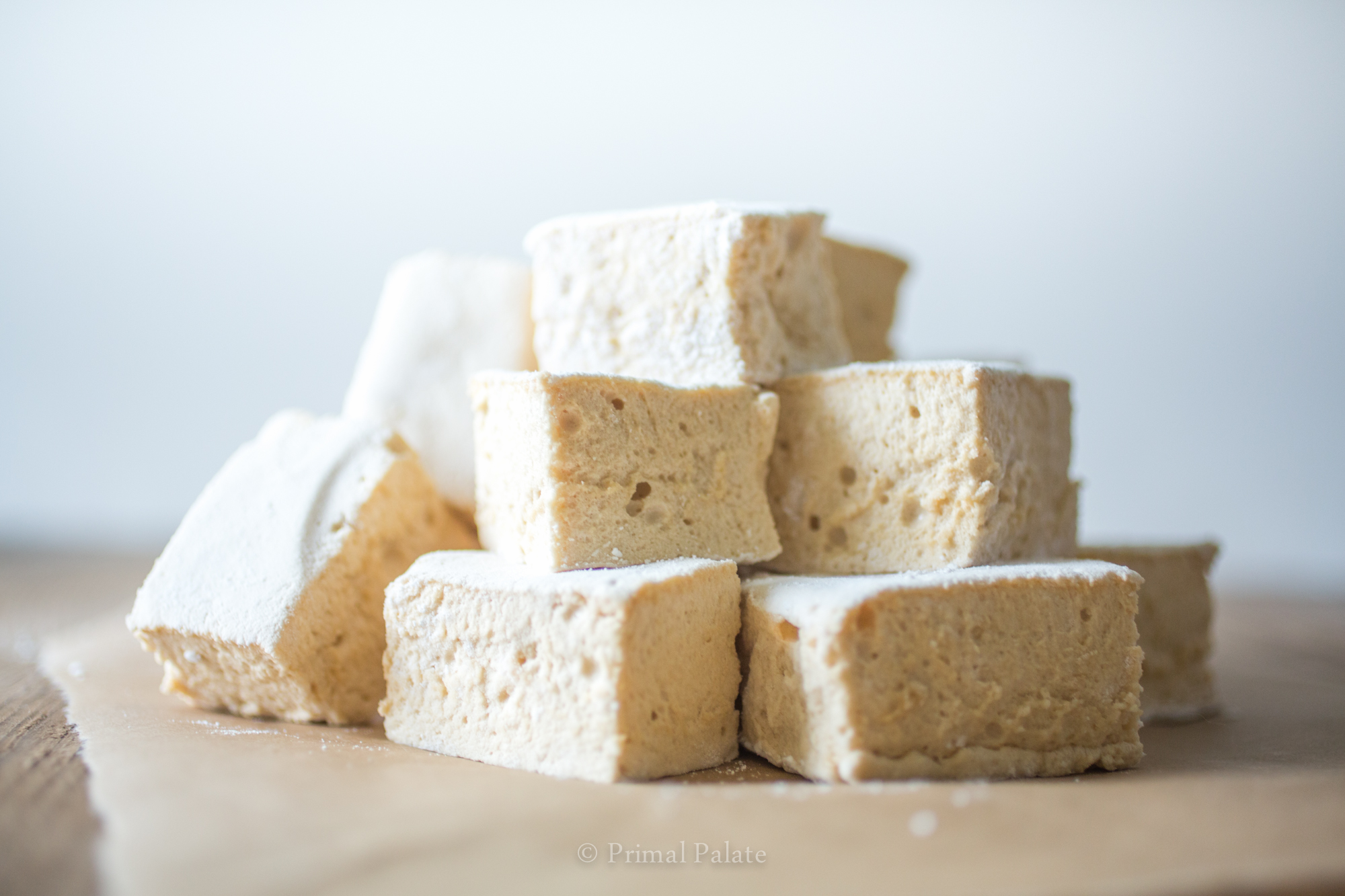 I hope you love these cupcakes. They are quite tasty, with wonderful texture, and they are not only gluten, grain, and diary-free, but nut-free as well! Enjoy!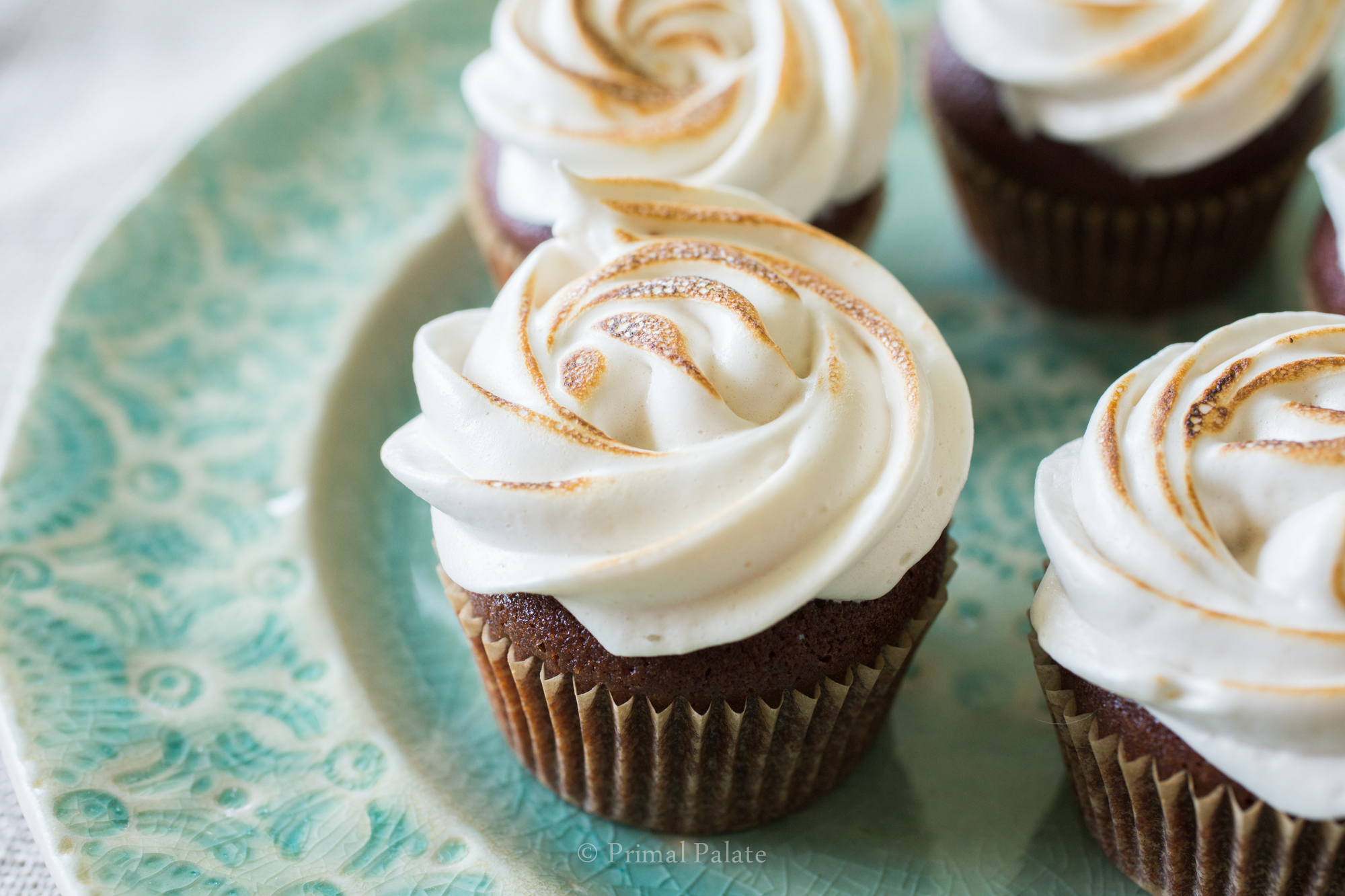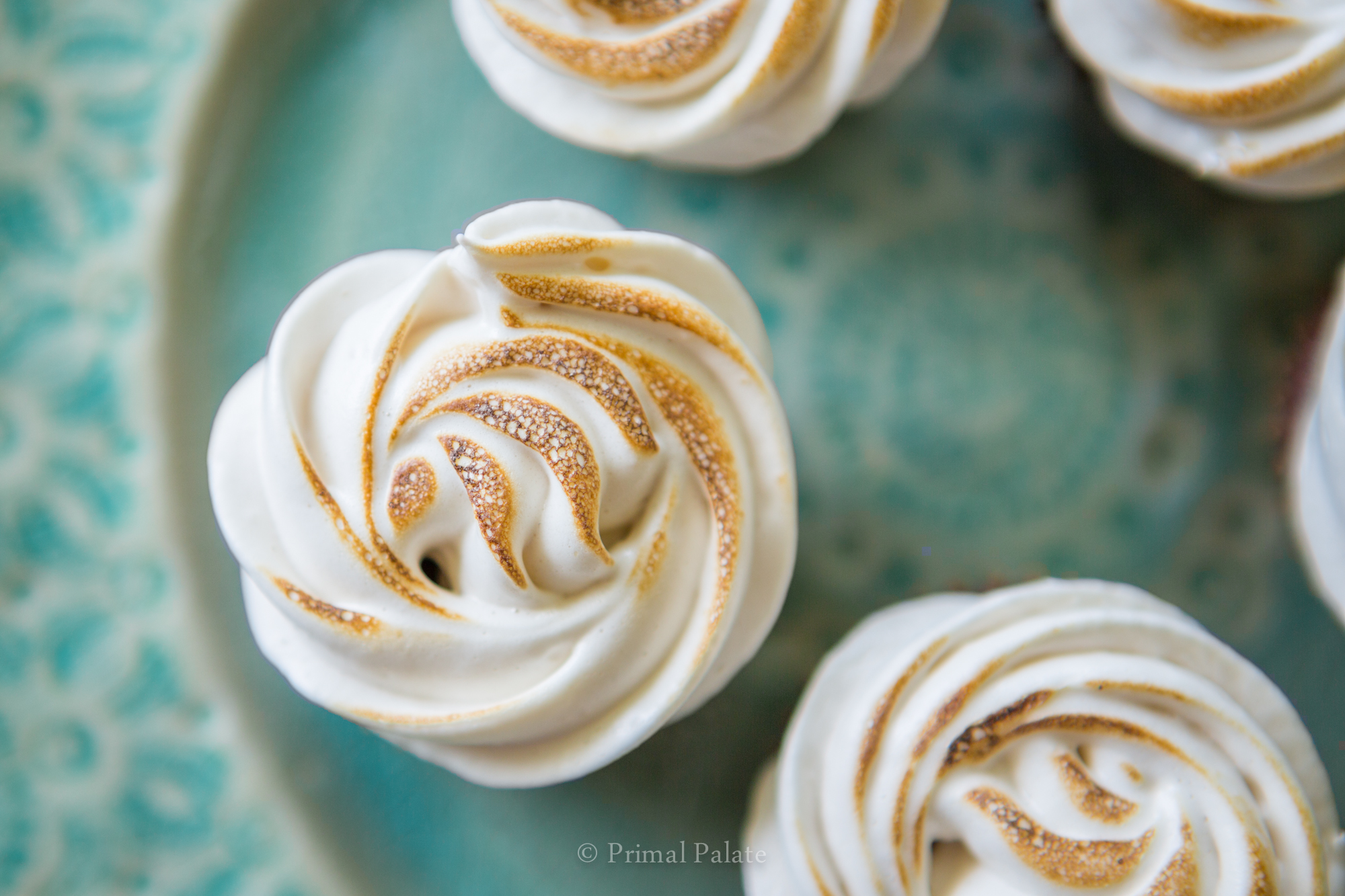 Difficulty


These cupcakes are moist and airy, topped with pillows of toasted marshmallow. For the Marshmallow Frosting, we've used the Urban Poser's marshmallow recipe and piped it onto the tops of the cupcakes.
Process
Note, these instructions are written assuming the standard serving size, since you have modified the number of servings, these steps may need to be modified for best results
Preheat the oven to bake at 350 degrees.
Line 3 mini muffin pans with cupcake papers.
In a small sauce pan, melt the palm shortening. Set aside to cool slightly.
In a small mixing bowl, sift together the coconut flour, tapioca starch, cacao powder, baking powder, and salt.
In a medium sized mixing bowl, beat the eggs, maple syrup, and vanilla with a hand mixer over medium-high speed.
Slowly add the sifted flour blend into the liquid mixture, and beat again, until the batter is smooth and slightly fluffy.
Pour the cooled shortening into the batter, and beat again, until the batter is smooth and fluffy.
Using a cookie scoop, scoop the batter into each muffin mold.
Bake on the middle rack of the oven for 20 minutes. Test with a toothpick to be sure the mini cupcakes are fully cooked.
Allow to cool before frosting. Use The Urban Poser's marshmallow recipe, piping it onto the tops of the cupcakes with a star tip. See the notes section for a link to her marshmallow recipe.
Notes
For mini cupcakes this batter makes about 3 dozen cupcakes. I find that a cookie scoop is the perfect amount to fill each mini cupcake mold. If you would like to make these in standard sized muffin pans, this recipe will make about 1 dozen, maybe slightly more depending on how much you fill each mold. I also find that an ice cream scoop is perfect for filling standard sized muffin molds. Standard size cupcakes will need to cook for 25 minutes. See Jenni's Marshmallow recipe for the frosting: http://theurbanposer.com/rustic-homemade-marshmallows-whoney/
Our recipes are created using Paleo, Primal and Gluten-free guidelines.
Learn more
about our diet and lifestyle
at www.primalpalate.com
.
Difficulty

These light and fluffy marshmallows are like nothing you've ever tasted!
Shop
Process
Note, these instructions are written assuming the standard serving size, since you have modified the number of servings, these steps may need to be modified for best results
Dust an 8x8 inch no-bake collapsible pan with the tapioca and powdered sugar, so that the marshmallow does not stick to the pan.
Pour the gelatin into the bottom of the bowl of a standing kitchen mixer
In a medium sized sauce pan, add the half cup of room temperature water, the maple syrup, and the maple sugar. Stir to combine, and place a candy thermometer into the pot. Heat over medium to medium-high heat.
Allow the sugar to cook until the temperature reaches around 240 degrees, being careful that the sugar does not bubble over the sides of the pot.
While the sugar is cooking, pour the half cup of cold water into the kitchen mixer to bloom the gelatin.
Once the sugar has come to temperature, carefully pour the hot sugar into the kitchen mixer, over the gelatin.
Attach the bowl to the mixer, as well as the whisk attachment, and start whipping the sugar and gelatin over medium speed.
After about 30 seconds, turn the mixer up to full speed, to whip the marshmallow.
Once the marshmallow starts to turn lighter in color, and thicken slightly, turn the speed back down to medium to add the vanilla extract.
Turn the mixer back up to full speed, and continue to whip until small peaks form. This can take anywhere from 3 to 6 minutes depending on the type of kitchen mixer you are using.
Once the marshmallow is white in color, thick, and fluffy, with the small peaks, you can now transfer the marshmallow to the pan to set.
Carefully pour the marshmallow into the pan, smoothing out the top, and allow to set for 2 hours.
Dust the top of the marshmallows with the tapioca and sugar mixture, and release the sides of the collapsible pan to slice your marshmallows.
Notes
It is helpful to dust the tool you use to cut the marshmallow with the tapioca as well so that it does not stick to the marshmallow. You can also use cocoa powder, or shredded coconut as alternative options for dusting the sides of the marshmallows. If you are using this recipe to frost cupcakes, scoop the marshmallow into a piping bag with a Wilton 1M attachment (or your desired piping attachment), and frost as desired, then use a kitchen torch to brown the tops of the marshmallow.
Our recipes are created using Paleo, Primal and Gluten-free guidelines.
Learn more
about our diet and lifestyle
at www.primalpalate.com
.
Still Hungry?  
Featured User Recipes
This week has been AMAZING, with tons of newly uploaded recipes from our fabulous contributors. Thank you to everyone that submitted – it was our best week yet! (Read below about how to submit your own recipes).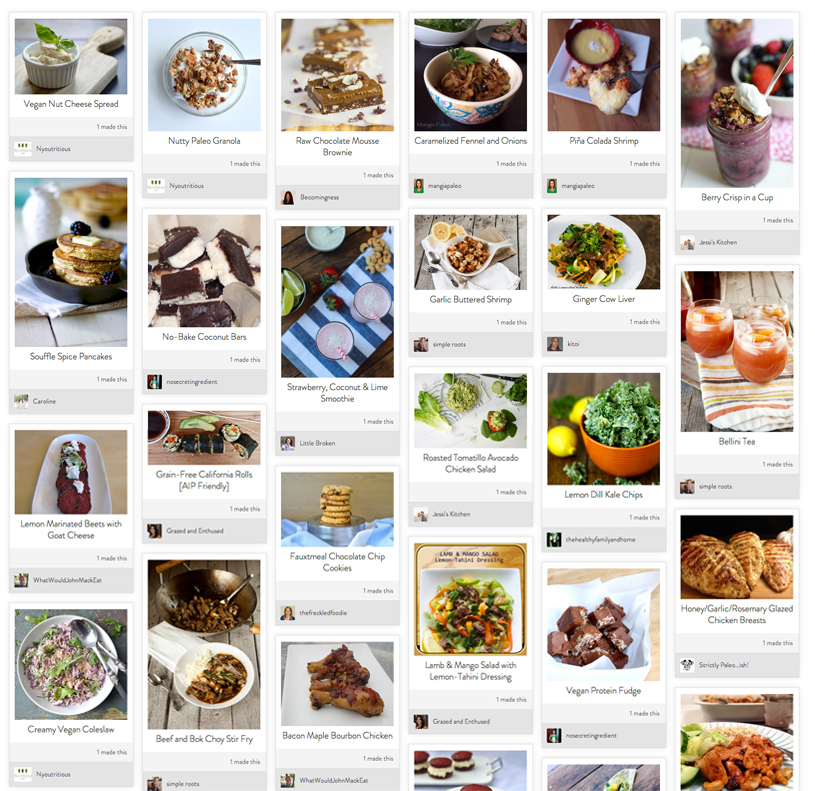 Upload Your Own Recipes
We would love to see your own recipe creations, and maybe they will even be featured in future posts. Once you register for our site, you'll see a button that says "upload" at the top right corner of the page. We look forward to seeing what you submit!
Shop Cooking Tools – 4th of July Special Items
If you feel inspired by this post and want to set yourself up with the grill (or smoker) we recommend, visit the Primal Palate online store! You'll find all the cooking gadgets we love, handpicked, just for you.
Featured Contributor of the Week: Nyoutritious
This week, we're featuring the work of Regina Barker who writes a fantastic blog called Nyoutritious. She's a new contributor around here, and we hope to see A LOT more of her gorgeous recipes. Click the images below to see her recipes.
4th of July Cookout Menu
We have several cookout-themed menus on our site. Browse our entire collection of menus to see them all!
Plan Your Meals
Plan all your meals for the coming week- Use our free meal planner, called myKitchen (also available as an app for both iPhone and Android)
Want to start doing this whole Paleo thing?
Get our extensive (and popular) 30 Day Guide to Paleo program! It includes everything you need to get started today! (click the link below)

Get ALL of our recipes – purchase our three fabulous cookbooks! 
Our cookbooks contain a whopping 400+ recipes (combined). Get our books and see all the cookbooks we recommend in our store.