Thousands of years ago, our ancestors blazed some of the first global trade routes in search of exotic spices. With their medicinal properties and ability to transform food, spices are one of the oldest commodities in the world. The rich story of spices is woven into the fabric of every type of cuisine. It's not a stretch to say that the healing and flavoring powers of spices have helped shape modern civilization.
Since the early days of Primal Palate, we've dreamt of offering a line of spices whose quality, freshness, and flavor would surpass anything available to you in grocery stores. After many years of searching, we're proud to stand behind our line of organic spices, proudly saying: These are the highest quality spices available. Period. Our spices are certified USDA-Organic, Whole30 Approved, Certified Gluten-Free, Kosher, Non-GMO, and Non-Irradiated. In other words, they are un-messed-around-with, and just as nature intended!

AIP: Many of our offerings are safe for the AIP introduction diet. (Excludes Signature Blends, Griddle & Grill Pack, Black Pepper, Red Pepper Flakes, and Paprika.) We have a special AIP Spices Bundle, if you need AIP compliant spices.
We're fanatical about ingredient quality, and know you are too. We have gone to great lengths to make a product we would want to use in our own kitchen, which is now available for you! We want you to experience cooking with spices like never before; using spices that are the highest quality, the freshest, and quite simply… the best. Here's what people have to say about them: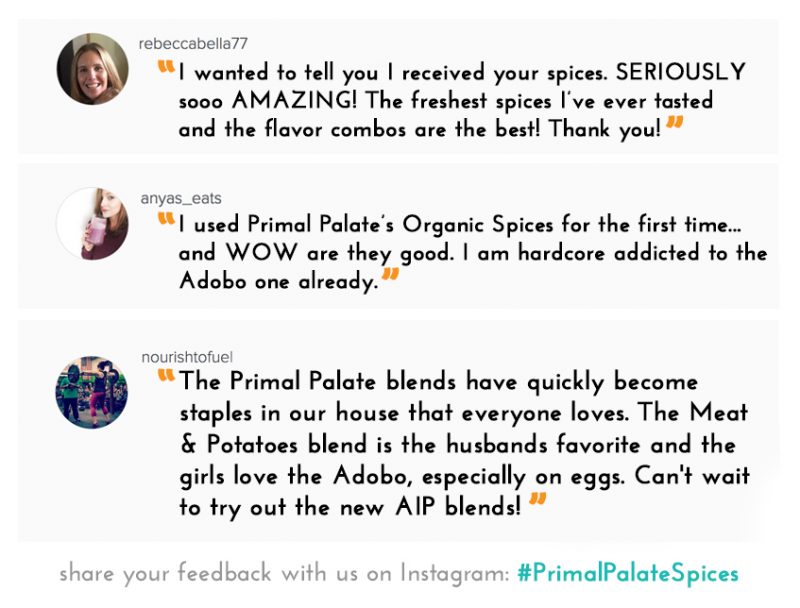 ---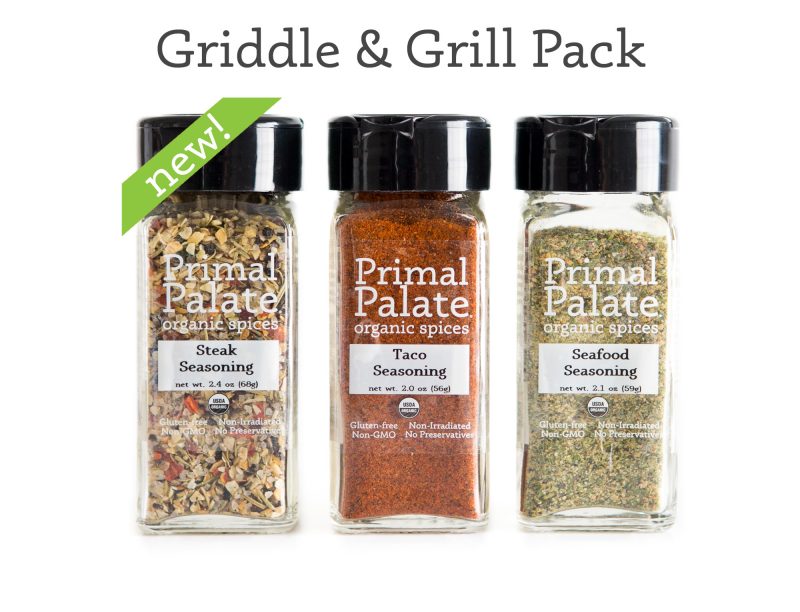 Our Griddle & Grill Pack brings together big and bold flavors for a wide variety of dishes. This pack of three includes:
Steak Seasoning: Not just for grilling steaks, the coarse textured blend of salt, spices, and herbs brings a unique and bold flavor to your favorite beef, pork, chicken, or vegetable dishes.
Ingredients: Coarse Sea Salt, Onion, Black Pepper, Garlic, Chilies, Thyme, Rosemary, Dill, Coriander
Taco Seasoning: Taco Tuesday is everyday with this tasty seasoning. This perfect blend spices up ground beef, carnitas, and chicken. Try it on your next taco, fajita, or salad.
Ingredients: Chipotle Chili Powder, Pink Himalayan Salt, Paprika, Black Pepper, Cumin, Garlic
Seafood Seasoning: The lemon peel and chives in this blend provide a wonderfully bright, citrus forward flavor to make your seafood dishes really shine, especially shrimp, salmon, and scallops.
Ingredients: Pink Himalayan Salt, Onion, Black Pepper, Lemon Peel, Garlic, Bay Leaves, Parsley, Chives
All of our blends are made from USDA-certified Organic ingredients, a standard of quality you trust and expect on your table. They are also certified gluten-free, OU Kosher, Non-GMO, and Non-Irradiated.
---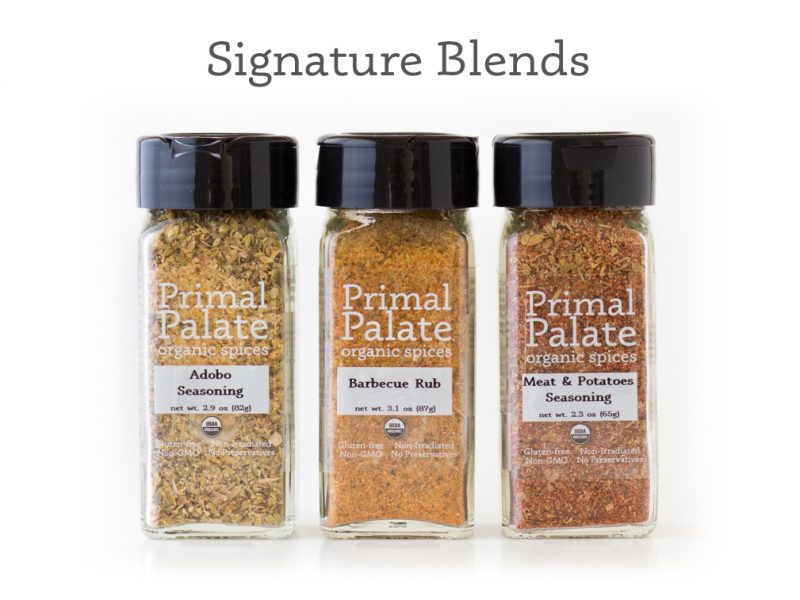 Our Signature Blends are just magic for all types of cooking. The trio pack of seasonings include:
Adobo Seasoning: One of our favorite spice blends, Adobo is versatile, and brings all sorts of dishes to life. Try it on grilled meats and sautéed vegetables.
Ingredients: Pink Himalayan Salt, Garlic, Onion, Black Pepper, Oregano, Turmeric
Barbecue Rub: This "cookout hero" nicely flavors all sorts of meats, from wings to ribs and everything between.
Ingredients: Pink Himalayan Salt, Onion, Garlic, Paprika, Oregano, Turmeric, Black Pepper, Ginger, Cumin, Cayenne, Coriander
Meat & Potatoes Seasoning: Our signature blend for seasoning home fries and meatballs. It adds wonderful flavor to just about anything. Unsure how to season a certain dish? Try this!
Ingredients: Pink Himalayan Salt, Paprika, Onion, Garlic, Black Pepper, Oregano
All of our blends are made from USDA-certified Organic ingredients, a standard of quality you trust and expect on your table. Our blends all include mineral-rich Pink Himalayan Salt, which helps to balance body electrolytes, supports proper nutrient absorption, eliminates toxins, balances the body's pH, and increases circulation.
---
Our Everyday AIP Blends are not only AIP- friendly, but blends anyone could use in everyday cooking. This trio of blends are the perfect complement to any meal!
Super Gyro: Not just for Gyros, this "Super Hero" seasoning is fantastic on a variety of dishes. Bring a taste of the Mediterranean to any meal with this versatile spice blend.
Ingredients: Himalayan Pink Salt, Oregano, Marjoram, Thyme, Garlic
Garlic & Herb: This spice blend tastes great on just about any dish, although it's perfection for poultry. This wonderfully balanced blend is a great way to enhance the flavors of your daily meals.
Ingredients: Garlic, Himalayan Pink Salt, Onion, Oregano, Thyme, Sage
Breakfast Blend: From meat to vegetables, this blend will awaken your dishes with a zesty and warm flavor. Perfect to start your day!
Ingredients: Himalayan Pink Salt, Garlic, Onion, Oregano, Cinnamon, Turmeric, Sage
---

Our organic Staples Pack contains a versatile mix of spices. This pack contains the foundational flavor elements of everyday cooking:
Crushed Red Pepper Flakes: Our Organic Red Pepper Flakes can add a touch of heat to just about any dish. Use it anywhere you need a little extra kick!
Granulated Onion: Onion is a must-have flavor in the kitchen. With its sweet and savory flavor, onion is a cornerstone in every cuisine and will liven up almost any recipe.
Sweet Paprika: Sweet and fruity with vibrant color that will add brilliance to your meals. Not just for garnishing, our paprika brings wonderful flavor and aroma to everything from roasts to curries.
Granulated Garlic: Garlic has a long history of use for culinary and medicinal purposes dating back 7,000 years. We love it for its spicy flavor that mellows and sweetens with cooking.
---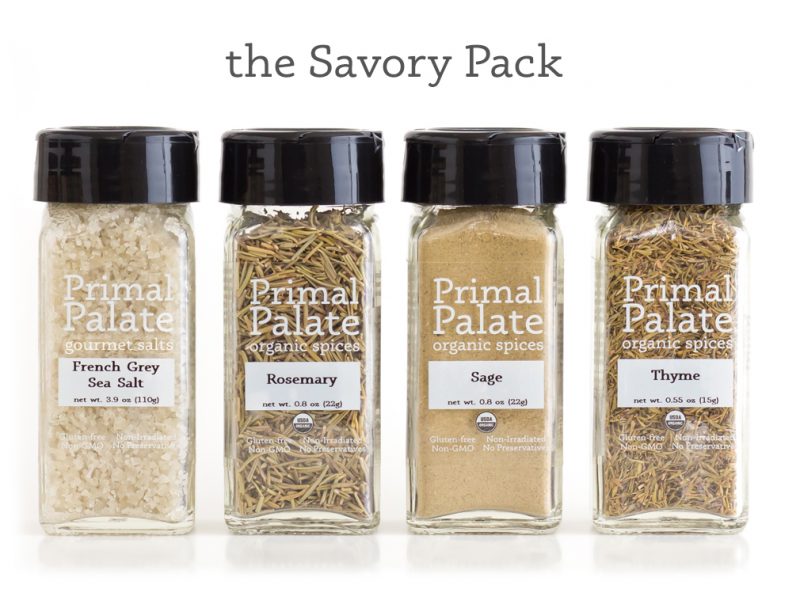 Our organic Savory Pack sets the stage for hearty, cool weather meals. Whether you are preparing a special holiday feast, or simply preparing an easy dinner in the slow cooker, these four classic flavors will help you season just about anything.
French Grey Sea Salt: Known in France as "sel gris" (grey salt), this salt is prized for its moist, delicate crystals and rich ocean flavor.  Use this versatile finishing salt to flavor your beef, lamb and poultry dishes.*
Rosemary: Rosemary is a fragrant, woody herb that imparts a distinctive flavor and aroma in cooking. This versatile herb pairs especially well with chicken, turkey, lamb, and pork.
Sage: Sage has legendary status as both a medicinal and culinary herb. Enjoy this herb, with its slightly peppery flavor, on your holiday roasts, poultry and other meats.
Thyme: Thyme is one of the oldest and most popular herbs. Its distinctive flavor complements most hearty and savory dishes including soups, roasts, and vegetables.
---
Our organic Broths and Sauces Pack contains a versatile mix of spices with a huge range of uses. This pack contains the foundational flavor elements of Broths and Sauces, Stocks and Roasts. This pack is our most versatile pack yet, containing:
Himalayan Pink Salt: Considered to be the purest of all salts, mineral-rich Himalayan Pink Salt is an amazing flavor enhancer, perfect for all types of dishes.
Black Peppercorns: Our Black Pepper stimulates your tastebuds with subtle heat and exotic flavor. It can be used to accent dishes in nearly every cuisine. Grind just prior to use to experience best quality.
Bay Leaves: Our superb Turkish Bay Leaves are fragrantly sweet, with hints of lemon and cloves. Use in soups, stocks, sauces, roasts, or add to marinades. Remove before serving.
Oregano: Indispensable to tomato based sauces, Italian, Mexican and Spanish dishes.  Whole leaf oregano is prized for its aroma and mild, sweet flavor.
---
Save BIG when you bundle!


---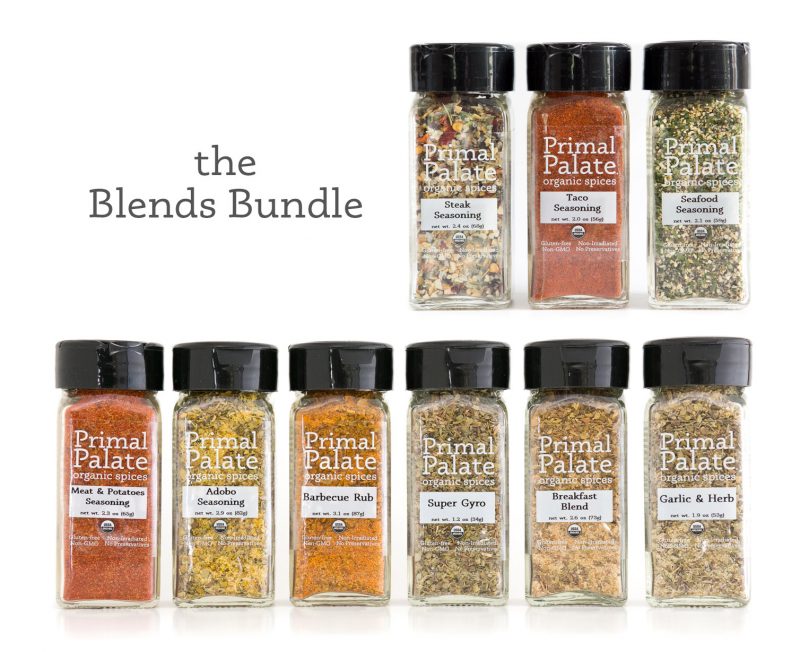 ---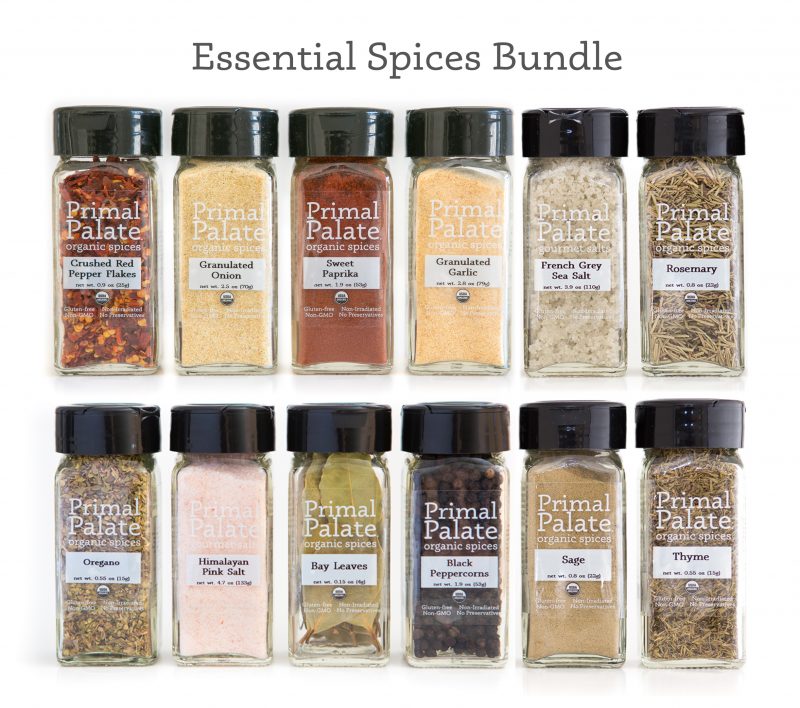 ---
---

---
"Primal Spices" and "Primal Palate Organic Spices" are Registered Trademarks of Primal Palate
 * Salts are minerals. Since salt is not an agricultural product it cannot be certified organic.
These statements have not been evaluated by the Food and Drug Administration. These products are not intended to diagnose, treat, cure, or prevent any disease.