Paleo meal planning just got a WHOLE lot easier.
Introducing

myKitchen

– the first free, online Paleo meal planner!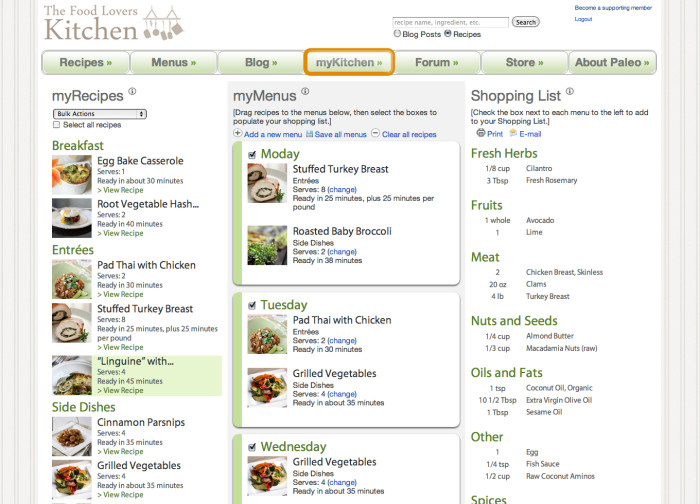 myKitchen is a powerful interactive meal planner that allows you to drag and drop your recipes into a fully customizable meal planner and generate tailored shopping lists. Here's how it works!
*You will receive a verification email, which will contain a special link you'll need to click before you can login.*  This helps us prevent spam accounts from registering.
2. View any recipe on our site and click "Add to myKitchen"
These will be stored as favorites (so to speak), which you can use in the meal planner. These recipes also sync to our free companion app for iPhone and Android!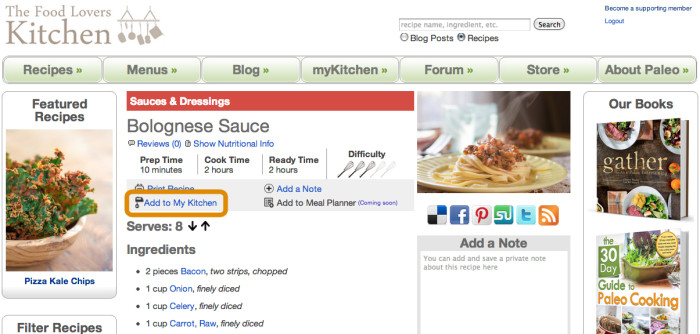 3. Click "

myKitchen

" in the middle of the menu bar to access the meal planner
myKitchen is now front and center on the website. Click myKitchen to see your favorite recipes and any meal planning you've been working on. You can even save what you've been working on by clicking "Save all menus" under myMenus.

4. Drag and drop recipes from myRecipes (left column) into myMenus (center column)
myRecipes are organized by category, and provide you with quick information to help make meal planning easier. You'll see how much each recipe makes (and don't worry, you can change it later), how long it'll take to make the recipe, and there is also a quick link to view the recipe easily. Hover over a recipe to reveal an "X" which will allow you to delete it. To add recipes to the meal planner (center column), just drag and drop!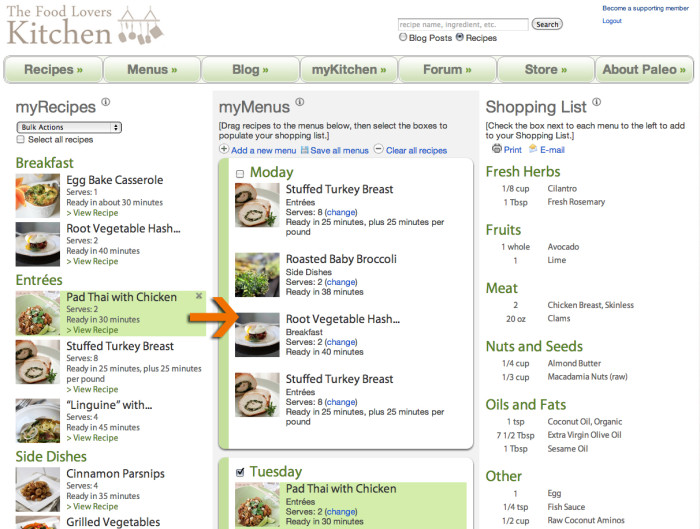 5. Change serving sizes, rearrange days, and add or delete days in myMenus.
In the meal planner, you can change serving sizes of recipes, and it will reflect updated values in your shopping list. You can also add or delete days, and rearrange them. If you want to do a whole month's meal planning in one shot, go for it! It could also be equally useful if you are planning a large get together. Simply add recipes to myKitchen, drag them into the meal planner, increase the serving size, then print or email the shopping list to yourself. It couldn't be easier!

6. Delete any ingredients you have, then print (or email) your shopping list and meal plan.
In the right column, you'll see ingredients you need organized by type. If you know you have a certain ingredient, you can delete it from the shopping list to avoid confusion. Once you're ready, click Print or email it yourself. If you want an even more mobile-friendly user experience, download our free companion app, called myKitchen, available for iPhone and Android.
7. Click "Save All Menus" at the top of the center column if you want to save your work!
Keep track of what you've been working on by clicking save. It's located in the center column, right below myMenus.
8. TELL EVERYONE YOU KNOW, because this is HUGE!
We want everyone to know about and to enjoy this free tool! You won't find a better FREE meal planner online!
And now, THE GIVEAWAY
We are so excited to offer this new tool to the community for free, because we think its going to make people's lives easier… much easier! The next feature we are working on is allowing you all to upload your own recipes to our website. So, before you know it, you'll be able to do meal planning with your own recipes (and your friend's recipes), and our recipes! It's going to be great!
We know you're going to be sharing this anyway, so why not get rewarded for doing so? Follow the steps below to be entered for your chance to win a beautiful new Le Creuset 5 quart oval French Oven in their new color, Soleil!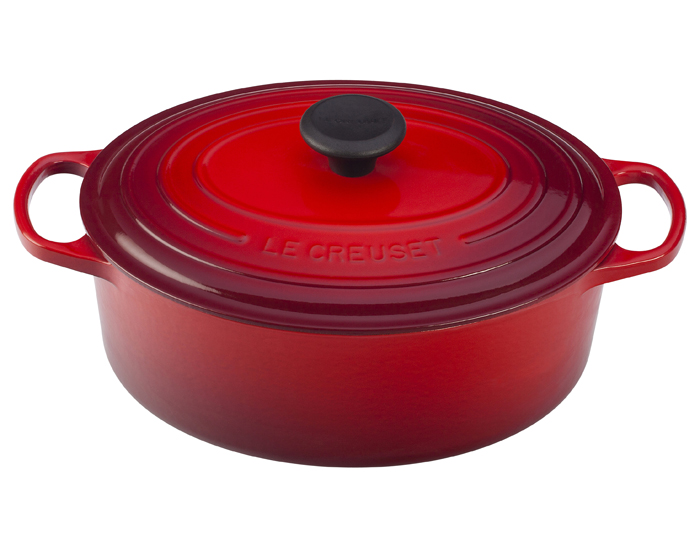 ---
Join us for our next Paleo challenge!
Think you can handle doing Paleo for a whole month? Get our extensive (and popular) 30 Day Guide to Paleo program! It includes everything you need to get started today! (click the link below)