Hey friends!
We hope you're having a super happy Saturday! We plan to get outside and work on our gardens, but first we wanted to share this awesome recipe with you that we've been making over, and over, and over again all spring. These wings are something we literally make 3-4 nights a week… they are just so darn good!
Yesterday, we got to take a break from the home office, and went to the Entrepreneur's Growth Conference at Duquesne University (It's pronounced Doo-Kane, FYI). This was the 17th annual conference, but the first we had heard of it. A few months back, we were both asked to speak at the conference, which was a pleasant surprise! I hate to say it, but my knee-jerk reaction to these types of emails is almost always to say "no."
I'd love to think that I'm channelling The Oracle of Omaha when I say -no- to things, but sometimes I'm just afraid of over-committing myself. On this particular day, though, I decided to say yes – and I'm really glad I did. Speaking at the EGC yesterday was probably the best public speaking I've ever done, and I'm really proud of that!
The talk was called "Promote, Engage, Sell: A Blueprint for a High-Impact Digital Marketing Campaign. I ended up changing the name of the talk to "Create, Engage, Sell" – because lets face it, if you don't create something in the first place, how the heck can you move to engaging and selling? Not easily, thats for sure. I was asked to join another speaker to fill the hour long breakout session, but he wasn't there when the session kicked off, so I was the lead-off batter. In the week leading up to the presentation, I chatted with our team here about my slides, and how to best present what we have learned over the last five years. We all agreed that 30+ slides was far too much for the 10-15 minute slot, but nothing really looked like it could be cut.

About 15 minutes into my talk, Debbie (the event coordinator, who was sitting in the front row of my talk) got my attention. I thought I was out of time. But in a low voice she said "The other presenter isn't coming today, so you have the full hour." I think this would have sent some people into a panic, but I actually got really excited because it meant I could slow down and really explain the material I had prepared. At that point, I stopped for some questions, which was midway through my presentation. Then continued on, eventually filling the entire hour with about 10 minutes left for questions!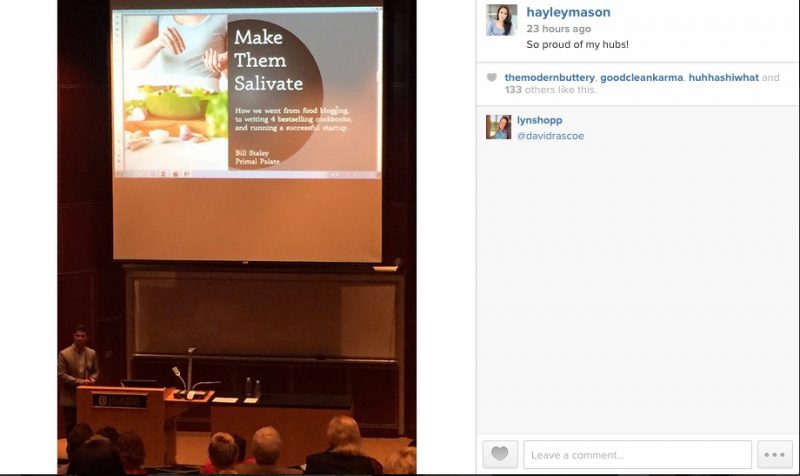 I had no idea what it was going to be like, going into that talk. I had never really done a business talk before (and I don't have 'formal' training in business, either), so I was pretty nervous for it. But I'm really happy with what I offered to the 50 or-so people that attended my talk (the conference gets 350-400 annually). In retrospect, I wish I had promoted the event and my talk, because it surprisingly went great. And to be fair, there was no way of knowing that I would get a full hour instead of 15 minutes. It's a weird thought, but let us know in the comments below if adding an e-course or video series on the business of blogging would interest you. 99% of you are here for the recipes, like most other posts, so let's GET TO IT!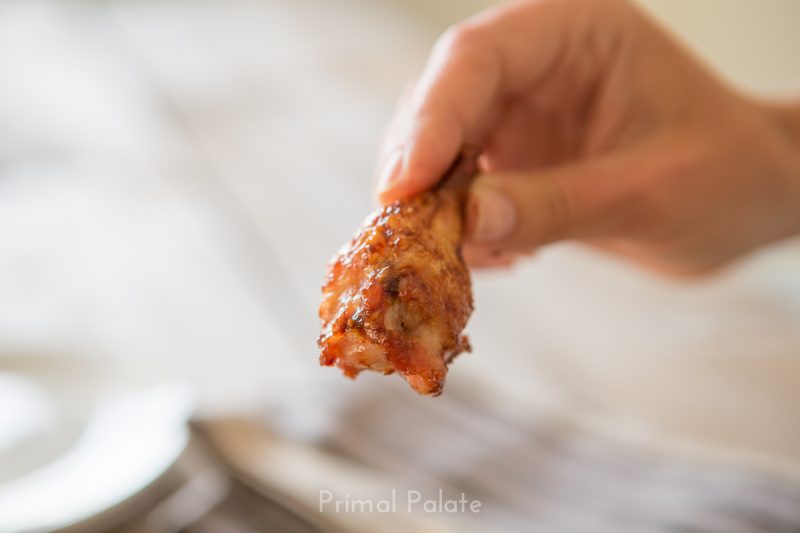 This recipe is like the sister-recipe to our Honey Sesame Wings in Make It Paleo 2, our new cookbook. That recipe, in itself, has been popping up on Instagram almost daily – people are LOVING it. Maybe we'll share it soon, but in the meantime, we'd love if you would consider ordering the book on Amazon!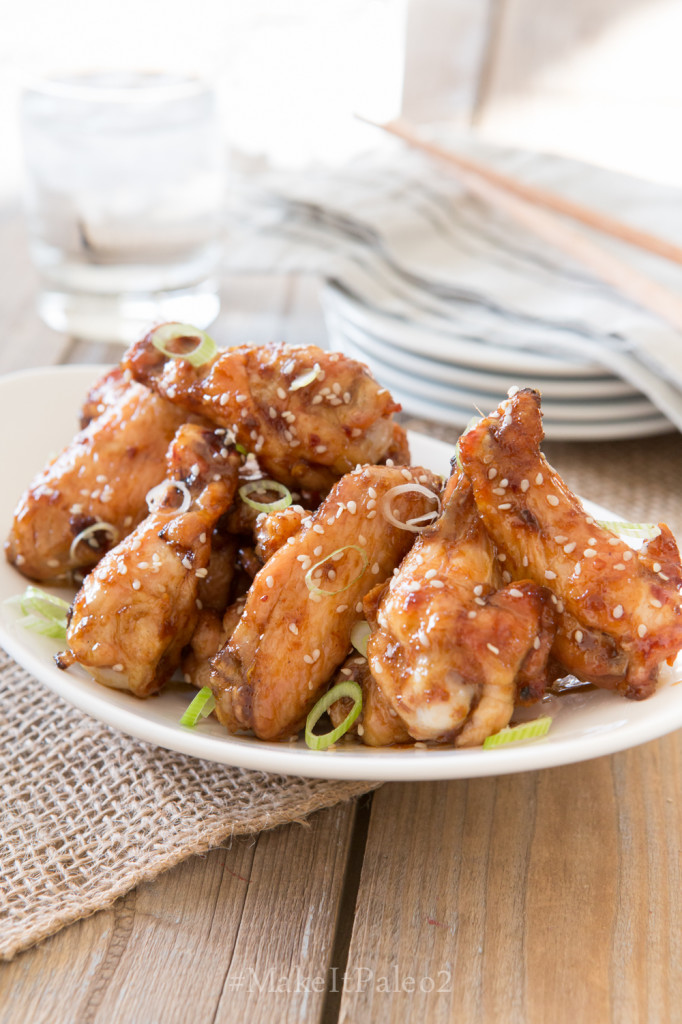 Like the Honey Sesame Wings, this recipe has all the makings of a really satisfying dish: Some crunch, some sweetness, some saltiness, a little hint of savory and umami. The complexity of flavor you can get from so-few ingredients is pretty staggering, actually. We've been enjoying it many times a week for a few months now, and we NEVER get tired of it. Needless to say, we've gotten this recipe down to perfection, and you're going to love it. You can either grill or bake the wings, and the result will be great either way. In fact, we grilled them last night, and they were awesome, because grilling foods really imparts another layer of complexity (that smokiness is awesome in this dish). However, for ultimate crispiness of the chicken skin, go with the baking route…. trust us!
So here's how to go that route. Start out by arranging the wings on wire racks on a rimmed baking sheet (to catch the fat drippings). Heat your oven to 450 F.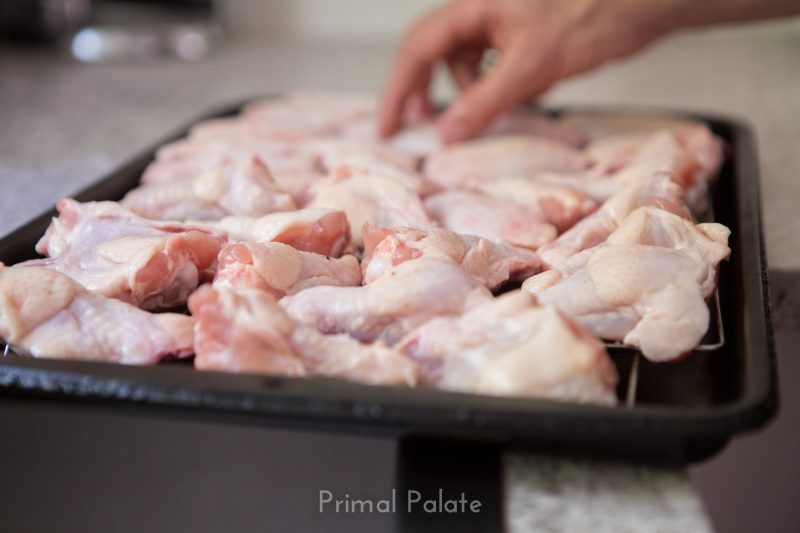 Sprinkle them fairly liberally with Pink Himalayan Sea Salt, which is the most mineral rich salt you can get. We love the stuff from San Francisco Salt Co.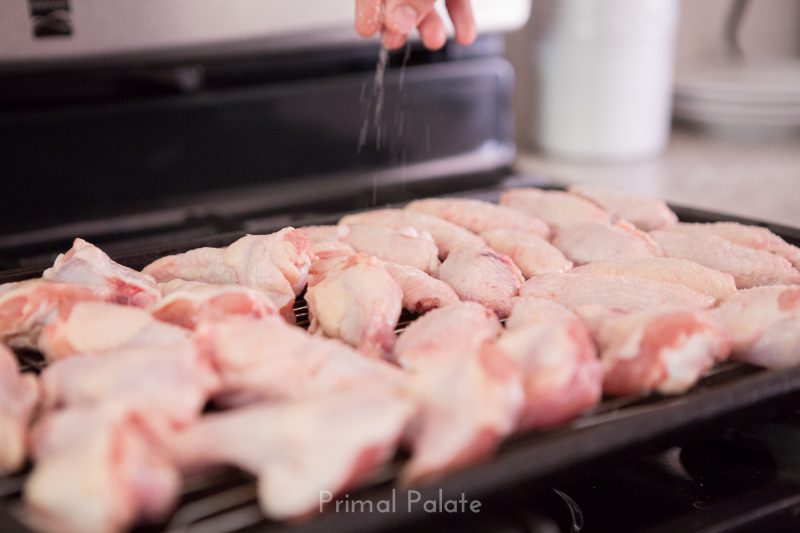 Pop them in the oven and set a timer for 45 minutes. When the time has 12-minutes left, start the sauce.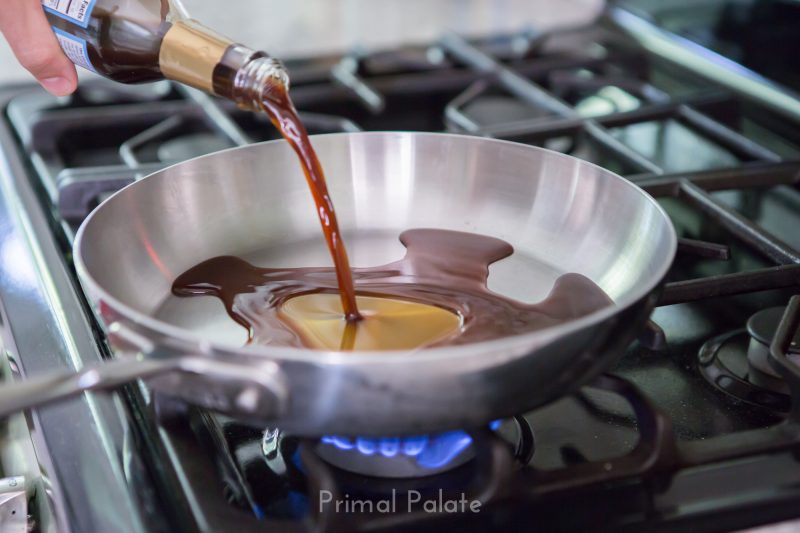 Start with 3/4 cup of Coconut Aminos in a skillet over medium heat. (It's almost a full bottle, but it will reduce and taste amazing!) We recently had a "duh moment", realizing that getting a 12-pack on Amazon really gets the cost per bottle down to like $6 a bottle. Thats better than local prices for us.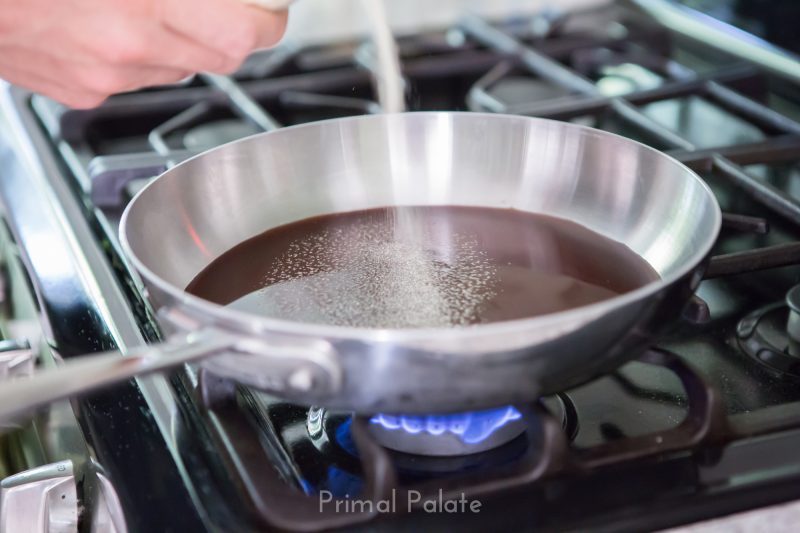 Sprinkle with garlic granules, ground ginger, and onion granules. You can eyeball it… just so that it's all dusted on the surface of the aminos.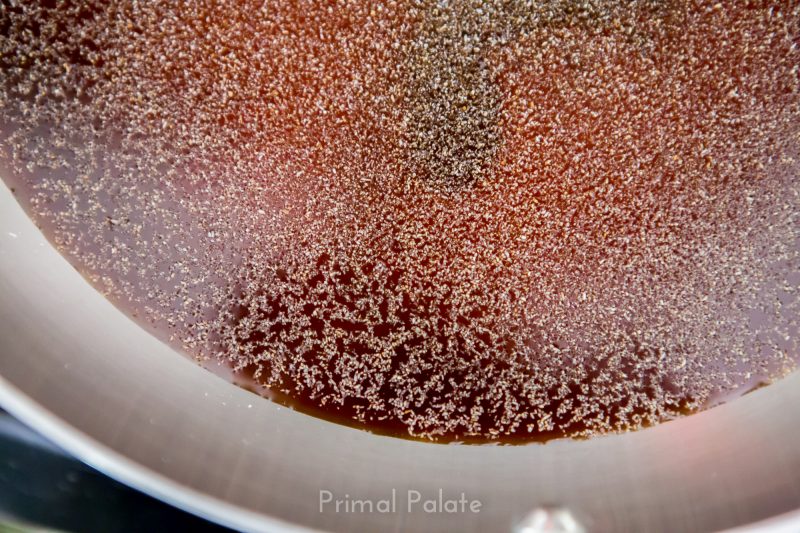 This is basically what it'll look like.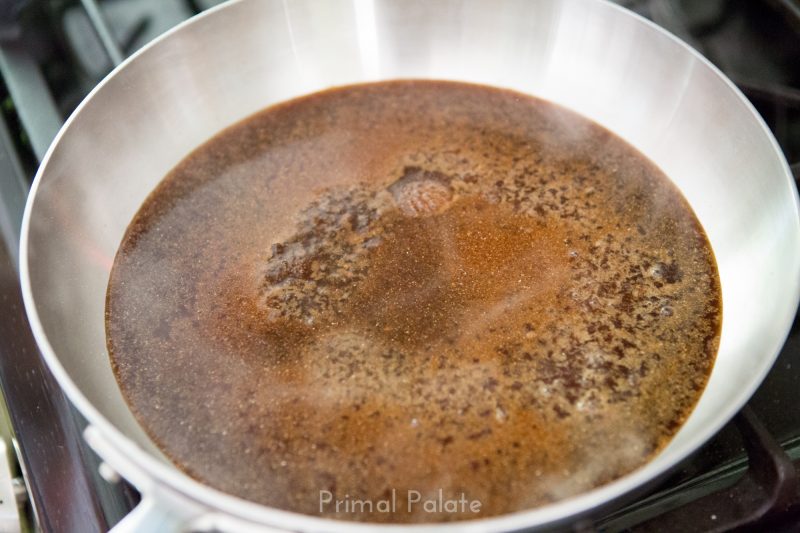 A few minutes in, it will start to bubble.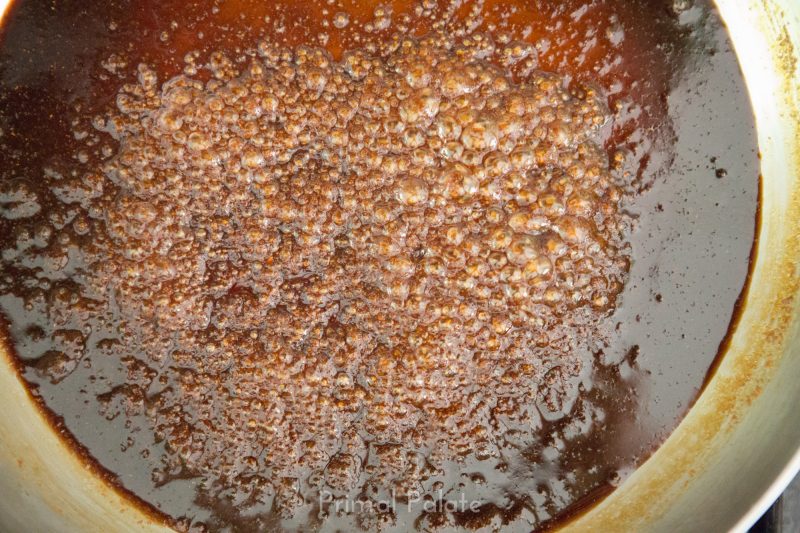 And then start to reduce. You'll want to stir it to help it to reduce evenly and not burn to the pan.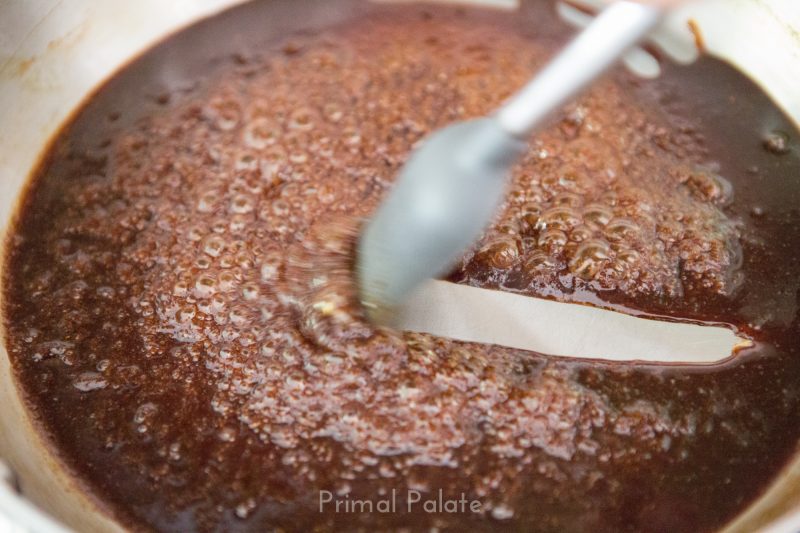 When you can push it around and leave a trail behind your silicone scraper, it's pretty much done. Turn the heat to low to keep warm until the wings are done.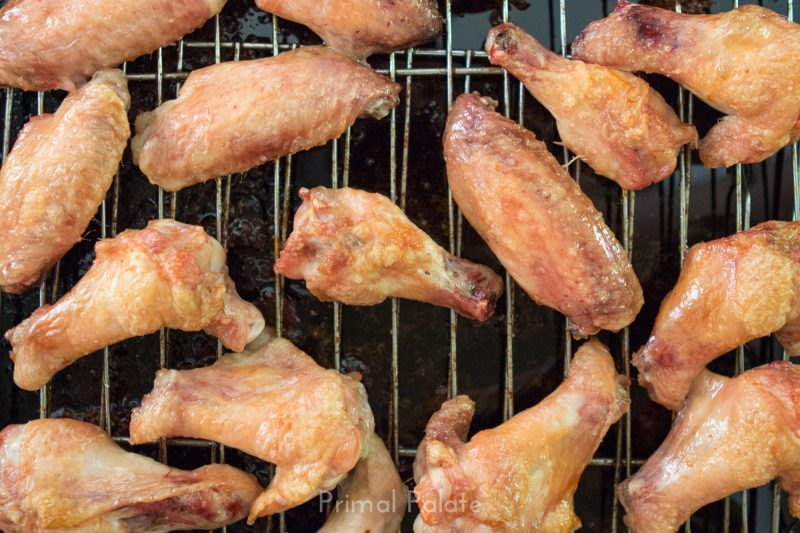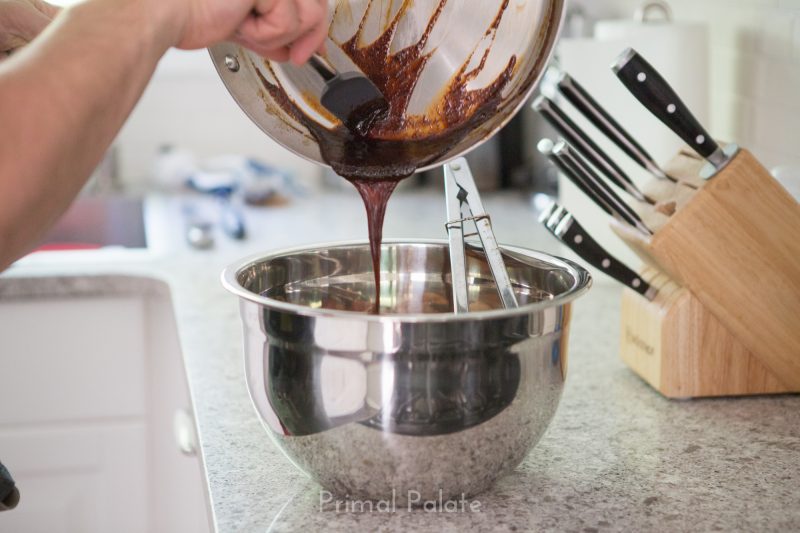 Put the wings and the sauce in a big bowl, and stir to evenly coat the wings with the amazing sauce.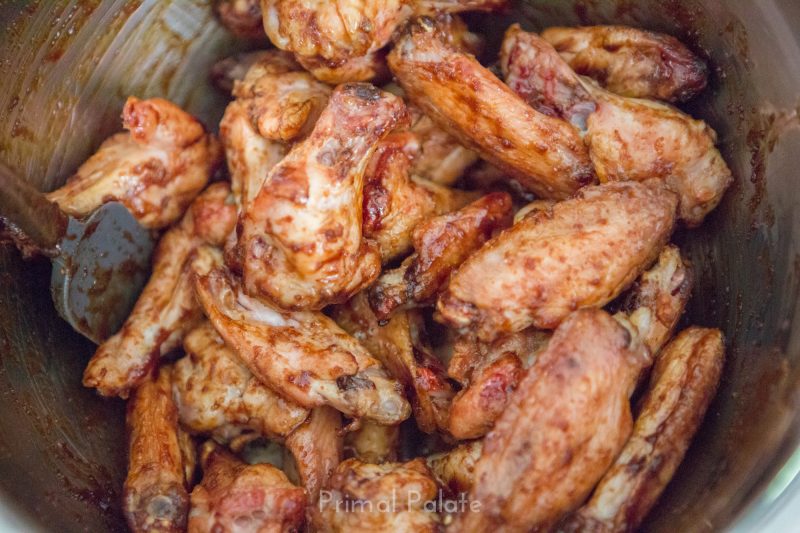 And that's pretty much it! Serve it with some veggies, and voila: an EASY PALEO DINNER.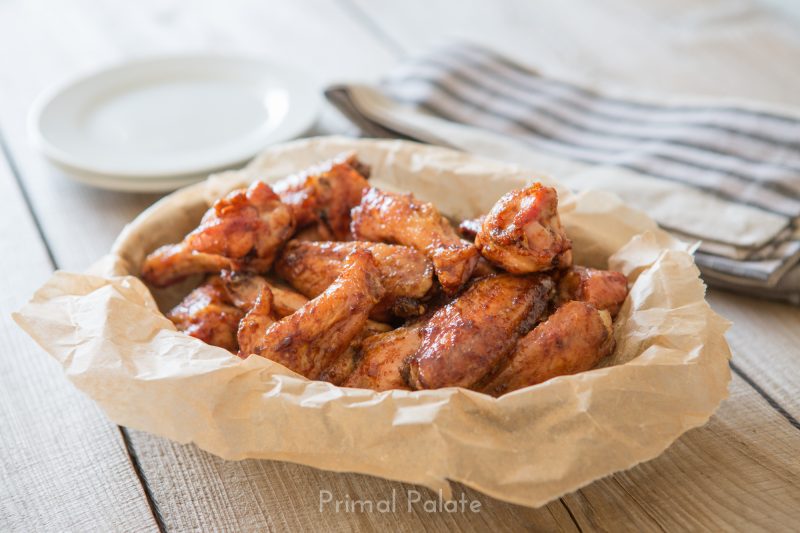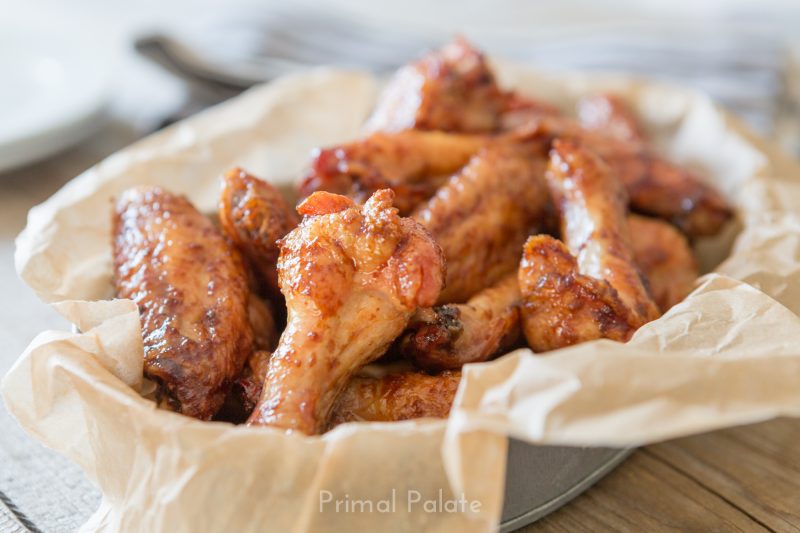 We hope you love this recipe as much as we do! And don't forget, our KitchenAid 7qt Stand Mixer giveaway ends in a few days. It's a one-time-entry giveaway, so even a late entry is just as good as an early one.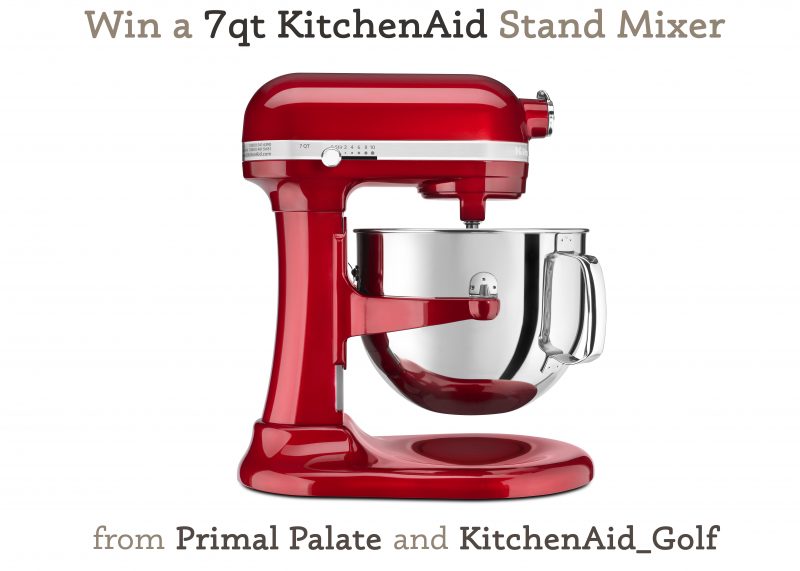 Cheers, enjoy the weekend!
-Bill & Hayley