This new recipe was recently created by Hayley, and inspired by the fresh flavors of our August garden (ie: Basil!) This year, the garden-grown basil has been fantastic for some reason. Some people will naturally think 'pesto' for basil, but that's a lot of work. And if you've taken a look around here, we don't do "work" unless it really involves a cake or something sweet. Weeknight meals are all about getting great food on the table with as little effort as possible. This meal definitely falls into that category.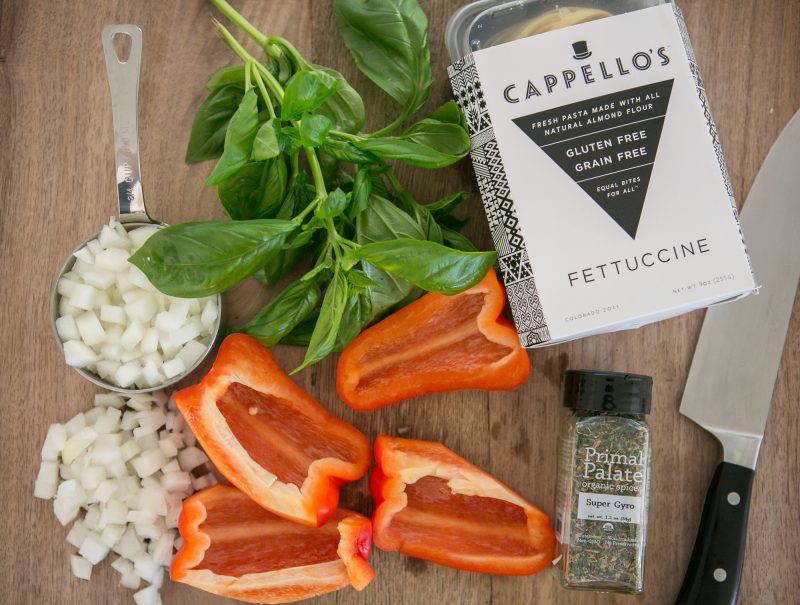 For this meal, since we're keeping it easy, we're using Cappello's Fettuccine, which you can literally grab from the freezer (many stores now carry Cappello's!) It cooks in 45 seconds, so it doesn't really require any special planning. I'm the worst when it comes to planning. We also used our AIP-friendly Super Gyro Seasoning. This is a Greek/Mediterranean seasoning that makes those flavors super simple to achieve. You can grab the blend in our online store in our AIP friendly trio of blends, OR on Amazon in singles. Your choice!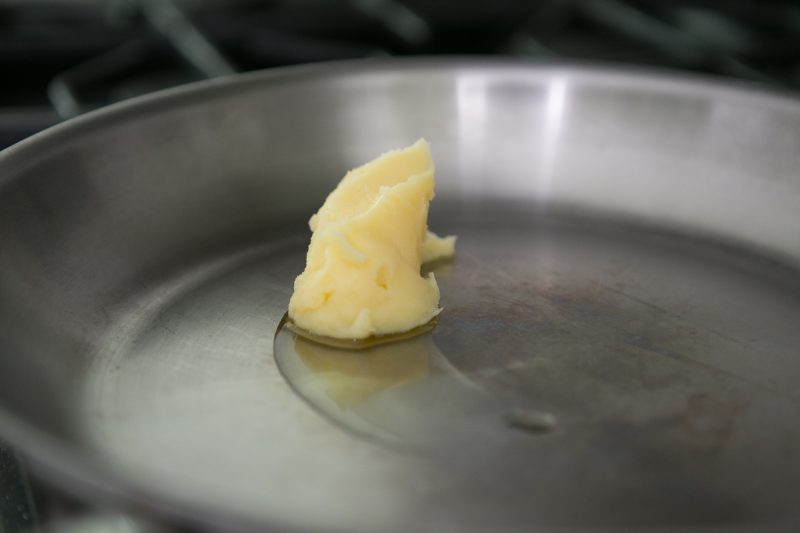 First, you're going to dice the onion and bell pepper, as shown above. Then melt some ghee over medium low heat in a large skillet. We like a stainless steel skillet for this recipe.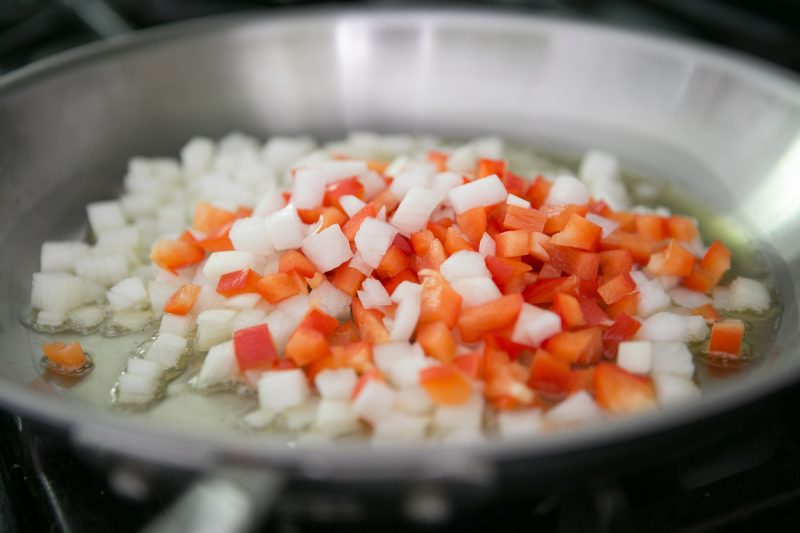 Add the vegetables, along with some pressed garlic, and saute.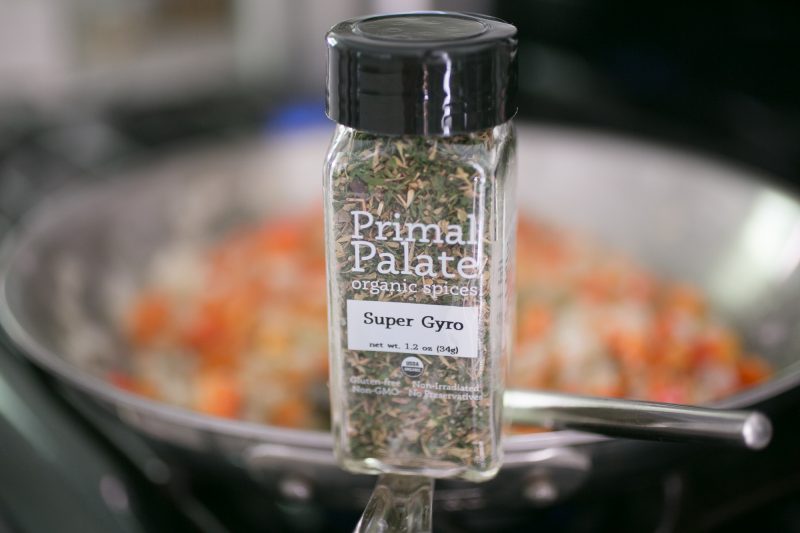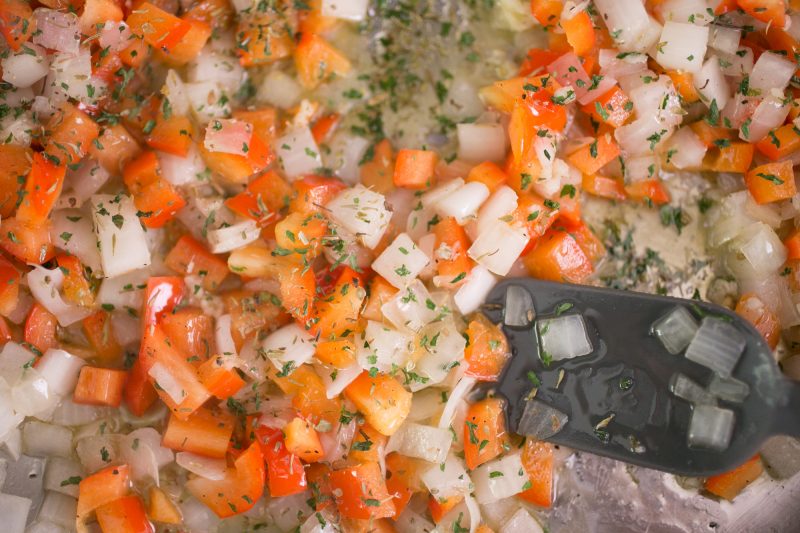 Next up, add some of our Super Gyro blend to the vegetables. No fussing about proportions, grabbing 8 different bottles of spices, etc…. just this ONE spice blend is all you need for a perfectly seasoned dish. Trust us!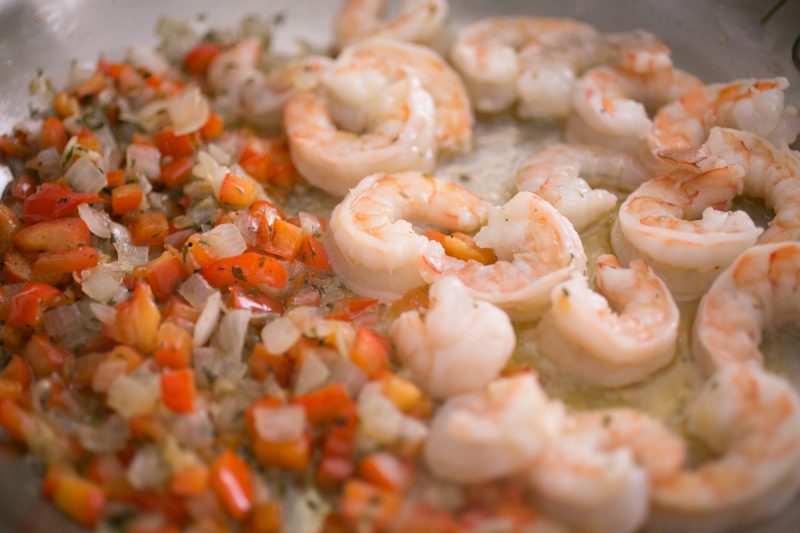 Once the veggies are soft, push them aside and cook your shrimp in the same pan. This gives them awesome flavor.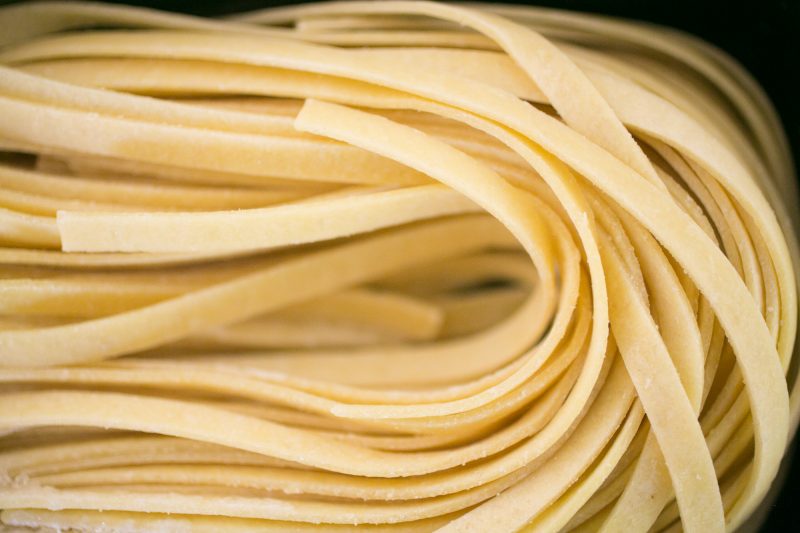 The last step is to cook the pasta. All it takes is about a minute, which is awesome! We love Cappello's. They produce our Chocolate Chip Cookie Dough, after all.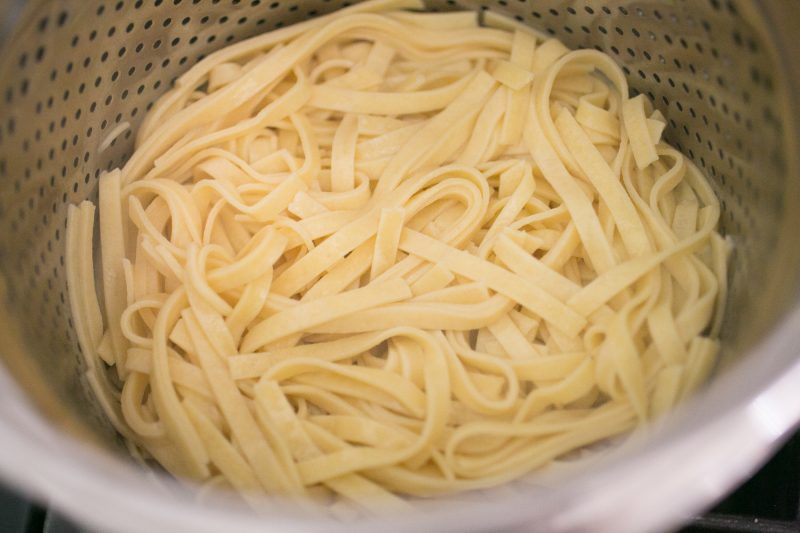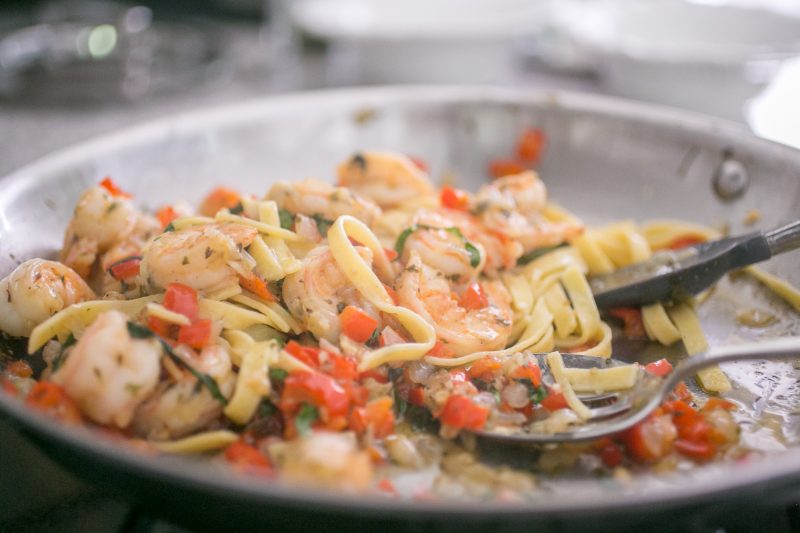 Once the pasta is finished, toss it all together in the pan. Add a little sliced basil, toss, and serve immediately!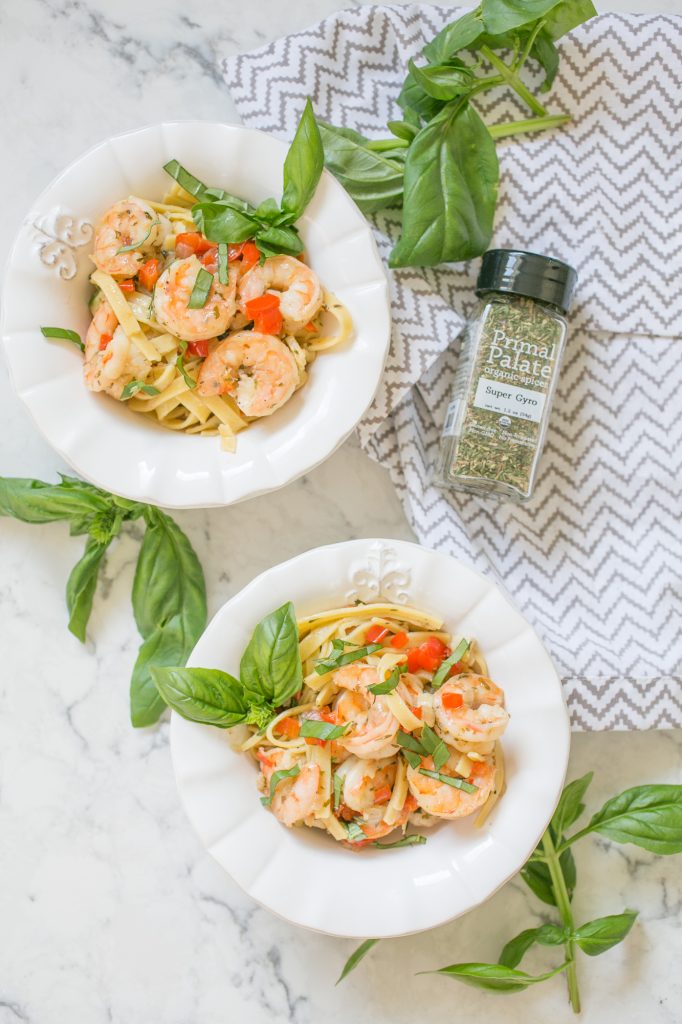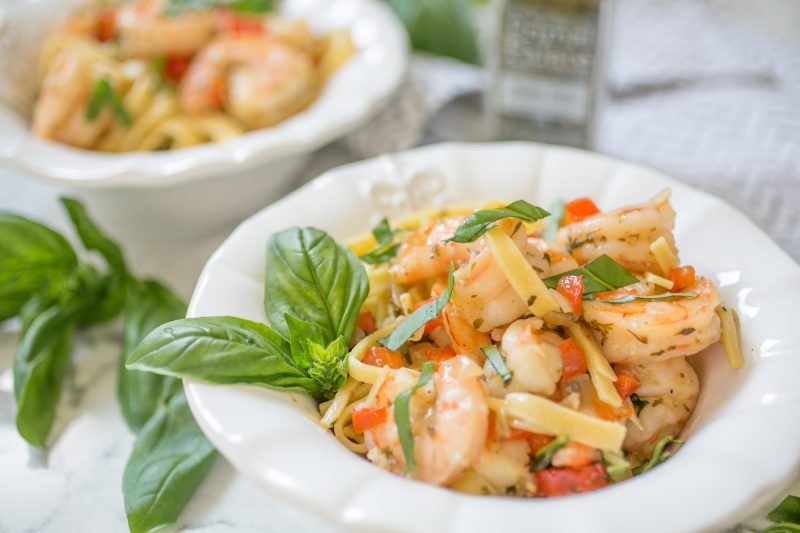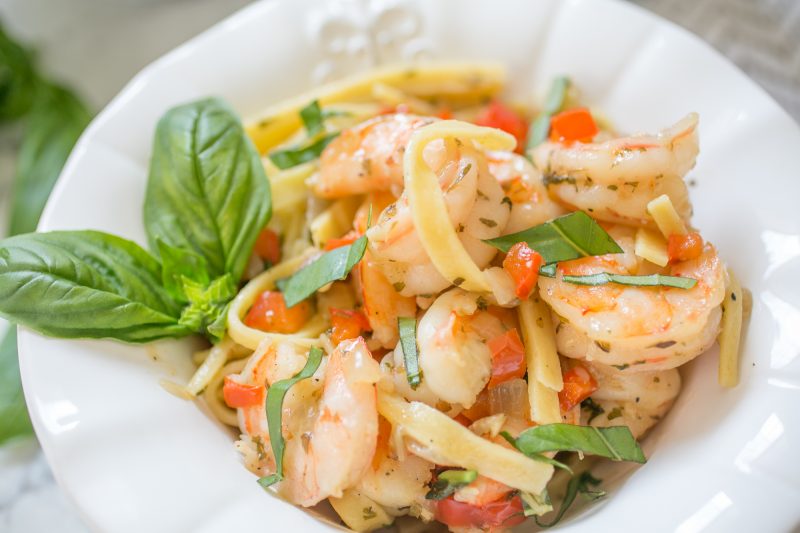 See? Told ya! This recipe is so easy!
We hope you love this recipe! We're going to be taking a little personal time off over the next week: Today is our wedding anniversary (yay!) then tomorrow is Hayley's birthday (double yay!) and finally, we are taking our first real vacation in about 2 years next week (triple yay!) So naturally, we wanted to get this recipe in your hands before all that happens. We have a few more things to post before we go, and this recipe was one of them.
Cheers!
Bill & Hayley