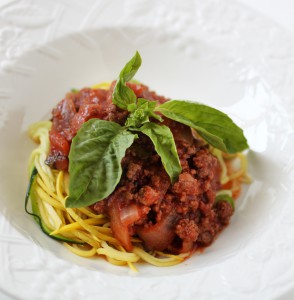 One of my favorite smells is a pasta sauce simmering on the stove with red wine added to it. I have been wanting to make a red wine pasta sauce for a while now, but red wine is…"cheating", so I've avoided it. I always tell myself that "cheat" ingredients are only for "cheating", and not for real meals. That's why you typically won't see a nut flour or maple syrup in one of our "real food recipes". I personally like to keep my real food meals as clean as possible, because I know even if it is grain free, that doesn't mean I will feel good after eating it if it has an ingredient that I don't consider to be an optimal food.
I finally decided to give in to my desire to make a red wine sauce for several reasons. Number one was that we had a last minute dinner guest, my mom for her birthday. She has been mostly Paleo for about a month now, and she is feeling and looking amazing! My mom just turned 50, and she looks like she is in her late 30's. She's has aged incredibly well (if you can even say she has aged at all…), which is a direct result of how she was raised and how well she took care of herself through out her adult life. You can always tell how well a person has fed themselves by the look of their skin; she does not have any wrinkles, and her skin is always glowing!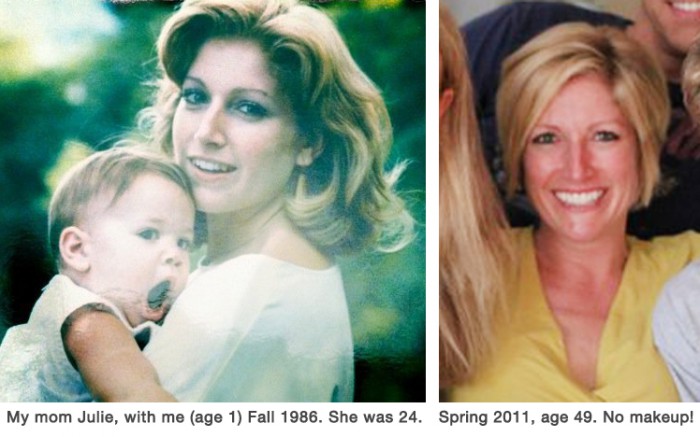 My mom loves pasta dishes, so for her birthday dinner I wanted to whip up a pasta dish good enough that she wouldn't miss regular noodles. The second reason I decided to make this recipe was because we had all of our family over for a cookout this past weekend, and since Bill and I really don't drink, we had half a bottle of red wine left over that would have gone to waste otherwise.
This recipe turned out very well. My mom loved it, and that was most important to me. I'm glad that we could make her birthday special, and send her off on her birthday spring break vacation with a happy belly! The only thing I would have done differently with this recipe would have been to add some tomato paste. I didn't have it on hand, and the dish turned out great without it, but I think it could have used it.