Hello Friends!
Happy Friday. Thank goodness it's Friday, right? I don't know about you, but I sure could use a weekend (or two). We have all kinds of good stuff for you on this fine, beautiful day. We've taken a detour from our weekly Featured Contributor Friday column and recipe roundups to bring you this special post.
First of all, we thought you might like a very simple, very tasty pork chop recipe that we make often. This is one of our standard go-to meals when we don't have the energy for an involved meal. All you need are some bone-in pork chops and our Adobo seasoning. Do you already have it? If so – great! If you haven't tried our spices yet, you can check them out here (Scroll to the bottom to find out how to get 10% off!)

Start by taking the pork chops out from your refrigerator and letting them come slightly up to room temperature (10 minutes should do). Season the pork chops with our Adobo seasoning. You can use other adobo seasoning if you don't have ours, but I can guarantee it won't be as tasty. I might be biased, but if you browse #PrimalPalateSpices on Instagram, you'll see that our Adobo Seasoning already has a cult following. Some have even called it a drug. I assure you, we aren't drug dealers, we just love making great spice blends. But even so, don't get pulled over with a bag of "adobo" on you because it won't go over well.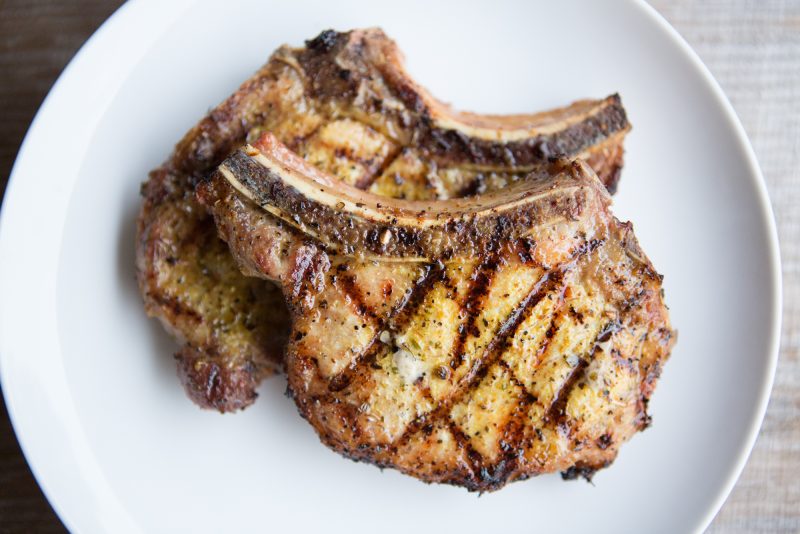 Heat your grill with medium high heat. I like direct heat for pork chops, and I like to cook them until they're on the verge of not being pink any more. Everyone seems to have a different preference when cooking pork. Some like it more medium. Some like it cooked through. If you get your meat from a trustworthy source, then you can probably do more medium. Cook the pork chops over direct, medium heat for about 4-5 minutes per side, for a bone-in 3/4″ thick chop. If it is thicker, switch to indirect heat after 8-10 minutes, and allow it to gently cook for a few more minutes.
You can pair these pork chops with just about anything. We always try to eat something green with every meal (a salad is a no brainer, but we also like artichokes and grilled zucchini), plus something a little more starchy like yuca fries.
That's it, this recipe is so great, and so easy that it's more of a method than a recipe. But hey, simple recipes are COOL recipes.
One more thing before you dive headlong into your weekend…
There is a great deal going on right now that has organized 40 ALL NEW wellness-minded ebooks into one great resource, called the Reset and Thrive Library. (If Library sounds sophisticated, that's because IT IS.) You end up getting something crazy like $1000 worth of resources for 98% off. The Paleo Parents Team has put this one together and they asked us to contribute, but since we didn't have anything new to give, we thought we would offer up a coupon code for our Organic Spices instead. If you purchase the bundle, you'll also get 10% off your Primal Palate Spices Order (which you can use TODAY if you still need to order them), so it's a double hit of savings if you want to do a little pre-weekend online shopping. Your purchases through our affiliate link will give us a small commission of your sale, at no extra cost to you. Yep, it helps support all that we do here, including bringing you great, free recipes all the time.

Fearless Sauerkraut Recipes
Make It Merry: A Healthy Cookbook
7 Steps to Better Grain Free Baking
And Here We Are at the Table
Health, Happiness, Paleo
Paleo Desserts For Dummies
The Healthy Breakfast E-Cookbook
Real Food Recipes
Paleo in a Pinch
Modern Paleo Holiday Cuisine
Family Feast eBook
Salads Without Grain
Paleo to Go

Planning Resources: TOOLS & TIPS FOR BALANCE
Holistic Jump Start – 6 session online holistic nutrition course
The Gratitude Workbook
Bite Size Paleo
Full Plate: Nourishing Your Family's Whole Health in a Busy World
The No Brainer Wardrobe
Clean & Colorful Cooking Cookbook and September Jumpstart Grid
Simplify
Self Care for Self Love
Once a Month Meals
Wild Diet Shopping Guide
The Ancestral Blueprint's Guide to Sleep Troubleshooting For All Ages
Fall Watercolor Calendar Printables
Go to Bed

Health Strategy Resources 
Unprocessed Living
Paleo Made Easy
The Empowered Mother
The Kitchen Workout: 7 day food and exercise program a beginner's guide to losing weight in the kitchen
Weight Loss Unlocked
The Dietary Cure for Acne
Beauty's Dirty Secret
Mind & Body Balancing: A Guide to Counteract Inflammation Through Food & Lifestyle
Kick Pain in the Kitchen

Little Paleo Big Wins
Baby's First Foods
Teacher's Notebook Packet
So Damn Domestic Kids' Bundle
MOMables

Plus, you'll have access to discount codes from a TON of great Paleo-minded companies!
AMRAP 20% off
Bare Bones Broth 10% off
Bubba's Fine Foods 10% off
Caveman Cookies 15% off
Energized Life 50% off
EPIC Bar 20% off
Exo 15% off
Farm to People 15% off
Fearless Fermentation 50% off
IntelliBED 10% off
Nikki's Coconut Butter 10% off
One Stop Paleo Shop 10% off
Otto's Cassava Flour 10% off
Paleo Living Magazine 50% off
Paleo Magazine  20% off
Paleo Meals to Go  25% off
Paleo Treats 10% off
Pete's Paleo 10% off
Primal Life Organics 49% off
Primal Palate 10% off
Pure Indian Foods 20% off
ReUseIt 15% 0ff
RxBars 10% off
Safe Catch 10% off
The Maca Team 10% off
Vital Proteins 20% off
Paleo Plan FREE 30-day membership
US Wellness Meats 15% off

We think this is one of those rare, great deals. With everything you get, it's a tremendous value! The Reset and Thrive Library includes 40 healthy living, planning, and cooking resources which can be viewed on any e-reading device. All the resources are PDFs, and available for instant download (on mobile OR computer). This awesome Library is only available for $39 until August 31. (Want to know more? Get more information and answers to frequently asked questions here)