Hi friends! We're so excited to finally unveil this giveaway, which has been many months in the making. Late in 2013, I (Bill) started looking around for an espresso maker for ourselves. I wanted something that was inexpensive and also pulled a great shot. Except at the time, I didn't even know what I was looking for. I didn't know anything about espresso. And I certainly didn't know anything about making espresso. I only knew that I loved drinking cappuccinos, and I knew that I wanted to have the ability to make them at home when I wanted to. After watching countless hours of youtube videos and reading about different machines, I still had only scratched the surface of the art. A few weeks later, I came across a "Best Gadgets of 2013" article. I forget if it was online or in a magazine. But there was this beautiful, completely manual espresso maker featured in the article, called the ROK Espresso Maker. Formerly known as the Presso, the ROK is like having a french press for making espresso. But unlike a french press which only needs a few pounds of pressure from the palm of your hand to operate, the ROK needs a full throttle, two handed, gear-assisted pull to force high pressure water through the coffee to make espresso.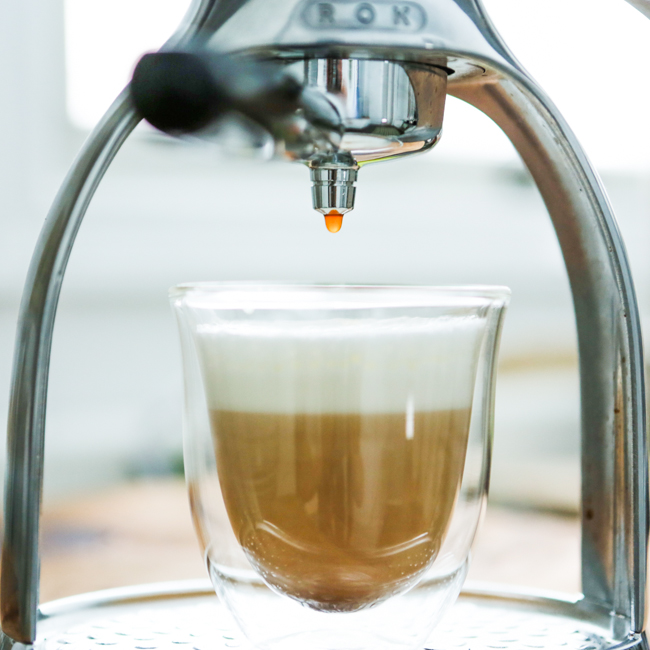 Below is what I've learned about making espresso thus far (and feel free to add in any tips in the comments below, because I'm still far from an expert on this stuff). Even though I still have a lot to learn, I thought it would be fun to share my experience with the ROK thus far.   Okay, so as I understand it, there are four critical components to making any type of coffee: beans, grind, water, and method. Here's what you need to know about each.
Beans
Get beans that have been roasted within the last 2-7 days. The beans need a few days to off-gas after the roasting process, but will be optimal for making espresso within that 3-14 day window. This is when you'll get the best crema. The better and fresher the beans, the better and thicker the crema. Your best shot at getting good beans will be visiting a very good coffee / espresso shop. (In Pittsburgh, we recommend Espresso A Mano in Lawrenceville. They are friendly and knowledgable!)
Grind
Some will argue that the grinder is just as important if not MORE important than the espresso maker itself. To make espresso, you will need a conical burr grinder. But how good of a grinder? We have a Capresso burr grinder (just about $100 on Amazon), and after using it for 7 months, I think it's a really good "starter" grinder that 99% of people will find acceptable for making any type of ground coffee. For the espresso purists and aficionados, a better grinder will be needed like a Rancilio Rocky Burr Grinder. Conical burr grinders do not grind the coffee evenly. On the contrary, they grind the coffee in a range of sizes so that it compacts better in the portafilter. This is important for building the proper pressure behind the shot. Another point of note is to only grind the beans within 15 minutes of making the coffee.
Water
Get the purest carbon-filtered water you can. A cup of coffee (or espresso) is mostly water, so the water is really important. We only use water that has been purified in our Berkey water filter. If you don't have one of these, you should really get one, because it makes the most amazing purified water. Carbon-filtered water is the best choice for most espresso machines because of the water chemistry, which I don't fully understand. However, you don't want to use tap water (hard water) or well water, or deionized water either.
Machine
There are a multitude of machines out there for making espresso, and we just so happen to have two different types. After getting the ROK in November, Hayley surprised me for Christmas with a Gaggia Classic machine (both are sold by our friends at Whole Latte Love, our partners for this giveaway, so I hope it's okay I mention that little tidbit.) While the ROK is a fully manual machine (down to pulling levers that force the water through the portafilter), the Gaggia is a pump type machine, although many will still consider it to be a manual machine. Unlike many of the new, fully automated pod espresso machines now available to the masses, the Gaggia and ROK both make you work (and think) for your coffee. If you like a little hands-on action and don't have a mega budget to blow, these machines might be for you! In essence, all espresso machines aim to force 135 psi of purified water through approximately 15 oz of finely ground espresso in 20-25 seconds. If it sounds tedious, that's because it sort of is!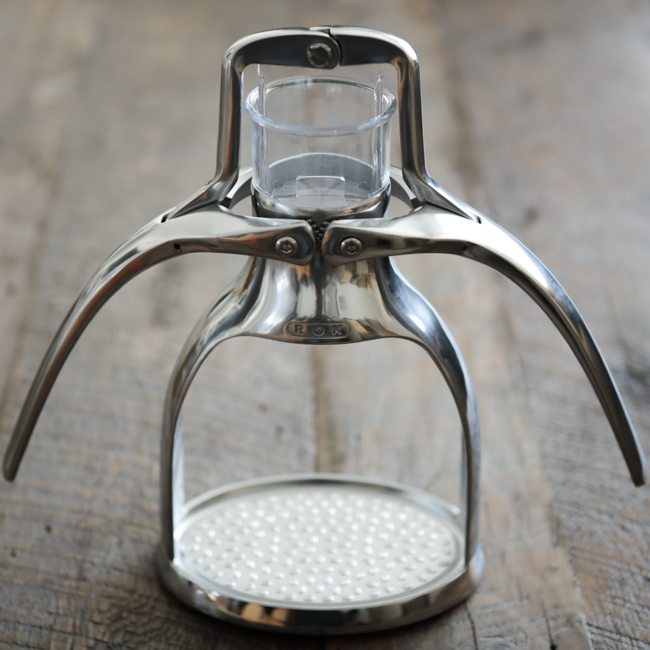 I like to think of the ROK as a truly "craft" espresso experience. To start, you need to boil a kettle of water. While the water is coming to a boil, I like to grind my beans. I'll grind out about 15 ounces of coffee on the second to finest setting on our Capresso burr grinder. Once the water is boiling, I pour off a little bit over the empty portafilter, which helps to warm up the cold metal. This is one of the basic steps that encourages a good crema on the shot (and a hot espresso temperature). Don't skip this step if you don't have to. After the filter is warmed up, I'll give it a quick wipe out and then add the freshly ground coffee. After a few weeks of using the ROK, I bought an aftermarket tamper for the filter basket, but after a while I went back to using the plastic one that came with the set. I ultimately felt like it just fit better, and gave better control. (The same was not true for the Gaggia machine – this aftermarket tamper was a tremendous improvement over the plastic one that was provided). Once the ground espresso is in the warm portafilter, level it off at the top with your finger, then tamp it down. I've found that if you tamp to the first graduation line inside the filter basket, you're getting about 30# of pressure, which I read is ideal. Lock the basket into place, and put a cup under the filter. Depending on what type of shot you want to pull here (single, double), and what type of drink you want to create (basic shot, cortado, latte, cappuccino), this is where the technique will begin to differ. What I've shown in the video below is the way I like to make my espresso: a double shot poured over about 3-4 oz of coconut cream. In the video below, I can see a whole slew of mistakes (didn't level the grinds to my usual liking, didn't crank down the portafilter tight enough, and the shot turned out a touch weak.) This is the beauty, yes beauty, of the ROK. It's not mindless coffee making – it's mindFUL coffee making. I can usually do a lot better when I'm not also trying to shoot a video. Go figure. 🙂     Pour water into the upper chamber in the ROK to within about 1/2″ of the top. (Thanks for the tip on that, Ben Hulet!) This amount of water seems to provide the back pressure needed to pull a good shot. I don't think this machine achieves 135 psi, but I do think that you can get very close if you really dial in your grind and water level. All in all, I'm really enjoying the espresso I'm making with the ROK. If you'd like a chance to get your hands on one, we're hosting a giveaway this week with our friends at Whole Latte Love. All you have to do is enter below. The first option (joining our email list) is required. (Don't worry, you'll like our emails). After that, you can earn bonus entries (including a sharing bonus).
Enter the Giveaway here:
a Rafflecopter giveaway
Still Hungry? GOOD!
DEAL of the Week: 10% off Cappello's Products!
We've teamed up with Stacey and Ben at Cappello's to offer an exclusive 10% off discount on all their products. Enter "Primal Papas" on checkout. The more you order, the better the deal! BE SURE to add some of our famous grain-free chocolate chip cookie dough into the mix. 😉
Shop Coffee Tools 
If you feel inspired by this post and want to set yourself up with all the espresso-related tools we recommend, visit the Primal Palate online store! You'll find all the kitchen products we love, handpicked, just for you.
Coffee Menu
See our "Pleasant Buzz" Coffee Recipes menu on the site!
Featured Coffee Recipe
Make our Coffee Ice Cream, and then top it with a hot shot of espresso!
Plan Your Meals
Want to plan your meals around coffee? We don't blame you! Use our free meal planner, called myKitchen (also available as an app!)
Want to start doing this whole Paleo thing?
Get our extensive (and popular) 30 Day Guide to Paleo program! It includes everything you need to get started today! (click the link below)