Thanksgiving is just ONE WEEK FROM TODAY.
Did that make you break out into a sweat, or maybe even panic a little bit? Don't worry: we have you covered with last week's blog post that showcases over 50 Paleo-friendly Thanksgiving Recipes. And today we are excited to add ONE MORE to the collection, thus completing the holy Trinity of Grain-free Thanksgiving Pies.
The "Pie Course" of Thanksgiving is perhaps just as highly anticipated as having the Turkey itself (hey, at least for us, it is!) Today we've added the Pecan Pie recipe to Primal Palate from our second cookbook, Gather (which is all about grain-free holiday entertaining). That book still holds a very special place in our hearts! If you don't have Gather yet, or aren't sure you want the book, we are sending out a VERY special email to our subscribers on Saturday morning that will include a few Thanksgiving recipes from Gather. If you aren't a subscriber to our newsletter, you can subscribe here.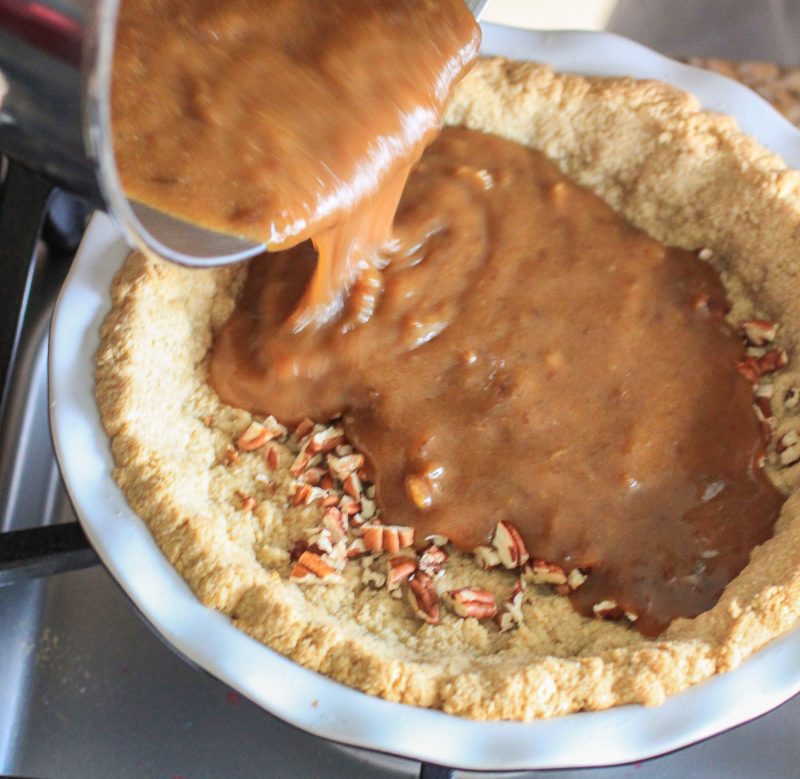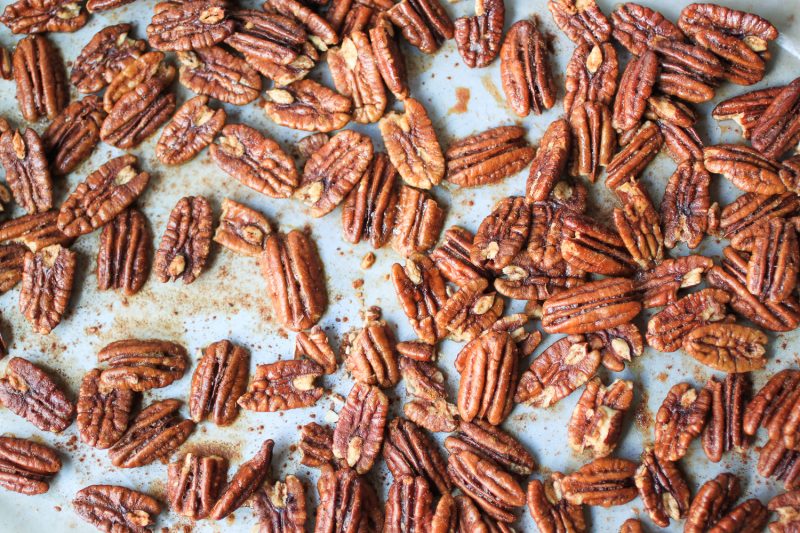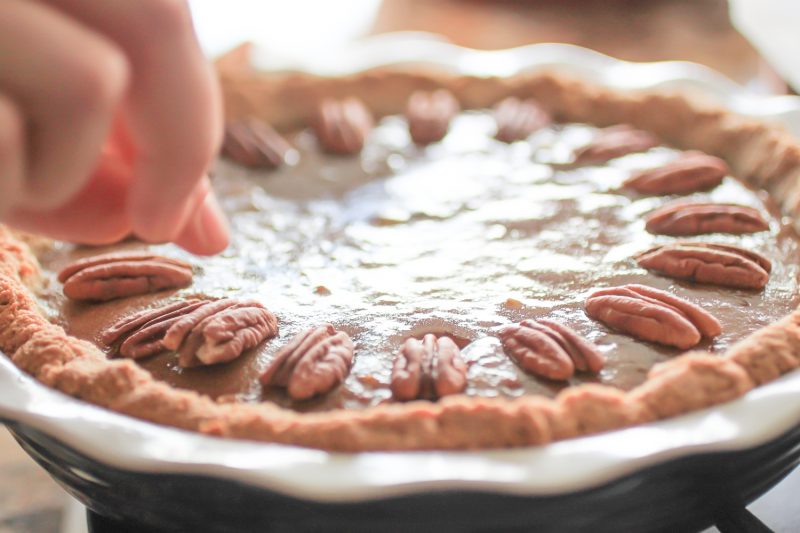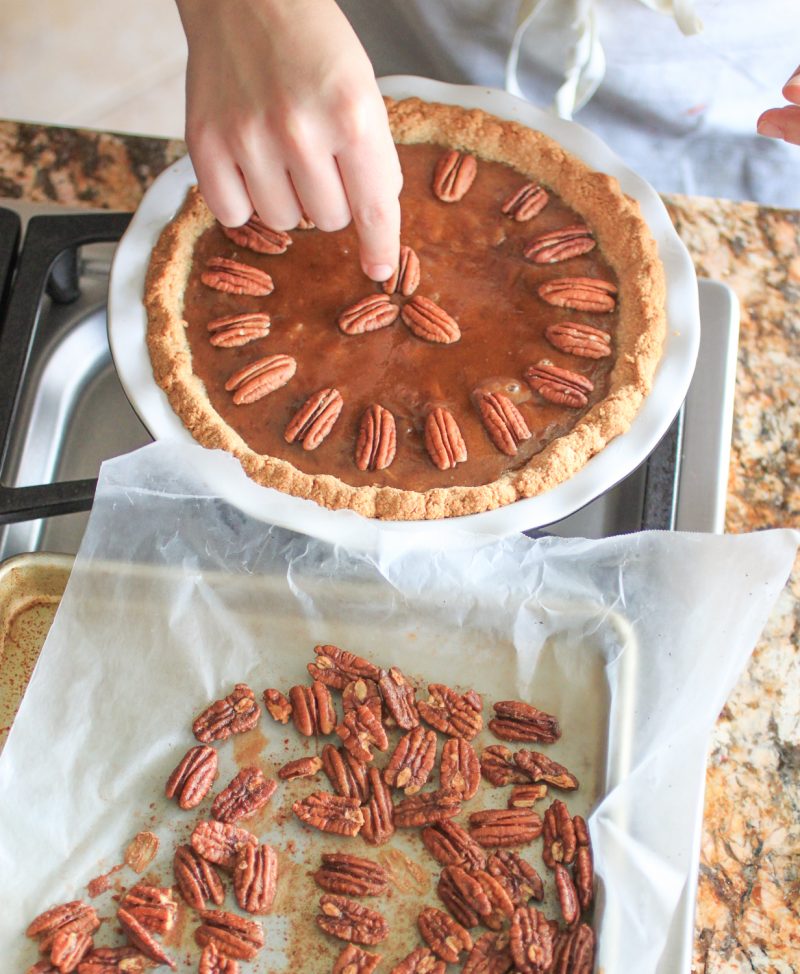 Along with our Pumpkin Chiffon Pie, and Hayley's Apple Pie, this recipe literally completes the trifecta of pies that are expected at Thanksgiving. We hope you enjoy it! You can find this recipe at the bottom of the post, but don't miss this awesome offer from Primal Kitchen Foods and Thrive Market below!
---
Avocado Oil Mayo? Count Us In!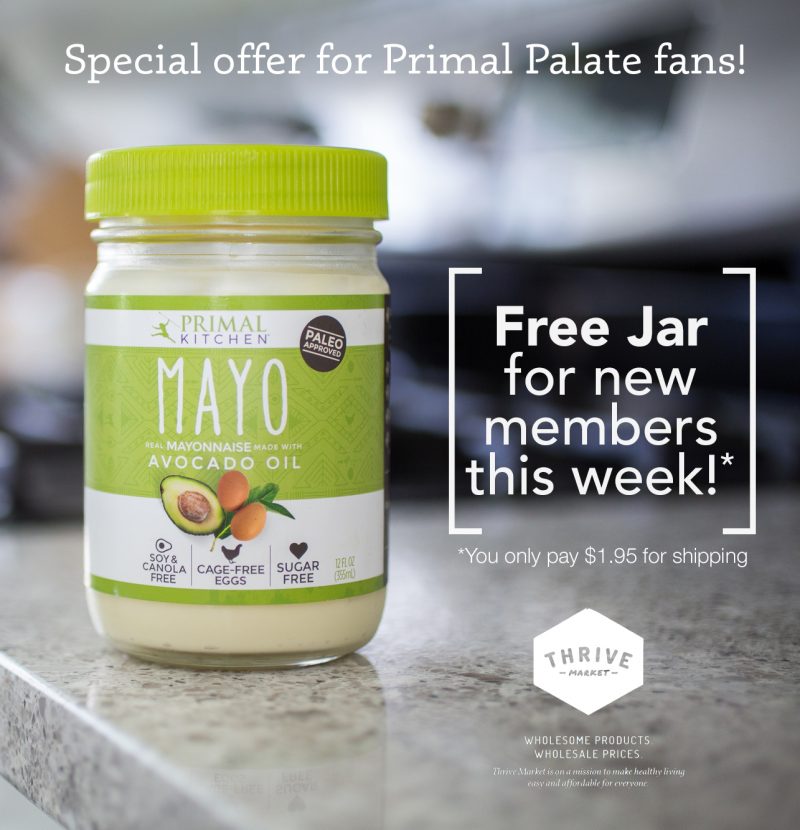 (Click the image to claim your free jar of Primal Kitchen Mayo!)
For YEARS, we've been in search of the perfect Paleo-friendly Mayonnaise. In fact, with four cookbooks released, we realized that an updated version of our own paleo-friendly Mayo is the one common recipe that appears in all of our books… with each version besting the previous. But what if you just don't really care to make your own mayonnaise. It takes a fair amount of effort after all, and those that follow a Paleo lifestyle are always looking to streamline their already-significant amount of time in the kitchen. Simply put: most of us just don't have the time to make everything from scratch. When Paleo-friendly options arise for certain convenience foods, we're HAPPY to incorporate them into our pantry. Enter Primal Kitchen Mayo (by Mark Sisson), our hands-down, favorite Mayonnaise.
There are so many reasons we love Primal Kitchen Mayo. When shopping for foods, the very first thing we do is look at the ingredient list. Primal Kitchen Mayo passes the 'real food' test with flying colors. The ingredient list has no nonsense ingredients: Avocado Oil, Organic Cage-Free Eggs, Organic Egg Yolks, Organic Vinegar (derived from beets), Sea Salt, and Rosemary Extract. There are no other mayo's on the market with clean ingredients like that. None. Second is the flavor test: and if you weren't sold on the ingredients alone, the flavor will make you a believer. This stuff is REAL MAYO. Close your eyes and taste it, and you might think it's almost a joke. How could it POSSIBLY be paleo-friendly? It's delicious, and dare we say, better than the most popular brands out there (Paleo or not). This is the best Mayo on the market, Paleo or not.
Not an avocado oil convert yet? Well, you're in luck, because Thrive Market is offering all first­ time members a FREE jar of Primal Kitchen's Paleo­-friendly avocado oil mayonnaise! All you have to do is pay the $1.95 shipping fee. Claim your free gift today before they're gone! This offer applies to new members only, but existing members can also get a free jar when they make a purchase of $50 or more on Thrive!
---