(As a warning, this post gets "real" with talk of stool tests and leaky gut. If that's not your cup of tea, check back in a few days – we'll probably have some food related stuff up again.) Thanks – Bill & Hayley
>>>
A few months ago, I finally went to see Hayley's homeopathic doctor (and cousin) Dr. Franne Berez, about my ongoing digestive issues. While we discussed many possibilities during my consultation, it was clear that I was going to need to take a stool test and have blood work done. I geared up to take the stool test shortly thereafter, but upon reading the directions to the kit, we realized that I would need to eliminate all probiotics & beneficial bacteria for 3 weeks prior to collecting the sample. I promptly set down my bottle of Kombucha, and began my 21-day waiting period.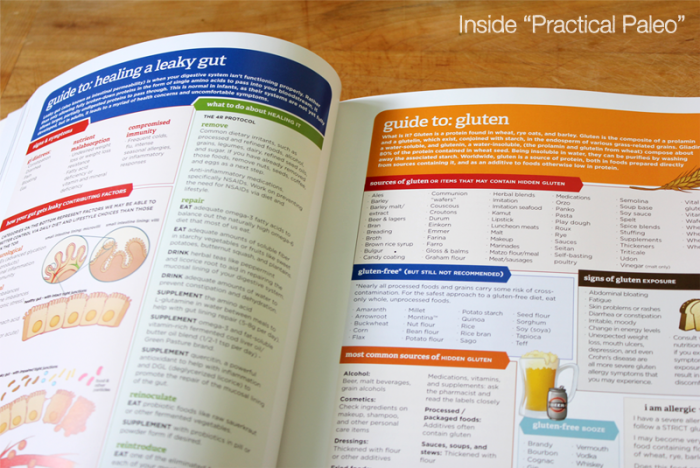 [if you do not yet own this book, you can buy it on Amazon. It is an incredible resource!]
Without getting into all the gory details, I will say this: when doing a stool test, you get up close and personal with the "sample." It's fairly repulsive, perhaps particularly to me – a guy who has never changed a diaper. I diligently went through the process, and overnighted the samples (collected over the course of three days). Then I went to have my blood drawn, which would be tested for food allergies.
After waiting about 10 days, everything was back from the lab and I promptly scheduled an appointment to discuss the results. Initially we thought I could have had any number of conditions, but almost everything came back negative, thankfully!
Candida? No
Small Intestinal Bacterial Overgrowth (SIBO)? No
Colitis? No
Crohn's Disease? No
Food Allergies? Nothing severe – more on that below*
Pathogens? No
Parasites? No
It then became clear that all of my symptoms were pointing towards Leaky Gut. If you have Practical Paleo and want to read more, flip to page 76. If not, I'll give the general overview. Leaky Gut is generally caused by eating foods with anti-nutrients. Typically, people that eat grains and legumes for a long time are prone to getting Leaky Gut. Such is the case for most of us, right? When you have Leaky Gut, small perforations in your small intestinal lining allow larger-than-desired food particles to pass through and enter the bloodstream. This leads not only to malabsorption, but it also opens the door to a 24/7 sort of immune response. When the food gets through the lining in that manner, the body perceives it as invasive and initiates an immune response. This is problematic, because being on "high alert" all the time lessens the effectiveness of your immune system.
So here's where the food allergies story gets tricky. While my blood work showed that I did not have any food "allergies," it did show that I have many, MANY food sensitivities. This includes nearly all grains and dairy, which I've luckily avoided for several years now. It also includes ginger, green beans, curry, and sunflower seeds. Kind of random if you ask me. My allergy to cat dander was rather high also. I've known for years that I react to cat dander, but I don't suffer the common allergy responses unless I pet a cat and rub my eyes, so this was somewhat of a shock to see a high allergen response in blood work. Since we have two cats that we love madly, this was extremely heart breaking. Of course my improved immunity is most important, but do you move to a different region if you suffer from a pollen allergy, and have a lot near by? No… you manage it. So we will be doing our best to manage my exposure to cat dander, with the intention being that our precious kitties get to live long lives with us.
This is where I put two and two together, or at least I think I do. I've had these food sensitivities all my life, and years of eating endless sandwiches, chased by gallon after gallon of milk have screwed up my intestinal lining to the point of having Leaky Gut. Upon developing Leaky Gut, it is possible that I started exhibiting an aversion to FODMAPs, and thereby started avoiding them. The tricky part of this is that the FODMAP vegetables are also vital in providing dietary fiber and significant amounts of calcium-D-glucarate (Important for keeping levels of Beta-glucuronidase low. B-glucuronidase is an enzyme produced by certain members of the gut flora. In a nut shell-high levels of b-glucuronidase can be bad because toxins, hormones, and carcinogens can be freed by b-glucuronidase and then reabsorbed back into the blood). Avoiding many FODMAP foods (cruciferous vegetables, and apples to name a few) caused my Beta-glucuronidase levels to read above average.
The bottom line is that I need to do several things concurrently to heal myself.
Take a variety of supplements to promote the healing of my leaky gut. (I'd prefer to keep these private, as I don't want to appear as if we're dispensing medical advice – hope you guys understand! A few over the counter things I'm taking are Aloe, Slippery Elm, and Marshmallow Root – among many others). Practical Paleo has a great meal and supplement plan for leaky gut.
Slowly reintroduce cruciferous vegetables as well as supplementing with calcium-D-glucarate to get my b-glucuronidase levels back to normal.
Follow a GAPS/AI version of the Paleo diet to limit any further autoimmune response from my body. This includes a strict elimination of all foods to which I am sensitive.
Avoid other allergens that can compromise my immunity – for me this means no more kitties sleeping in our bed, and lots of vacuuming to reduce dander and dust.
With all that said, I want to impress a few things upon you all in the hopes that you do not have to go through the same things I did. First and foremost, stay in tune with your own body; if something doesn't feel quite right you should probably see a doctor. For a list of paleo/primal-friendly doctors, visit PrimalDocs.com.  Do not try to self-diagnose & self medicate. This doesn't mean that you can't try something until you see a doctor, but the critical action is actually SEEING a doctor. Don't put it off for over a year like I did!